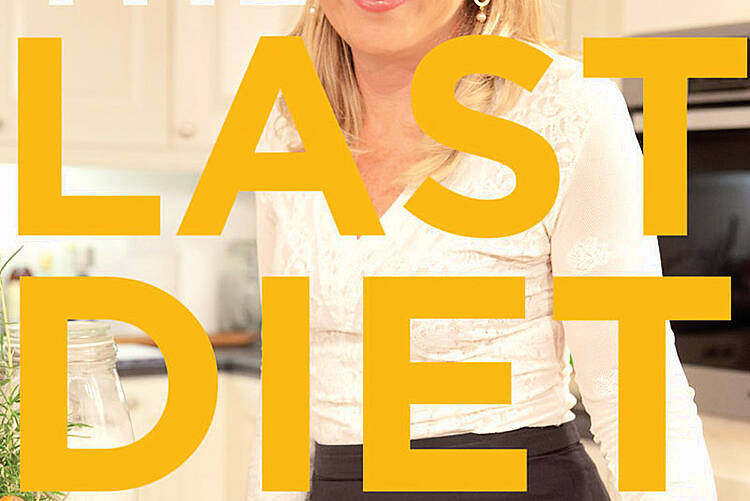 Already daydreaming of beach hols? These healthy food choices fromThe Last Diet by Eva Orsmond, €19.995, should make that bikini less daunting come summer.
Butternut squash and red lentil stew
My sister-in-law Gwynne taught me how to make this dish while we were living in South Africa. It's important to know how to cut butternut squash properly as it makes the preparation much easier. The original recipe has more bacon and cream in it, but it is just as nice without them!
400 kcal per serving
SERVES 4
100g red lentils (uncooked)
1 tbsp olive oil
100g bacon rashers, chopped thinly
1 onion, chopped
3 garlic cloves (optional)
½ large butternut squash, cut in cubes
½ vegetable stock cube dissolved in of 1 litre boiling water
2 tbsp soy sauce
1 sprig rosemary
Black pepper
Soak the lentils in water for 30 minutes before you begin. Rinse them while heating the olive oil in a wok. Add the chopped rashers, onion and garlic followed by the chopped butternut and lentils. Pour in the vegetable stock mixture. Introduce the soy sauce and rosemary (wrapped in string) for extra flavour. Bring the stew to boil before turning down the heat and allowing it to simmer for 25–35 minutes uncovered to obtain stew-like consistency. When the butternut and lentils are soft, it's ready to eat.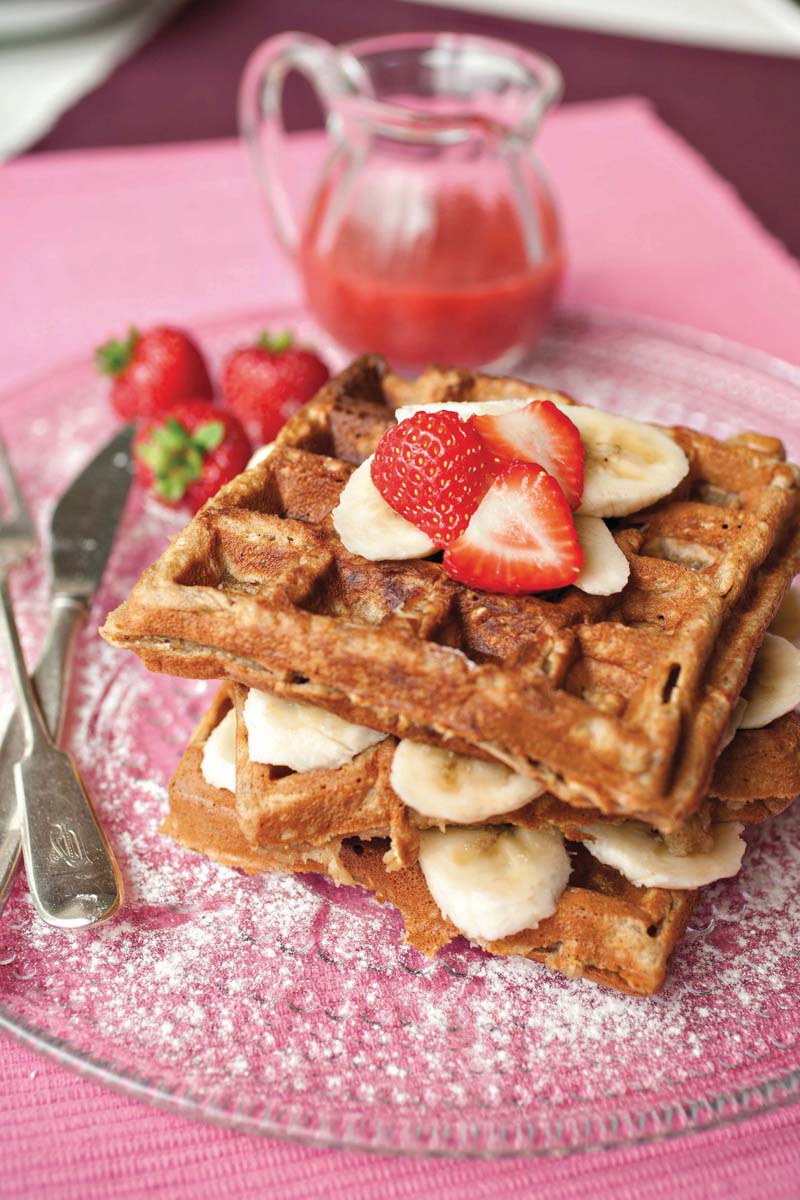 Homemade oatmeal waffles with strawberry syrup
Eating this, you really don't feel you are on a maintenance diet. It just shows how you can make healthy food that is super-tasty.
290 kcal per serving
SERVES 4
Waffle mix
1 medium egg
150 ml milk
1 tbsp honey
1 tbsp groundnut oil
¼ tsp vanilla extract
1 banana peeled weight
110g white flour
50g wholegrain rolled oats (porridge oats)
½ tsp ground cinnamon
½ tsp bicarbonate of soda
½ tsp baking soda
Strawberry syrup
3 tbsp water
3 tbsp low calorie sweetener
200–300g strawberries
Light spray oil
Waffle maker
Crack an egg into a bowl and whisk together with the milk, honey, oil and vanilla extract. Peel and mash the banana and blend together with the mixture. You may need to use a hand blender. In a separate bowl mix the flour, oats, baking soda, cinnamon and bicarbonate of soda. Slowly add the mixture to the dry ingredients, continuously stirring them. Do this until you have created a smooth consistency. Heat the waffle maker to a medium heat and spray with the light spray oil. Pour the waffle mixture into the centre of the grid and spread it out evenly until it completely covers the lower grid. Close down the lid and allow to cook. In the meantime, wash some strawberries and chop into small pieces. Add to a pot with the low calorie sweetener and water. Place on a medium heat and stir until the strawberries melt and the juice becomes syrupy. When the waffles are ready, serve on a plate and top with the strawberry syrup.
Maybe save this one to do on a weekend as it is quite a bit of work for four waffles, but they'll taste much better if the mix is freshly prepared.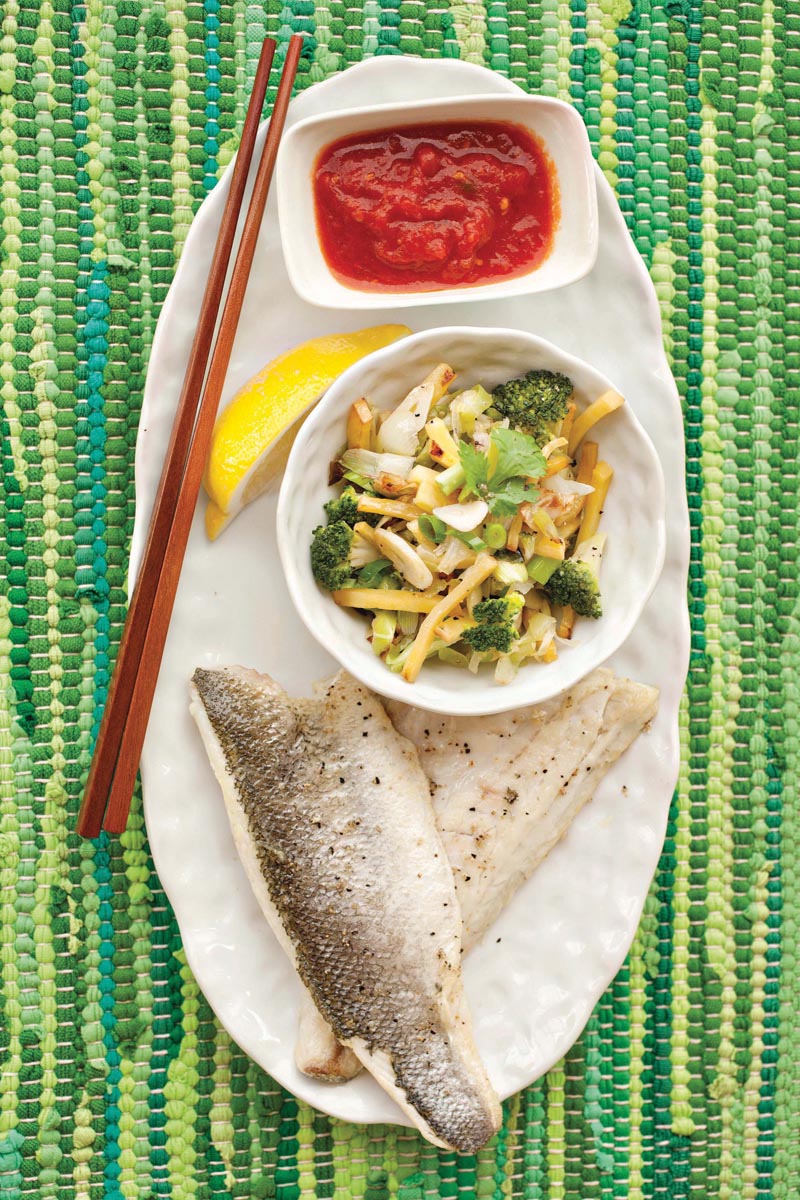 Sea bass with stir-fry vegetables
This is an excellent recipe to incorporate fish into your diet. And the good news is you can have a larger portion of white fish than chicken or meat as it is lower in calories. It also feels like this should be cheating because it's too quick and easy to be this tasty!
313 kcal per serving
SERVES 1
Light spray oil
1 sea bass fillet (approximately 200g)
½ lemon, squeezed
Lemon pepper/lemon and pepper seasoning
1 tbsp soy sauce
75g turnip, cut in thin strips
25g white cabbage, cut into strips
100g broccoli, cut into small florets
50g scallions, sliced thinly
1 garlic clove, crushed
Boiling water (approximately 50–100 ml)
½ can whole peeled tomatoes
Spray oil in a wok to be used for cooking the vegetables. Allow to heat before adding the turnip, white cabbage, broccoli, scallions and finally the garlic. Pour in a little boiling water if the vegetables start sticking. Cover and leave for one to two minutes to allow the steam to build up. Then remove lid and stir continuously. Repeat this process until vegetables are cooked but still crunchy.
Spray a non-stick pan with oil and place on a medium heat. Add the sea bass to the pan, skin side down. Squeeze the juice of half a lemon over the sea bass and season with lemon pepper seasoning and soy sauce. After two minutes turn the fish over and leave to cook for a further minute. After one minute add the tin of tomatoes and a splash of water. Turn off the hob and leave to steam for a further minute. Dish up the vegetables and serve with the sea bass and tomatoes.
Chickpea burgers with cucumber raita and green salad
390 kcal per serving
SERVES 2
10ml olive oil
2 carrots, grated
1 onion, finely chopped
½ tsp chopped chillies
2 garlic cloves, crushed
¼ vegetable stock cube
A little boiling water from the kettle
1 can chickpeas, rinsed and drained
1 rye cracker bread
100ml low fat natural yoghurt
1 egg
Black pepper
Raita
¼ cucumber, chopped
¼ pepper, chopped
1 clove garlic, crushed
3-4 fresh mint leaves, finely chopped
100ml natural yoghurt
Pinch of paprika
Baby gem leaves, to garnish
Heat the oil in a wok or non-stick pan. Add the grated carrot, chopped onion, chopped chillies, crushed garlic, vegetable stock cube and a little boiling water. Stir to combine, cover with a lid and cook to on a medium heat for 5-10 minutes until the ingredients have softened. While this is cooking, mash the chickpeas with a potato masher. Mix the mashed chickpeas with the cooked carrot and onion mixture in a bowl and set aside to cool. Use a pestle and mortar to bash the rye crackerbread until it looks like breadcrumbs. Beat the yoghurt and egg together with a fork in a bowl and stir in the crackerbread.
Once the chickpea, carrot and onion mix has cooled, stir in the yoghurt and crackerbread mixture and season with a pinch of black pepper. Form mini burgers with the mixture. You can expect to get between four and six burgers. Heat one tablespoon of oil in your wok or non-stick pan on a medium heat and place your burgers on it to cook. While they're cooking, make your raita by combining the cucumber, pepper, garlic, mint and yoghurt and a pinch of paprika in a bowl. To serve, place the cooked chickpea burgers on your baby gem leaves and spoon over the raita. We guarantee these will be a big hit with any vegetarians in your life.