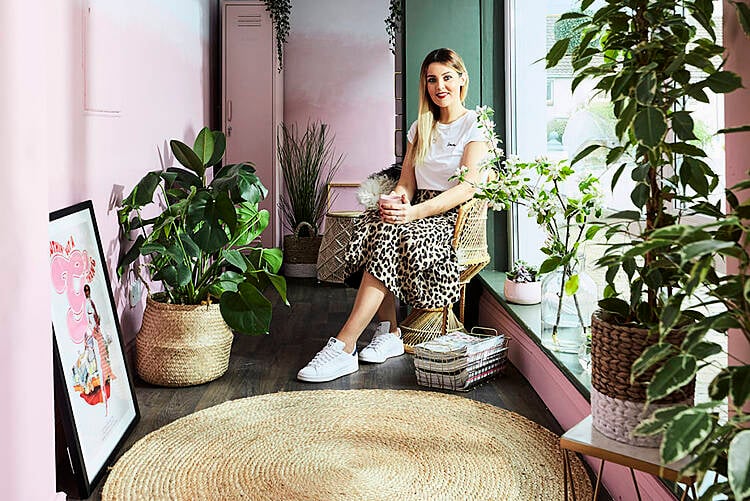 Creative director and Instagram influencer Lynn Ferrari of @myoldbrandnewhome is no stranger to a DIY paint makeover or three. "We bought our house in Waterford in May 2018 and moved in that September. We had loads to do – all new floors, ceilings, we renovated the kitchen, re-plastered the walls – it was a bit of a renovation job and it took us five months," she recalls.
To begin with Lynn painted everything white to give herself a complete blank canvas. "We did lots of painting and decorating, and the longer we were in the more adventurous we got," she says.
From that initial blank canvas, she's expanded her paint palette: the front room is now a bold teal, the bathroom has been given a chic black paint makeover and the spare room has a half-and-half blue painted wall that looks seriously cool.
Pink is a recurring theme too. It's a shade Lynn has always been drawn to. "It's become a bit of a theme in the house. It's really the golden thread connecting the rooms," she explains. Her first pink purchases were a Smeg toaster and kettle in the kitchen and slowly the hue began to appear throughout her home.
Now, Lynn's gone all out with a perfectly pink paint makeover using Crown Paints. "I felt like this was a good time to get creative and go for something very OTT," she says. "I've been drooling over ombré on Pinterest for months and I've been dying to try it out – this was the perfect time. And green is a great contrast; this palette is one of my favourites, it's the colour story in my bedroom too."
At the side of Lynn's house – which she shares with husband Dan and tabby cat Matilda – is a long narrow room the couple were struggling to find a use for. "It was such a wasted space, such a boring blank white box," she recalls. "But I feel that spaces like this are the ones you can get the most creative with, because you can do something you wouldn't do in your living space."
That inspired a scheme that was all about ombré pink walls and a green contrast – all the better to showcase Lynn's plant collection. "I am a lover of plants and my plan is to have an indoor garden area here as this room has loads of light. "I'd love to grow seeds, plants and herbs, as I get lots of natural light all day," she says.
To start off, Lynn did her research on how best to do the ombré paint effect. "There are hundreds of ways to do it," she explains. "You can use an airbrush for example, but I wanted to use a paintbrush." Lynn chose her colours from the Crown Colourmix paint card. For the ombré walls she picked Glass Slipper, a greyed white, and two pinks, Luscious and Cherub. She chose a deep green, Dark Hedges, for her wall cabinet.
To begin to create the ombré paint effect, she got super-precise. "I started by measuring the wall and I split it into three sections, leaving a gap between each section – so I had two gaps in total – of around five inches in height," she explains. "I painted three stripes of colour, using the darkest colour at the bottom, working my way up to the lightest."
The next step is a genius move and is the trick to try to get a super-blended ombré result. "I got two buckets and measured equal amounts of the darker and medium-coloured pink paints, and in the other bucket, mixed equal amounts of the medium pink and light-coloured paints. These were my blending colours, and what I used to fill in the gaps" she explains.
"It all needs to be wet in order to blend nicely, so I blended using a brush and the filler colours. Once I was happy with it, I got a dry roller and blended it all together for a nicely graded result," she reveals.
The cabinet and windowsill were primed using Crown Quick Dry Primer – "it came in a grey which worked really well with the green" – and then Lynn painted both using Dark Hedges in a satin finish. For the other woodwork in the room, she used her wall paint, making sure to prime it well first.
Lynn has a really smart tip for narrowing down your colour choices, especially if you find making a final selection difficult. "I cut the colours I liked off the Crown Colourmix colour card. I played with them until I found the mix I liked. I find it much easier that way as I'm not distracted by all the other shades on the charts." Smart!
And in terms of working with the paint itself, she's a fan. "I've used Crown before – all our white walls are painted in it," she reveals. "I found it really good to use, I thought I'd need to use two coats of green on the press, but I only needed one. I found it had really strong coverage – it doesn't go on thickly which I like as it's easy to work with, yet it covers really well."
All-in-all, Lynn's blank box makeover took a full weekend, "and then a day or so to tidy up some of the areas," she estimates. And how is she feeling about it now? Thanks to some paint and a little ingenuity, really good: "I just want to sit in it and enjoy it," she smiles.
"It's gone from one of those rooms that I never used, to, 'I can't even picture how it used to look'. It's the room that I have been most creative in – it feels like me; it's my room."
Photographer: Philip Lauterbach Stylist: Penny Crawford-Collins
This post is sponsored by Crown. You can visit one of 15 Crown Decorating Centres nationwide to get products and expert advice and help for all your paint projects. Additionally, Crown products are available at hundreds of stockists nationwide.
Share This Article