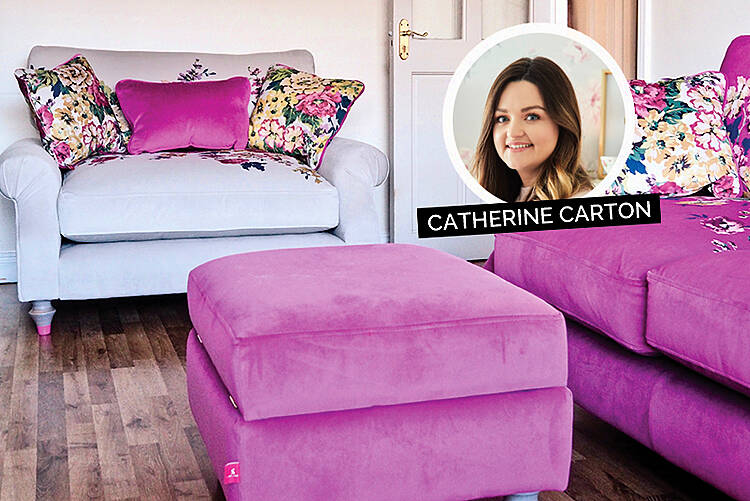 When it comes to finding the freshest décor details, we know where to go: our daily #MyHouseAndHome tag on Instagram always delivers and two of our favourite Insta-follows are Joanne Mooney from @aproudhome and Catherine Carton of @daintydressdiaries. Funny, talented and always ready with a DIY or three to inspire, we know we'll always find something new on their feeds.
You can meet the pair in person at our Picture Perfect event, taking place at DFS Blanchardstown on 14th March 2019. To whet your appetite for what's to come, we asked them for some tips on how to be brave with colour and making a sofa selection.
MEET CATHERINE
Fans of Catherine Carton know her country cottage style well so it's no surprise she plumped for the DFS Joules Cambridge collection in a mix of colours and sizes. "I wanted to be bold with my sofas," Catherine says. "I was really drawn to the floral print and bright colours." Here's the really clever thing: "I liked that I could flip the cushions to change the floral print when I wanted to."
If a traditional three-piece suite doesn't suit your space, take a leaf out of Catherine's book: she's gone for a velvet-upholstered two-seater (€1,379), cuddler (€1,199) and clever compact storage footstool (€509) from the Joules Cambridge range at DFS. "I really liked the size and shape of these sofas as I've a small living room and they fit really well," she says.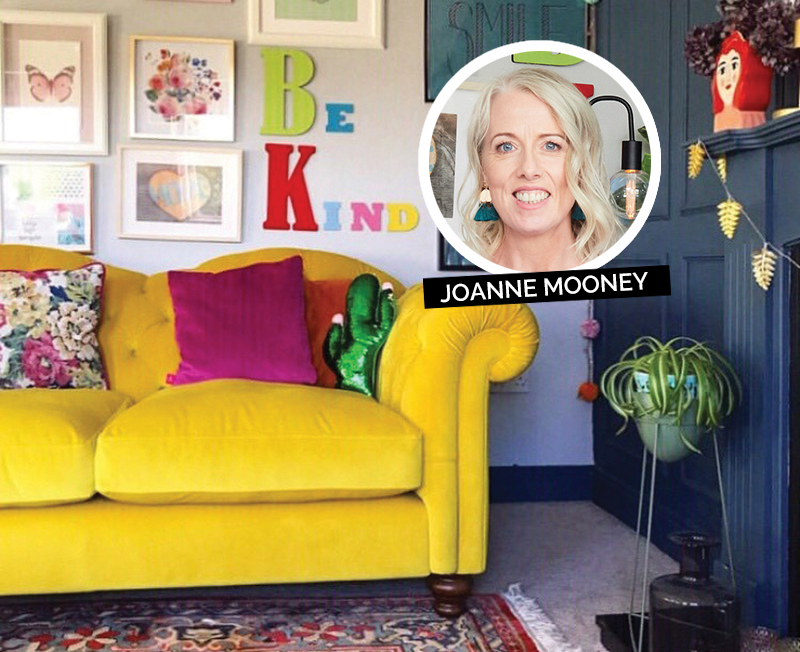 MEET JOANNE
Thinking of a grey or navy couch for your living room? Take a leaf out of Joanne's book. "Yellow is so versatile," she reveals. "I wanted my couch to be the focal point. It's a show stopper and when I walk into my living room I can't help smile," she grins.
Not only does her yellow velvet Chesterfield-style Windsor couch (€1,819), from the Joules range, exclusive to DFS, really pop on Instagram, it looks fantastic in Joanne's living room too. "I painted one wall dark so the yellow pops," she says.
If darks aren't your bag, don't worry. "A grey or white wall would also work," Joanne says. "The yellow stands out and works with lots of different colours and styles."
GET YOUR FREE TICKETS TO OUR DFS EVENT NOW
Now, apply for your tickets below so you can get lots more advice from the duo in person!
Get your tickets to our FREE event with DFS, where you'll enjoy a panel chat with Joanne, Catherine and House and Home's editorial director Kirstie McDermott.
Discover tips and tricks for stylish spaces and how to take great Instagram-worthy shots.
There'll be nibbles and drinks and you'll get to take home a goody bag plus a tip sheet.
There will be a charity raffle for Hugh's House and one lucky winner will take home a DFS sofa!
WHERE: DFS Blanchardstown Retail Park.
WHEN: Thursday 14th March 2019, from 6.30pm-8.30pm.
SIGN UP: Head to https://pictureperfectdfs.eventbrite.ie to apply for your tickets now.