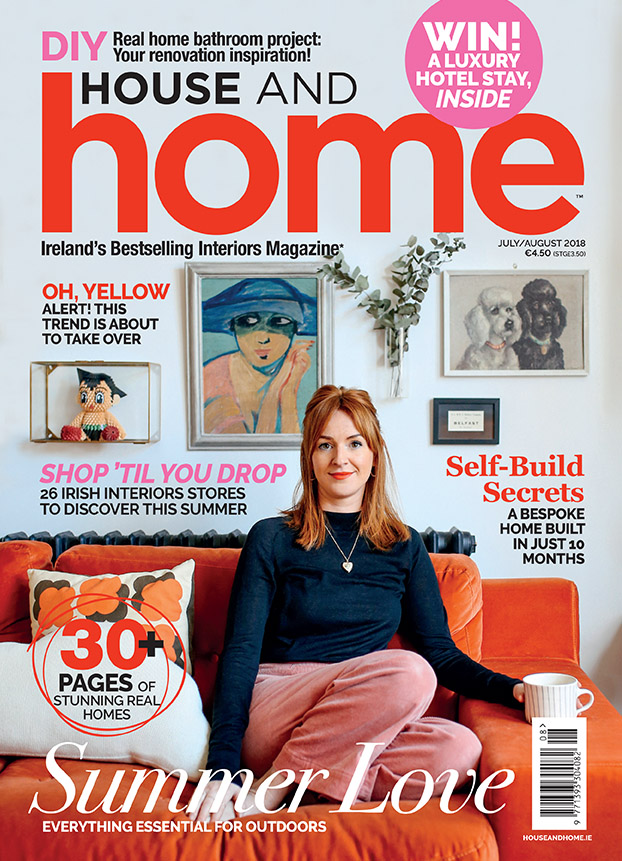 Hello –  can you believe it's almost July? Neither can we, but we're consoling ourselves with this gorgeous glossy new issue of House and Home which is packed full of beautiful real homes, lovely things to buy and lots and lots of summer inspiration.
But you want to know more, don't you? So let's get specific:
1. 28 incredible Irish décor and interiors stores to discover
We all go on a trip or two during the summer months so what better time to highlight the quality of our Irish independent stores? All four provinces abound with amazing places to shop for a little (or large!) something different for your interior, and this feature is designed to act as your guide as you vaycay this summer season. Plus, if you have a favourite interiors
destination you love to shop at in Ireland, you can tag us on Twitter @houseandhomemag or on Insta @houseandhomemagazine using the hashtag #HouseAndHomeShops – and tell us the indie stores you love to visit on your travels.
2. Three brand new real homes
We've got a light-filled home owned by Northern Irish shoe designer Jacqueline, in London's Tottenham, a beautifully moody and unexpected abode which puts new meaning on the term, 'bungalow bliss', in Co Mayo plus a chic and simple reno in Edinburgh.
3. Advice out the wazoo
We're here to help you, and we know exactly how difficult it can be on the homemaking journey to cut through the noise and find out the unbiased answers you need – especially when you're spending a lot of hard-earned money. This issue, we have a helpful, advice-heavy guide to commissioning bespoke furniture and doing it the right way, so you get a result you're really happy with. We also have the ultimate guide to choosing a sofa, from the correct frame to look for (who knew?) to the sort of leather that's best for families and what you need to know about rub-ratings.
4. An inspiring home-build story
It's the dream of many to build a home from the ground up. But how do you go about it? This issue, Triona McKee, who has documented her home design journey on Instagram @cheringtonhouse, tells us how she and her husband built their dream home in Kilkenny in under 10 months. It's inspiring – not to mention impressive.
5. Trends and décor advice
Gen Z yellow is the colour you're going to be seeing a lot more of in home interiors so we get out ahead of this incoming trend with our early primer. Buh-bye Millennial pink – mustard, primrose and all things sunny are now en route. We're showing you how to tackle the shade, what colours work, and how to incorporate it into your interiors.
6. Lighting special
60+ lights for everywhere in your home – with a focus on kitchens, bathrooms (and we explain IP ratings and where they apply) and the outdoors. There's lots of inspiration and advice, plus, check out our g-g-gorgeous shoot with Bright Lights, above. The brand has two stores in Dublin (Glasnevin and Kylemore) as well as a handy online shop, so you can get your hands on everything we've featured no matter where you live.
7. Win a luxury weekend away for two, worth €1,200
This issue offers one lucky reader the chance to win themselves a weekend at Kerry's lovely Muckross Park Hotel & Spa. Breakfast each morning, dinner for two on an evening of your choice in the award-winning Yew Tree Restaurant, plus a spa treatment each in the luxurious spa is on offer. Entry is via the magazine, so pick up a copy to be in with a chance.
8. So much summer #inspo
From everything you need from your garden to shopping pages dedicated to the best picnic plates, garden chairs and a whole feature packed full of décor inspiration from the team's favourite holiday destinations, the July/August issue will have you feeling summery in seconds.
House and Home's July/August 2018 issue is on sale now for €4.50. If you'd like to subscribe and have it delivered direct to your door, then hello – no problem at all.