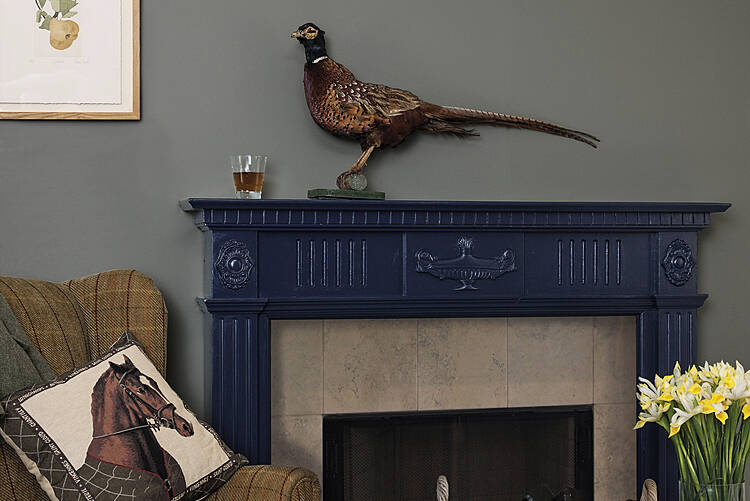 Tomorrow afternoon, we're heading out to the RDS to kick off four days of interiors inspiration with the Ideal Home Show. Our stand will be smack in the middle of the amazing Color Trend Interior Designers spaces, so we wanted to introduce you to these finalists who will be our neighbours for the next four days! WIthout further ado, meet the amazingly talented interior designers who will be showcasing their room ideas over the next few days. And don't forget, visit our Facebook page to register for free tickets!
Rory Kelly Interiors
Dublin-based interior designer Rory Kelly is a man on a mission – to make your home the very best it can be. From a simple window dressing to an entire house refurbishment, a colour consultation to a brand new build, Rory's keen eye for practical elegance have made him one of the city's most sought-after interior designers.
A graduate of Dublin Institute for Design, Rory established the business in 2008. With a core team of excellent craftsmen and fitters who make bespoke curtains, soft furnishings, handmade furniture to order, plus a comprehensive index of essential skills and intricate techniques, Rory Kelly Interiors offers a complete service – design, supply and fitting. There is no Rory Kelly Interiors 'house style' - just a commitment to immaculate finish. Every element and product in a Rory Kelly Interiors design is chosen to suit the user not just for its aesthetic, but also in terms of comfort, value, durability and functionality.
Rory Kelly Interiors, 11 Glebe Square, Newcastle Village, Co Dublin, 01 401 6666 / 087 687 9400; [email protected]
Regina Rogers Fallon
Regina is driven by functionality, with a boldness in her approach to colours, fabrics, textiles, and natural and focal lighting, for comfortable yet contemporary furnishings. During the decade she spent working in the creative arts, she honed her style: playing with colour while spraying, cutting and drilling in the pursuit of artistic expression. A talented painter since early childhood, Regina is also the great granddaughter of the prominent award-winning RHA painter William P Rogers.
A self-professed 'creative lunatic', Regina lives in Dublin with her husband and two sons. She also spends time on the rustic west coast of Ireland, in the tranquil town of Louisburgh, Co Mayo, where she exhales and connects with nature, expressing her creativity through photography, collecting inspiration for her artworks and whipping up new design ideas.
Regina Rogers Fallon Design, 086 084 8318, [email protected]; Reginarogersfallon.com
Noelle Interiors
A former award-winning fashion designer, Noelle has a passion for fabric and colour. With 25 years of design experience, she can consult on plans, orientation, room layout, lighting, accessorising, coordination and renovation or new builds. The majority of Noelle's work has been in private homes; although she has also undertaken the redecoration of hotels, pubs, nightclubs, showhouses and golf clubs. She prefers not to impose ideas upon a client, but to listen to their preferences carefully and then work with them to create personalised results. Noelle lives on a farm with her husband, two children, two dogs and too many horses!
Noelle Interiors, 1 High Street, Tullamore, Co Offaly, 057 932 4555, [email protected]; Noelleinteriors.ie
Niamh Carter Interiors
Niamh provides the whole spectrum of Interior Design services, from guidance to colour consultancy and even complete project management.
Based in Dundalk, Co Louth, Niamh covers homes and businesses across counties Louth, Meath, Monaghan and Dublin, with an immeasurable passion for her work. Her services include the compilation of mood and colour boards, assisting clients with the preparation of their property for sale, and projects range from a single room or office to and entire home or commercial building. Her creative skill-set and eye-for-detail means clients are provided with design concepts that evoke excitement and pride - unique and innovative solutions that strike the ideal balance between the functional and the aesthetic.
Niamh Carter Interiors, 71 Clanbrassil Street, Shorts Court, Dundalk, Co Louth, 042 942 1375
/ 087 644 5050, [email protected], Niamhcarterdesigns.com
Eily Roe Interiors
Eily Roe is an interior design of 25 years standing, having worked on commercial and residential projects in Ireland, Europe, the US and Australia. Her ability to interpret her clients' desires and needs; understand the importance of space and light; and how to manipulate structure to the best advantage set her apart. Eily employs a wide variety of design styles as she prefers to personalise her work based on her clients needs and reflecting their personalities rather than her own. She lives in Brittas Bay, Co Wicklow, with her husband Conor, and is a parent and foster parent of four children.
Eily Roe Interiors, 087 221 0427, Eilyroeinteriors.ie; Facebook.com/wowonlineinteriordesign
Modis Designs
Duan Smith is the owner of interior architecture and design firm Modis Designs. A graduate of the Dublin Institute of Technology and a member of the Interiors Association of Ireland, Duan has gained valuable experience working in architectural and interior design offices and expanding her portfolio with residential, hospitality and food, corporate and retail projects. Modis Designs specialises in interior, architectural and graphic design, offering services from colour and fabric consultations to full interior architecture packages. Duan is a firm believer that good design should be personal, functional and aesthetic and enjoys involving her clients at all stages. She is passionate about her work and committed to helping clients achieve their ideal design.
Modis Designs, Clongriffin, Dublin 13, 01 547 8721 / 087 631 7531, [email protected]
Modisdesigns.com / Facebook.com/modisdesigns; @ModisDesigns
Aoki Interiors
Aoki Interiors provides a range of interior design services to create spaces that are both comfortable and aesthetically pleasing. Its designers can visit your home to discover your taste, style and budget or in turn you can call to the store to work with our designers and browse the range of fabrics and finishings. Every aspect is covered, from designing, measuring and automating, to ordering and installing.
Aoki Interiors, 1 Parkside, Carrick-On-Suir, Co Tipperary, 051 614 054, [email protected]; Aokiinteriors.ie