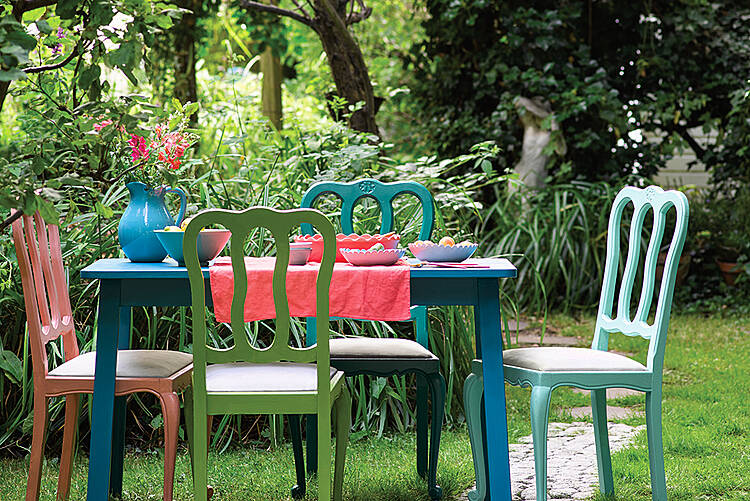 Give your garden, patio or balcony some love this summer with these inspiring yet simple tricks from the exterior paint experts Sadolin
A House and Home promotion
Nothing brightens up the garden like a bit of colour, which is something the experts at Sadolin know all about. Sadolin Superdec opaque wood protection can be mixed into over 200 colours so you're bound to find your perfect shade. Therefore, the only decision to make now is which colour to choose? Safe neutrals have been the norm in gardens for some time now but this year we are seeing a definite shift towards becoming a bit more adventurous with colour, with many of us wanting to embrace a bolder palette.
If you're feeling tempted to use stronger shades but are unsure about trying them on larger areas, like your decking, fence or shed, try restricting your painting to smaller areas like furniture and planters. This way you can enjoy a chosen colour on a scale that suits you. Just a few pieces of painted furniture can really brighten up and enliven any space dramatically. Read on for some more top tips from Sadolin on bringing colour to your outdoor space.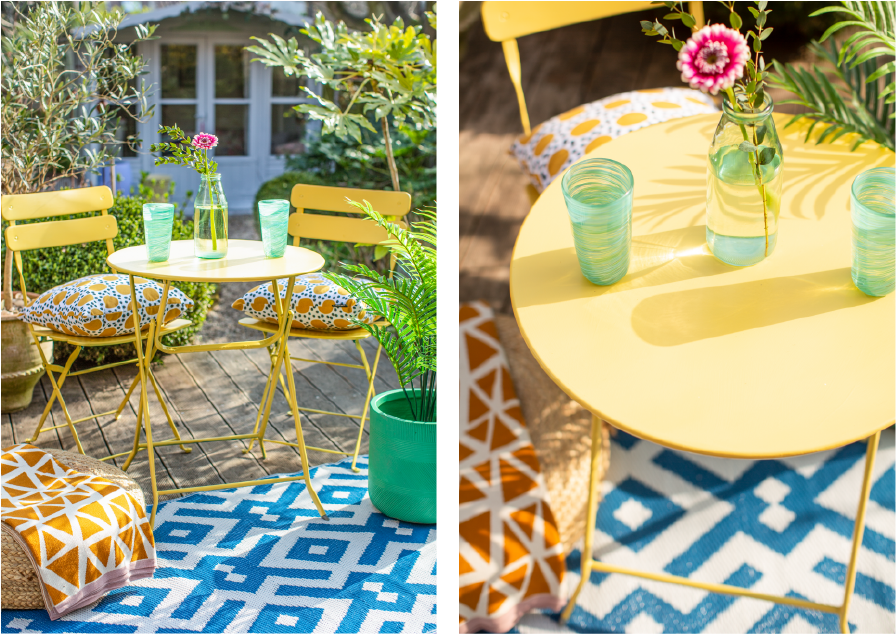 Rather than buying new garden furniture, give some love to your old pieces with a pop of colour – it will completely transform it, as well as being the eco-friendly choice. This 10-year-old metal bistro set (above) has been given a new lease of life with a rub down followed by a coat of sunny-hued paint. The colour is California Gold in Sadolin Superdec Satin. Adding a splash of colour to surfaces like patio furniture, fences, garden sheds and tubs is so easy with this multi surface, self-priming formula.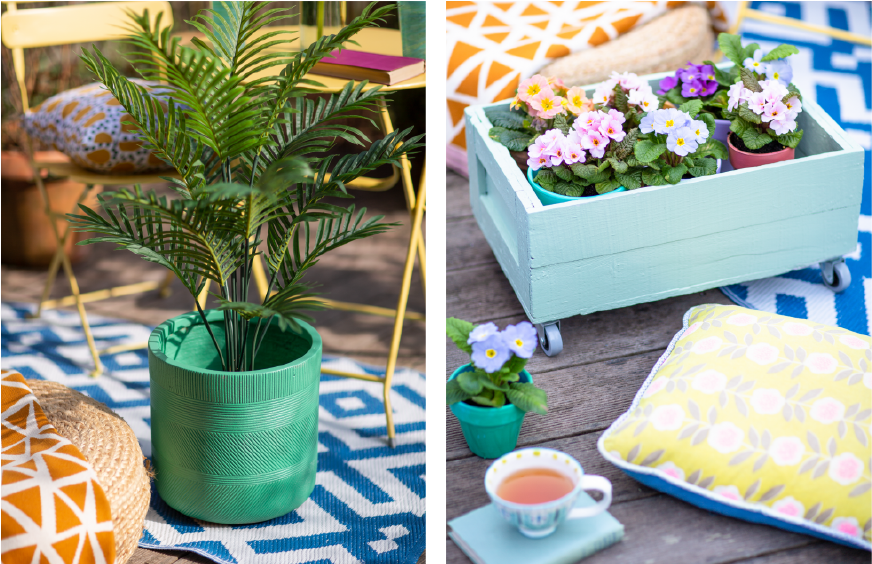 Lift lacklustre decking by working in extra colourful areas using planters as focal points. Simply sand the surface to remove any rough spots and wipe down with a damp cloth letting it fully dry before painting. The colour seen above left is Sadolin Superdec Satin in Murphy Tree.
Alternatively, why not transform a simple wooden crate into an attractive planter? We love this portable crate (above right) which has been upcycled with castors for versatility. The crate is painted in Sadolin Superdec Satin Light Green, with pots in Rose Smoke, Murphy Tree and Summer Teal.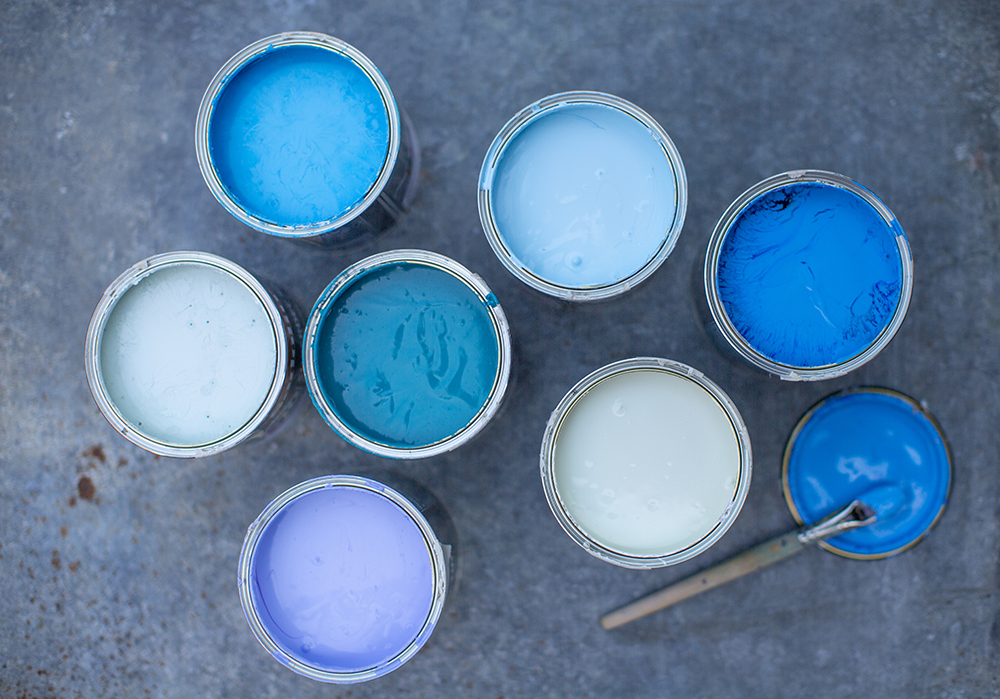 Blue makes a wonderful accent colour in the garden. We love this rainbow of blues which would complement most outdoor spaces. The colours are (from left) Ripple Grey, Tallulah, Violet Hour, Railway Sleepers, Edge of Heaven, Bobby Dazzler and Lapis Lazuli. All colours are from the Sadolin Superdec Satin range.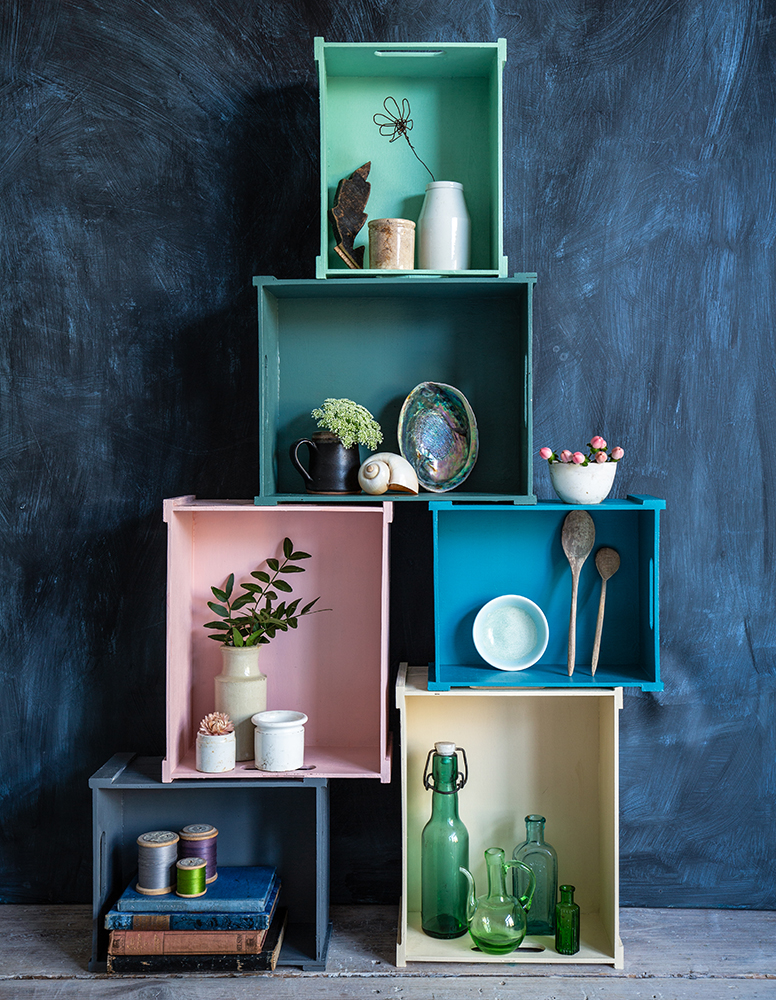 Brightly painted wooden flower boxes attract the eyes, so pimp up your patio and utilise them liberally. From outside shelves to blanket holders, they can also be used as low tables to set down a cool or hot drink in the shade. The painted hues on the crates above include, from top to bottom, Tatlow Green, Railway Sleepers, Peachy Punch, Lapis Lazuli, Slate Grey and Sandside.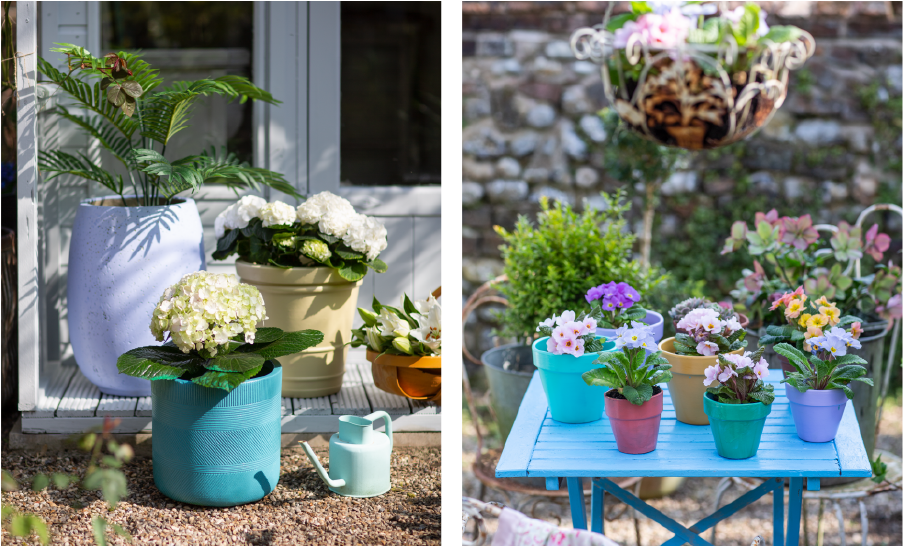 One piece of brightly painted furniture will enliven any space. This well-loved wooden table (above right) has been transformed with a vibrant coat of Sadolin Superdec Satin Tallulah, with pots in Mellow Yellow, Summer Teal, Violet hour, Murphy Tree and Rose Smoke. Meanwhile, the pots seen above left look fabulous in chalky shades of Lavender Stone, Turnstile and Lapis Lazuli.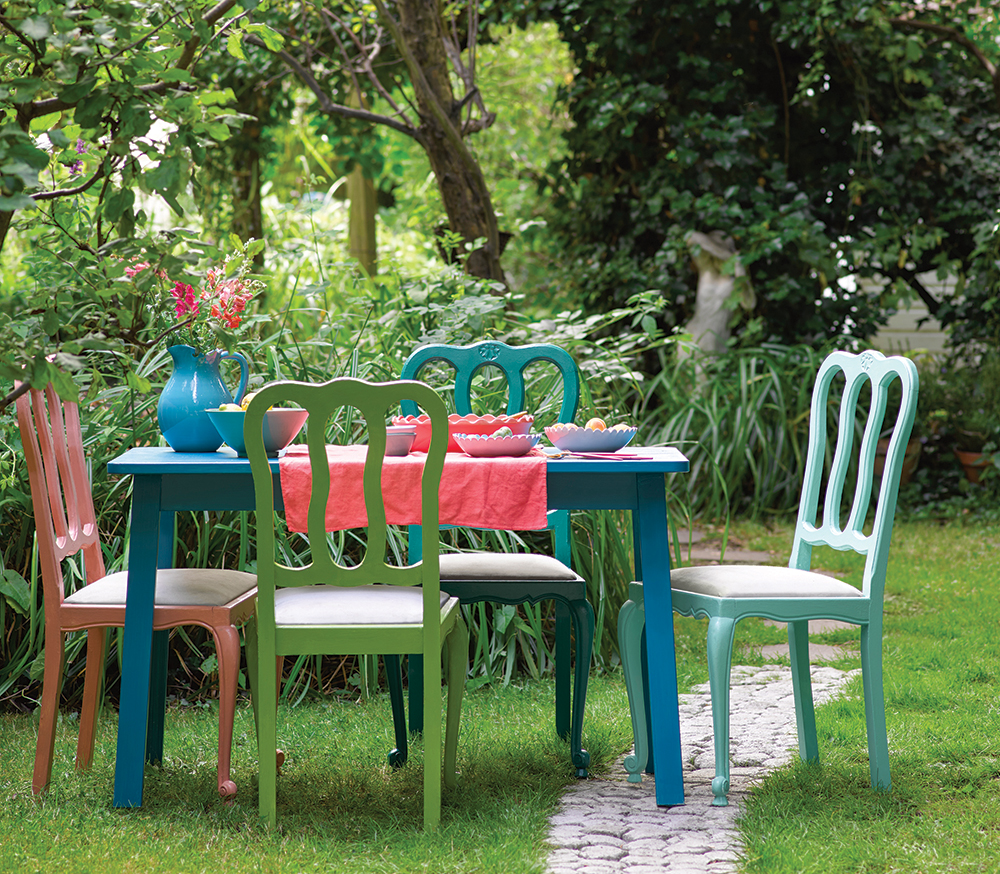 It's time to give weather-worn wood a cheery coat of paint and set the table outside for gatherings again. Make a colourful statement by using several shades in a similar palette to create an eclectic look.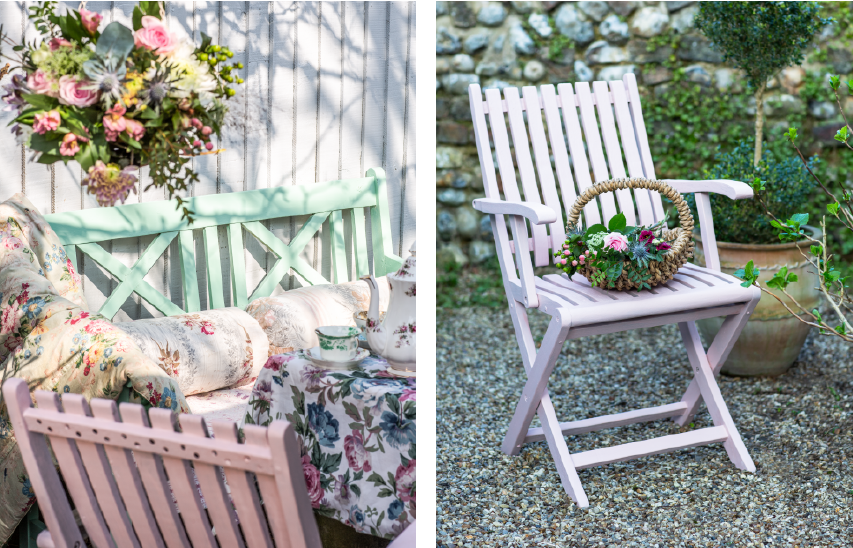 Create a lovely ambiance outside with an informal area in the garden to sit, chat, eat or play family games. The colours used to give this furniture (above left) a vintage summer feel are: Blancmange, for the chair, Tatlow Green, for the bench, and Grey Light for the fence, all from the range at Sadolin Superdec Satin.
Even if you only have a tiny patio or bijou urban balcony with room for one chair, use it to create a calm space to sit and soak up the sun. Pale shades look great in the summer light – think of them as neutrals with added interest.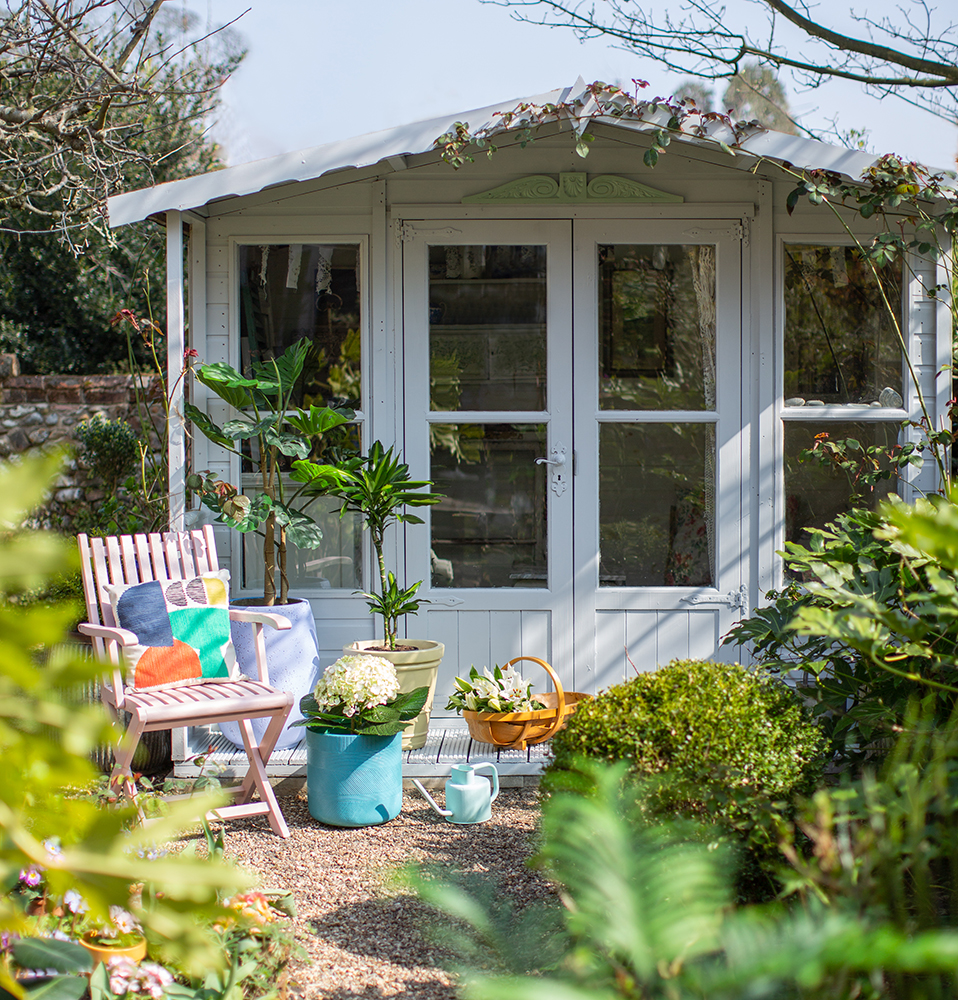 Soft lilacs, peaches and sea greens look gorgeous when paired with accent mustards and neutrals. The shed (above) is painted in Grey Light with the chair in Blancmange. The pots are in Lavender Stone, Turnstile and Lapis Lazuli. The trug is in Butterscotch. All colours are from the Sadolin Superdec Satin range.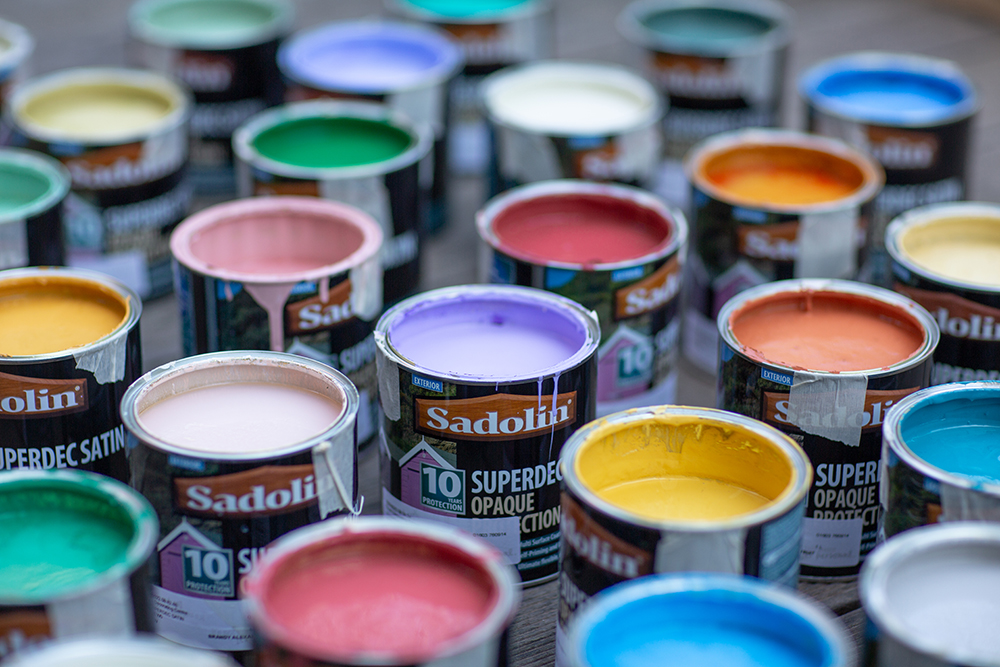 Why Sadolin Superdec?
The ultimate exterior colour choice – it can be mixed into over 200 colours
It is self-priming and undercoating, saving lots of time on prep
It can coat multiple surfaces, from wood to weathered UPVC and cladding to concrete
It's perfect for hiding blemishes. It works for a complete colour change or where the existing surface has become weathered
Best of all, it offers 10-years' protection, so projects will look great for many years to come
To find out more about Sadolin and all its other wood care, protection and treatment products, visit the website. You can also locate the nearest stockist to you.
Share This Article