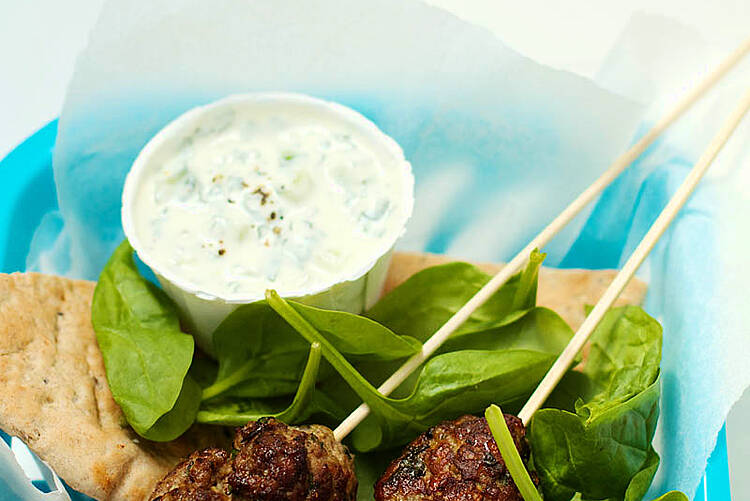 Sick and tired of ham 'n' cheese sambos? With a little bit of forward planning, it's simple to transform your packed lunch into something that will really perk up Mondays.
Food and styling: Sharon Hearne-Smith, www.blueberrypie.ie; Photography: Elisha Clarke, www.elishaclarke.com
LAMB KOFTAS WITH RAITA
These are tasty and fun to eat. If you can resist gobbling the lot down at once then make them for your tea and save the leftovers for lunch the following day. The raw koftas can also be frozen so they're a handy alternative to ready meals when you're stuck for time. And the mix can also be shaped into burger patties.
Serves 4
500g (1lb 2 oz) minced lamb
1 small onion, grated and squeezed dry
1 garlic clove, crushed
1 red chilli, deseeded and finely chopped (optional)
2 tbsp finely chopped coriander
1 tsp ground coriander
1 tsp ground cumin
1 tsp cinnamon powder
1 tbsp olive oil
RAITA
200g (7oz) natural yoghurt
¼ cucumber, finely diced
2 tbsp finely chopped mint
Squeeze of lemon juice
TO SERVE
4 pita breads, halved and split
Few handfuls of spinach leaves
Sea salt and freshly ground black pepper
With clean hands, squish the minced lamb, onion, garlic, chilli (if using), coriander, spices and salt and pepper together in a medium bowl until well mixed. Divide into 8 equal sized pieces and shape each one into a sausage shape. Place on a plate, cover and refrigerate for about 20 minutes or until firm.
When ready to cook, preheat the oven to 180C (350F / Gas Mark 4). Heat the oil in a large, non-stick, oven-proof frying pan over a medium heat. Fry the koftas for about 3 minutes, turning until browned all over. Transfer the pan to the oven and bake for a further 10 minutes or until cooked through. Remove and leave to rest and cool. You can skewer them on wooden sticks for a traditional look.
In the meantime, prepare the raita by simply mixing together the yoghurt, cucumber and mint together, adding the lemon juice and salt and pepper to taste.
Once cooled, pack the koftas in a suitable lunch box and add the spinach leaves. Spoon the raita into a separate container with a tight fitting lid and refrigerate both. Pop the pitas into a bag and you're good to grab-and-go.
VIETNAMESE PRAWN SPRING ROLLS
These are very handy, really delicious and super healthy. Kids love them too, especially if you get them involved in the making of them. Choose any filling that takes your fancy. I always go for a good mix of colours, textures and flavours as well as thinking about what's in season. Instead of the prawns, you could use leftover cooked meat like chicken, pork, duck or beef, or keep them vegetarian. Use a bought sweet chilli sauce as a speedy, less fishy dip if you prefer.
Makes 10
½ cucumber, cut into matchsticks
1 medium carrot, cut into matchsticks
2 spring onions, sliced
1 small red chilli, deseeded and finely sliced (optional)
Small handful each of mint and thai basil leaves
100g (4 oz) bean sprouts
150g (5oz) cooked peeled prawns, chopped if large
3 tbsp rice wine vinegar
1 tsp sugar
50g (2oz) bean thread noodles
10 dried rice paper sheets
DIPPING SAUCE
2 tbsp fish sauce
1 tbsp lime juice
4 tbsp water
2 tsp sugar
1 small red chilli, finely sliced
First, place the cucumber in a small bowl and stir the vinegar and sugar through. Leave to pickle for about 10 minutes and then drain well.
In the meantime, place the noodles in a medium bowl and pour over enough boiling water to just cover. Leave to soak for a few minutes and then, once softened, drain and rinse in cold water.
Now, with all the remaining ingredients prepared begin to assemble the rolls. Pour a few centimetres of cold water into a bowl wide enough to take a rice paper sheet and working with one at a time, pop it in to soak for about 10 seconds until soft and pliable. Being careful not to tear it or stick it back on itself, lift it out of the water and place on a clean surface. Arrange a little of each ingredient in a sausage shape in the centre and then fold in the left and right sides of the rice paper to just cover it. Pick up the edge nearest you, fold it over the filling and continue to roll it away from you to give a neat spring roll.
These can be quite sticky, so store them between parchment paper to keep them separated from each other. These will keep in the fridge for a few days, depending on your filling.
To make the dipping sauce, simply pop all the ingredients in a small pot or jar and fit on a tight-fitting lid. Shake well and you're all set for lunch.
COCONUT AND LIME POP-IN-THE-MOUTHS
There's nothing like a little treat to finish off lunch. These zesty bites are wholly satisfying. If you want to be even swifter you can use shop-bought mini pastry cases. If you do make them yourself, scatter any leftover pastry bits with grated Parmesan cheese and bake them for some quick cheesy nibbles.
Makes 24
A little oil or butter for greasing
425g pack of ready rolled puff pastry (in two sheets)
160ml can of coconut milk
Zest and juice of 2 limes
75g (3oz) caster sugar
4 tsp cornflour
2 egg yolks
24 small blueberries
Preheat the oven to 180C (350F / Gas Mark 4). Grease two 12-hole (or one 24-hole) mini muffin tins.
Unroll the puff pastry sheets and use a 6cm (2 ½ in) cutter to stamp out 24 discs. Press each pastry disc into a mini muffin hole, line with a small square of parchment and fill with baking beans. Bake blind for about 10 minutes, before removing the paper and beans and baking for a further 5 to 6 minutes until cooked and golden. Use a teaspoon to gently press down any pastry that has puffed up in the middle. Remove and leave to cool completely.
In the meantime, prepare the filling. Heat the coconut milk, half of the lime zest and juice and sugar together in a small pan over a medium heat for a few minutes, stirring until the sugar dissolves. Blend the cornflour with 4 teaspoons of water until smooth and add it to the mix. Stirring constantly, continue to cook for 1 to 2 minutes until bubbling and thickened. Remove from the heat and leave to cool a little before adding the egg yolks. Return to a low heat and cook, stirring for 5 to 6 minutes until thick. Remove and add the remaining lime zest and juice leave to cool completely.
Spoon the filling into the pastry shells and sit a blueberry on top of each one and refrigerate. You can only hope that they last long enough to make the trip to work or school without being eaten!
CHAI LASSI
Makes about 400ml (14 fl oz)
250g (9oz) natural yoghurt
125ml (4 ½ fl oz) milk
Juice of 1 lime
½ tsp cinnamon powder
¼ tsp ground ginger
¼ tsp ground cardamom
Small pinch ground cloves
Simply mix everything together well, adding more spices to taste if necessary. Pour into suitable bottles or flasks and refrigerate. Shake and serve.
SANDWICH SHAKE-UP
Sandwiches are so convenient, and by making just a little effort with your fillings and choice of bread, your co-workers will suffer serious food envy come lunchtime. Here are my favourite combos to get those taste buds salivating…
Roasted vegetables with houmous and rocket on ciabatta
Baked portobello mushroom with caramelised red onions and blue cheese on a seeded bap
Grated fresh beetroot and carrot, guacamole and pumpkin and sunflower seeds in a tortilla wrap
Tallegio cheese, red grape and rocket on foccacia
Tuna and basil mayonnaise with black olives, roasted red peppers and spinach
Fresh salmon with dill mayonnaise and watercress on rye bread
Roasted chicken, celery, walnuts, dried cranberries mixed with mayonnaise on a farmhouse white bread
Crispy bacon with egg mayonnaise and tarragon on a bagel
Chilli con carne, sour cream, grated cheddar cheese, avocado slices and tomato salsa on a baguette
Pastrami or home baked ham with marinated artichokes, pickled cucumber and Dijon mayonnaise on wholemeal brown bread
Food and styling: Sharon Hearne-Smith, www.blueberrypie.ie Assisted by Hilary O'Hagan. Follow Sharon at www.twitter.com/SHearneSmith