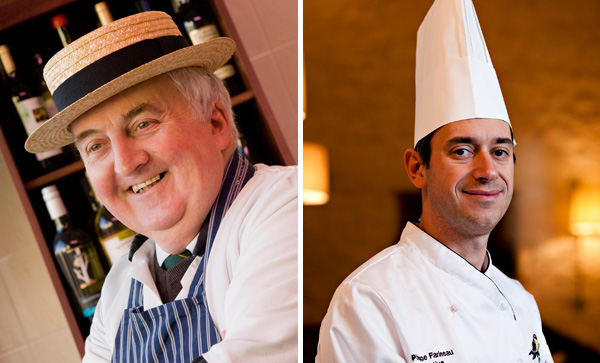 Sean Kelly, Kelly's Butchers of Newport (left), Philippe Farineauof, Mount Falcon (right
When the West Coats Atlantic meet the West Coast Land, you'll get a scallop dish using an award winning black pudding made by Kelly's butcher in Newport.
By Philippe Farineau, head chef of Mount Falcon - "French Heart – Irish Produce".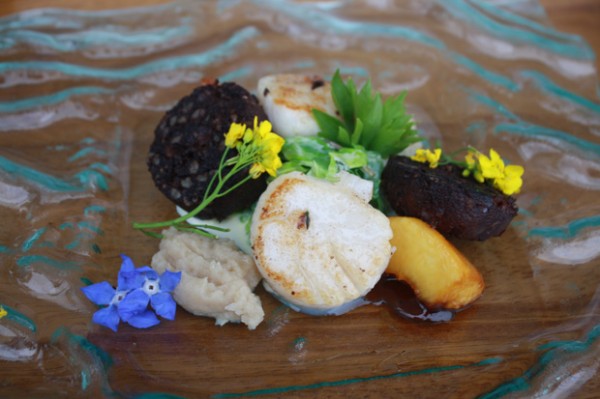 For 4 people, you will need:
4 large scallops freshly open and prepared by your local fish monger.
For the caramelized apple:
Cut and peel 1 pink lady apple into quarters. Melt 100 grams of caster sugar in a frying pan until light brown, caramel with a pinch of cinnamon or 5 spice. Add the apple and caramelize it for 2 to 3 minutes, keep it slightly crunchy.
For the onion purée:
Take 3 large white onions and chop coarsely. Put a nub of butter in a saucepan and add the onion, 1 clove and a pinch of salt. Sweet it very slowly at low heat with a lid for about 20 minutes. Add a little water if necessary during the cooking process. When cooked, drain it and blend the purée.
For the black pudding croquette:
Take some of the fantastic Kelly's black pudding and roll it like a small sausage. Dip it in one well beaten egg and then in dried breadcrumbs. Fry until golden brown.
Apple-cider sauce:
Chop 1 shallot finely and sweet in a sauce pan with a nub of butter very slowly. Add the trimming of the pink lady apple, a string of marjoram or thyme and 1 pint of cider. Reduce to 2/3 and add the pouring cream. Reduce for a further 3 minutes at low mark. Remove the string of marjoram and blend the sauce.
For more great recipes visit Good Food Ireland:
Good Food Ireland is a not-for profit organisation that champions Ireland's best food industry operators who are committed to using local food and supporting Irish farmers, food producers and fishermen. www.goodfoodireland.ie