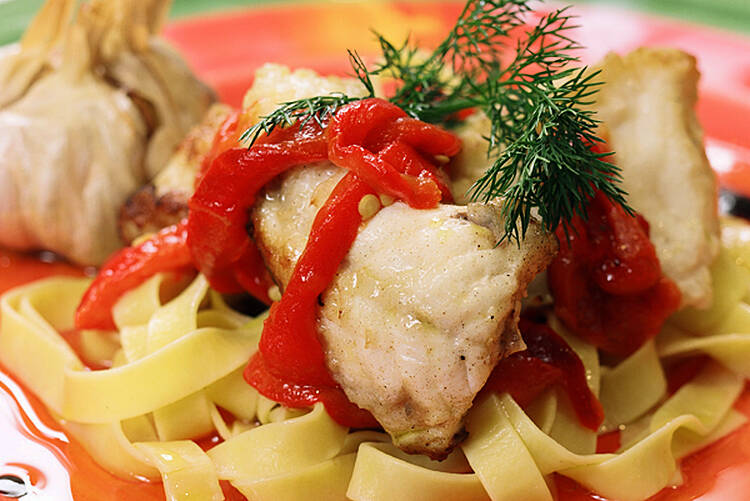 Try out this yummy monkfish recipe from our friends over at Good Food Ireland (put together by Good Food Ireland member Noel Cusack of Cavistons Seafood Restaurant & Food Emporium) and let us know how you get on!
Recipe: Monkfish and Roast Red Pepper Oil
Ingredients
180 – 240 g Monkfish Fillet
2 – 3 Red Peppers
500ml Olive Oil
3 – 4 Cloves of Garlic
Salt & Pepper for seasoning
Method:
Pre-heat the oven to 200oC / 400oF / Gas7
Drizzle the peppers with some of the olive oil and roast for 15 minutes.
Take out and either peel the peppers or place in a plastic bag and rub until the skin comes away, then de-seed and slice.
Chop the garlic, add to the peppered olive oil and season lightly.
Sear the monkfish fillet in a pre-heated frying pan, then transfer to an oven dish and roast in the hot oven for 8 – 10 minutes.
To Serve
Plate up the Monkfish, add the roasted red peppers and drizzle some of the olive oil dressing over the top.
For more great recipes visit Good Food Ireland:
Good Food Ireland is an industry organisation that brings together under one umbrella good food places all over the island of Ireland that are committed to using local food and supporting our Irish farmers, food producers and fishermen. Visit www.goodfoodireland.ie for further information on the 260 members.