The kind folk at Good Food Ireland have already shared a fruit salad recipe that's perfect for a summer dessert, so here's a nice starter for your cookbook, put together by Belle Isle Cookery School - enjoy!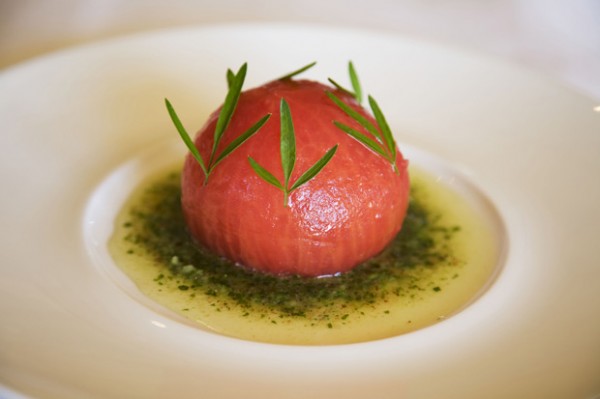 Recipe: Vine tomatoes with tuna & parsley oil
Serves: 6 as a starter
Ingredients:
3 Large vine tomatoes
150g/ 5 oz tuna belly, seared in oil or Dolphin-friendly tinned tuna
1 tbsp. toasted pine nuts
1 tbsp. soy sauce
1 clove of garlic, grated
1 tbsp. olive oil
½ tbsp. balsamic vinegar
1 tbsp. finely chopped chives
For the parsley oil:
Bunch of parsley
100g/3 ½ oz walnuts, shelled and toasted
200ml/7 floz sunflower oil
Sea salt
Method:
Score each tomato lightly with a knife around the middle and place in a bowl.  Pour boiling water over the tomatoes and allow to sit for a minute or so, or until the skin starts to peel away.  Remove the tomatoes and allow to cool before removing all of the skin.
Cut each tomato in half and remove the seeds.
Mix the olive oil, soy sauce, garlic and vinegar together and season to taste.  Cut the tuna into small cubes or gently separate the tinned tuna pieces.  Mix with the dressing and stir in the pine nuts and herbs.
Fill each half of the tomatoes with this mixture.
Place the tomato halves filling-side down on serving plates.
To make the parsley oil, blend all of the ingredients together in a processor.  Season to taste.
Garnish the tomatoes with the parsley oil and serve all room temperature.
For more great recipes visit Good Food Ireland:
Good Food Ireland is an industry organisation that brings together under one umbrella good food places all over the island of Ireland that are committed to using local food and supporting our Irish farmers, food producers and fishermen. Visit www.goodfoodireland.ie for further information on the 260 members.