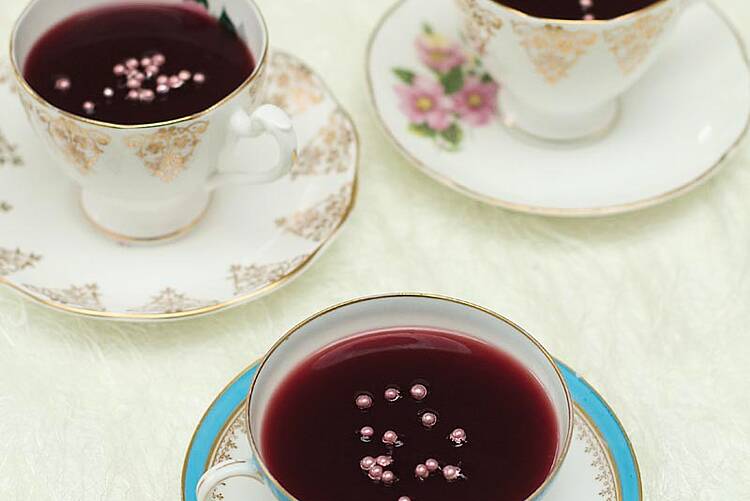 As these are made in advance, they're easy-peasy, stress-free party desserts. Dainty china teacups allow guests to mingle while enjoying their dessert; this recipe makes about six.
You will need:
8 gelatine leaves (small)
100g (4 oz) caster sugar
2 star anise
2 cinnamon sticks
½ tsp cloves
A generous grating of nutmeg
300ml (1/2 pt) freshly-squeezed orange juice
1 bottle of fruity red wine
A handful of shiny edible balls, to decorate
Method:
Soak the gelatine leaves in cold water for about 10 minutes until soft.
In the meantime, place the sugar, spices and orange juice in a large saucepan. Bring slowly to the boil and simmer, stirring, until the sugar dissolves. Add the wine and gently warm through for a few minutes without boiling, then remove from the heat. Squeeze the excess water from the soaked gelatine and add the leaves to the wine mixture, stirring until dissolved.
Leave to cool and infuse (but not set) before straining through a fine sieve. Then, divide evenly among the teacups or glasses and refrigerate for at least 4 hours until set. For some razzle dazzle, scatter shiny edible balls over the top just before serving.