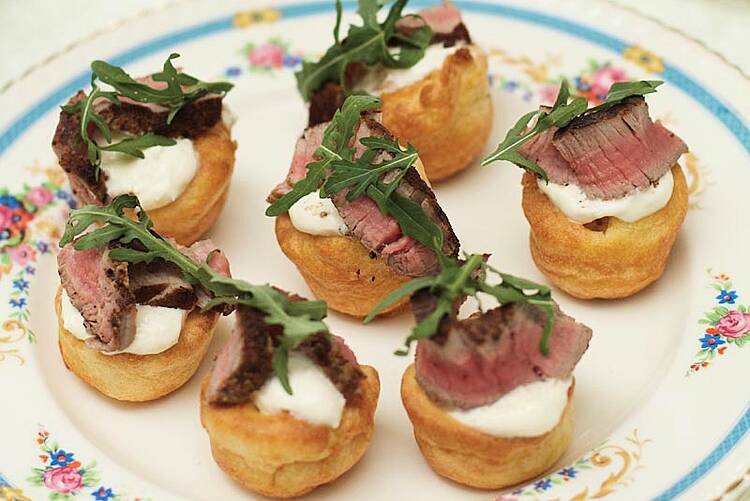 The Yorkshire puddings can be prepared in advance and reheated to crisp up before serving. I like to use Piemontese beef as it's low in fat and tender (www.irishpiemontesebeef.ie). The spice rub adds a festive twist to a classic and will make 24.
You will need:
YORKSHIRE PUDS
100ml (4 fl oz) vegetable oil
150g (5 oz) plain flour
150ml (5 fl oz) milk
2 eggs, beaten
BEEF
¼ tsp ground ginger
¼ tsp freshly grated numeg
good pinch ground cloves
good pinch ground cinnamon
200g (7 oz) piece of beef fillet, about 2 ½ cm (1in) thick, brought to room temperature
1 tbsp vegetable oil
HORSERADISH CREAM
75g (3 oz) creme fraiche
25g (1 oz) horseradish sauce
Wild rocket, to serve
Salt and freshly ground black pepper
Method:
Preheat the oven to 220C (425 F / Gas Mark 7).
For the yorkshires, divide the vegetable oil evenly between the cups of a 24-hole mini muffin tin. Place the tray in the oven for about 5 minutes until the oil is almost smoking.
Meanwhile, sift the flour into a medium jug and make a well in the centre. Add the milk, eggs and seasoning and beat together to give a smooth batter.
Carefully pour the batter onto the hot oil in the muffin tin, dividing it evenly. Bake for 8-10 minutes until puffed up, crisp and golden. Remove from the oven and take the yorkshires out to drain on kitchen paper.
In the meantime, prepare the beef. Toss the spices together on a small plate with some salt and pepper and press the beef into it to coat evenly all over. Heat the oil in a small non-stick frying pan and fry the steak for about 2-3 minutes each side for a charred medium-rare finish. Remove and allow to rest for about 5 minutes. Then, use a sharp knife to carve it into fairly thin slices.
Finally, make the sauce by simply stirring the creme fraiche and horseradish together.
Arrange the yorkshire puddings on a large serving platter and spoon a little sauce on top. Twirl a slice of beef over and top with some rocket leaves. Serve at once.