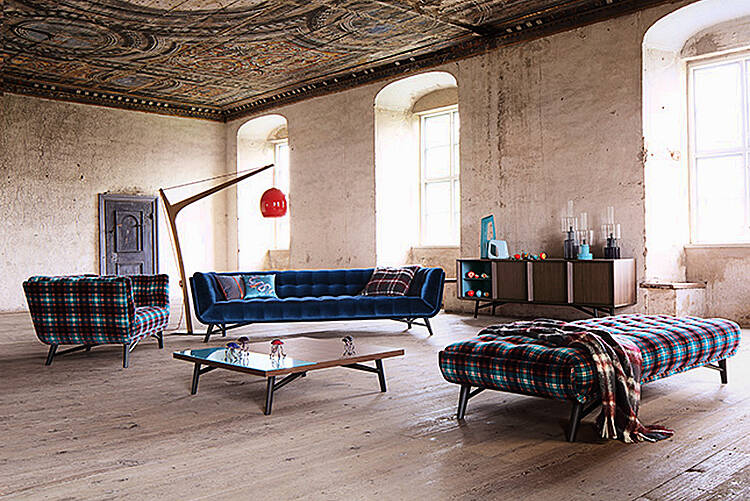 PROMOTION
What makes a design a classic? Certain designs are timeless because they meet a specific need in an extremely efficient manner. For others its due to their innovative quality, simplicity and sheer beauty. We asked Interior Design consultant Shane Mullen to pick seven of the most iconic items from world renowned design brand Roche Bobois.  
Here are his choices:
1. The Mah jong sofa
It's hard to believe the iconic Mah Jong modular seating was first introduced to Roche Bobois back in 1971. It celebrates its 50th birthday next year. Designer Hans Hopfer's innovative and uncomplicated approach to comfort has had a profound effect on interior design and has become the signature product of Roche Bobois. The cleverly designed modular seating means you can have endless combinations – a corner sofa, straight sofa, armchair, bench seat or day bed. Each cushion is handmade in a dedicated workshop by highly skilled artisans using the same methods as a haute couture design studio. But the most striking aspect of the Mah Jong is the combination of patterns on the fabric, they add great colour and a real wow factor to a room. Over the decades Roche Bobois have teamed up with various fashion houses to create beautiful fabrics for the Mah Jong including Missoni, Jean Paul Gaultier and Kenzo Takada. These are real style statements for any interior.
2. The Dolphin Armchair
This beautiful and functional  armchair features a sculptural piece of wood with four extensions that resembles a whale's tail and supports the entire seat shell: two points on the top and two points on the bottom. The seat and back cushion is completely suspended at these four points, resembling a hammock. This gives it a very light look, which is unique for the relax armchairs, surprising comfort due to the "hammock" effect. It is available in leather or fabric.
3. The Montgolfiere Sofa 
This sofa features a strong and graceful silhouette and is framed by two armrests that were inspired by the hot air balloon invented by the Montgolfier brothers. The cushions feature images from the Globe Trotter fresco and evoke the idea of fantastic journeys. "This Collection is a tribute to the adventurer we all dreamed of being. A journey is a transformative experience, and we wanted each piece to capture the feeling of bringing home worldly treasures from far away places, " says designer Marcel Wanders.
4. The Eden rock Dining collection & Bar Cabinet 
For the first time this season, French designer Sacha Lakic known for his contemporary design for Roche Bobois designed a series of furniture for Roche Bobois' 'Nouveaux Classiques' collection. He used a mixture of influences, from the Louis XVI style to the industrial furniture of post-war America. Carrara marble evokes opulence, luxurious cherry wood slats create rhythm, and solid brass offers subtle shine throughout the entire collection. The dining table structure in stained solid cherry wood and there is a choice of five finishes for the table top. Applications and feet are in brushed brass.
This bar unit features a thin white marble top and sliding doors in cherry wood slats, resembling the rolling filing cabinets of the 1950s. The interior features LED lighting, four mirrored shelves, bottle storage, and two drawers. The brushed brass trims and other decorative elements give this bar an elegant look.
5. The Rays lamp 
'Rays' is a collection of lamps that was inspired by the artisanal technique of sun caning. They showcase modern materials and vibrant colours. The light and colours in these lamps create various reflections.
6. The Profile sofa
The Profile is a timeless model designed by Florence based designers Roberto Tapinassi & Maurizio Manzoni. It combines a 1950s inspired shape with a very contemporary base. From the front, it looks parallel to the structure and from the side, it looks perpendicular. This sofa's upholstery requires specific and difficult skills. It has a very slender frame which surrounds the whole model, including the seat, back and armrest. The sofa is entirely padded and the pattern matches precisely on all three parts.
7. The Perspective Sofa 
Inspired by the Bubble sofa, which is now an iconic model in the Roche Bobois collection, the Perspective Corner Sofa is the perfect balance of design, innovation, function, and emotion. The manufacturing is done entirely by hand.  Designer Sacha Lakic designed the Bubble sofa to conjure up the image of a basket of balloons which you cannot help but want to leap into. The Bubble required the development of a unique 3D fabric which stretches in three directions.  The Techno® fabric, designed exclusively for Roche Bobois, has been designed to  match complex shapes, including rounded shapes. Composed mainly of wool, its honeycomb structure gives it lightness, elasticity, and an exceptional ability to mould to the shape of the piece.
The result is a real optical effect of pattern, depth and increased comfort. The quality of the components used, and the high technicality of this fabric thus guarantee dynamic performances never reached for a furnishing fabric. Soft and rounded, the Perspective Sofa exudes comfort and is ideal for lounging around when you just want to put your feet up. Its lines, which evoke a cloud of bubbles, make it essentially a great fun piece for your interior.
Sale information
Take time to treat yourself… From this Friday the 19th of June to July 12th, discover Roche Bobois' Tentations event. You can enjoy a large selection of sofas and furniture pieces available for immediate delivery, as well as exceptional prices across all Roche Bobois collections.
Contact:
Roche Bobois, Unit D1, Beacon South Quarter, Sandyford, Dublin 18, D18 XF34,
Tel: +353-1-653-1650