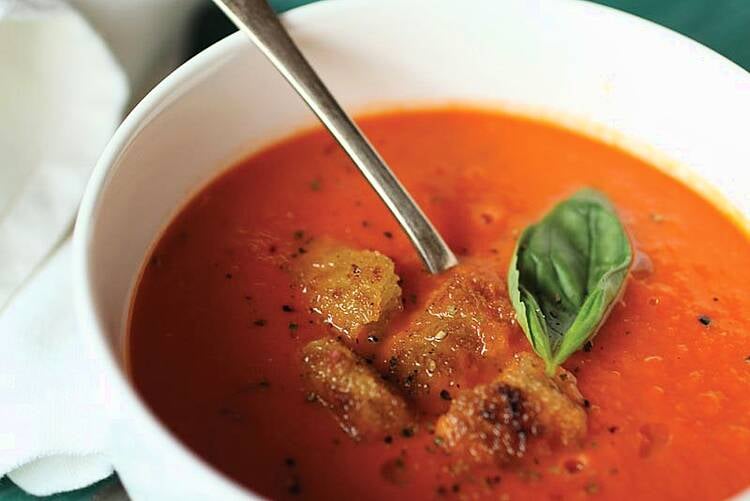 Sophie Morris' new cookbook, Sophie Kooks, is packed with seasonal recipes for any time of year.
Tomato and Chilli Soup with Crunchy Croutons
There's nothing better than a nice tomato soup – and once you taste a good homemade one, there's no going back to the tinned stuff! I often like a bit of heat in soups, so that's why I include chilli here; but feel free to leave it out if you prefer. The croutons add a nice bit of texture and take away the need for a slice of bread on the side. And remember that soups freeze really well, so you can make a big batch of this one and freeze portions for reheating. Serves 4 as a starter, 2 as lunch.
You'll need
olive oil
1 onion, finely chopped
1 garlic clove, crushed
850 ml chicken or vegetable stock, simmering
1 x 400 g can chopped tomatoes
1 red chilli, deseeded and finely chopped (optional)
1 tablespoon tomato purée
salt and freshly ground black pepper
1 teaspoon sugar
a squeeze of lemon juice
2 slices white bread, cut into 2 cm cubes (preferably slightly stale)
a small handful of basil leaves (optional)
Method
Heat a lug of olive oil in a large saucepan over a medium heat. Add the onion and cook gently for about 10 minutes, until soft and translucent. Add the garlic and cook for another minute. Add the stock, tomatoes, chilli and tomato purée. Stir well and bring to the boil. Season, then add the sugar and lemon juice to taste. Reduce the heat and simmer uncovered for 20 minutes.
Meanwhile, make the croutons. Heat a few lugs of olive oil in a frying pan over a high heat, until a crumb sizzles vigorously when dropped in. Fry the bread in the hot oil for 1–2 minutes, until golden brown all over. Drain the croutons on kitchen paper to absorb the excess oil and sprinkle with a pinch of salt.
When the soup has finished simmering, stir in the basil leaves, if using. Purée with a hand blender until completely smooth. Gently heat through and season to taste, then ladle into warmed bowls and top with the crunchy croutons.
Sophie Kooks by Sophie Morris (the co-founder of Kooky Dough) is published by Gill & MacMillan and available at good book shops nationwide now, priced at €22.99.