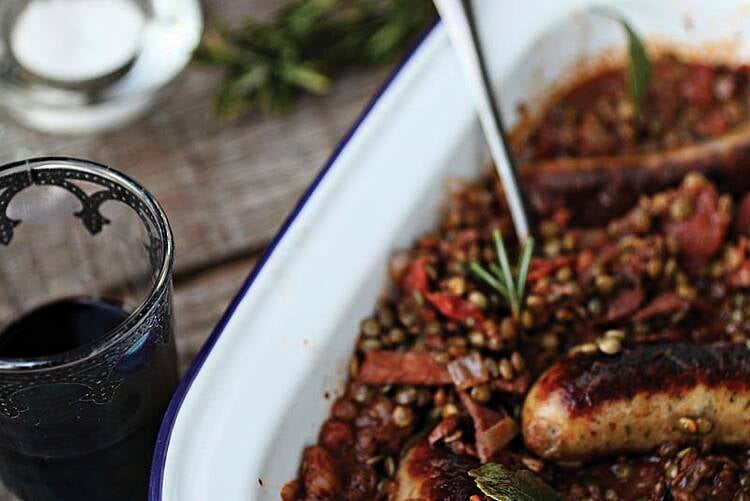 Sausages and Lentils with Baby Leaf Salad and Honey Mustard Dressing
This is a hearty rustic stew that turns a packet of sausages into a comforting one-pot wonder! I adore lentils and always have them in my store cupboard: they're brilliant for bulking up meals and are really inexpensive, too. Sausages and lentils go amazingly well together – the lentils absorb the richness of the sausages and allow their fantastic flavour to shine.
I'm a big fan of one-pot meals: effortless cooking and minimal washing up is just perfect, if you ask me. The simple salad is all you need on the side – and you can even leave that out, if you wish. Serves 4.
What you'll need
For the dressing
2 tablespoons sunflower oil
2 tablespoons olive oil
2 tablespoons white wine vinegar
1 teaspoon wholegrain mustard
1 teaspoon honey
For the stew
olive oil
8 thick, good-quality pork sausages, whole
1 large onion, finely chopped
2 garlic cloves, crushed
slices pancetta or smoky bacon, diced
2 x 400 g cans chopped tomatoes
2 sprigs of rosemary
1 bay leaf
125 ml red wine
1/2 teaspoon dried chilli flakes (optional)
180 g puy lentils, rinsed and drained (green or brown lentils also work well)
salt and freshly ground black pepper
4 handfuls of mixed baby salad leaves
Method
Use a balloon whisk to mix all the ingredients for the dressing in a small bowl. Season and set aside.
Heat a lug of olive oil in a large pan over a high heat. Add the sausages and fry for 6–7 minutes, turning occasionally until beginning to brown all over. Remove the sausages to a plate and set aside.
Turn the heat to low. Add the onion and garlic to the pan and fry for about 3 minutes, until softened. Add the pancetta, increase the heat and cook for 3–4 minutes, until it has coloured and the onions are slightly singed around the edges. Add the tomatoes, rosemary, bay leaf, wine, 400 ml water and chilli, if using. Bring to the boil, then add the lentils and cooked sausages. Stir well, cover and simmer gently for 30–40 minutes, until the lentils are tender. You may need to add some boiling water throughout cooking if all the liquid is absorbed before the lentils are cooked. Be careful not to overcook the lentils or they'll lose their shape.
Just before serving, tip the salad leaves into a bowl and drizzle over enough of the dressing to lightly coat the leaves. Taste the stew, season if needs be and serve it straight from the pot.
Sophie Kooks by Sophie Morris (the co-founder of Kooky Dough) is published by Gill & MacMillan and available at good book shops nationwide now, priced at €22.99.