A love of cooking and entertaining were the motivators behind Linda Conway's kitchen renovation
Words Kirstie McDermott | Photography Philip Lauterbach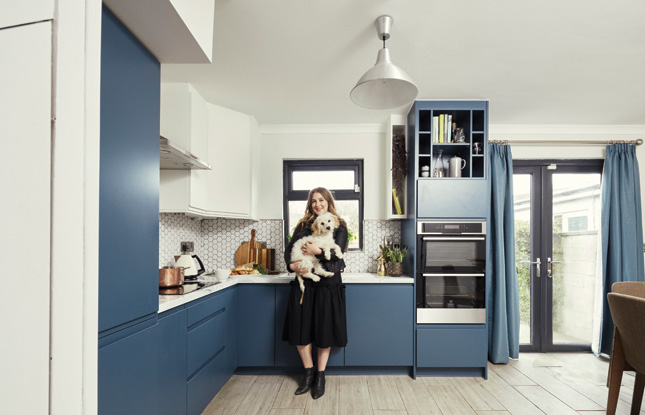 Makeover details
Project: A brand new kitchen with bespoke cabinetry
Homeowners: Linda Conway, a fashion editor and fashion entrepreneur and boyfriend Tadhg, plus cockapoo puppy Milo
Budget: €10,500 (including appliances)
What they did: Linda and Tadgh gutted the ground floor of their 1930s home to create an open plan, modern kitchen diner. They added French doors to the garden, improved the flow of the space and created a room to live and entertain in.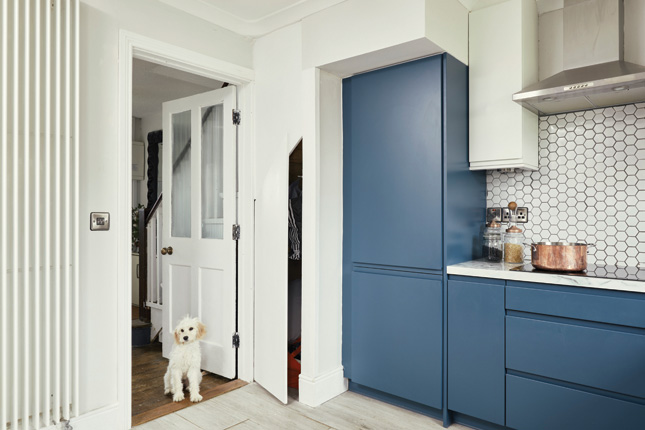 When Stellar magazine's fashion editor Linda Conway bought her Dublin 9 home with boyfriend Tadhg last year, she knew the couple was taking on a project. And as the owner of ethical fashion shopping website Stiall.com, Linda has a keen eye for style and design, so she was keen to get stuck in.
"The house was old, run-down and there were magnolia walls everywhere," she recalls. The biggest issue, though, was the narrow galley kitchen. "I love cooking and I love being able to able to chat to people while I'm cooking. And I knew this was where we'd spend most of our time; even on a Friday evening, me and Tadhg [and cockapoo puppy Milo] just sitting down to dinner. Being able to have a nice open space was really important."
Number one on the priority list, then, was a kitchen renovation to remodel the downstairs of the house to achieve that open-plan kitchen. Walls were knocked, the back door was removed and a window was put in its place. The kitchen wall and door were pushed back into the hall to create more space and French doors to the garden were added.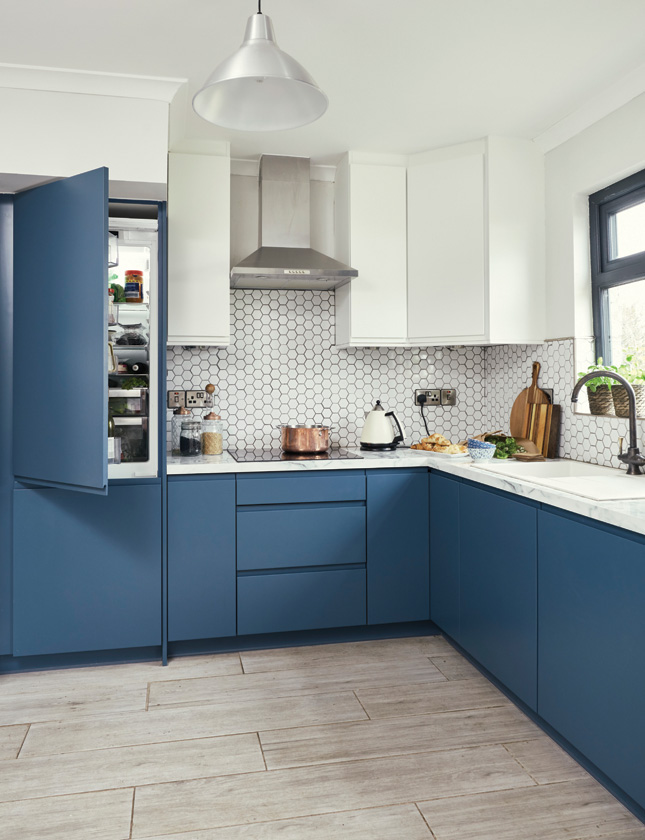 This meant a sizeable plumbing and re-wiring job, but there was an advantage to that. "Getting it re-wired and re-plumbed gave us room to play and we could decide where we wanted to put our plugs and sockets and the sink," Linda points out.
Luckily, no major issues were uncovered during this phase and the couple was onto the fun part: kitchen design. While Linda had a good idea what she wanted – "I had all my ideas on Pinterest boards," she laughs – they had a secret weapon. "My brother Alan has worked in carpentry for well over 10 years and he'd recently joined Inspired Designs so he came up and we just talked through what we wanted," she says.
"I'd always lived in apartments and had pokey kitchens, so the idea of having all this space and lots of storage was a big deal, and we decided we'd keep it as clean as possible." They made the decision to put the washing machine outside in a shed, and to integrate appliances where possible. "There are no knobs," Linda points out. "I couldn't find any I liked, so the designers came back and said, 'you're going for a really clean sharp finish, let's try this handle-less thing'. I was able to see a sample in the kitchen, so that was great."
"It was an amazing experience to work with a team like that because they added so much," Linda says. "They designed it to how we live, the space we have and what we use the most. Because I love cooking, Inspired said, 'okay, you'll need room for your pots', so I have deep drawers below the hob for those."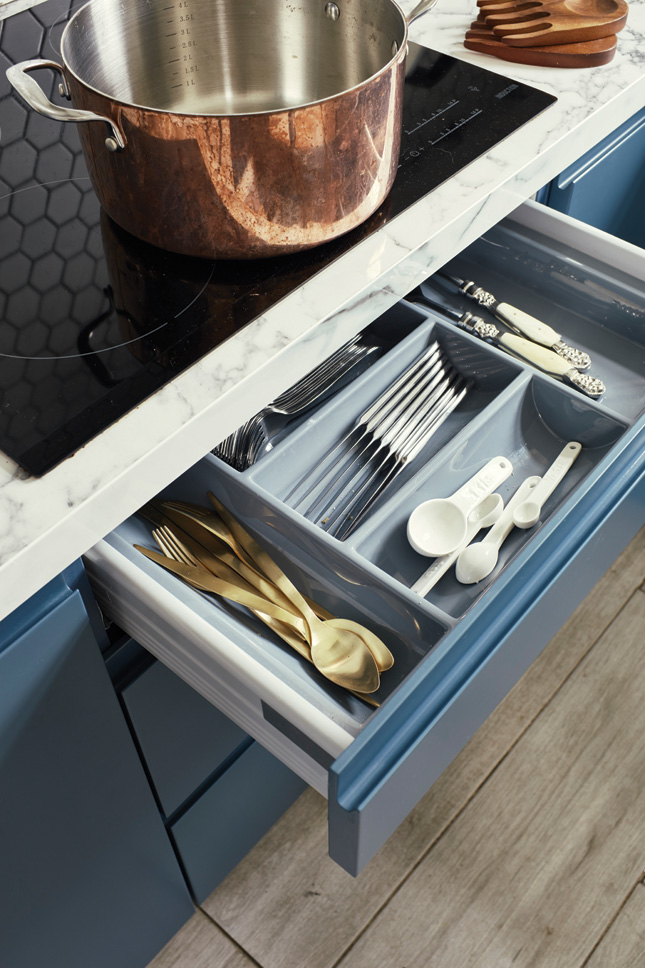 Other pieces of valuable advice were to add ceiling-height wall cupboards, and to leave out a carousel within the base corner unit as it would reduce available storage space. Linda's original cabinet colour choice of Farrow & Ball's Hague Blue was vetoed too. But, as she explains, this is all part of working with the pros, and what they bring to the process.
"Inspired brought samples and said, 'this is how Hague Blue will look in this light; this light; and this light'. And I'd be quite decisive, but it was interesting to see it in the places it was going to be, and at different times of the day – so that's why we went with Stiffkey Blue in the end, and why also we went with white wall cupboards, as it introduces a brightness."
The result is a kitchen that looks beautiful and which the couple loves because it works for them and their lifestyle. "I'm so glad we didn't just go and buy a kit kitchen," Linda confirms. "We just wouldn't have gotten anything like the result we've achieved."
Three to try
It's the little details that add up to a designer look...
Tiles add texture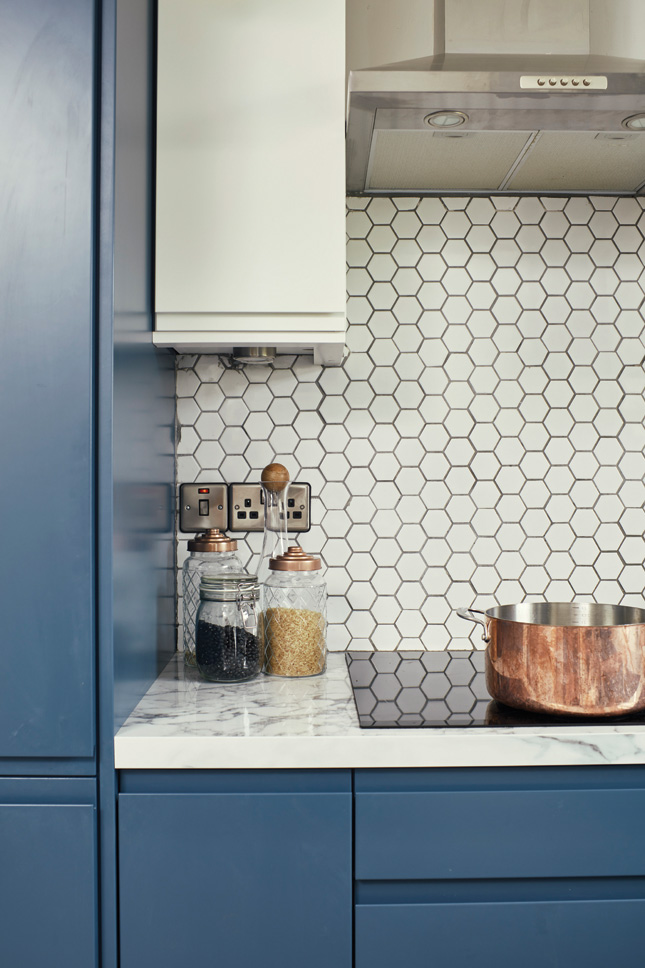 Over subways? These hexagon tiles, from Woodies (Woodies.ie), are a great substitute. Clean and graphic, they pack a visual punch.
Hidden treasures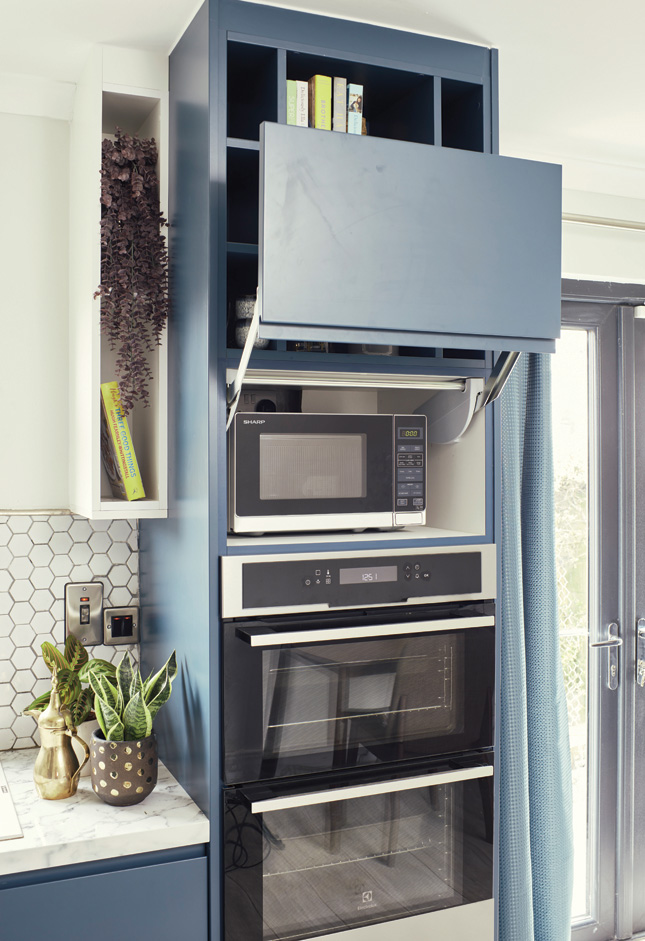 This clever idea hides a messy microwave. "Inspired Designs came up with the concept of having the door lifting up," Linda says.
Sinking feeling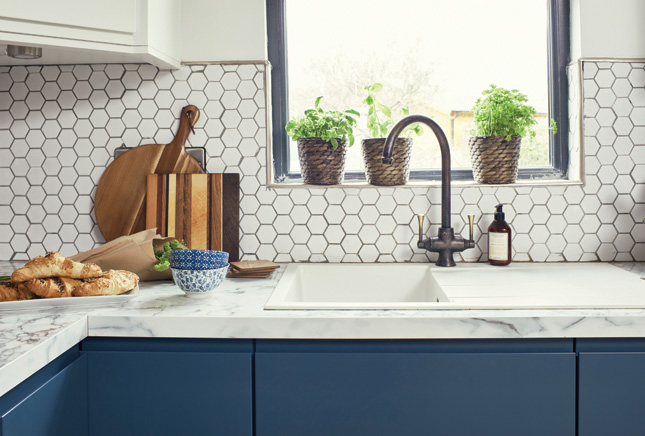 Placing the sink here meant they could see the garden. "We moved the door and put a window here instead," Linda says.
Sourcebook
Kitchen units: Inspired Designs
Worktop: Duropal
Appliances: All from Electrolux
Wall tiles: Woodies
Floor tiles: Tubs & Tiles
Ceiling pendant: Ikea
Sink: Pyramis
Tap: Hafele
Under-unit lighting and plug sockets: supplied by electrician