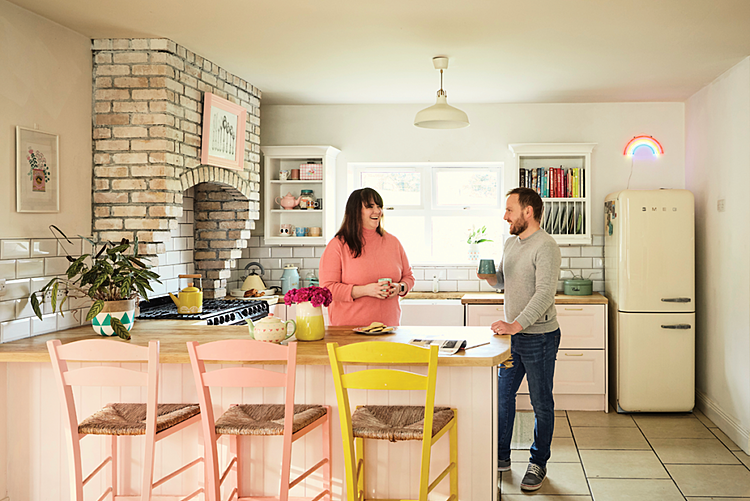 "I feel like colour is in my blood at this stage. It's the first thing I look for," enthuses upcycling furniture artist Joanne Condon, as she recalls how her love for brilliant brights has evolved over the years. A former art teacher, Joanne is possessed of a creative streak a mile wide, and when she and husband Vinny (not forgetting dog Bill), moved into their self-build home in Tipperary in 2010, she finally got the opportunity to showcase her personality and style through her favourite medium: paint. "I love playing with colour and having fun. With the house I wanted to walk into a room and feel joy, instead of feeling dull," she explains. 
Although their home is situated in the bucolic setting of Tipperary's countryside, Joanne's home is a far cry from quaint. A decade in situ has cemented her interiors style somewhat, too. "The house has a real old feel to it – there's stonework and I've got a big Aga so it has a bit of farmhouse style, which I wanted at the start, but I've grown away from that now," she says. "I think everyone has their own individual colour palette, but a lot of the time they're too focused on trends – it's important to go with what you want. You have to live in your house and you'll love it more if it's your style."
Joanne's creativity stems back to her time in art college where she'd find inspiration in the most unusual places. "I used to go out and pick petals and try to achieve those colours, or when I'd walk up the mountains on a summer evening and the sky would be a mix of pinks and yellows I'd think, 'that's a lovely combination'," she explains.
Nowadays, her perfect colour combinations are trial and error. "I paint lots of swatches and mix them all together, and I could spend ages deliberating whether those two colours can go together. I have great fun doing stuff like that," she laughs. For most of us, deciding what paint shade to use in our living room can be an almost paralysing experience – but Joanne says to trust your instincts.
"If you have something on the walls and it's not a colour that you usually go for, but your gut is like, 'I really love it', then just go for it," she enthuses. "People too often stop and they're too worried what other people think – but your gut will always tell you the right answer."
A huge part of her décor – not to mention her career - upcycling has become a major part of Joanne's life. Her home is a treasure trove of trendy thrifted finds. You, "don't have to buy new things for the room to feel new," she says. "Paint is magic, and you can change everything with it. Most of my furniture is upcycled and it's rare that something is new," Joanne explains. 
A brilliant example of this is one of Joanne's most recent room renovations. "In the living room, there is one new piece of furniture, and everything else has been upcycled," she notes. "It was a complete makeover as the room was beige and I had an old sofa, which I stripped back and recovered. The office desk was going to the dump, so I saved it."
This room also forced her to step out of her colour comfort zone. "I'm so obsessed with colour and a lot of rooms in my house were white, so I wanted something different. I have my own Tikkurila paint colour collection with Carlow Paint Hub I loved the colour Deep Dive – that room is actually a dark room anyway, so I embraced the darkness," she explains of her choice to use a rich, deep teal shade on walls and ceiling.
For 2020 Joanne is all about confident colour, done her way. The key to her success is that she doesn't rush into things. "A lot of time people put themselves under wicked time pressure and think 'I have to get this room done this weekend'," she notes, "but I never do that. I think it takes the fun out of it.
Last year Joanne won two awards at the inaugural House and Home Interiors Influence Awards in association with DFS, taking home the Best DIY and Upcycling Award and the House and Home Grand Prix Outstanding Achievement Award. "I didn't think I'd win anything because the competition was so tough, and to come away with two was incredible. I was on a high for weeks afterwards," she smiles. "I've been upcycling for ten years and that's my life, everything is upcycled in my home and in my business – so to get that award was surreal."