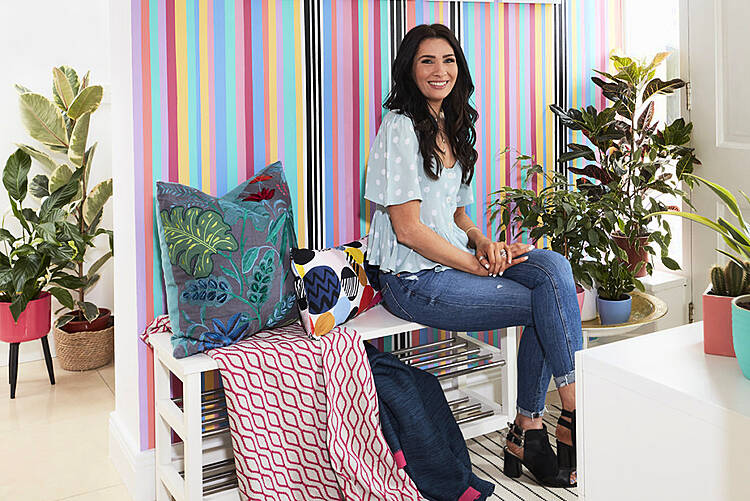 From the bright geometric mural on her dining area wall to glossy red kitchen tiles, rainbow pom-pom bunting and bold botanical wallpaper in her daughters' bedroom, it's abundantly clear that Gill Corrigan is in love with paint and colour.
The woman behind the kaleidoscopic hues of the @rowans_rainbow account, Gill's skill and talent at creating impactful colour combinations is unparalleled, so it's no surprise that she's built such a strong following on Instagram in a relatively short space of time.
A tourism adviser, Gill and husband Brian bought their extended cottage in Co Limerick in June 2018. They live here with their four kids, twins Ethan and Jesse (10), Lilah (7) and Ellie (1).
"The house was a blank canvas," Gill recalls. "It was lovely but plain; everything was painted magnolia." This bright, light-filled house didn't need much done to it, so they just added new windows and gave everything a coat of fresh white paint.
"Then I added details to every room," Gill says. At the time, budget didn't stretch to wallpaper, so her approach was to create painted murals, which perfectly showcase the versatility and creativity of paint. "It's a very small amount of money for a massive result," she says.
"The house was so plain, and we knew it would be a while before we could add anything else. With four kids you want happiness and cheer," Gill explains of her decision to go big on brights. "I started in the boys' room, then did the kitchen. I find it really relaxing." And she's clearly a creative soul: "I've always loved colour and interiors, and I used to decorate cakes," Gill agrees.
When it came to the plan for the hall, one of the few areas in the house not already completely colourful, she had a clear vision for her Crown Paints makeover. "The idea came from my Kitty McCaul 'Hope' prints," she explains. "They're dedicated to my daughter Ellie's middle name."
The colours she used were inspired by a previous zig-zag mural she'd completed on a wall by the bedrooms. "Originally, I was going to do a pastel zig-zag version but then I decided to go with stripes, using lighter shades of the previous colours. So, where I'd used red, I went with pink, where I'd used orange, I went with coral, and so on."
Gill used seven Crown shades in total, including black and white and had them all mixed up at the Crown Decorating Centre in Limerick. All of her colours were custom-mixed to her specifications. "It's an amazing service," she says. "I'm not super fussy – but I am a bit fussy with colours as I want them to be right," she smiles. The fact that the Crown Colourmix service can be used to make any colour, in any finish was a brilliant option for her.
"It's lovely paint and coverage," she says. "It's really smooth and I would barely have needed to do a second coat, it's really pigmented. I've worked with loads of paints and the coverage is great," she confirms.
Starting off on her hallway project, the first thing Gill did was draw out her design on the wall. "I made a rough design, I lined it out pencil using a spirit level. Then I masked it out using Frog Tape," Gill explains.
When it came to painting the stripes, she did it in stages. "I did it in rounds and let it dry," she explains. "I did two coats on each stripe and then removed the Frog Tape quickly," she explains of her technique. And it's important to Gill that it doesn't look too 'perfect', either. "I like it left with the little imperfections so you can see it's paint, and not too precise," she explains.
In fact, only one thing went wrong. "Ellie scribbled on it. I think she was copying me," Gill laughs, adding, "she even had her small spirit level out! But I managed to tidy it up, so it was grand."
All-in-all, painting the hall mural took a week, and has totally transformed this space. "Before, I loved the shape of the archway, but not the grey and white we had on the walls. I was trying to do something different and it wasn't us – it was boring," Gill says.
"Now I love you can see colour. It's more us, and we're all on board with it. It's our rainbow house!"
Photographer: Philip Lauterbach Stylist: Alannah Monks
This post is sponsored by Crown. You can visit one of 15 Crown Decorating Centres nationwide to get products and expert advice and help for all your paint projects. Additionally, Crown products are available at hundreds of stockists nationwide.