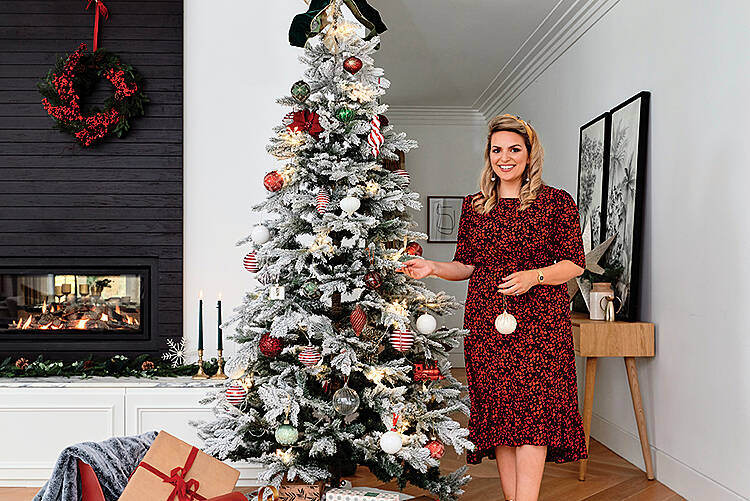 Susan McGowan has given a once tiny bungalow a chic and spacious redesign, creating a beautiful home that is the perfect for a family Christmas. Don't miss Susan's top tips for festive tablescaping
Words: Ciara Elliott | Photography: Philip Lauterbach
From the moment I walked in the door, I felt at home," says Susan McGowan of her first impressions of the 1950s cottage in Westmeath which was to become the future homestead for her and husband Liam, and their three children. "I could see the brown bread on the table and the kettle on the range. It had a sense of warmth and reminded us both of our own grandparents' places."
From a development perspective, Susan, who is an interior architect and Liam, a chartered physiotherapist, had been looking for the right project for quite some time. Viewing this plot, they knew they had enough adjacent land to the cottage to increase the size of the footprint comfortably. It was also on an elevated site on top of a hill with countryside views, which was something they had hoped for. Having had other projects fall through more than a few times, they agreed on the spot that they both liked it and wanted to try to buy it.
"I went home that evening and immediately started to redesign it," says Susan, who runs interior architecture company Ashen and Cloud. "The project was sizeable. The existing house was 70sq m and the space is now 400sq m, so in the end it took me about a year to be fully happy with the design, but I started there. Now that I am working on about 20 projects at any given time in my own company, that seems like a hugely excessive amount of time to spend on just one project, but here I really pushed myself to fulfil everything we ever wanted in a home."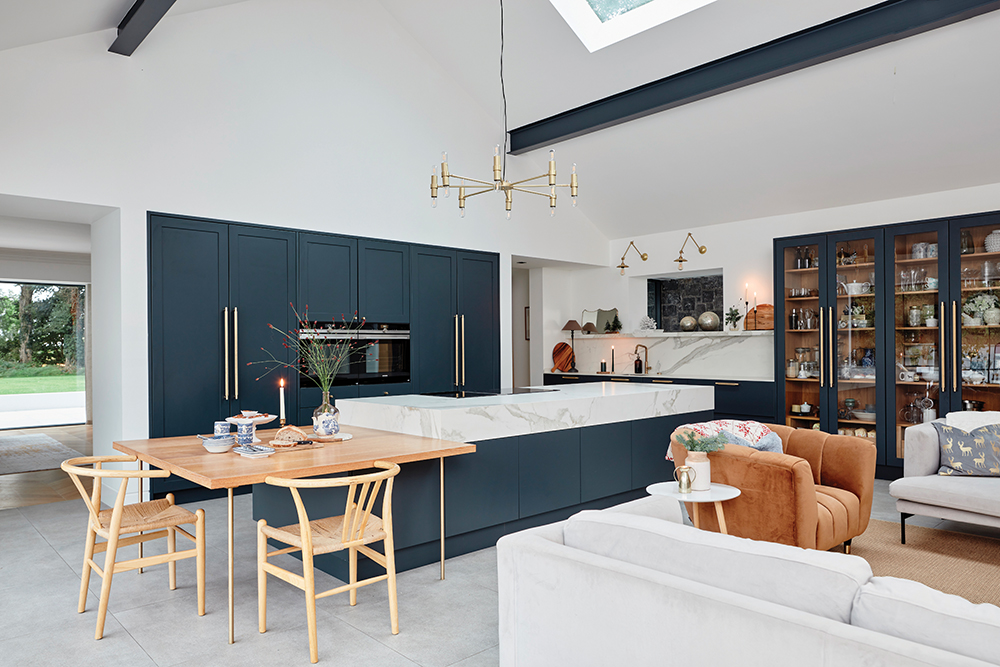 The couple and their two small children, Julianne and Jacob (they have subsequently had a third child, Brody) lived nearby in Liam's grandmother's house while the house was being built. Susan designed the de facto new-build herself, employing local contractors (John G. Buckley) as builders.
"The first steps were wishlist, site analysis, sketch pad and pencil and I took it from there," says Susan. "I've kept all my original sketches for the family memory box. I have very strong points of view of how I want a space to work and look, but I was also taking on the architecture, and this was a huge learning curve. Thankfully I have many architect friends who helped me when my feet got muddled, and one who kindly prepared the planning application for me."
One of Susan's strongest skills as a designer is spatial planning, and she's passionate about having the practical side of a home absolutely watertight before thinking about the interior. "This may not be the approach of every designer, but I stand firmly by it, as no amount of interior beauty can surpass a space that doesn't work optimally or have the right flow," says Susan.
In all, the couple say they found the process of building their own house hugely satisfying. "We were lucky. We had great fun with the building team, who were all very local," says Susan. "There were lots of jokes and fun about the 'small extension' and the fact that the existing house that reared a full family was now a bedroom. Notions, as they say! But joking aside, everybody that worked on the project was committed, dedicated, and demonstrated commendable attention to detail. It was really was an enjoyable process."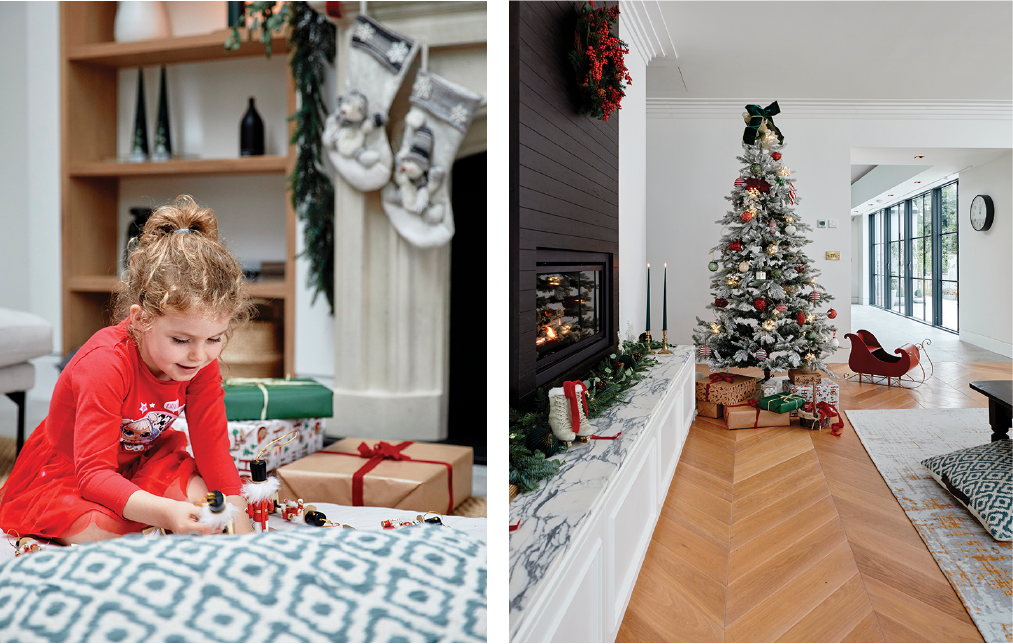 Any tips for those dreaming about planning to do the same? "The most useful advice I can give is to hire the best people you can afford. Meet them and ensure that you can have a positive relationship with them as you may very well be working together for up to two years," says Susan. "Ask to see their work and ask for references. Develop a very strong brief and then hand it over."
In terms of next steps for the house, Susan says they invested in en-suites, storage and wardrobes for move-in, but that they'd like to go back now and 'design' them fully. They also have plans for the upstairs area, which has been recently floored, but was not photographed for this shoot. "It's a lovely loft-style space with a solid fuel stove laying in wait for cosy entertaining in the winter," Susan says. "It will have a small kitchen area and a bedroom en-suite for guests and should work nicely as an in-house apartment should anybody visit for a more extended stay too. That being said, we probably only have a few years until it becomes a teenage zone."
Kitchen
One of the defining features of their new-build extension, Susan says she started the design of the whole house around this space. "The kitchen is the heart of our home, connected to every other space, either visually or physically," she says. "It's also double height and has a great sense of drama as a result." The kitchen cabinetry is by Lisa Maher Design with surfaces supplied by D-Tops.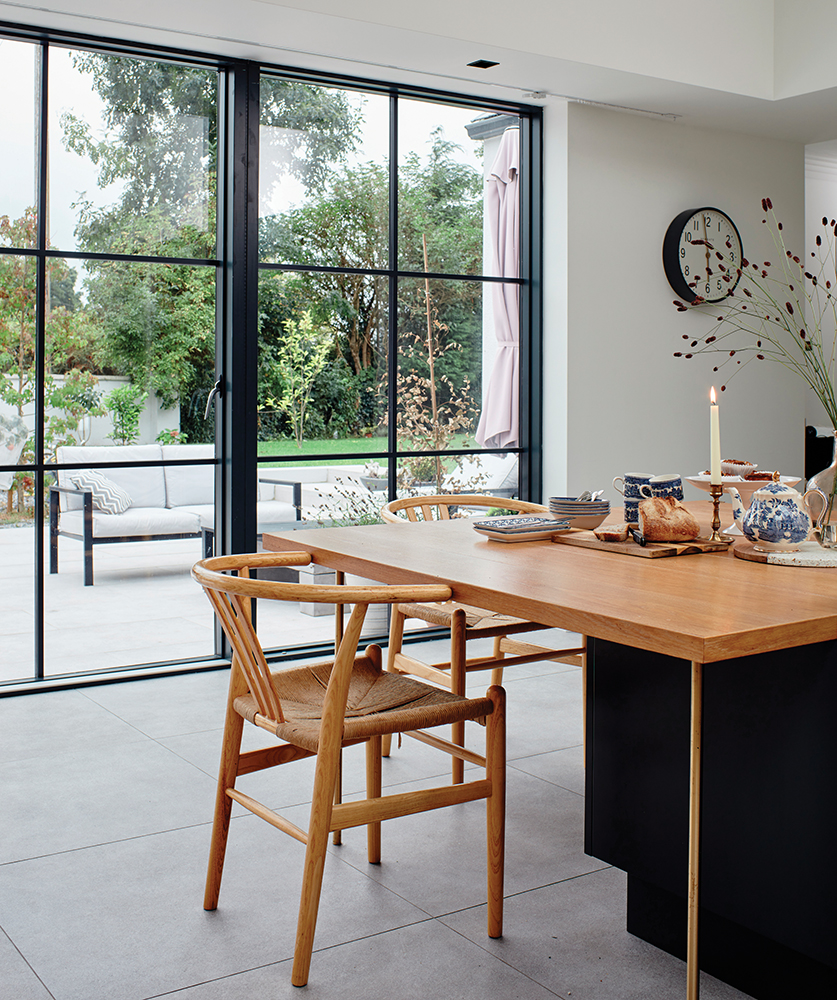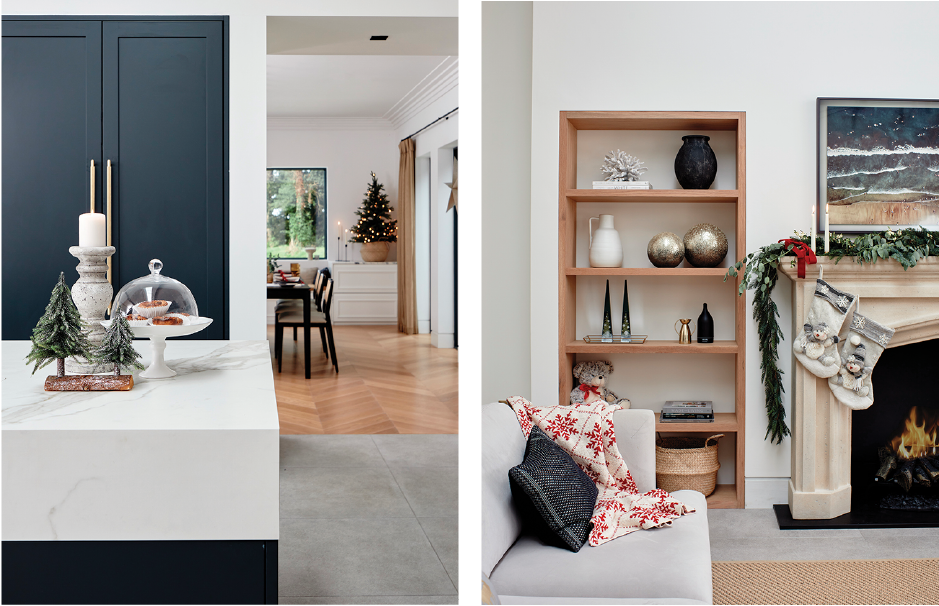 Dining room
"We love to entertain, and I really wanted to have a room for dining, which was visually separated from the kitchen," says Susan. "It's my favourite room in the house because it is the best at bringing us together for quality time. Liam and I often linger over a glass of wine chatting in the evening and it feels like you might be in a restaurant. With three small kids, we don't get out the door much, so this is really important.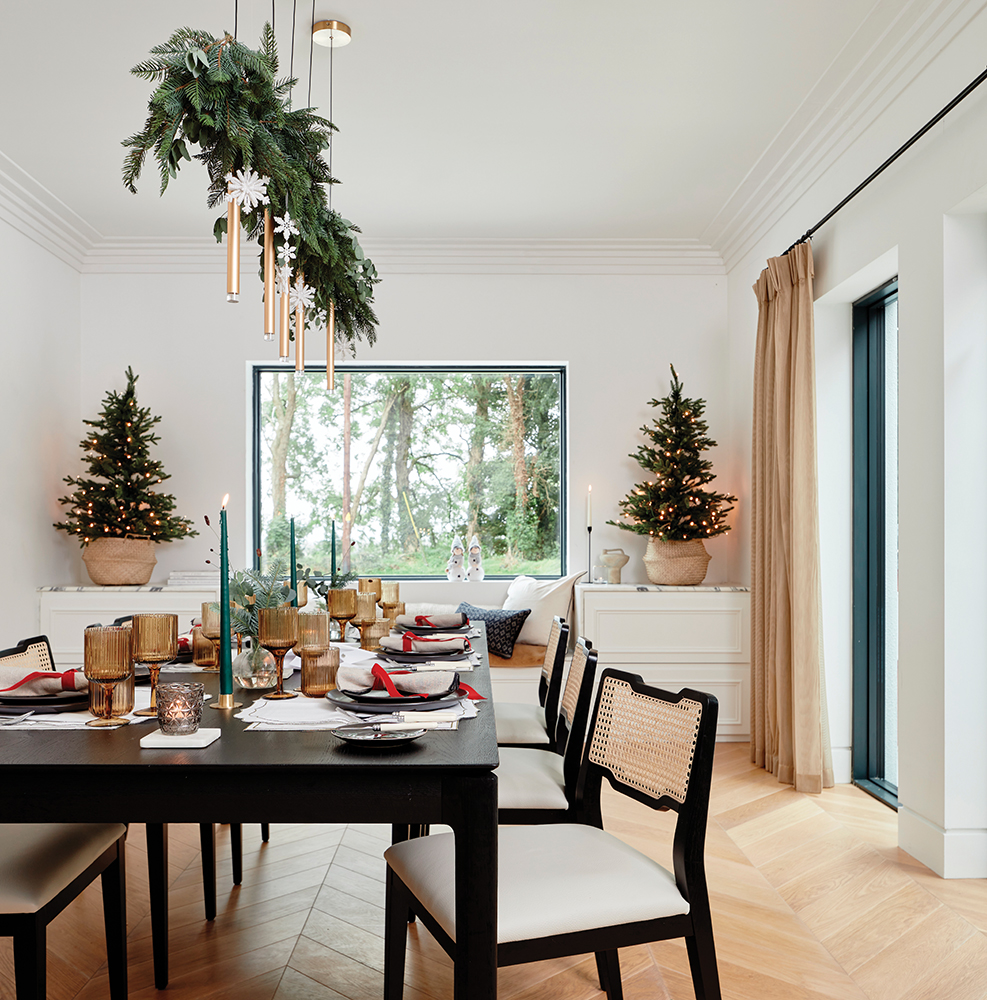 Living room
"Needless to say, with the off-white sofa, and three young children, the sitting room is somewhat controlled – no sticky fingers and we don't let them play with their toys in there!" says Susan. An open-plan area where the couple can have an eye on the kids by day, this is also a calming space for the family to spend time in when the house quietens down.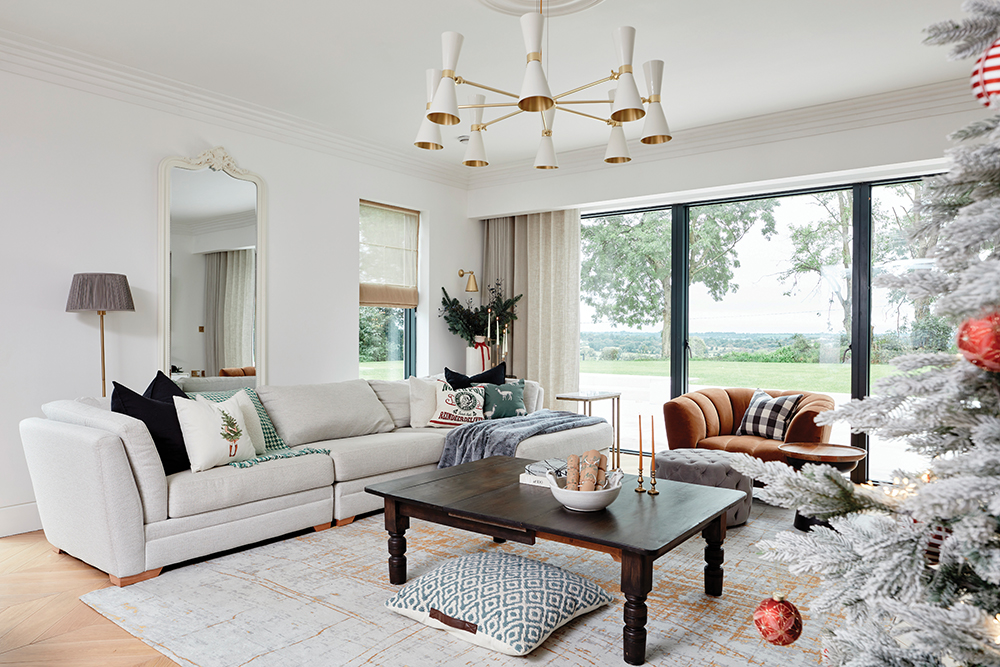 The sofa is the Long Beach from Dfs.ie with lighting by Mullanlighting.com. The walls are painted in All White by Farrow-ball.com. The rug is by Louis De Pootere. "The coffee table used to be a dining table belonging to Liam's great, great, great grandfather. We didn't have a space for it and debated whether we should cut the legs off. We decided we were giving it a new home for the next generation. It was definitely the right thing to do."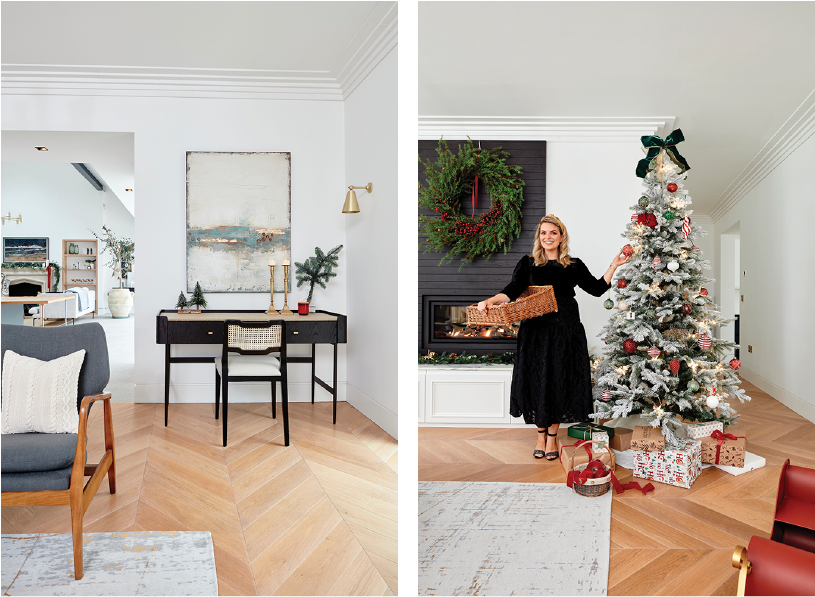 Bedroom
The master suite sits in the footprint of the old house, and is still in a series of rooms. "It feels like a calm, private and separate space to the rest of the house, and I love to come in here early on a Friday night to shake off the week," says Susan. "We left the walls as they were for the most part, and this has given it the character it has." There are lots of special pieces in here, including the pendant light which is a French antique, and was a wedding gift from Susan's parents. The French commode beside the bed is from Ashbrook Antiques with wall lighting from Litfad.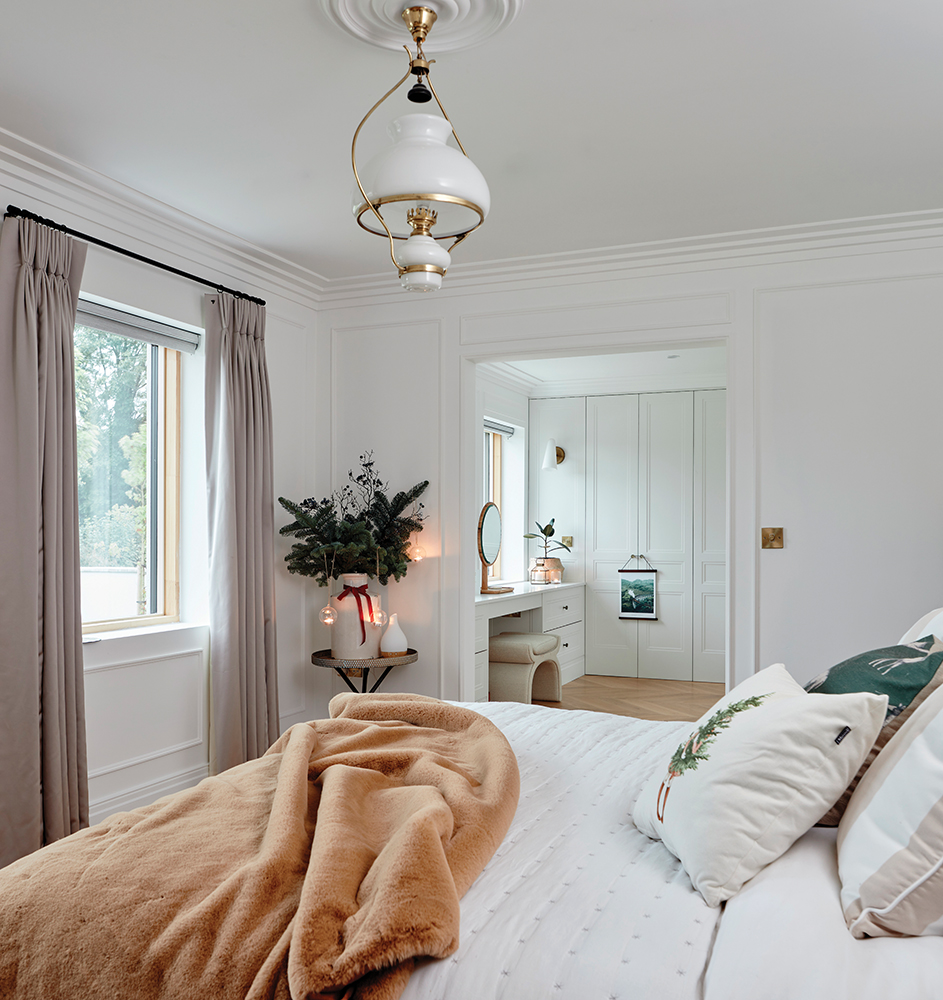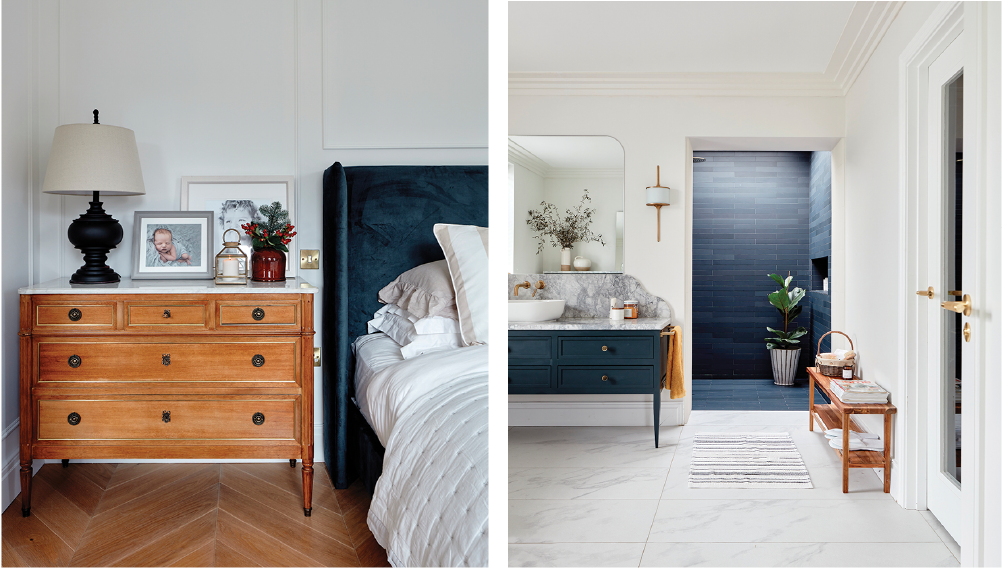 Bathroom
This airy space is made up of a main master bedroom, connecting to an open-plan dressing room, which leads into a bathroom and a walk-in wardrobe beyond. The bath is by Duravit, with matching basin, both from the Luv range at Tubs & Tiles. The vanity unit and bespoke shelving are by Ciaran Coyne Carpentry, with surfaces purchased from Eganstone.ie. The shower brick tiles are the Mutina Mews in Ink, at Tile Style with wall-mounted mixer taps and fixed accessories, including towel hooks, from the Vado range at Tubs & Tiles. The wall lights are from Dusk Lighting.
The bathroom has a ying yang feel to it, with the main area being the bright, white and relatively fuss free space and the shower area being the darker and more detailed space. "The shower itself used to be a kitchen scullery, and it was a good size, so we decided to keep it as such, but add a rooflight," says Susan "This juxtaposes the dark wall tiles and feels like an outdoor shower under the sky."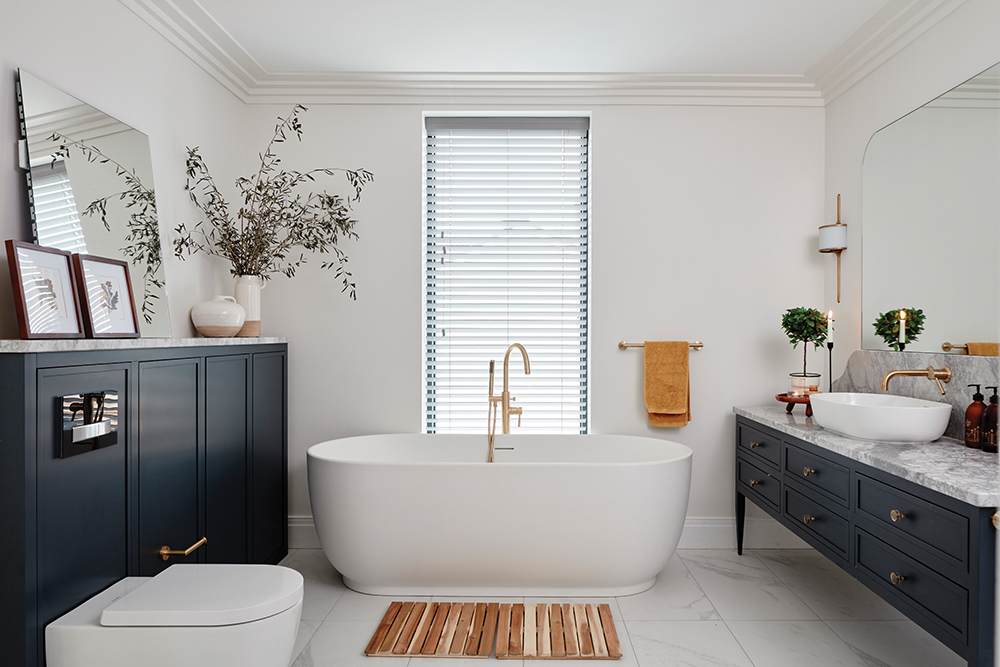 Don't miss Susan's 5 top tips for festive tablescaping. And to see more of Susan's designs, follow her on Instagram @ashenandcloud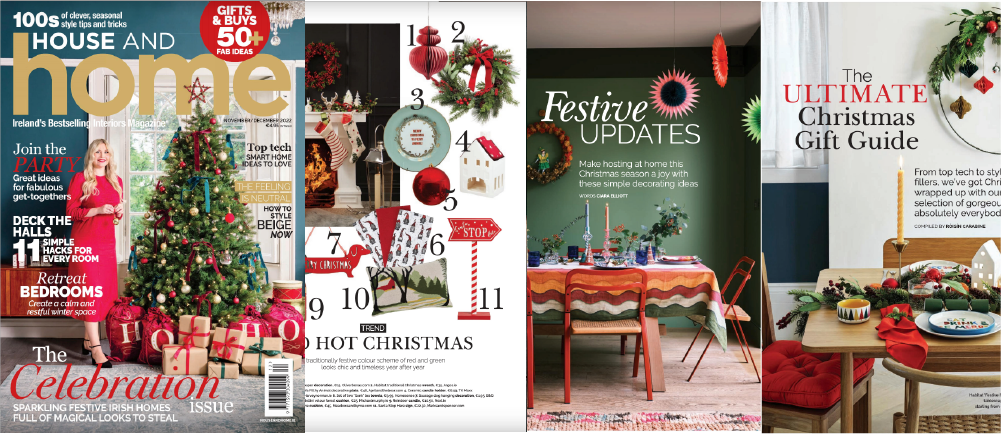 Looking for even more Christmas inspiration? The House and Home Celebration issue 2022 is out now! Don't miss it for: more Irish homes at Christmas, fabulous party ideas, simple decorating hacks, gift ideas, and much, much more!
Share This Article