Hidden Ireland is a group that looks after a collection of historic country houses. They're all privately owned, but visitors can stay and they are so much more than just accommodation - they form a group of Ireland's most beautiful and fascinating hidden homes, up and down the country.
We've an extract from a stunning book - Hidden Ireland: Discover Ireland's Most Beautiful Houses -  offering privileged access to these hidden homes and their owners. From a stately home in landscaped parkland in County Monaghan that has remained in the same family's ownership since it was built in 1734, to a Georgian mansion in County Cork that has diversified into glamping and on-site gin distilling, these hidden homes have likely been just under your nose.
Featuring eclectic interiors, family portraits and prized collections of fine porcelain, as well as the stunning architecture and gardens that these houses are known for, James Fennell's evocative photographs combine with Josephine Ryan's lively, authoritative text to tell the story of Hidden Ireland – the history, the style and the personalities that are at the heart of these glorious hidden homes.
Photographs: James Fennell | Words: Josephine Ryan
LORUM OLD RECTORY
Kilgraney, County Carlow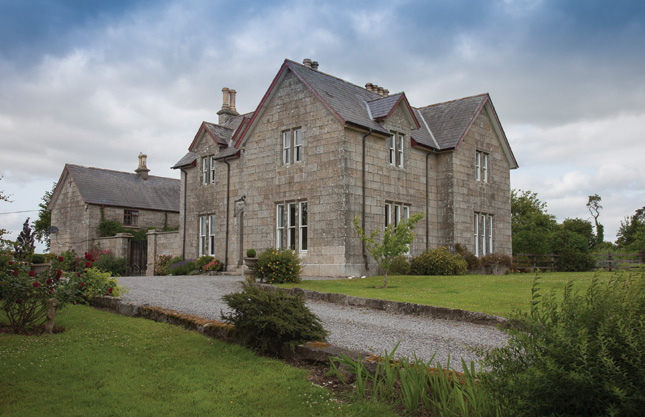 Arriving up the drive the old rectory stands handsome and proud. At first it can look somewhat austere, but the surrounding gardens and homely atmosphere soften the granite.
Tennant Young, manager at the Bank of Ireland in nearby Borris, bought Lorum Rectory in 1957 from the church. One of Tennant's children, Bobbie, is now the genial host at Lorum. She has an excellent reputation, and is a superb chef and baker, offering imaginative cooking using homegrown or local organic produce. Hearty breakfasts are a speciality, as are her healthy, delicious soups and soda bread. Dinner is relaxed and shared around a mahogany table that gleams in the candlelight. Bobbie went to Australia in the 1970s where she met a Kiwi, Don Smith, who followed her up to Carlow. They settled back into life at Lorum with their three daughters in the mid-eighties and became founding members of the Hidden Ireland group.
Like the soft yellow granite, the house is built from, the colours on the walls from the hall through to the drawing room and dining room are all in a soft, carefully considered palette in keeping with the age of the house and the style of furniture – a mix of eighteenth and nineteenth century, largely mahogany, collected over the years at fairs and auctions. The drawing room fireplace burns with soft, silent turf and the photographs, paintings, prints and silhouettes are testament to a long family history that the Smiths enjoy sharing with their guests. Don prematurely passed away in 2002, but Bobbie has continued with help from Rebecca, her third daughter. They have a beautiful home that is visited by discerning, interesting people, who seek something more than the anonymity of a faceless hotel. Bobbie exclaims enthusiastically that the nicest thing about having a guesthouse is that all the world comes to you.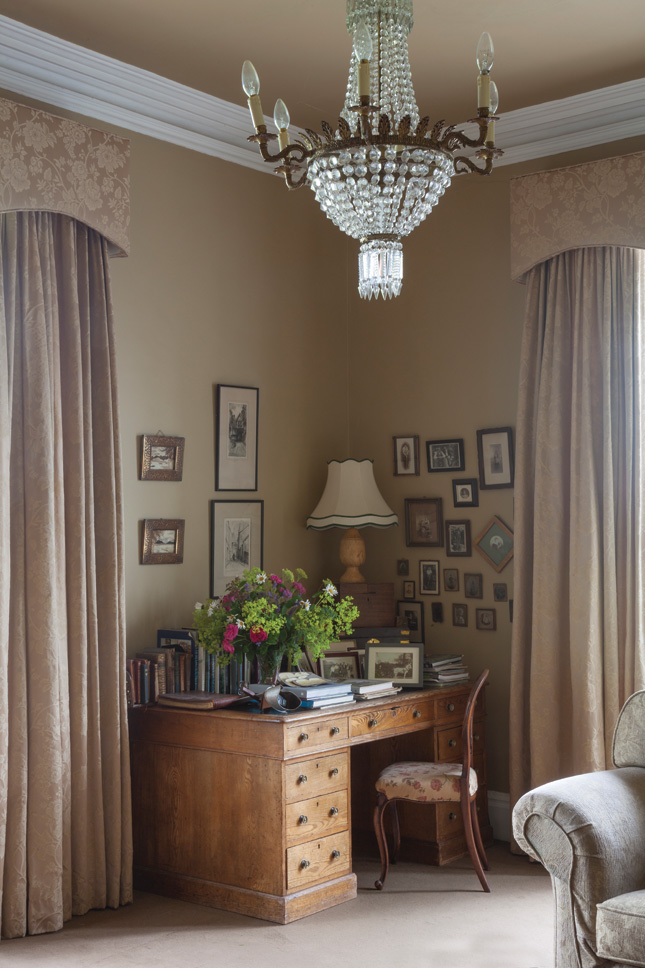 In the front corner of the drawing room is a walnut knee-hole desk. The chandelier was bought at a local auction, while the tight display of daguerreotypes and later photographs are from Bobbie's mother's side of the family.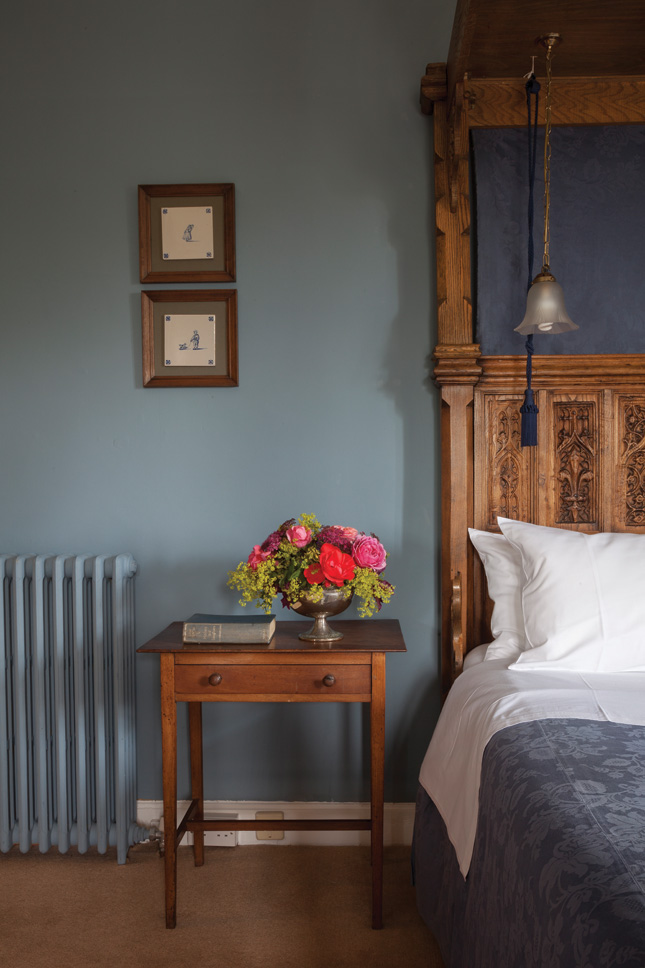 When Sotheby's appraised this four-poster bed, they decided it was sixteenth-century French and that it was made up from church panels. It was originally in Borris House, but languished for many years in a barn halfway up Mount Leinster. Rescued in the 1980s, it is now restored and resplendent in the large blue bedroom. A pair of naive seventeenth century framed Dutch tiles hang in isolation above a simple bedside table.
Get the look: 


CLONALIS HOUSE
Castlerea, Co Roscommon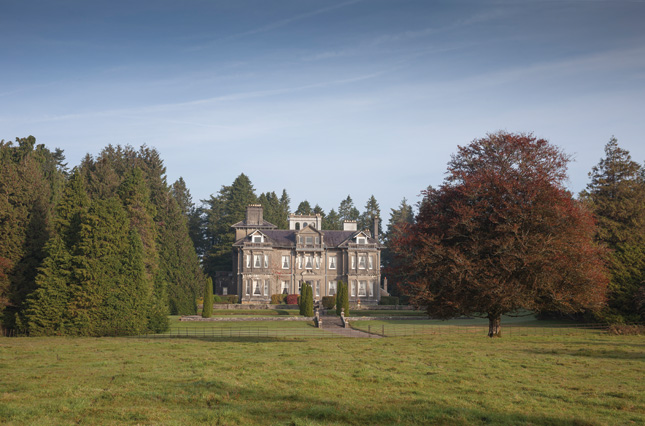 This, current forty-five room, Victorian mansion was constructed between 1878 and 1880, and designed by English architect Samuel Pepys Cockerel. It is a mélange of Italianate and Queen Anne styles.The house sits amid a crescent of cypress and redwood trees on substantial grounds. The main entrance to the house is through a balustraded porch set at the base of a projecting Italianate tower at the side. This brings you into a double height hall, with cornicing supported by graceful arches and Ionic columns of pink marble from Mallow in County Cork. Under silvered candlelight Marguerite serves an ever-changing menu using only the freshest of produce, creating delicious meals served in the country house manner. After a day of wandering and learning, then a perfect evening chez O'Conor, when you ascend to one of the four vast bedrooms, you will find a little carafe of sherry in your room to aid your sleep in the sumptuous beds.
Staying at Clonalis is so much more than a visit to an Irish country house, for the old billiard room is now a mini museum, with bespoke glazed cases containing important letters, manuscripts and artefacts – not least of which is the harp owned and played in Clonalis itself by the famous blind harpist Turlough Carolan (1670–1738), one of the last traditional Irish bards. Clonalis is the only house in the Hidden Ireland group with its own private chapel, complete with an eighteenth-century altar, some fine religious paintings and penal relics, and an array of mismatched Victorian chairs.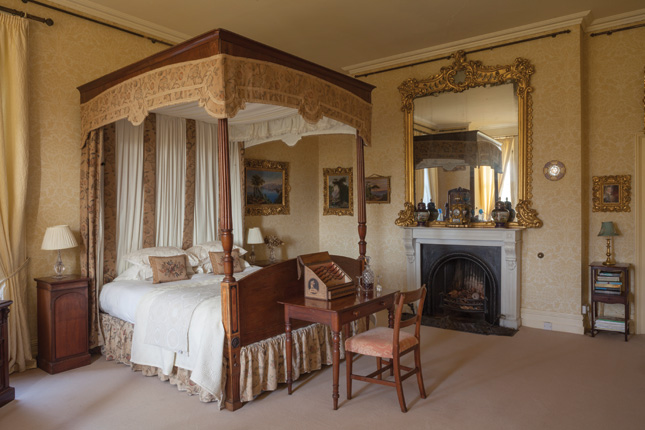 The form of this four-poster bed originated in Austria, in the fifteenth century. All the bedrooms at Clonalis have either four-posters or half-testers.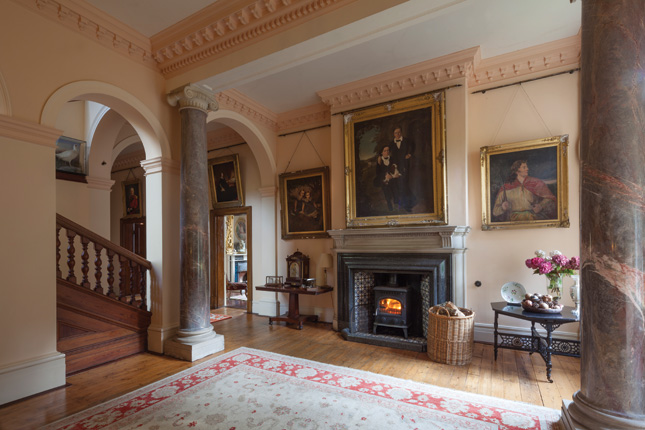 In the cavernous main entrance hall, three important paintings represent more O'Conors. The two children on the left are Charles Hugh O'Conor and his twin Roderic. Charles Hugh lived at Lucan House and was Pyers' grandfather. The painting over the fireplace is Charles Owen O'Conor who was a Member of Parliament. To the right of the fireplace is a nineteenth-century Romantic impression of Phelim O'Conor, King of Connaught.
Get the look: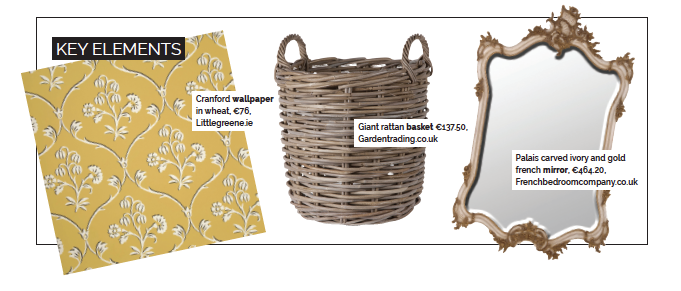 ROUNDWOOD HOUSE
Mountrath, County Laois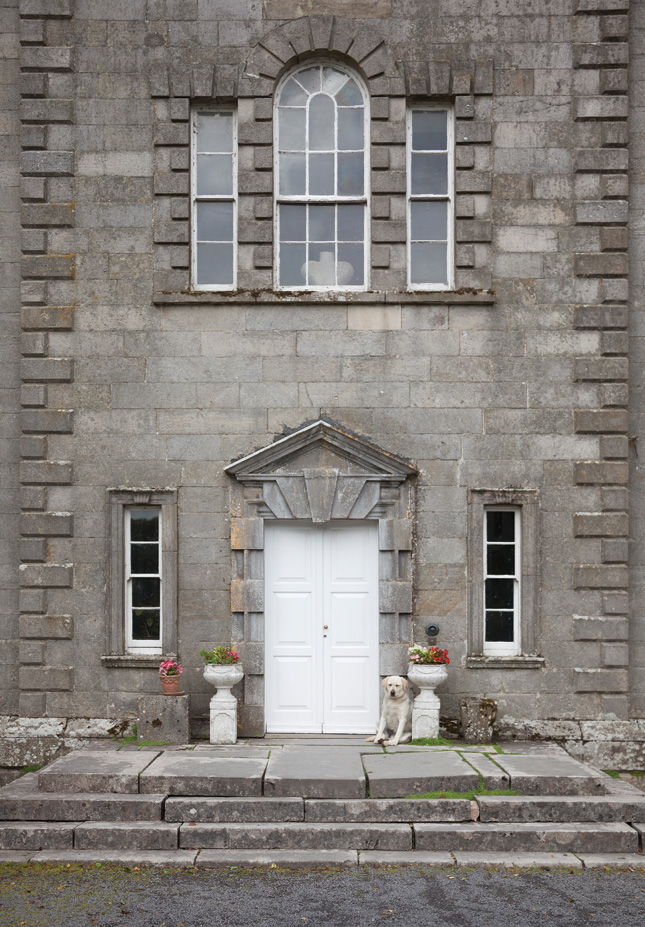 Antony Sharp, who came from a prosperous Quaker family of cloth makers, built this house in 1741. The house had its heyday in those days, then slowly but surely deteriorated – by the 1960s it was abandoned and boarded up. The Irish Georgian Society, under the patronage of Sir Desmond Guinness, came to its rescue and saved it from ruin. Roundwood still stands and is now home to Paddy and Hannah Flynn, their two daughters, and a veritable menagerie of dogs, cats, fowl and a pig. Hannah, a classics graduate, inherited the mantle from her parents eight years and she runs it with her husband Paddy, a Canadian singer-songwriter of Irish descent.
On entering through the simple white front door with its limestone portico, the double-height hall with the bulky painted chinoiserie balustrade is unique and distinctive, reminiscent of a grand circle at the theatre. The theatre of life at Roundwood is slow paced: although there is much to do in the area, Paddy invites his guests to 'do a whole lot of nothing'. It is an invitation worth taking – it is not often one has such opportunity. The four bedrooms – all with their own modern bathrooms in what would have been dressing rooms, with views on to the gardens – are simple, almost spartan, but all the more stylish for that. No flat-screen televisions here – instead there is a crammed, glass-fronted bookcase in the hall, from which guests are welcome to borrow. As the saying goes: 'a home without books is a body without a soul.'
"I think this house has a marvellous doll's house-like quality, in that it's not a 'great house' but it's very well designed and very cleverly laid out, and it's got all its original fittings, which is quite something,"  says The Hon. Desmond Guinness, co-founder and former President, the Irish Georgian Society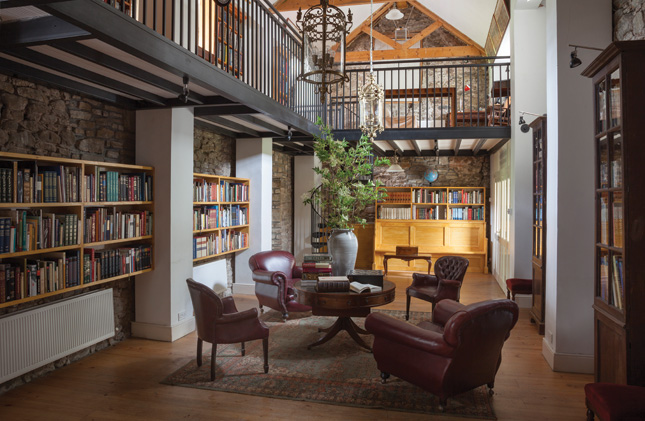 Hannah's father Frank had a lifetime goal of creating the library of the evolution of civilisation. Housed in a contemporary barn conversion, it is a collection of over a thousand volumes of diverse subject and genre, with the common thread of how our society has evolved over the millennia from a cultural perspective. His intention to offer refinement of thought and cultural appreciation means that books on the philosophies, arts, sciences, music and poetry are available to help readers to understand our history and where we have come from.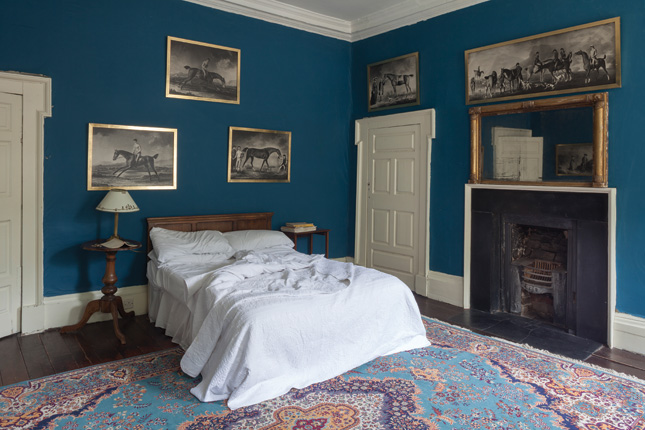 These images, painted in the 1700s by Robert Healy, were originally in Castletown House in Celbridge. At Roundwood, these photographs of the originals taken by renowned Irish photographer David Davidson look striking against Farrow and Ball's Drawing Room Blue on a bedroom wall.
Get the look: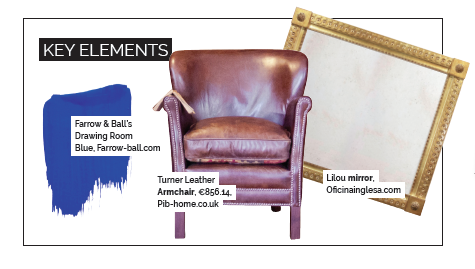 From Hidden Ireland: Discover Ireland's Most Beautiful Houses, published by Blackstaff Press, €29.99, available from all good bookshops and online retailers.