A cottage that once belonged to the Prince of Montenegro makes a charming Connemara home for Noreen and David Allen, who stayed true to the home's traditional roots when extending it.
(Words & photos: Lois Crighton)
Living room: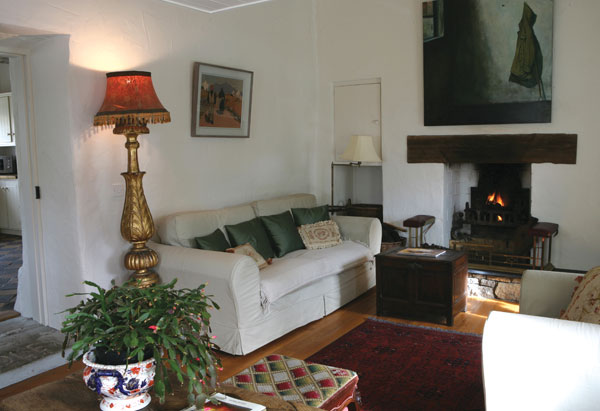 The old granite flagtstone step leading into the living room was inscribed by the original builder, Foley, in 1850. At one end of the room is the original hearth of the house, and at the other end a spiral staircase leads up to the children's attic bedroom. Over the fireplace is a painting by Clive Bright of Sligo, which Noreen found at the RHA Annual Exhibition.
They subsequently held a sell-out exhibition of his work at their Clifden store. The other paintings in this room are by Connemara painter Norman Smyth. The couches were bought in Meadows and Byrne and and the needlepoint cushions Noreen had in her Clifden Antiques shop. Most of the other pieces in this room were found at various auctions and sales like the rococo standard lamp, which came from a house in England.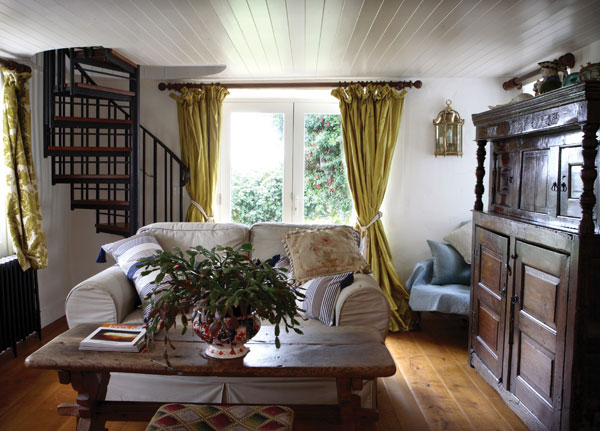 A spiral staircase leads up to the children's attic bedroom. There used to be a metal ladder up to this room which the children would race up and down: "I don't know how they didn't break their necks" says David. Noreen's favourite piece in the house is the old Oak Court Jacobean cupboard that dates from 1745. It has names carved into it and was a marriage gift. The vibrant green silk curtains were made in Dublin with material Noreen found in Murphy Sheehy.
Kitchen/Dining room: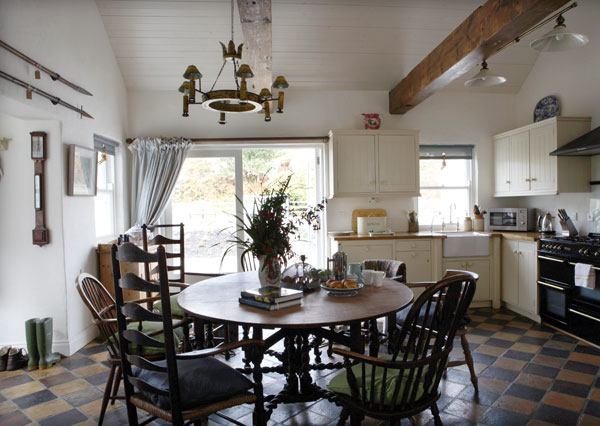 Noreen found very old warehouse quarry tiles in ochre, yellow and sand colours, which she laid throughout the kitchen and the hallway. These are from Wilsons of Hillsborough, along with the patio flagstones and the kitchen beams. A local carpenter made the kitchen cupboards, which they painted in a soft country cream colour. The dining table is an old oak oval hunting table and it can seat quite a lot of people, which is perfect as Noreen loves to entertain family and friends at home. The eclectic collection of chairs was picked up at various auctions and sales, with linen chair cushions are from Whistlestop at the Station House in Clifden.
Bedroom: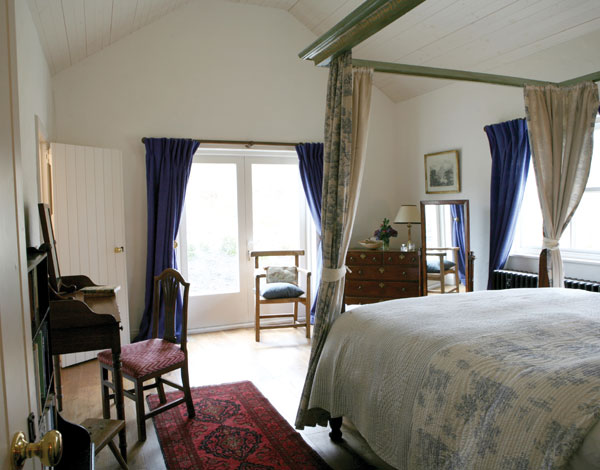 The four poster bed in the main bedroom was bought from Gerry Kenyon Antiques, the blue and white fabric was found in Murphy Sheehy in Dublin and the rich blue tweed material used for the curtains came from Millars in Clifden.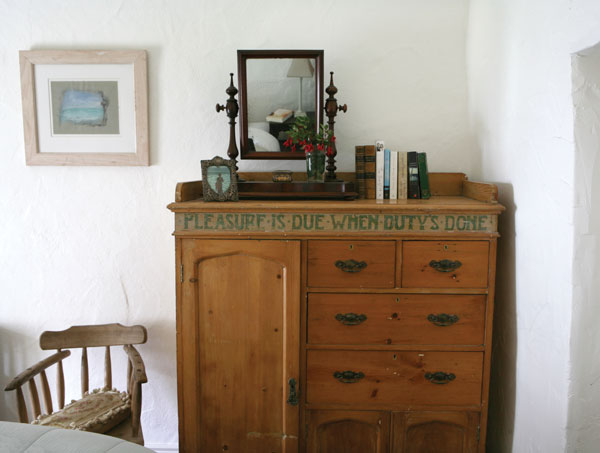 A friend of Noreens, Joan O'Clerigh, gave her a present of a big roll, and Noreen thought it would make wonderful cosy thick curtains which would be  perfect for the damp winters here. The chest at the end of the bed is oak and dates back to 1700, the dressing table desk is Georgian.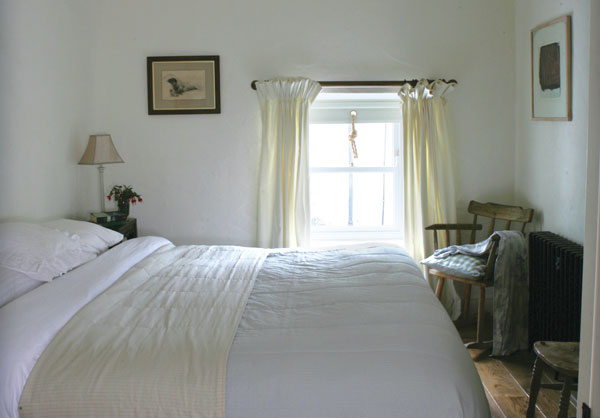 Noreen was adamant that she wanted to keep the traditional cottage and extend it in a way that was sympathetic with the original house.  They added on a large kitchen with a dining area that looks out over a beautiful York flagstone patio and up over Errisbeg mountain at the back of the house, two more bedrooms, one with a bathroom en suite, a study and two more bathrooms.  Noreen and David designed the house together with their builder Joe Creane.
Bathroom: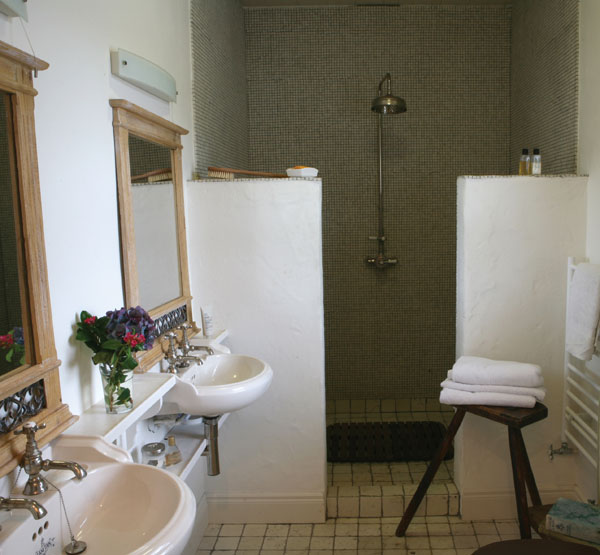 Noreen and David found the long legged milking stool at a furniture sale and gave it a home in their ensuite bathroom.
We think Noreen and David's home is a tasteful nod to its historic past packed with gems. Which is your favourite room in this lovely cottage? Leave us a comment and let us know!