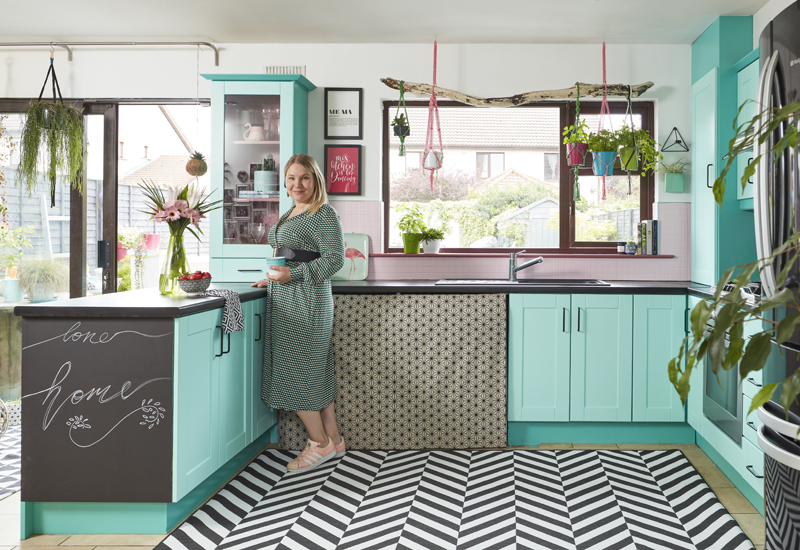 Interiors influencer Saara McLouglin hated her kitchen. "I tried to not see it because there was nothing about it I liked," she recalls. It was functional, and little else. "It was a space I cooked and cleaned in, but it didn't bring me any sort of pleasure."
Fast forward and things are looking a lot brighter. A Crown paint makeover has made a massive difference to both the look of Saara's kitchen, and to how she feels about the space. This Limerick house, home to Saara, husband Mike and daughters Ella, 11 and Lilli, 2, is a riot of colour, pattern and clever décor choices.
Saara's clever design eye – she's the owner of Redesign – is evident elsewhere in the house. There's a bold jungle green hallway, an egg-yolk yellow front door and a clever geometric paint effect in the front room. The kitchen though, was a problem. Dated cabinets and an awkward peninsula cut off circulation space in the room.
Until the couple gets around to re-doing the whole kitchen, a paint makeover is the perfect pick. The starting point for the palette Saara chose was a pair of Le Creuset salt and pepper grinders she'd recently picked up in pink and turquoise. "Sea green and turquoise shades are something I've always liked, and gravitate towards," she says. "The pink works really well with green and it adds more interest – and I've just gone pink mad lately!"
Unsurprisingly, given Saara's Instagram prowess, it was a source of inspiration for her. "I didn't want to look at too much because I wanted it to be my own thing," she says. "It was a quick thought process. I talked to Mike and said, we'll do a couple of different shades, and we played around with it – and this is how it turned out."
To get the ball rolling, the couple visited the Crown Decorating Centre at Kilmallock Enterprise Centre in Limerick. "I'd already picked out a couple of the shades from Crown colour cards, and then there were some other colours I wanted to get colour matched. Most of them I could actually get there and then, and they also mixed one up for me as a custom colour," she says, adding, "They were super-helpful on the process and with advice, and really nice to work with."
Paint and decorate
Saara chose two aqua colours for the cabinets, a pale pink for the tiles, a darker pink which was used for the window sill and inside the display cabinet, blackboard paint, white for the walls, plus primers and varnish.
The next step was to get cracking. "We did it in stages," she says. "We started with the peninsula part and we did half of the kitchen first, then did the other half, and we left the counter tops to last."
The cabinets, which they painted in two shades of Crown Trade Quick Dry Satin (Discovery Bay on the doors and Aqua Fizz on surrounds) were scrubbed, sanded and primed first with Crown Trade Grip Extreme Primer. "We used the satin on cupboards," Saara confirms. "It was great to work with, very fast-drying and went on very smoothly." They used brushes to cut in and rollers to achieve a good finish, with two coats of paint completing the transformation. "There are one or two places that need touching up, but we'll get to that," she smiles.
The tiles took a little more work. "They were the biggest challenge as the colour wasn't right, so we went back to the Crown Decorating Centre and I explained what was happening," she reveals. A new pot of paint in a paler pink was supplied – Crown Trade Quick Dry Satin in V8661A – and expert advice was sought on primers.
Saara was given a Shellac Primer to use, which you can use on any surface and will help to resolve issues such as surface contamination. "If there are grease stains on the wall that won't come off, you can use the primer, and it should cover anything," Saara explains.
The other benefit of the Shellac Primer is that you can use a regular satin paint on top, and no special tile paint is required. "We used the same type of paint for the cabinets and the tiles," she says. "It's the primer that is key – you need to have the right type of primer to make it ready for the paint, that's the important thing."
A larder unit to one side of the kitchen was also tackled. "We had to do something to this old unit, so Mike looked up some ombré guides online," Saara says. "We had two shades of aqua paint so we taped the unit into three sections, painting the bottom one in the darker shade, the top one in the lighter colour and we mixed the two colours for the middle."
Brushes and a roller were used to blend the colours and then Saara went over the lot with a sponge. "It took quite some time," she laughs.
Counter culture
The last big job in the makeover project was to paint and mattify the countertops using Blackboard Paint and Sadolin Polyurethane Matt Varnish. "We didn't sand it as it's laminate, so we applied Crown Trade Grip Extreme Primer, then two coats of blackboard paint. You need to wait 16 hours for each coat to dry, so we were on the clock counting when we could do the next coat," she laughs.
Once that was complete, two coats of Sadolin Polyurethane Matt Varnish were applied, which take four-to-six hours to dry, and then have to be left for 24-hours before the surface can be used. "Mike stayed up till 4am finishing it," she says.
The whole transformation took just under two weeks and while a lot of takeaways were eaten in the sitting room during the process, she couldn't be happier with how it turned out. "Now we are so much happier and so much more positive," Saara marvels. "It didn't bring me any sort of pleasure, but now it does. I can't stop looking at it – it's my kitchen now."
Photographer: Philip Lauterbach Stylist: Alannah Monks
This post is sponsored by Crown. You can visit one of 15 Crown Decorating Centres nationwide to get products and expert advice and help for all your paint projects. Additionally, Crown products are available at hundreds of stockists nationwide