Horse riding champion Sasha Stewart knew when she settled in Ireland that a thatched roof was on her wish list, but a love of colour and an adventurous streak when it comes to interiors meant that hers was never going to be a typical country cottage...
(Words: Rachel Hurley photos: Neil Hurley)
Hall:
With the staircases we went more contemporary in the barn side of the house. I stole the helix staircase idea from Grand Design sand found a fab company, Bushy Parks Iron Works, to make banisters almost like stag antlers
We love the unique green hall chair, which is from Limited Edition on Francis Street, Dublin 8.
Living room:
The walnut-floored lounge by Ebony is dominated by two large sofas: one is the epitome of comfort, according to the woman who bounced around showrooms nationwide in search of "supreme squishiness", and the other is a striking multi-coloured design by London Company Squint run by Lisa Whatmough, who specialises in re-covering antique furniture in her signature patchwork style.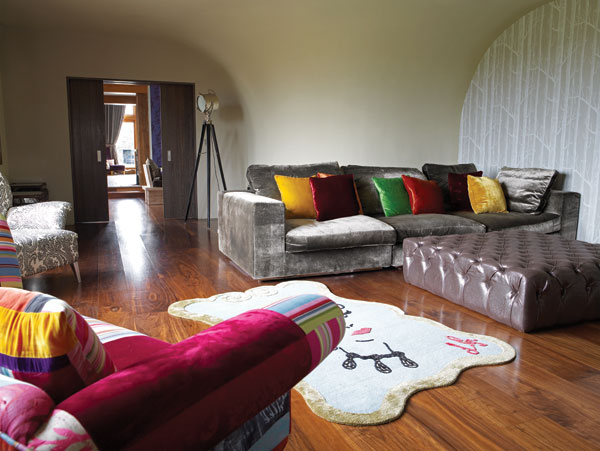 The enormous stone fireplace was Andrew's way of bringing the exterior indoors and is perfect for family evenings in front of a welcoming blaze.  Hearthside snugs were included for twins Mimi and Finn
I love the idea of having these story corners for the kids where we could snuggle up and read to them in the future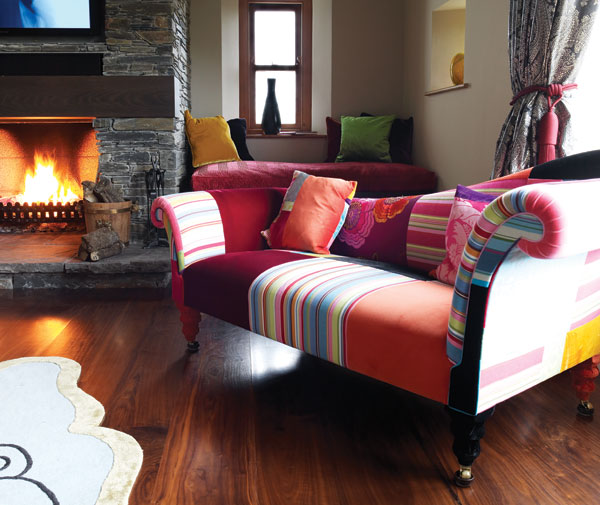 Dining room:
Muted earthy tones dominate and a bespoke limed oak table sits under Sasha's favourite piece, a stunning bubble light piece.
I bought it two years before the house was even built.  I couldn't resist it; it's called the Ether Chandelier by Patrick Jouin.  It changes colour and is gorgeous at night.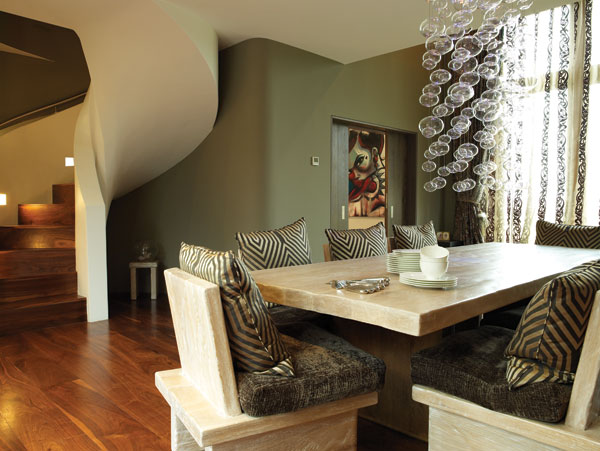 Kitchen:
The kitchen houses a mixture of classic country styles, including a giant white Aga crouched under rustic stonework, reclaimed Paris Ceramics flooring and craftsman-made cabinetry, alongside contemporary appliances and twists such as the central island teak sink and modern feature tap.
An outdoors lifestyle a and home full of children and animals meant the family favoured the distressed look for the Teuton and Company designed kitchen and the Chalon painting style.
They asked us what level of beaten up we wanted to go (there are five grades) and we automatically chose a level below what we thought, our theory being that we could do a pretty good job of distressing it ourselves over the next couple of years.
Colour is introduced using soft furnishings, with Designer's Guild covered stools custom made to match the height of the centerpiece.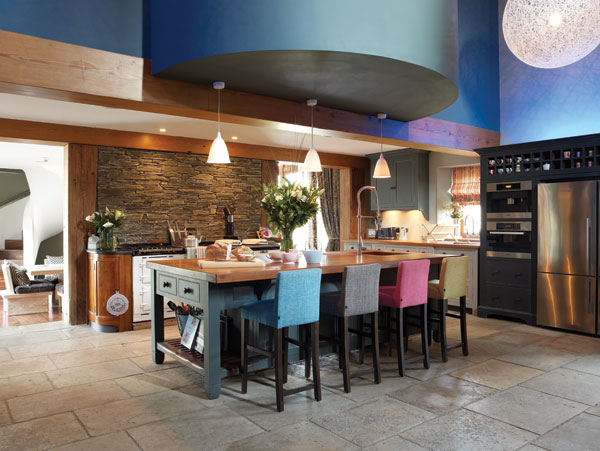 Bedroom:
In the bedroom a high arched ceiling and wooden beams frame a spectacular silver bed by London designers Jimmie Martin Ltd.
I asked them to take inspiration from my favourite thing: chocolate. They painted the whole bed chocolate and then covered it in silver leaf to look like a wrapper, rubbing off some silver to reveal the chocolate underneath.  I haven't quite wanted to eat it yet but I do love it.
The "Slumber well" message written across the headboard was taken from a pillow note on a memorable South African trip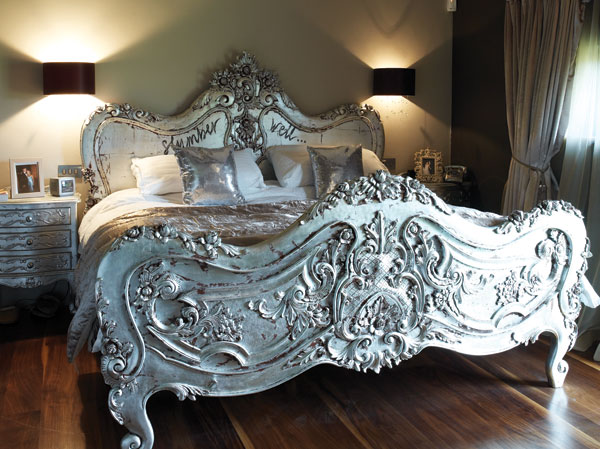 En suite bathroom:
Growing up, my parents had a rather revolting navy blue bathroom suite, so when choosing the bathrooms I was quietly aware of the little voices in my head warning me to stay neutral and how long I would have to live with the colours for. I nearly chickened out of the en-suite scheme twice but I held my nerve and went for it.  We love it and can't imagine ever getting bored of it.
The bathroom tiles are Bisazza, House of Mosaics Ltd, Fabian wall lights from Cameron Peters, large mirror is from Le Tramac.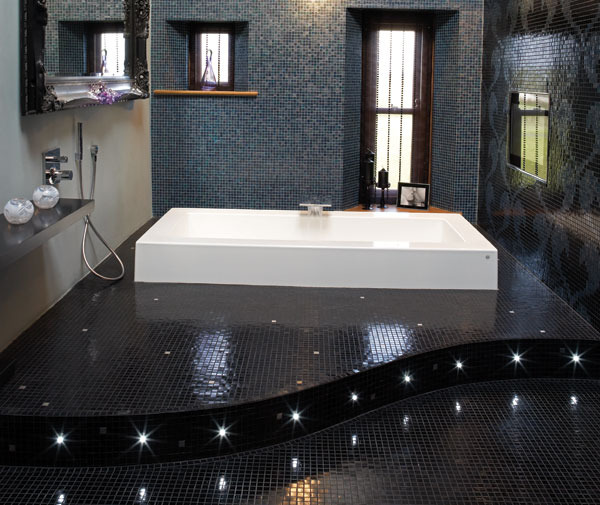 Family bathroom:
I loved the idea of having a wooden floor in the bathroom, but was concerned that with all the splashing it would be a bad idea.  However the flooring company Ebony & Co in Dublin convinced me that they had done it before and, providing we were generous with bath mats, it would be fine.
The unusual egg-shaped Mastella Vov bath and double sinks from The Yard in Belfast continue the curved theme visible throughout the house. A carpenter was commissioned to make the double vanity unit, perfect for the twins' future bathroom...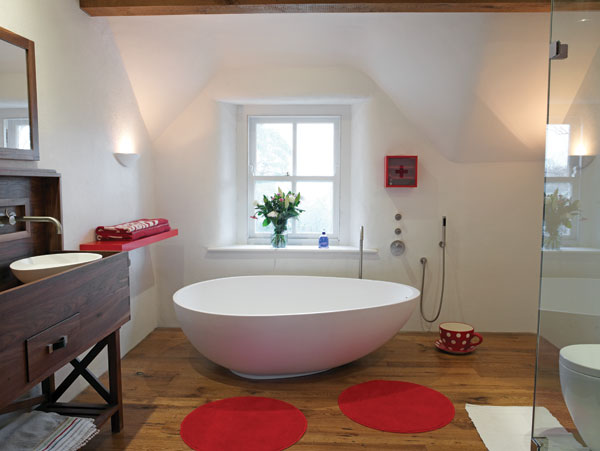 Tell us what you think:
We love that Sasha and her family made daring colour choices in their home, and we especially fancy the dark mosaic in the en suite bathroom - but which is your favourite part of Sasha's home? Tell us in the comments!