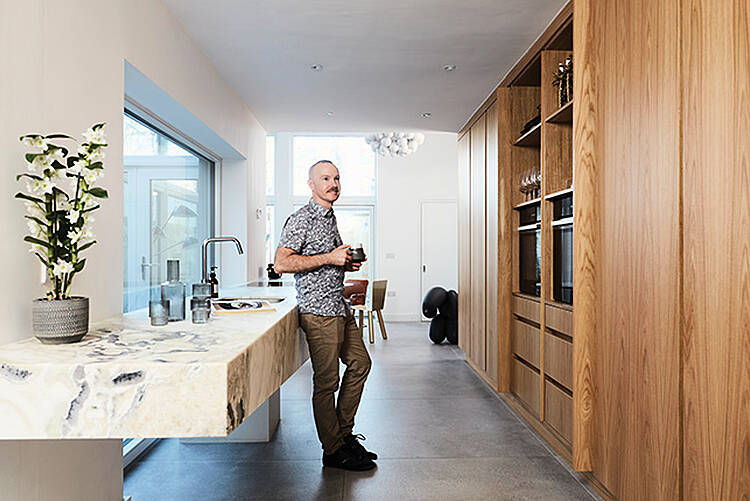 "If we knew how much work it needed, we'd never have bought it," jokes Glenn Keating, of the three-storey Edwardian house – originally built for officers of the British Army – he moved into in May 2017 with husband Gustav van der Westhuizen, their son Noah and two Weimaraner dogs.
And if you think you might be suffering from a touch of déjà vu, rest easy: you have seen this house before: it was the series finale of Room to Improve's sixth season, broadcast in October 2019. We watched as Dermot Bannon transformed Glenn and Gustav's unworkably draughty house into a warm, welcoming home full of their individual style.
The project wasn't without its issues: viewers winced as underfloor heating works uncovered structural issues and money had to be found from nowhere to prop up an ailing chimney. Add in the inevitable money drama and a couple who really knew their own minds when it came to interiors, and this was an episode not to be missed.
Expert renovators know what to expect from a house like this, but like many of us who view period properties, Glenn and Gustav reckoned the house, located on Dublin's northside in Drumcondra, just needed some TLC. "We thought, we can do a bit of work and it'll be grand," Glenn recalls, adding ruefully, "not realising…" The house had been portioned off into two, so the couple thought they could easily reconcile it back into one big space. 
"We initially went off to buy a kitchen and that was coming in at €40,000," Glenn recalls. "I was thinking, 'but the bathroom needs to be refitted, the heating isn't working'… so I found a builder to have a look. Eventually he came and he said it needed this, and it needed that… and at that point I applied for Room to Improve."
Things moved quickly from there, with the team from the TV show viewing the house in early 2019 – and all without Gustav knowing. "You know the way," Glenn laughs. "He went along with it to get the house done up. He hasn't even watched it!"
As a piece of subterfuge, it was a masterstroke: in the space of a few months, the schedule was put in place, the project went out to tender (which was not without its own issues as the budget doubled and architect Dermot Bannon had to work hard to manage the costs) and the build itself took place during a four-month period over the summer of 2019. 
"We moved out to Greystones for the summer, and back in during the week of the shoot," Glenn says. "It was rough," he recalls. But the results, despite all the pain, budget issues and stress, are surely worth it. 
"I hated the house before," Glenn says, frankly. "I'd be out with Noah, swimming or whatever, and I wouldn't want to go back." Now? "It performs amazingly well. The plan Dermot and the team sold us really works. A lot of the money is in things like insulation and the heating system that don't change the physical house, but in terms of the heat in the house, it is incredibly transformative," he enthuses.
But there's more to this transformation than just the basics. How Glenn, Gustav and Noah live here has completely switched around too.  "We have an incredible kitchen. It's beautiful and it functions so well. Cooking by the big window is so gorgeous," Glenn says. "Dermot's idea for the two bathrooms was excellent. And I love the hall, stairs and landing now too. We ran through them before, but now, I tend to stop and go 'wow', because this wasn't an area I used."
Perhaps the thing they're proudest of though, is the feel and finish of this house. Dermot Bannon may have been the much-needed brains behind the architecture, but when it came to the interiors, Glenn and Gus were in the driving seat. "The decorating is our stuff," he states. "It's our dream house and we adore it."