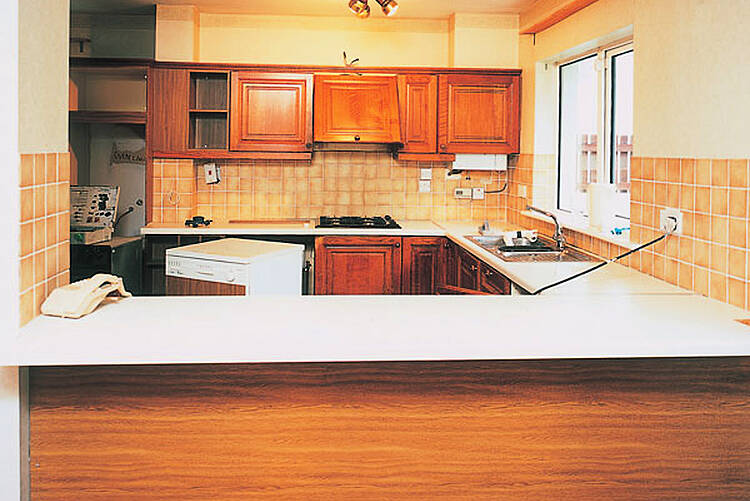 When Marissa Butler's three boys had outgrown their childish toys and moved onto electronic gadgets that could be confined to their bedrooms, she knew the time had come when she could finally makeover her home. But the focal point of her ambition was to have a completely renovated, bright new kitchen that wouldn't swallow her entire budget.
words: Áine O'Connor  photos: Kevin McFeely  interior designer: Sandra Kettle
Before:
Limited by a eurosaver budget, Marissa still wanted double the storage and work space in a new kitchen - without any costly structural extensions. "The total cost for the kitchen couldn't exceed €10,000," says Sandra Kettle of Sandra Kettle Interiors, who was called in to add a touch of sparkle to the design and, ultimately,  to keep the project on budget.  As Marissa outlined the limitations of the existing kitchen, Sandra assessed the initial problems to be a disjointed working area and a lack of wall units.
After:
The new bright, white kitchen from Cash and Carry Kitchens comprises of a good mix of wall and under-counter storage and lots of worktop space. Sandra supplemented the standard cream doors with custom-made cornices from Higginbotham furniture and wood products.
"To give the new space a sense of structure I put the oven at one end and a glass-fronted display cabinet at the other. Both of these tall units bracketed the space and have given it a sense of symmetry. When you do this you then need a central focal point, which is the stainless steel canopy over the hob," interior designer Sandra explains.
The otherwise neutral scheme is given a jolt of life by pretty blinds and pelmets from Mix 'n' Match, adding a definite splash of colour to the space.
"The neutral palette between the presses, floor tiles and splashback mean that Marissa can change the whole feeling of the kitchen simply by choosing a different accent colour in the blinds, pelmets and accessories. It's limitless - lime greens or aquas for a summer palette if she ever tires of the rich and warm red accents she has now,"   Sandra says.
The high-gloss, pale coloured, polished cream, 'Marfil' floor tiles help to open up the kitchen dining area and visually enhance the sense of space. Storage was key in this kitchen and Marissa has lots of it – plate racks, wine storage, glass fronted display cabinets, pot drawers and wall units. The granite worktop gives it a touch of luxury and sparkle, as do the high-gloss pale floor tiles that now run from the hall into the new kitchen. As a polished floor was one of the elements in Marissa's ideal kitchen, she's thrilled with the results.
Much to Marissa's delight the kitchen came in €600 under budget. The key to this, according to Sandra, is prioritisation.
"Obviously, you've to prioritise your spending when you're on a tight budget, so I got the carcasses and doors from Cash and Carry Kitchens and then supplemented their standard cream doors with custom-made cornices from Higginbottams. As the standard carcasses and side panels came in a wooden colour, I had them hand-painted to match," she says.
What do you think of Marissa's newly refurbished kitchen? Let us know in a comment below.
Sandra Kettle Interiors, 01 8465726