Updating your new home needn't cost a bomb, if you spend your money wisely. With creative DIY, wallpaper and paint can become your favourite thrifty tools. For example, you can use your favourite wallpaper and only have to buy one roll by coming up with quirky uses for it - wallpapering stair risers, door panels, or the inside of a bookcase can have just as much impact as doing a whole wall or room.
Paint can be equally useful - stylist Sharon Hearne recommends treating old wooden furniture to a lick of paint: "Revamp an old chair you might otherwise have chucked out," recommends Sharon, "Turn it from a wood finish to a fresh colour that matches or contrasts with the room it's in.  I'm currently into painting or spray-painting anything old."
Here are seven excellent ways to decorate (and save a few quid) with paint and wallpaper...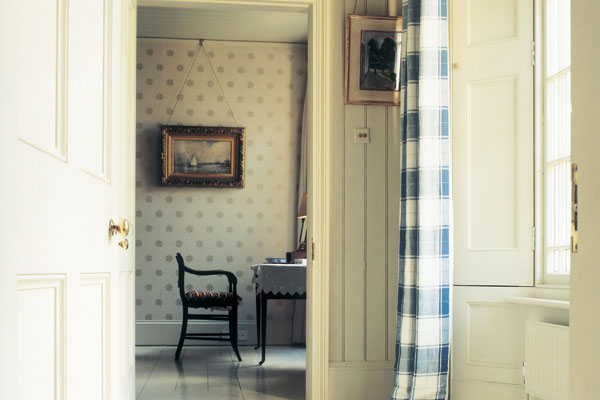 If your floor is looking a little tired, then treat your old baords to a lick of new paint. Off-white floor paint, from €31 per 750ml tin from Farrow & Ball
7. Paint it white
"Paint everything white and clean your windows," advises Peter Mac Cann, one half of dynamic Irish design duo No Fixed Abode, "Make the most of natural light and let as much of it in as possible. It makes everything feel better and it's free," adds Peter's sister and business partner Sarah Mac Cann.
6. Kitchen knobs and handles
Updating a tired kitchen can be as simple as changing the cabinet hardware. "Changing knobs and handles on doors, presses and drawers is a great inexpensive update," advises stylist Sharon Hearne. Check out Laura Ashley, Potrero Hill and online shop www.anthropologie.com for stylish door pulls that don't cost a bomb.
5. Disguising imperfections
Old wooden floorboards can't be returned to their former glory if they were never formerly glorious, but all sorts of imperfections can be disguised by sanding boards down and painting them white, Scandinavian-style. Using a suitable primer and floor paint will ensure a durable, good-looking finish, and undertaking the job yourself will make it the cheapest flooring option going.
4. Painted stair runner (How to)
An increasingly popular floor-painting trend is a painted stair runner. A painted runner can look just as stylish as a carpet runner (if not more so) and costs hundreds of euro less. Here's a quick How-to:
Wash and rinse the stairs, allow to dry, then sand to a smooth finish.
Apply an aluminium-based primer and leave to dry. Using white satinwood or floor paint, begin with the top step and work down.
Apply two coats, allowing to dry completely between coats. To create a 20" runner, measure the width of the steps, subtract 20" and divide in half - this is the width of your margins on either side.
Mark the margins with masking tape. Using a contrasting colour, apply two coats of paint in horizontal strokes, allowing to dry between coats.
Slowly peel off the tape and, using a tiny paintbrush, touch up any areas where the paint may have bled under the masking tape .
If you need to use the stairs while it's being painted, simply paint the left side first and then the right side, so that one side is always dry for stepping on, or paint alternate treads on alternate days.
3. Sand and resin
"If there are existing concrete floors (mainly in new houses), sand to smooth and apply a clear floor resin to give the very architectural polished concrete look," suggests Joanne Peat of Sketch Design.
2. Cheap and cheerful wall graphics
"Web stores offer a huge choice of fantastic and fun wall graphics - a really cheap way of completely changing the look of any room," advises Joanne Peat. For oodles of choice, visit whatisblik.com, domestic.fr and harmonie-interieure.com.
1. Love your door
"Update the front of your house by repainting your hall door in a fresh, seasonal colour. This will give an instant facelift to your entrance… after all, first impressions do count!" says House & Home stylist Eleanor Harpur. If you need some door painting inspiration, Ciara Elliott did a great job with hers.
Share the knowledge:
Do you have any creative ways of using wallpaper and paint? Tell us in the comments!