From simple paint designs to special effects wallpaper, wood panelling, affordable fabric artwork and funky tiling, be inspired to boost your walls visual appeal with a graphic makeover.
Here are thirteen simple ways to make your walls stand out and look great...
(Words: Roisin Carabine)
White wash:
Paint walls white and leave unadorned and let your furniture and accessories do the talking. Create interesting displays on top of tables or on the floor, add colour with cushions and throws and bring to life with flowers.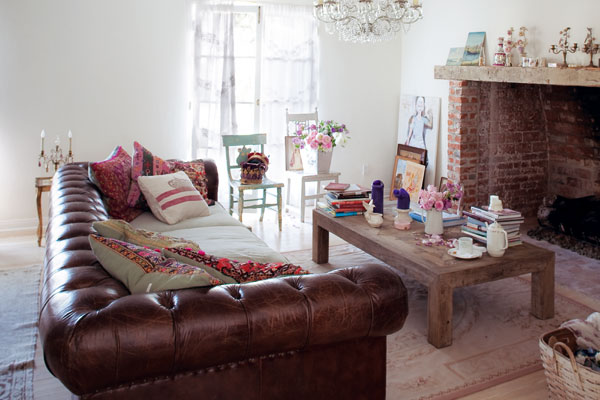 The details: For a similar  chesterfield sofa at The Sofa Factory.  Pick up an affordable twinkling chandelier, (Marie 9-light  €170) at Marks & Spencer. For a similar coffee table try Bo Concept.
Painted brickwork:
Exposed brickwork can lend a room a folksy, country vibe. For a more contemporary look paint the bricks in an on-trend shade.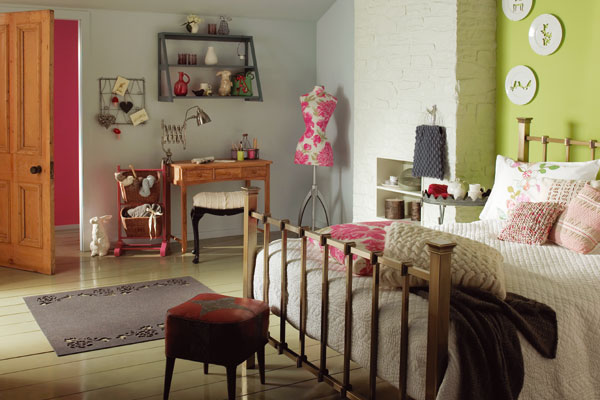 The details: Treat the brickwork first with Dulux Plaster Sealer, then paint in Dulux Goosberry Fool 5 silk, from the Honesty range. Walls painted in Dulux Celestial Could 5 and Indian Ivy 5, flat matt emulsion from the Honesty range. The bed is from Beds Direct. The wall plates are by Andrew Tanner ( which also stocks the felt rug by Selina Rose). Find  similar desk at Laura Ashley.
Textile art:
Glam-up a plain white bedroom with colourful textile artwork. As it's cheap and simple to make, you can ring in the changes time and time again.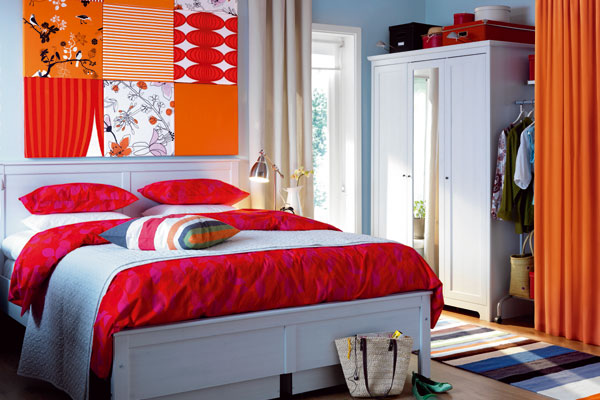 The details: Ikea's Tyglosa stretcher frames, €4.59 each, allow you to create your own pictures by covering them with fabric. These frames are covered in Cecilia fabric, €2.59 a metrre. Aspelund double bed frame, €99; Beata Blad double quilt cover set, €34.99; Aspelund three-door wardrobe, €179; Ritva curtains with tie-backs, €29,99; and Andrup rug, €29.99, all from Ikea.
Mould over:
Give plain walls an architectural fix with decorative moudings. Use simple panel moulds to frame the space and paint in a contrasting colour. This look is most effective in hallways or tall-ceilinged rooms.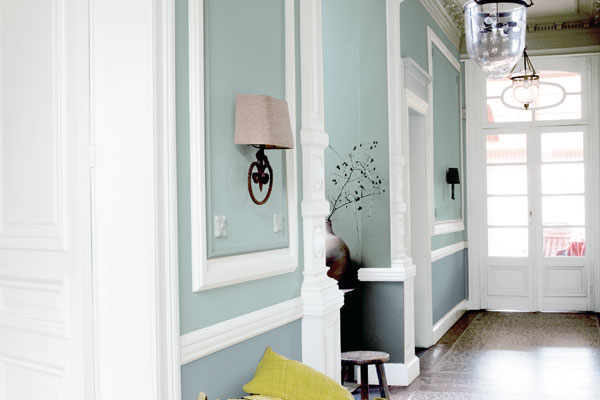 The details: For plaster mouldings try Dublin Mouldings, Parnell Street, Dublin 1. Tel: 01 878 6174.
Cut out style:
Trick the eye and have fun with cut-out decorative mirrors that mimic home accessories. For maximum effect strategically place them as you would the real thing - atop tables, shelves and sideboards.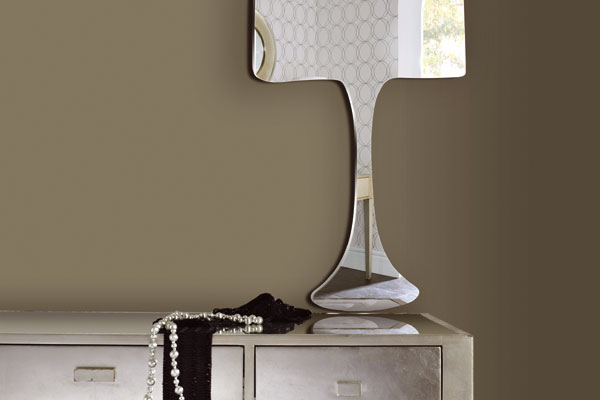 The details: Graham & Brown's Relfective range of decorative self adhesive mirrors – vases, lamps, jisgsaw shapes and butterflies – from Stg£20.
Scrapbook style:
Replicate a vintage-style scrapbook on your walls – without the years spent cutting out, collecting and sticking – with wallpaper.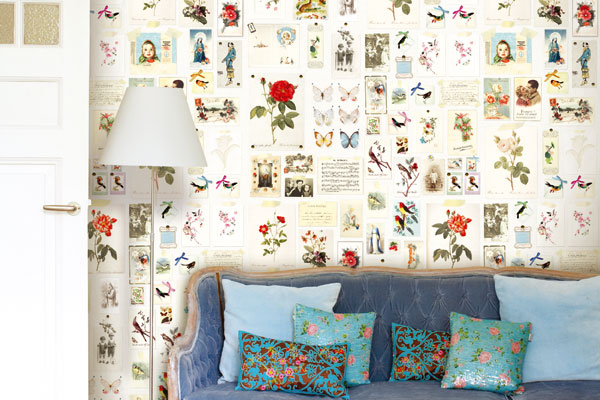 The details: Pip wallpaper (386114) by Brian Yates. Each roll includes three 2.8m panels (rolls measure 8.4m x 0.465m) The picture can be extended indefinitely using the same design with a matching repeat.
Coloured cupboards:
Make a feature out of built-in storage by painting each door a different colour to create a modern barcode effect.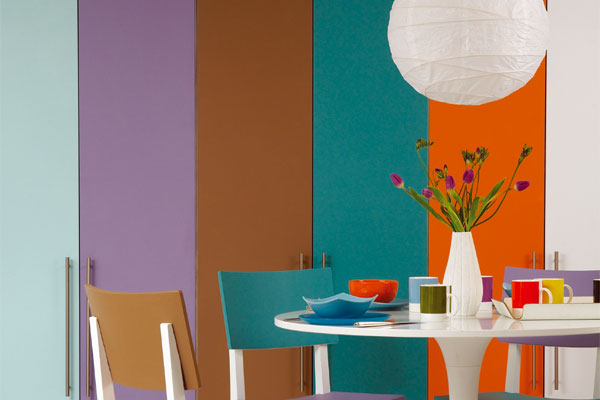 The details:  Cupboards may need to be primed first with ESP primer before applying paint. Paint colours: (pale blue) Colourtrend 0686 Outerspace, waterbased stainwood, €17.95 a litre; (soft mauve) Colortrend 1289 Lilac Blossom, waterbased satinwood, €17.95 a litre; (taupe) Colortrend 0191 Dusty Path, waterbased satinwood, € 19.95 per litre; (teal) Colortrend 0688 Cold Norh, waterbased satinwood, €19.95 a litre; (warm orange)  Colortrend 1025 Heat of Summer, waterbased satinwood, €19.95 a litre.
Special effects:
Create an instant library of book-lined walls with a literary mural that literally speaks volumes. Reinforce the effect by papering an alcove in the mural and painting adjoining walls in similar hues.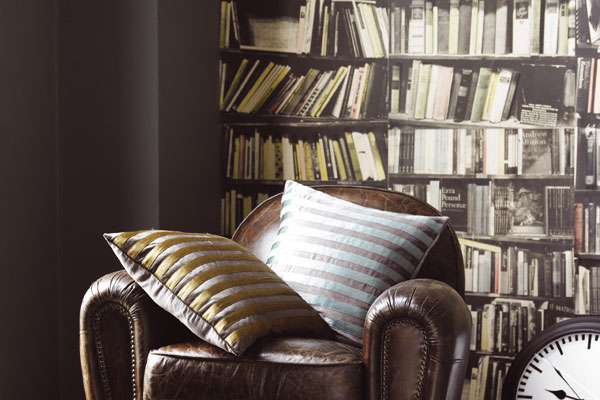 The details: "Genuine' Fake bookshelf wallpaper by Deborah Bowness. Vintage leather armchair, €1349;  Raj cushion in duck egg, €36; Raj cushion in gold, €36 and black brushed station wall clock, €60, all from House of Fraser, Dundrum Shopping Centre, Tel: 01 299 1400.
Stripe it up:
Vertical stripes on the walls are perfect for making a small room look taller. Have fun with the look by continuing the stripe design on furniture and accessories.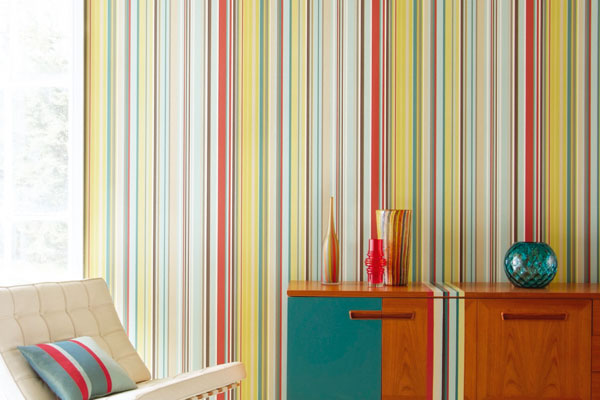 The details: Wallpaper: Barcode 15827 from the Identity collection, €55 a roll & cushion on chair: from a selection of Tamika Silks, €46 a metre, by Harlequin.  For stockist details contact Dekor Distribution, Tel: 01 451 5644.
In the frame:
For an instant decorating fix that won't break the bank, frame wallpaper and hang on the wall as artwork. Make a statement with one large framed picture of bold patterned paper, or group together a selection of frames with different papers inside.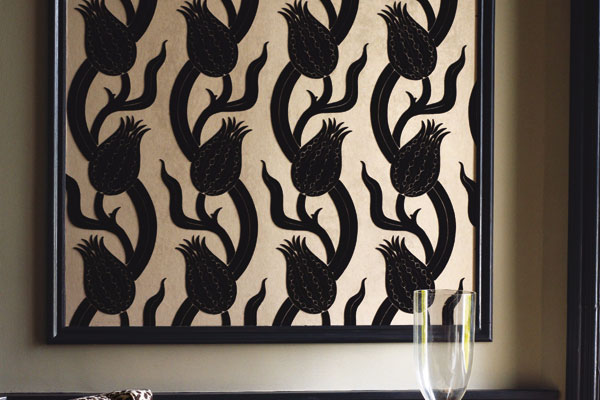 The details: Persian Tulip wallpaper (ZTRA07004) from the Trade Routes collection; walls in Cobblestone; woodwork black matt emulsion; chair covered in Ocelot ANJ07002; cushions in Cadogan Lane ZARC04003 and Glyndebourne VEL02015, all from Zoffany.
Picture postcard:
Make a strong graphic statement by framing a doorway with postcards or even family snaps. Stick to a colour theme or subject for maximum visual impact.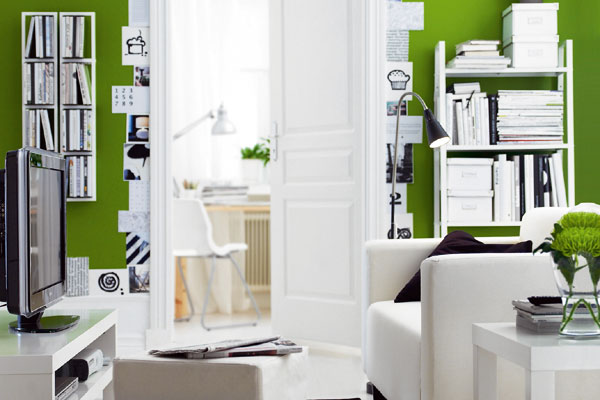 The details: Klobo two-seater sofa, €109; Solsta Pallbo footstool, €14.99; Sveje rug, €10.99; Lack side table, €5.99; Lack TV bench, €49.90; Lerberg shelf unit, eur15.99; Kvart floor lamp, €16.99; and Lerberg DVD/CD wall shelves, €4.99 each, all from Ikea.
Creative ceramics:
Some plates are just too pretty to be stored away in a cupboard. Create an eclectic wall display by grouping together a selection of your favourites. Play with size and pattern for maximum impact.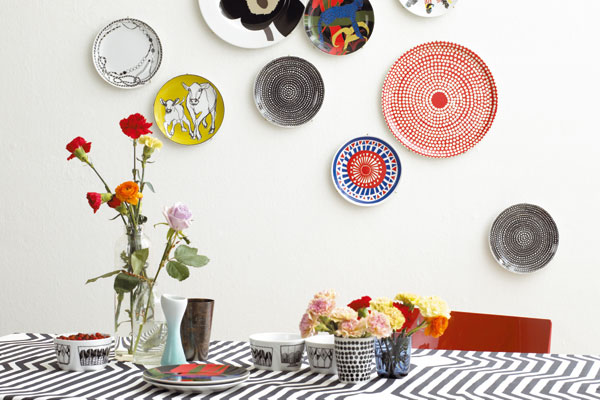 The details: Plates by Marimekko.  Amazon sells a range of plate hangers. Table covered in Kimara fabric by Liros Ahokas for Marimekko; dishes and bowls on table from Aaree collection by Maija Louekari for Marimekko; black and white spotted tumbler by Anna Danielsson for Marimekko.
Panel beaters:
Heavily patterned wallpaper can overwhelm a room. Limit it to one feature wall or panels and tone down by painting borders, woodwork and the ceiling in white.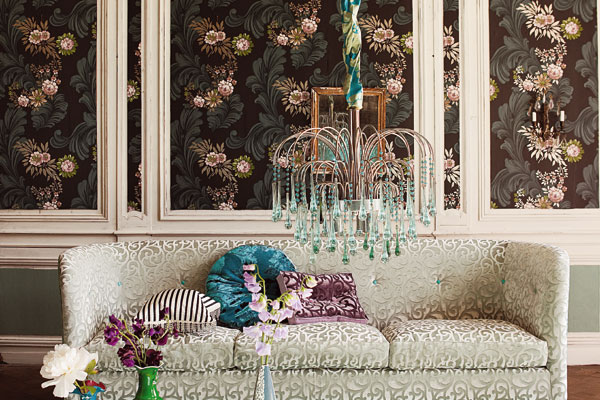 The details: Walls papered in 'Darly' Birch wallpaper,  (P523/04, 52cm wide, by Designers Guild.
Which is your favourite?
Do you already use any of the above techniques to make your walls fabulous? Tell us in the comments!