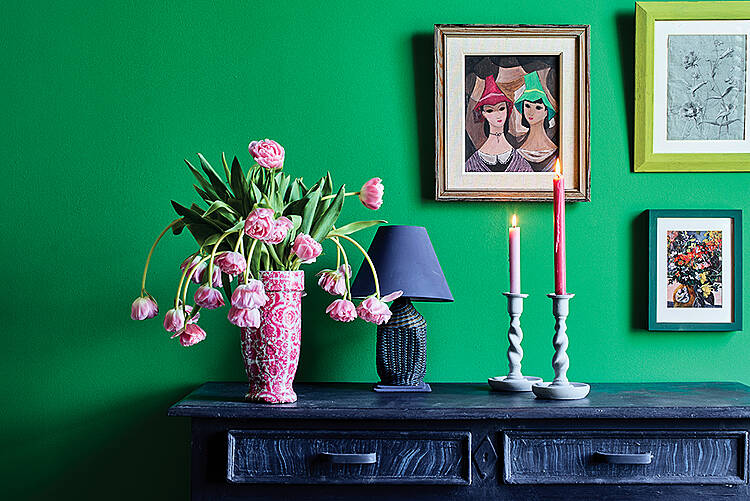 With the holidays approaching, are you keen to get stuck into DIY? We've got the perfect projects – and they'll only take a weekend!
Words: Laura Ewart
Whether it's a something you've been meaning to tackle for a while or a sudden inspiration, taking a weekend to improve some aspect of your home is a satisfying undertaking. But where to start? We're offering up 15 ideas to inspire you, from trying out a new paint technique to creating an outdoor cinema. What are you waiting for?!
1. Try a wall mural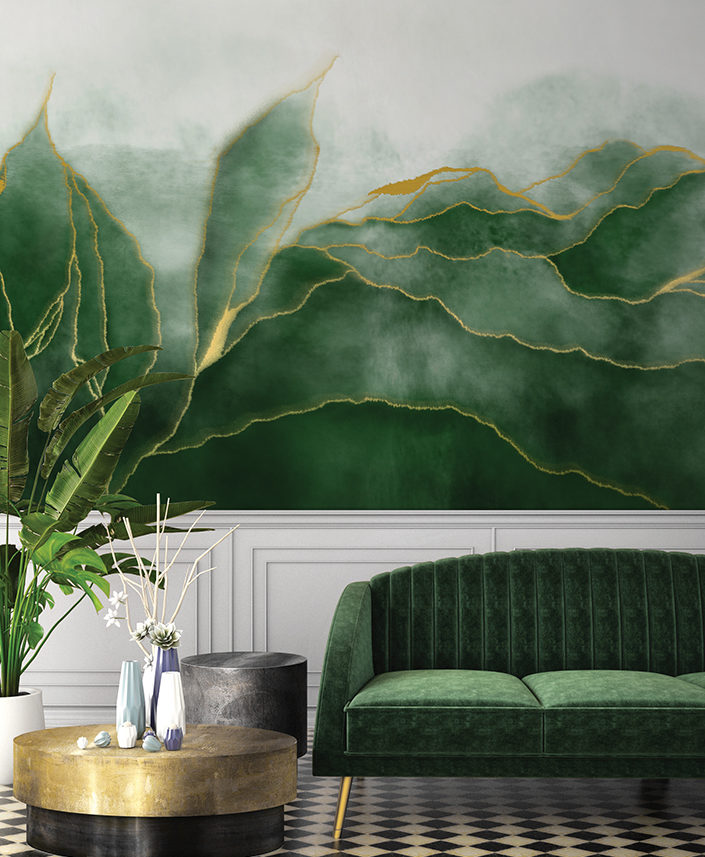 Image: Grasmoor in Green wall mural, €45, Feathr
Add a touch of luxury with an eye-catching wall mural. This fresh and elegant botanical design would look especially striking in hallways, bedrooms or living rooms. Finish with rich texture and incorporate playful touches.
2. Jazz up a plain wall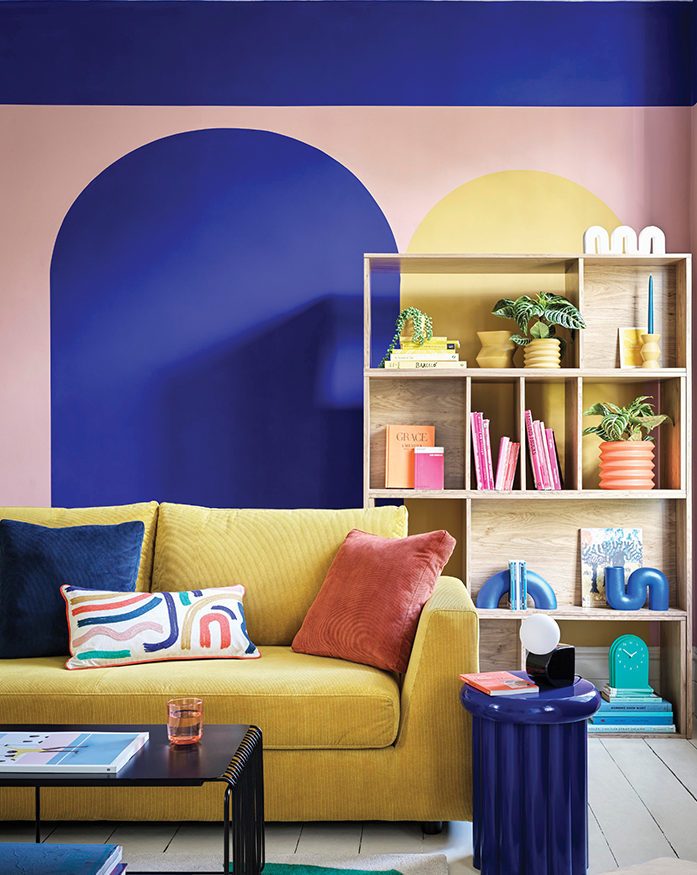 Image: Habitat Brixley three seater fabric sofa, €1,150, Argos
Curves, arches and softer lines are everywhere at the moment. If you're bored of looking at the same plain four walls, then why not paint your very own arch? Whether you opt for a bold hue or a contrasting neutral, it's easier to do than you think. You can use strings, stencils or go freehand to mark out your arch (or shape of your choice). Masking tape will be your friend here, so invest in a high-quality one. Our top tip? Remove the masking tape while your final coat is still wet.
3. Upcycle a tired chest of drawers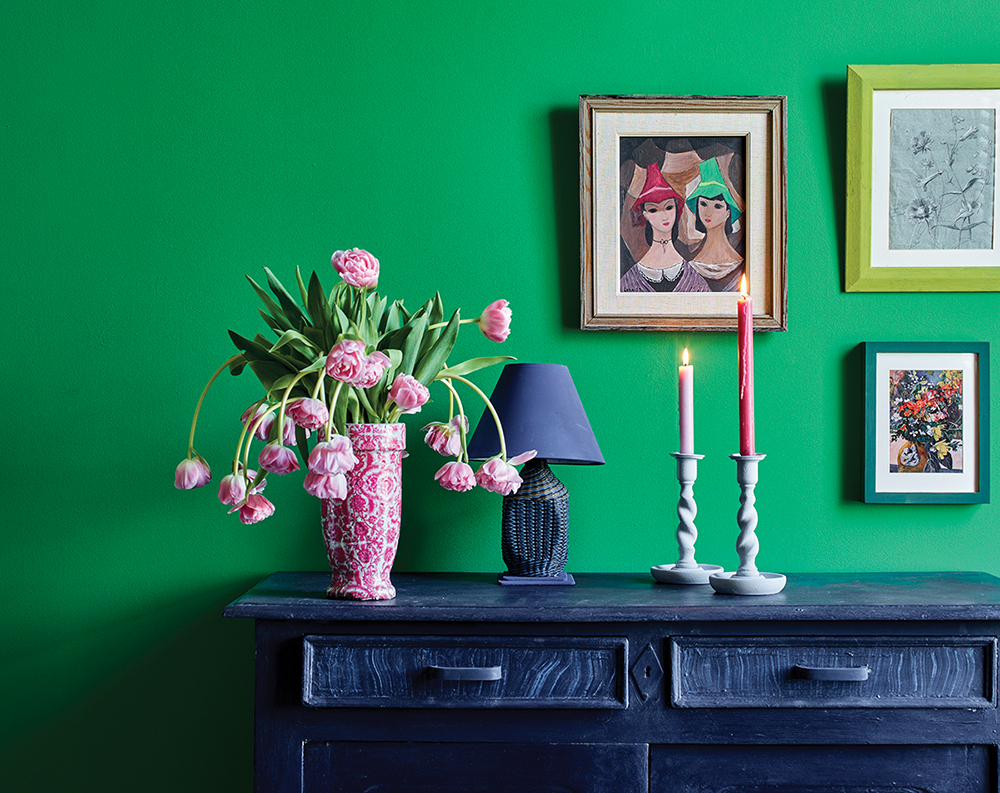 Image: Schinkel Green and Oxford Navy paint, both from €66 for 2.5L, Annie Sloan
Give an old chest of drawers a new lease of life in one afternoon. Simply wipe down the unit (not forgetting the inside of the drawers) with a clean, damp cloth and if necessary, give it a light sand. Not all paints require primers these days but remember to check first – you don't want to be falling at the first hurdle. After two or three coats, seal the top layer and if you're feeling particularly adventurous, update the handles or knobs to.
4. Make your own outdoor cinema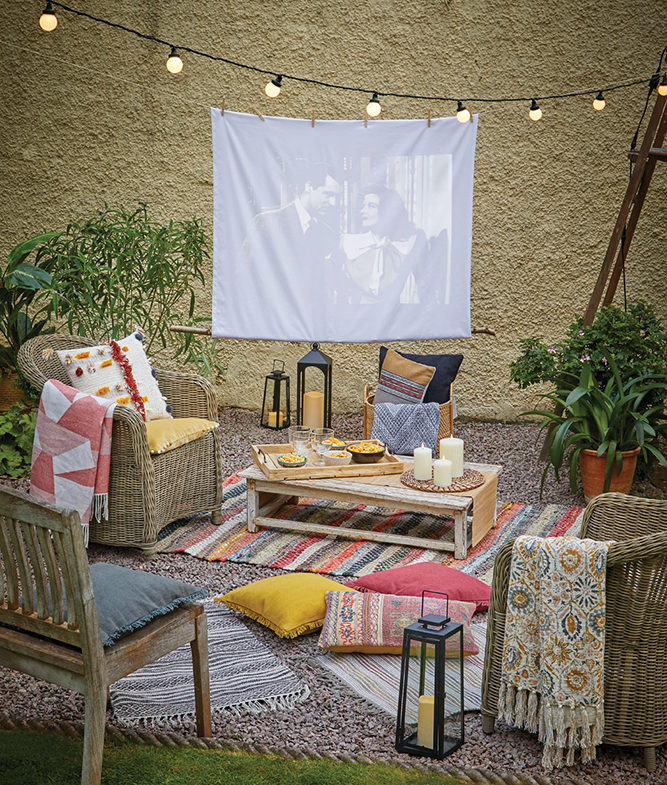 Image: Aztec chindi rug (120x180cm), €112, Walton & Co
Movie night just got an upgrade – make the most of the lighter and warmer evenings and watch your favourite films under the stars. Find a spot that is semi-sheltered and on dry ground – try to also find somewhere that won't have streetlights or bright inside lights reflecting onto the screen. Invest in a projector (we suggest one that is at least 3000 lumens for a better picture) and connect to a video source. Someone pass the popcorn!
5. Create a gallery wall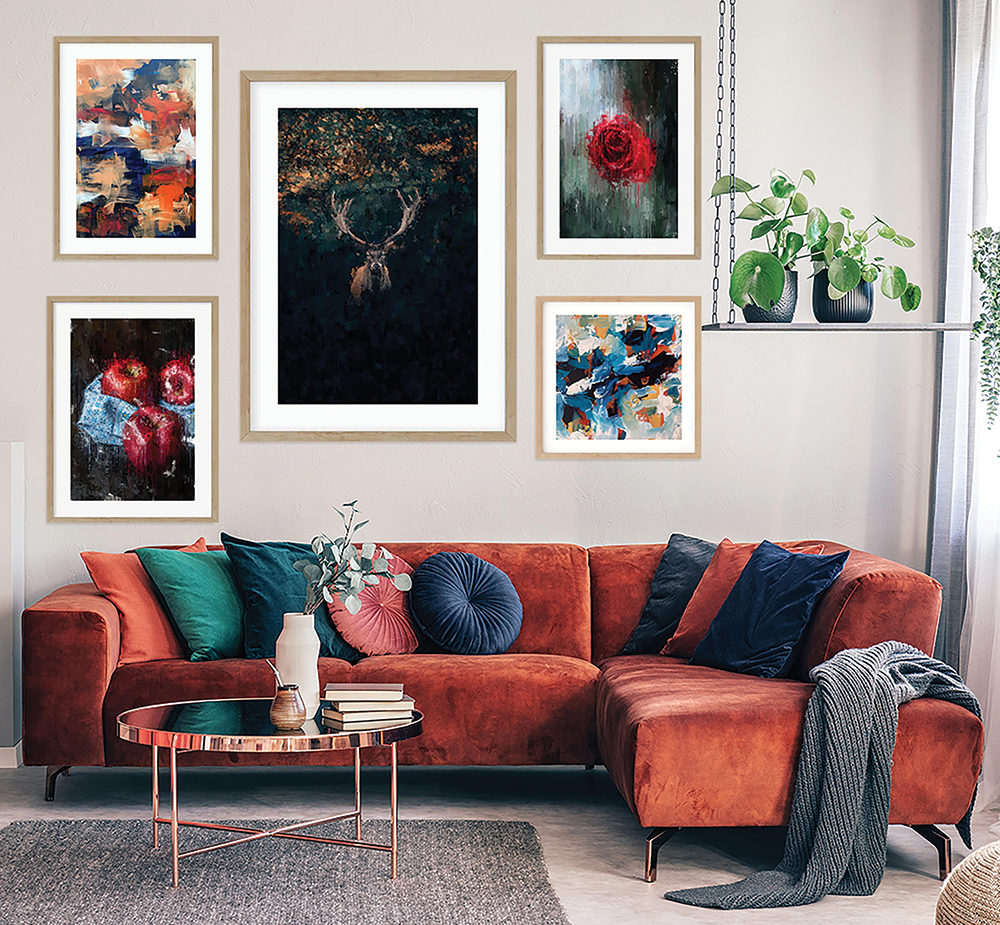 Image: Framed prints from €65, Abstract House
This weekend is the time to finally tick this job off the To-Do list. Once you've curated your perfect gallery wall, it's time to get started. Aim for three to six inches between each piece of art. If you're going for different sized frames, group the smaller pieces together. Top tip: lay your frames out on the floor first before you start making holes.
6. Add panelling to a room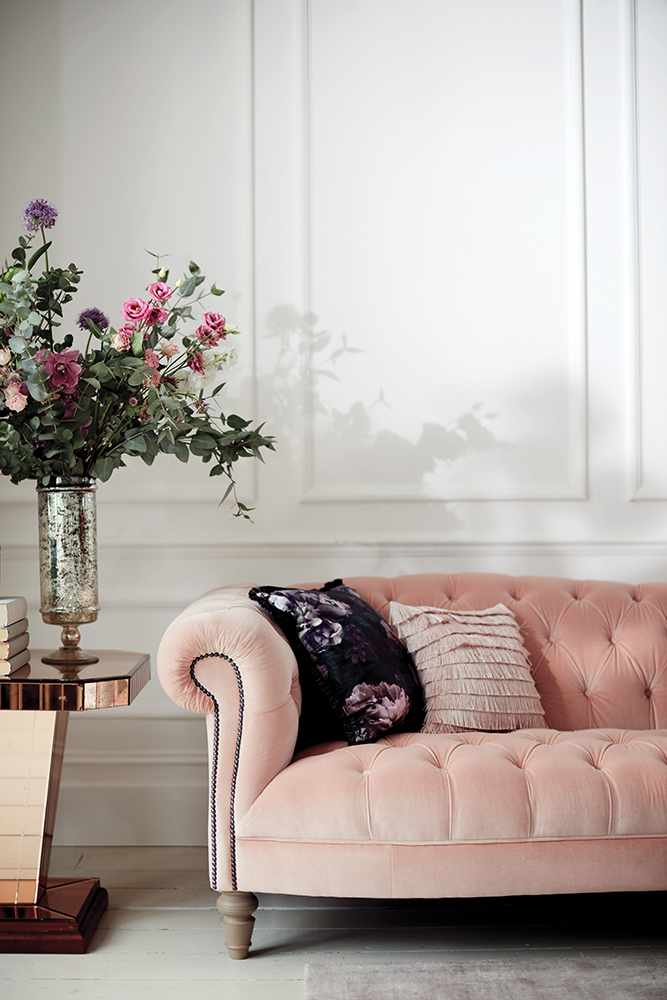 Image: Palace four-seater velvet sofa in blush, €2,079, Dfs
The trend for panelling doesn't look like it's going away anytime soon – an easy way to add character and a focal point to any room, it's easy to see why this classic look has become so popular on and off instagram. And doing it yourself is more straightforward than you may think. Choose the style of panelling you want and measure the wall(s) before deciding on the height of the panelling – remember to keep skirting boards or dado rails in mind (as well as electrics and plumbing). You can use either glue or pins to apply the panelling – once secured, it's time to get the paintbrush out!
7. Get that closet organised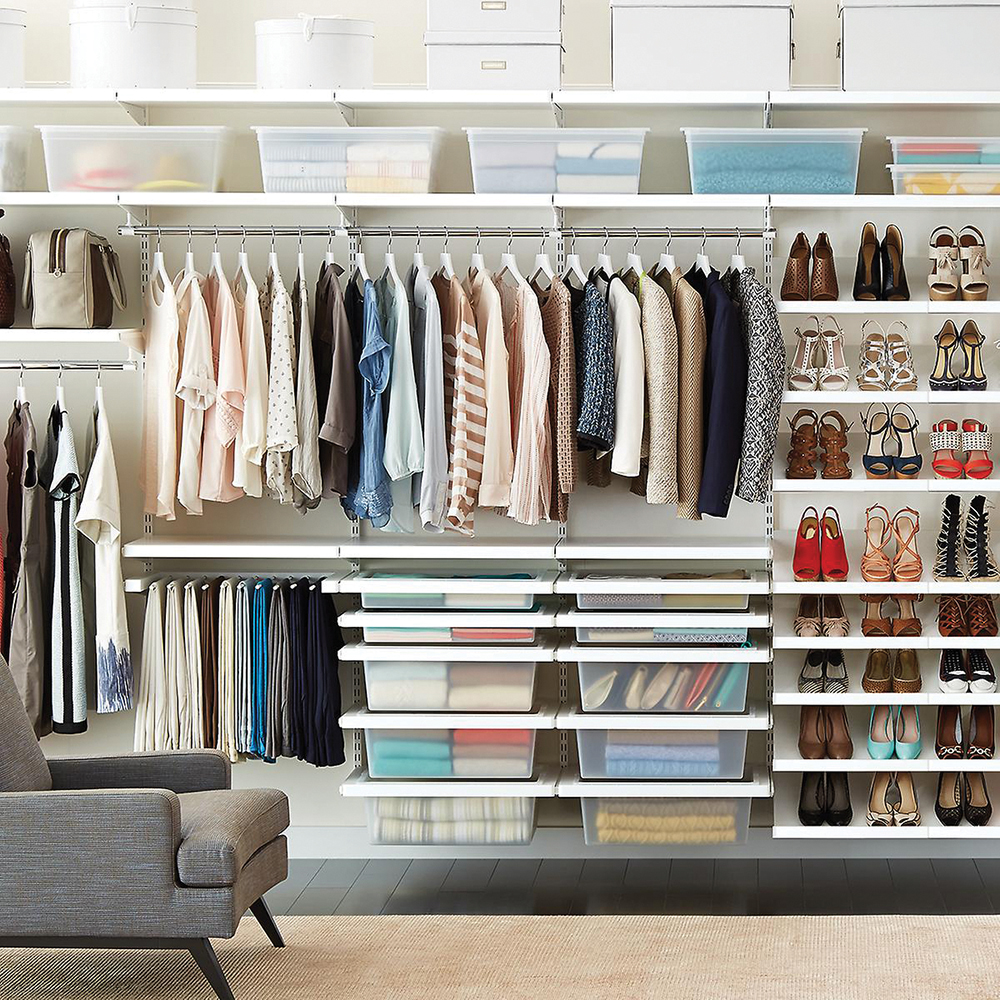 Image: Elfa décor dressing room, approx. €2,350, The Organised Store
How long have you been putting off sorting your wardrobe? Channel your inner Marie Kondo and chuck out anything that no longer brings you joy – or fits. Invest in slimline coat hangers or clear boxes to help you see what you've got; it'll also help you to figure out what you are and are not wearing.
8. Fit a vinyl floor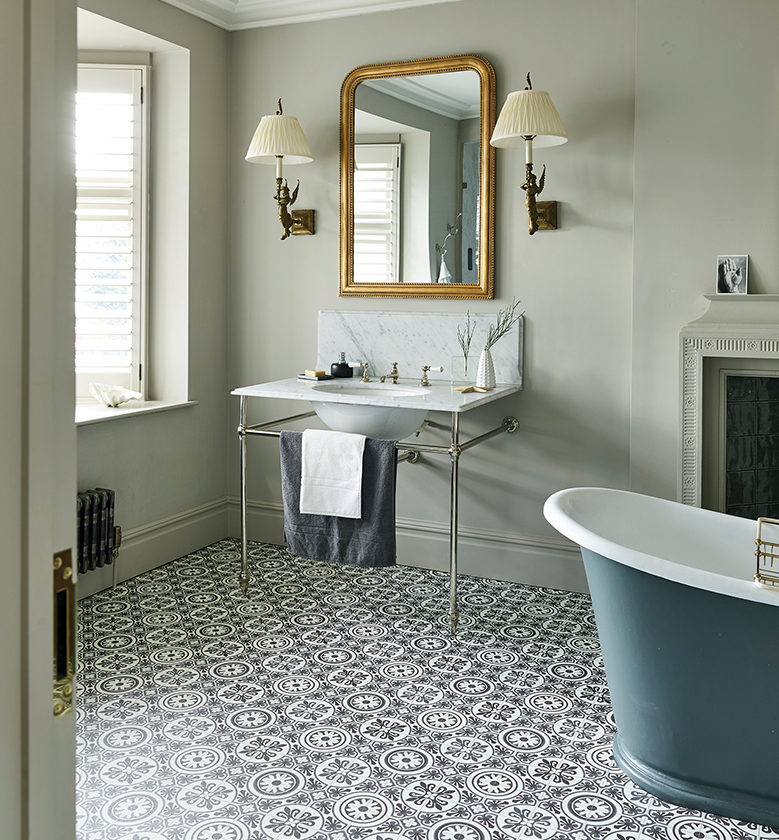 Image: Baroque Lisbon vinyl flooring, €21.30 per sq m, Lifestyle Floors
Fitting a floor is easier than you think and one of the simplest options is to go for a vinyl. Soft, quiet and available in fabulous designs these days (think Mediterranean-inspired tile effects or realistic wood prints), you can give the room of your choice an instant glow-up with a new floor. There's plenty of handy video tutorials online for you to follow and the satisfaction is instant.
9. Update your splashback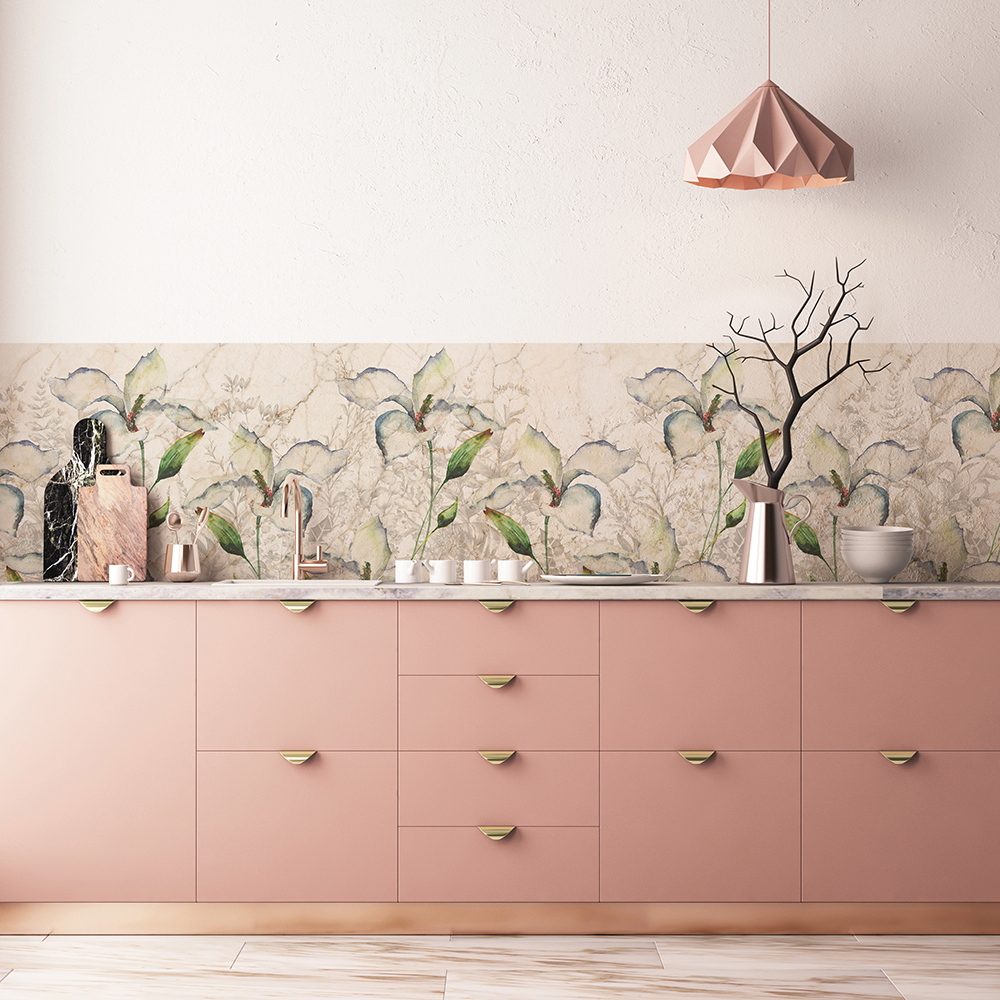 Image: Flower and marble kitchen wallpaper, €225, Lime Lace
New tiles can get pricey fast and that's before you hire a tiler. Give your kitchen an instant transformation with a splashback wallpaper. This new and revolutionary product is super easy to apply – and is completely water and heatproof so can be used behind your stove or hob. All you have to do is cut the kitchen wall décor to size and apply using the special glue. Renting? You can just peel it off and take it with you.
10. Build your own statement headboard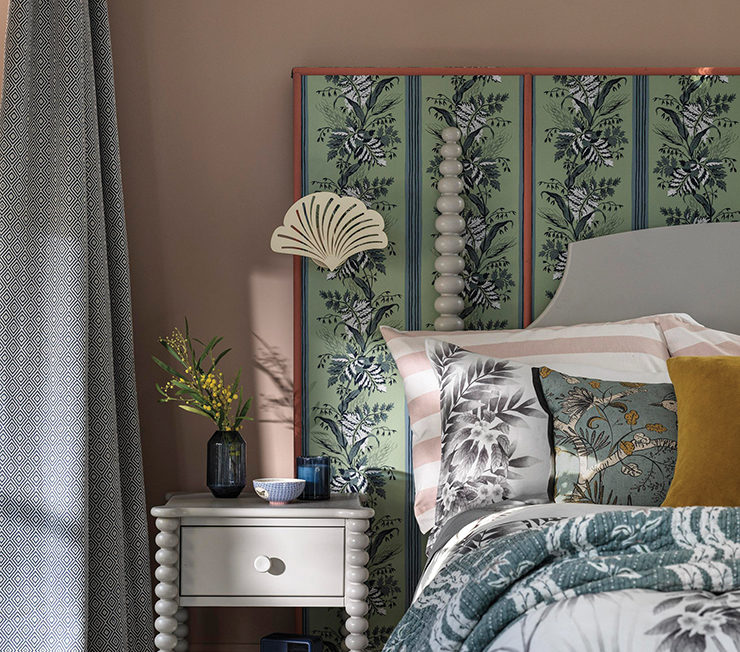 Image: John Lewis
Stop scrolling for an upholstered headboard that doesn't exist and make your own. Find the perfect fabric for you and measure out how much plywood or MDF you need. Remember padding and foam for a luxurious look. Once it's assembled, attach it to the wall using two D-rings and hang from screws or hooks. Try Your Tube for tutorial ideas – you might be surprised just how easy it is.
11. Revamp your front door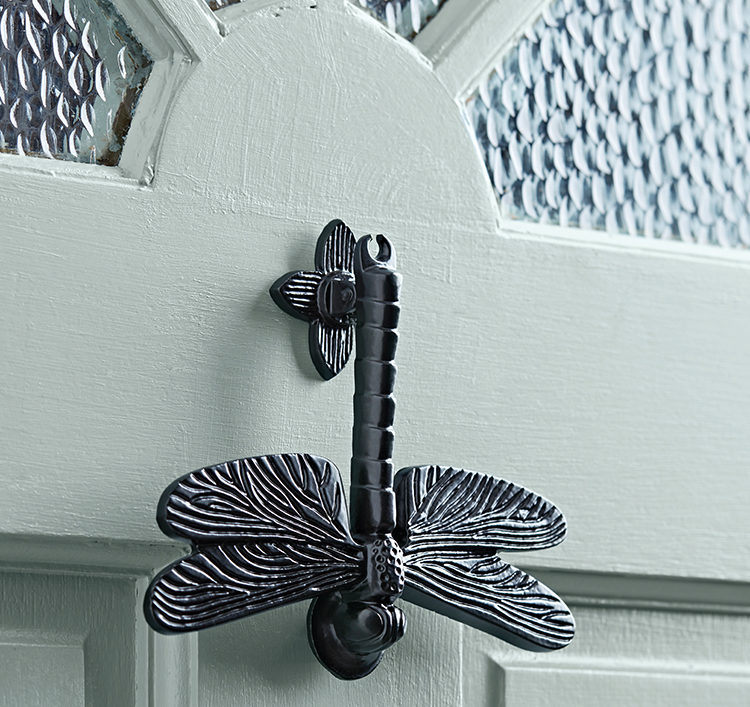 Image: Dragonfly door knocker, €60, Cox & Cox
Front doors work hard. Show yours some love (though pick a fine day to do it) with a fresh coat of paint and replace the letter box and/or door knocker. You can even hang an eye-catching seasonal wreath to really impress the neighbours – no need to wait for Christmas!
12.  Style a perfect shelfie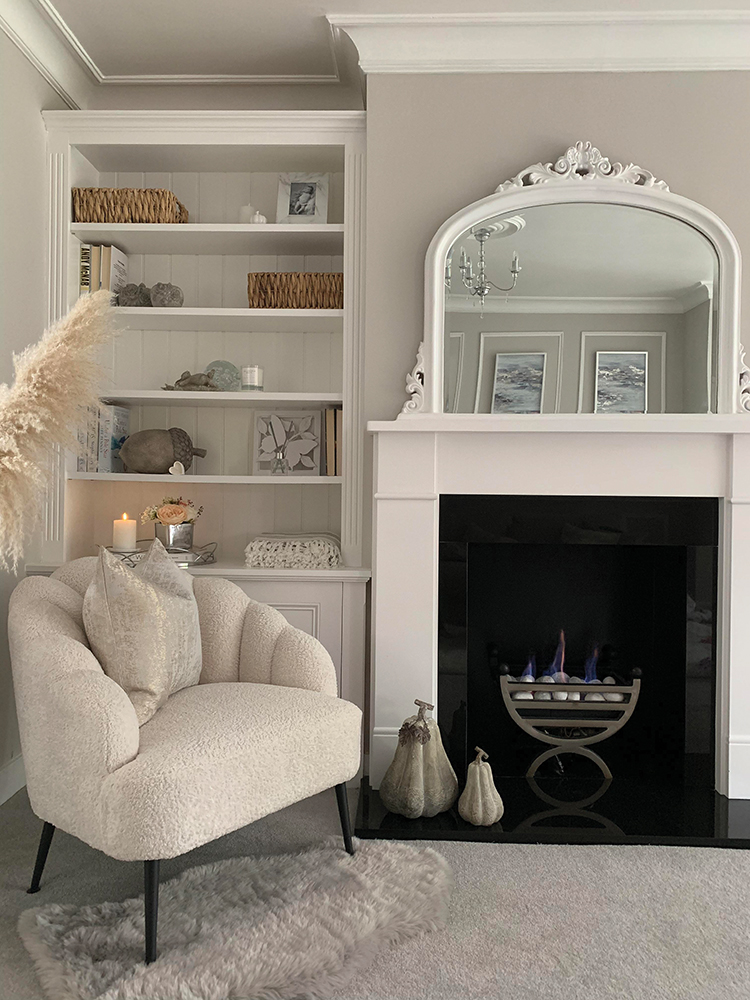 Image: Evelyn armchair in ivory white boucle, €370, Cult
From awkward corners to niches and big, simple walls, there's a shelf style for everywhere. Choose from alcove shelving, floating shelves or picture shelves, to name a few. We recommend styling in groups of three and to mix up the heights of your objects to stop it from looking flat. If you're lucky enough to have a deep recess in your alcove you could go one extra and have built-in storage, too.
13. Brighten up an outdoor space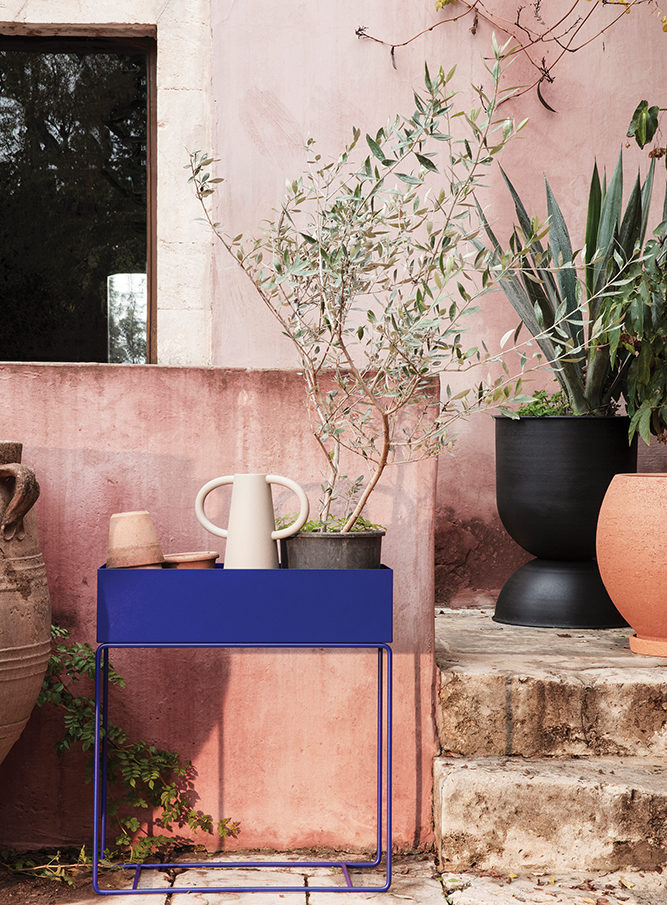 Image: A selection of planters and plant pots available at April and The Bear
Even if you only have a small garden or courtyard, that's no reason to not add a bit of colour. We love the idea of painting a wall a vibrant hue and adding shelves with colourful plant pots and fresh blooms. Try painting the shelves the same colour as the wall to really allow the pots and flowers to shine. Add an outside rug for a perfect final flourish.
14. Try an ombré paint job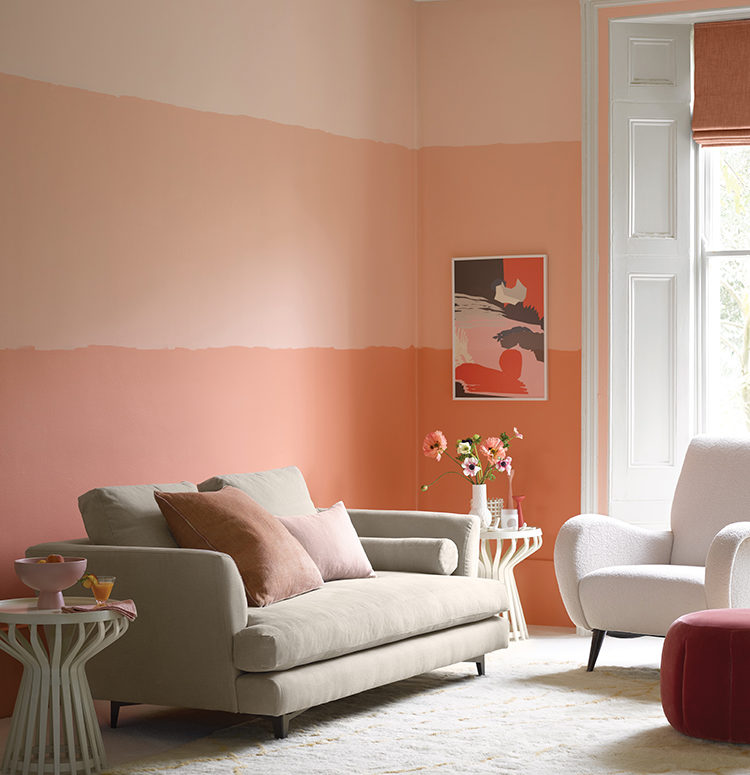 Image: Find these pink colour selections of Benjamin Moore paint at MRCB
"Choose a tonal palette of three colours with varying depths to achieve this easy ombré effect," says Helen Shaw, director at Benjamin Moore for UK and Ireland (Benjaminmoore.com). "For effortlessly-natural gradation, paint the lower section of walls in the darkest shade, such as Dusk Pink, the mid-section in a mid tone such as Salmon Peach and then use a paler hue like Pink Harmony towards the top of the walls for an airy feel."
15. Make your radiators disappear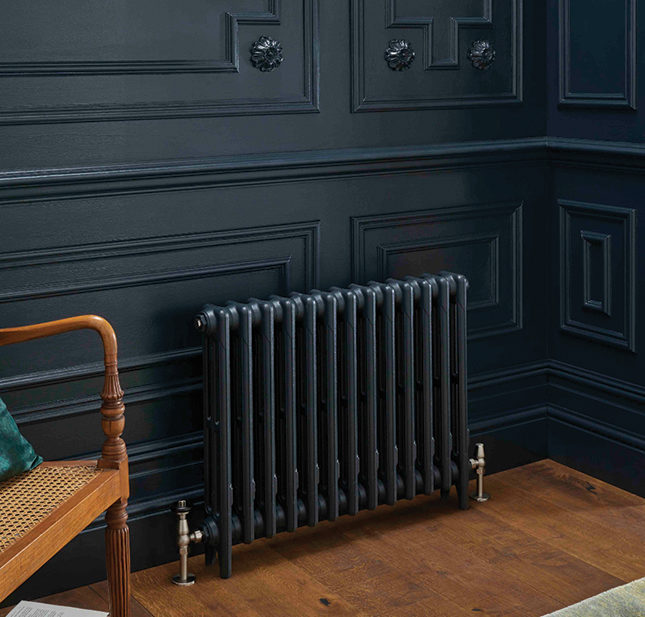 Image: The Radiator Company
Want to conceal a radiator for a seamless look? Simply paint it the same shade as your walls – an easy and quick update that any of us can do in a weekend. You can find special radiator paint in most hardware stores, but any paint designed for wood or metal such as gloss, satin or eggshell, should work equally well, and protect against knocks and bumps. Reportedly, coloured radiators finished with paint will tend to produce 25% or so higher heat output and if you have dark radiators you are in luck. Matt black is, in fact, the most efficient radiator colour of choice.
Expert top tips for easy weekend DIYs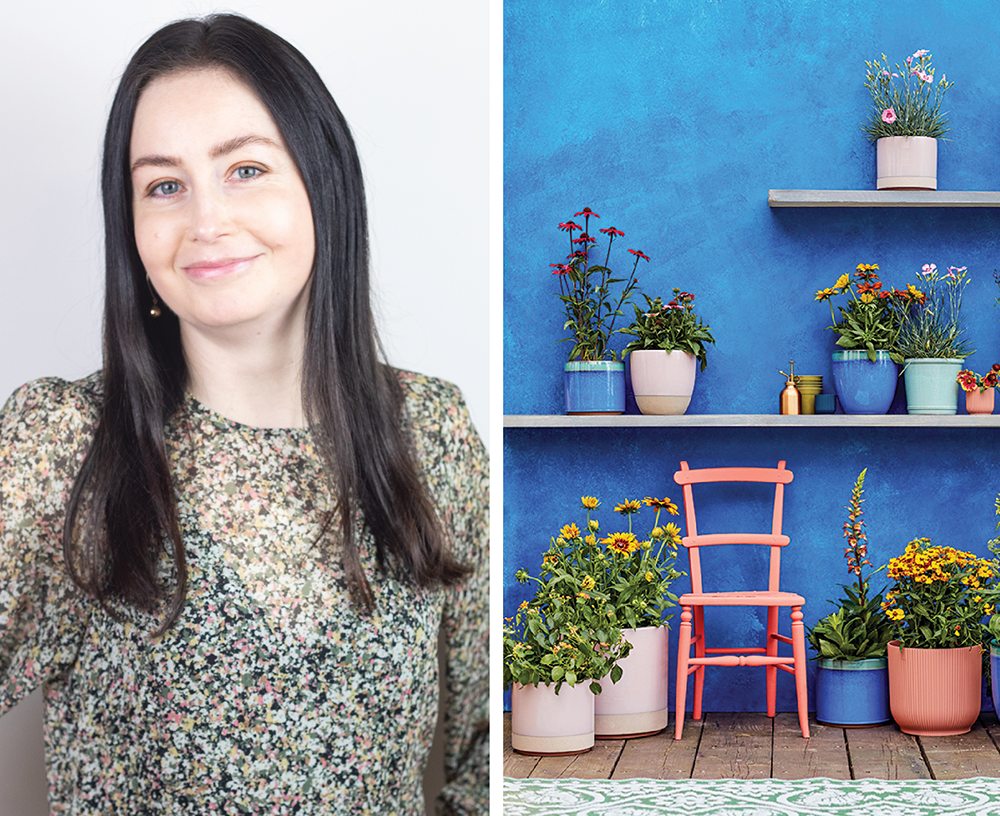 Images: Lynne Foran of Avoca; Pots from Dobbies Garden Centres 
Lynne Foran, senior buyer at Avoca, shares her favourite easy holiday projects.
Add colour: Colour-coded bookshelves can add a more streamlined look to a room. Tying in some of the colours with a new throw or cushions will give any space a new lease of life.
Create a gallery: If you want to add a personal touch, why not use your children's – or even your own – artwork? Pop paintings and drawings in a selection of frames and create a unique gallery wall, mixing them in with other pieces of wall art.
Get painting: Never be afraid of a pot of paint, For instance, interior doors can be forgotten about in homes, but they look great when they are matched to the rest of the room. Painting them to match walls can also make an interior feel bigger.
Quick update: Changing the handles on the drawers and cupboards in your kitchen is a great way to quickly change the look of the space with minimal effort and low cost.
Don't forget the garden: Jazzing up your garden furniture in preparation for brighter evenings in the sunshine is a worthwhile project. Sanding down and spraying your existing furniture in a new colour is an easy and relatively cheap way to give your garden a fresh look. Why not give any old winter-worn planters a touch-up too, so they will also tie in with your new colour scheme?
Create flexible storage in an instant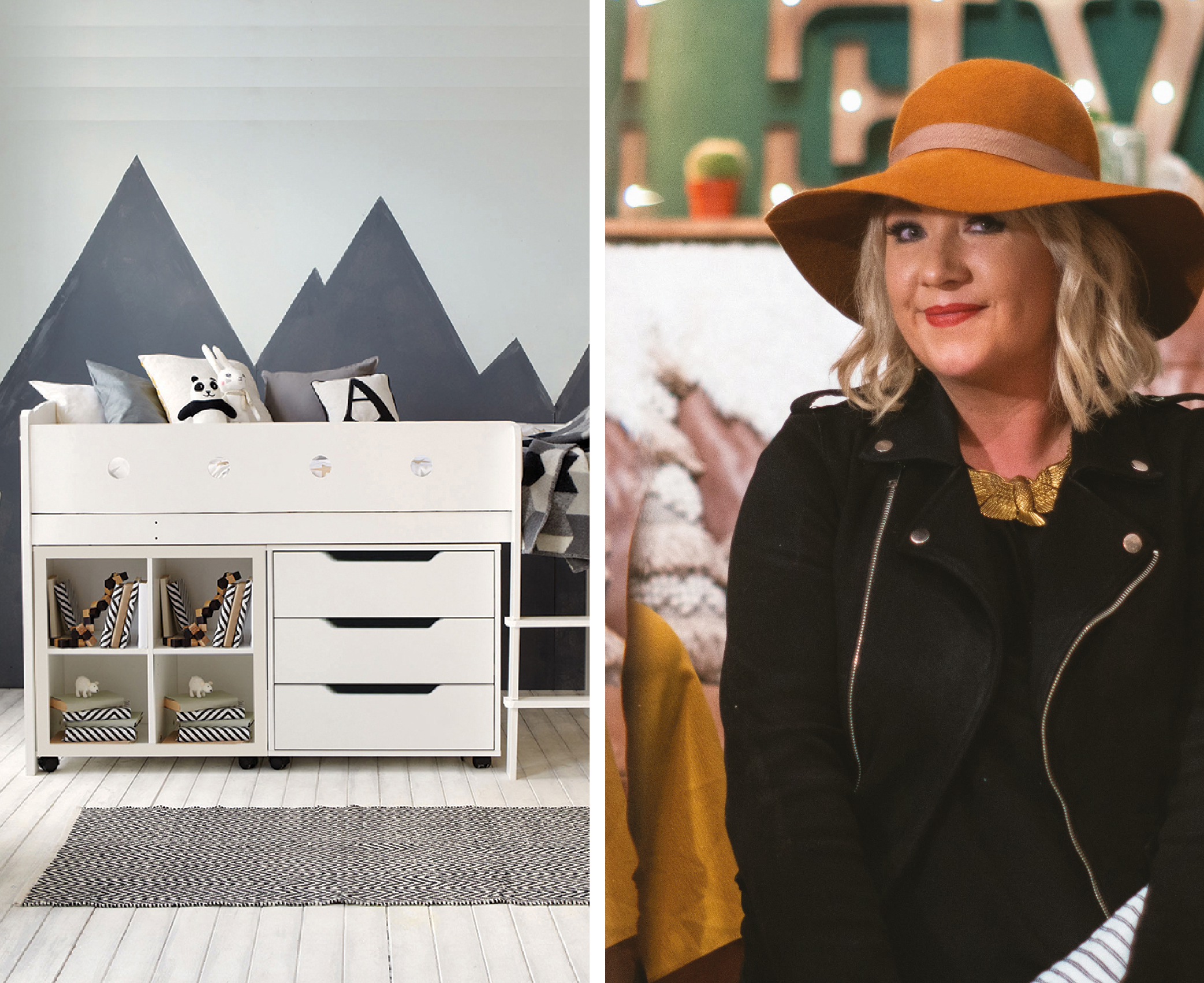 Images: Cubix Mid Sleeper in Pure White, Little Folks Furniture; Influencer Cathy McGovern
DIY influencer and stylist Cathy McGovern shares the perfect project for a long weekend.
"A quick and easy way to create more storage in a weekend is to repurpose an old vintage blanket box or chest into a movable toybox and coffee table. I often come across them at auctions and online second-hand pages for €20-€40 depending on the condition. If you source a sturdy one it can be a multi-functional piece of furniture particularly suited to smaller spaces. Some of them look great after just a good clean and others can look amazing painted in a beautiful shade to complement your décor. Simply sand, prime, paint and add four castor wheels (with brakes) and you can have a beautiful, mobile piece that can store the kids' toys as well as acting as a coffee table. It can even be moved into a cosy corner, topped with a floor cushion and the kids have a snug reading corner."
Looking for some more weekend projects? Take a look at our feature 9 Ikea hacks you're going to want to try this weekend.