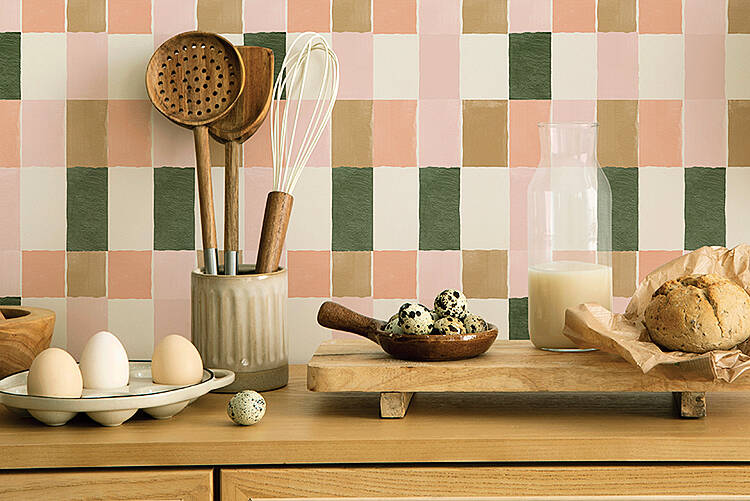 Easy and affordable, landlord-approved decorating ideas to help make your rental feel more like a home
Words: Róisín Carabine
Just because you live somewhere that's not your own, doesn't mean you can't make it a home. Sure, your rental contract probably has a long list of no-nos detailing what you can't do to the interior, but you can still put your own stamp on the space – even if it is temporary. From simple fixes, like adding scent and potted plants, to switching up the lighting and sticking vinyl decals on splashbacks, we've pulled together the best budget-friendly decorating ideas to help you upgrade the look and functionality of your rental without upsetting your landlord.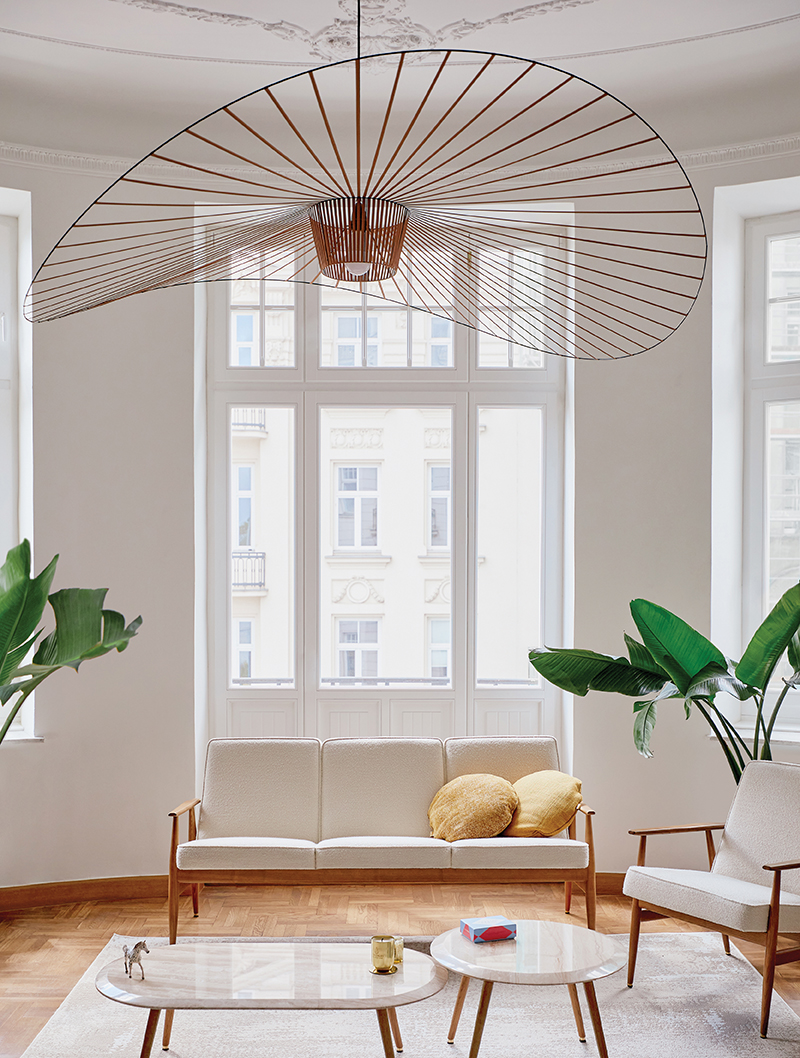 1. Switch up the lighting
It's true that good lighting can make or break a scheme, and the same rule applies to shades. If your landlord won't let you replace the fixtures, at least get permission to swap out the shades – and bulbs while you're at it. A statement shade can turn a kitchen island into a focal point or even make a simple sideboard stand out.
Above: Fox marble long coffee table, €990 & round table, €790; Fox sofa in Coco Crème, €1,980 & Fox lounge chair, €990 by 366 Concept, April and the Bear. Vertigo pendant shade, copper, from €955, AndLight.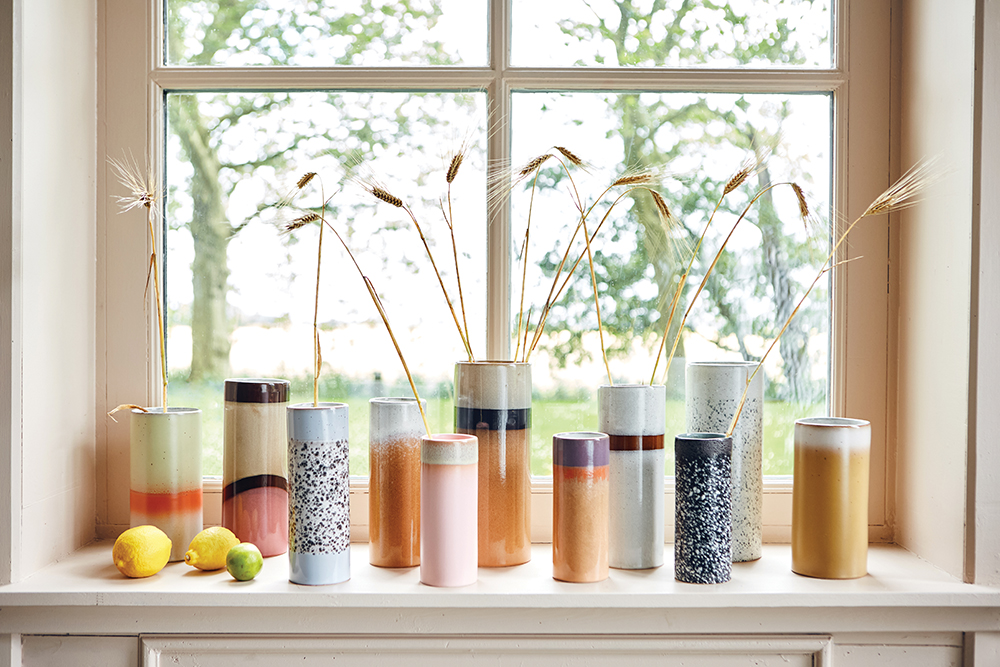 2. Curate stylish surface displays
When your contract strictly stipulates no hammering nails in the walls, look to coffee tables, dressers, sideboards, window sills and shelves to create curated vignettes of your personal possessions. For an effortlessly composed and eye-catching display choose a hero piece as the centre of interest and balance with a grouping of smaller objects.
Above: Vases from HKliving.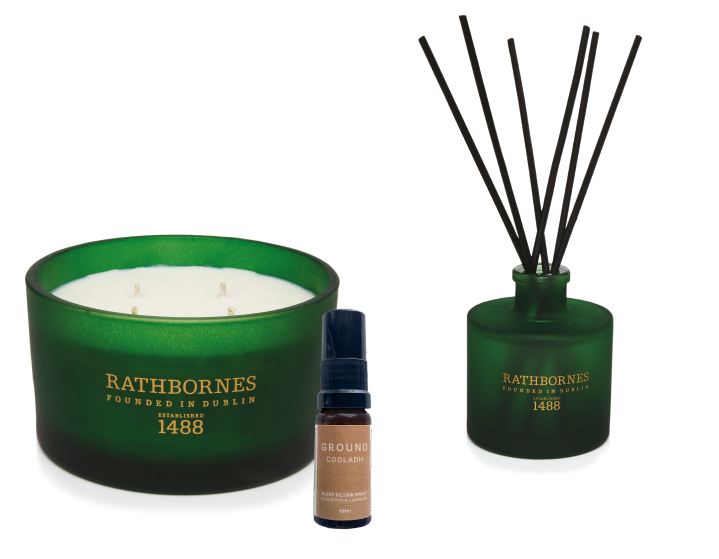 3. Scent your space
Adding scented candles is cheap and cheerful and one of the easiest interiors tricks to create instant atmosphere. A home that smells good, feels great, right? Spend money on natural soy or rapeseed candles that are eco-friendly, long lasting and burn cleaner than traditional paraffin wax.
Above: Rathbornes reed diffuser, €65, and Dublin Retreat candle, €75, Brown Thomas; Ground, Codladh sleep pillow spray, €20, Arnotts.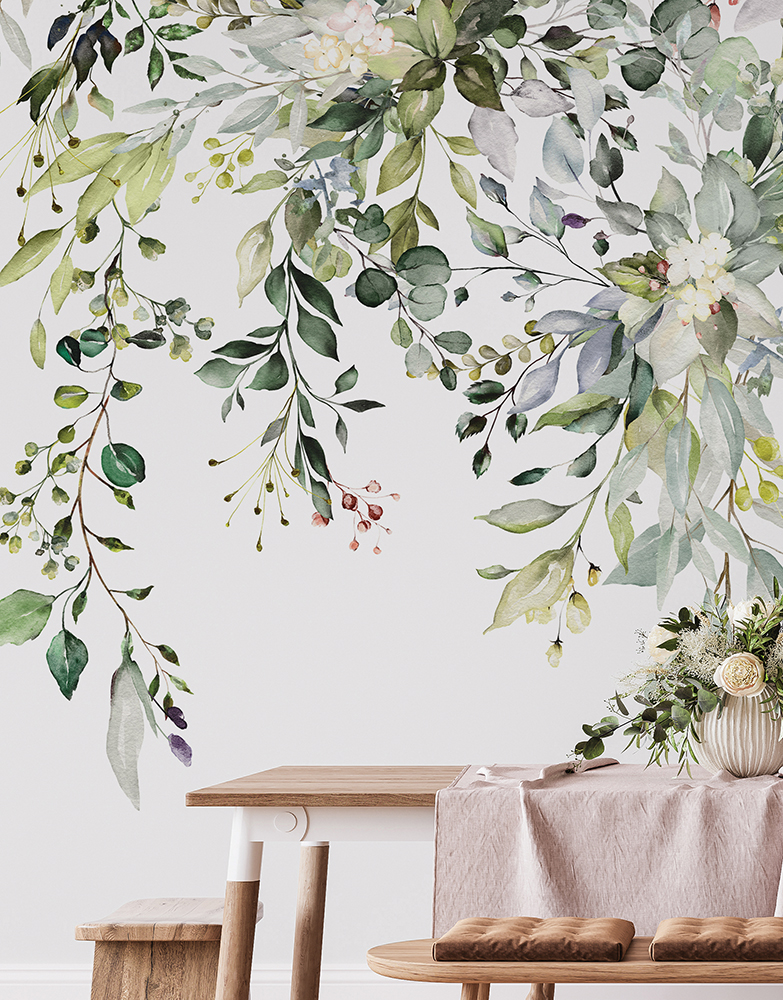 4. Paper the walls with peelables
Even if your rental does allow for painting and papering it can be a hassle undoing all your handiwork when your tenancy comes to an end. Peelable wallpaper is a brilliant alternative to pasting and is super easy to apply – and remove, without leaving any sticky marks. For a high-end feel, forgo papering every wall for a feature mural. Washi tape is an even cheaper, low-tack solution, and can be used to map out playful patterns on plain walls. Pinterest has hundreds of pins dedicated to decor tape tricks.
Above: Herbal Branch Leaves peel and stick mural, €42 per sq m, Wallsauce.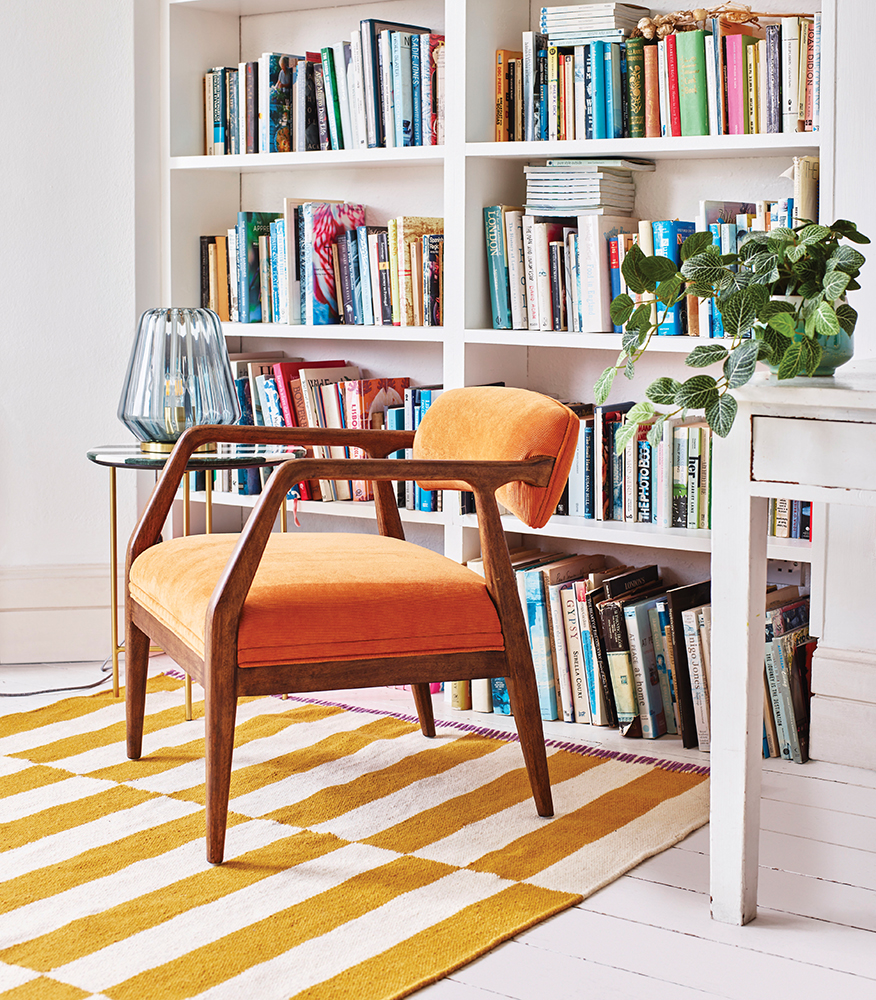 5. Hide ugly floors with rugs
A big issue when renting is having to put up with things you cannot change, like ugly flooring. Opt for the biggest rug you can afford to hide as much of the floor as possible; you'll be surprised how much it will change the look of the room. In kitchens and bathrooms, you can DIY a temporary floor fix using a cheap vinyl off cut and removable adhesive.
Above: Simeon wool and cotton rug, from €170, Oliver Bonas.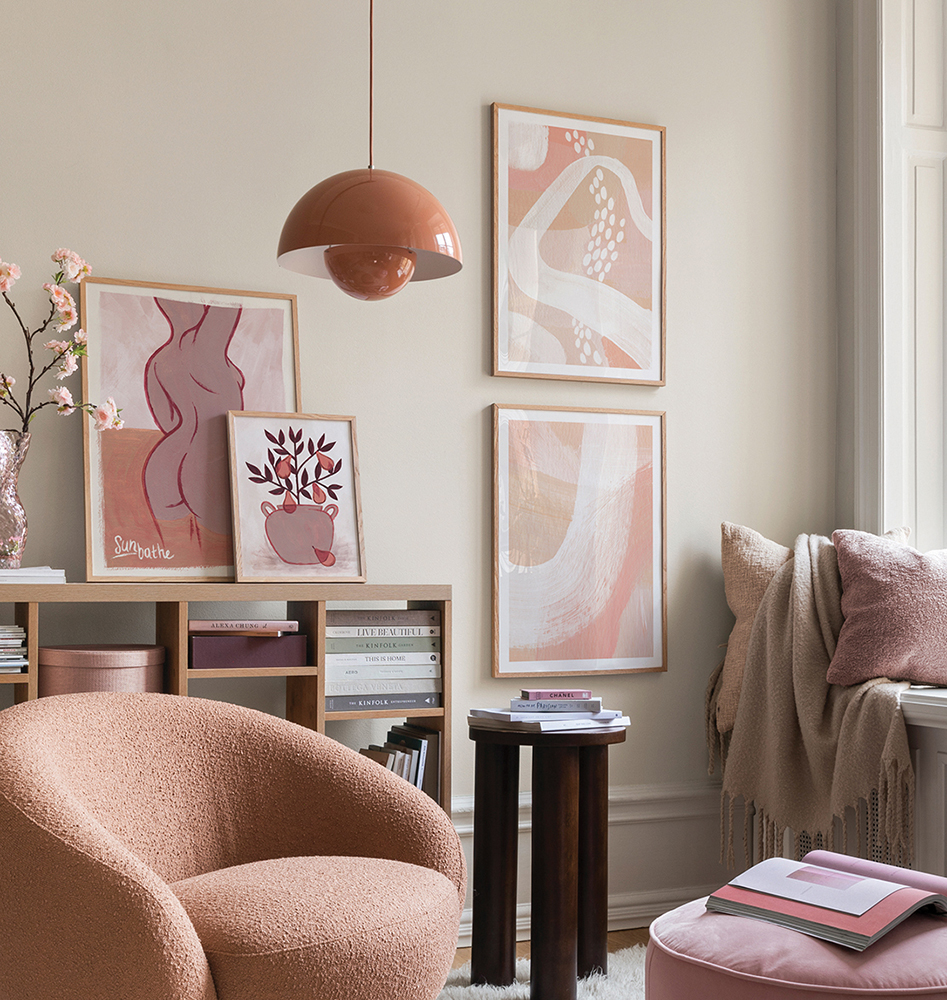 6. Bring in personality with artwork
Want to make your rental feel, well, less like a rental? Don't scrimp on the sentimental. Personalise the space with artwork and photographs. Use Command Strips to create a gallery wall or alternatively artfully lean pictures for a more casual display. The latter is easier to switch up if you fancy a change.
Above: Peachy abstract poster, €19.77; Sunbathe poster, €19.77; Pear Plant poster, €9.57, Desenio.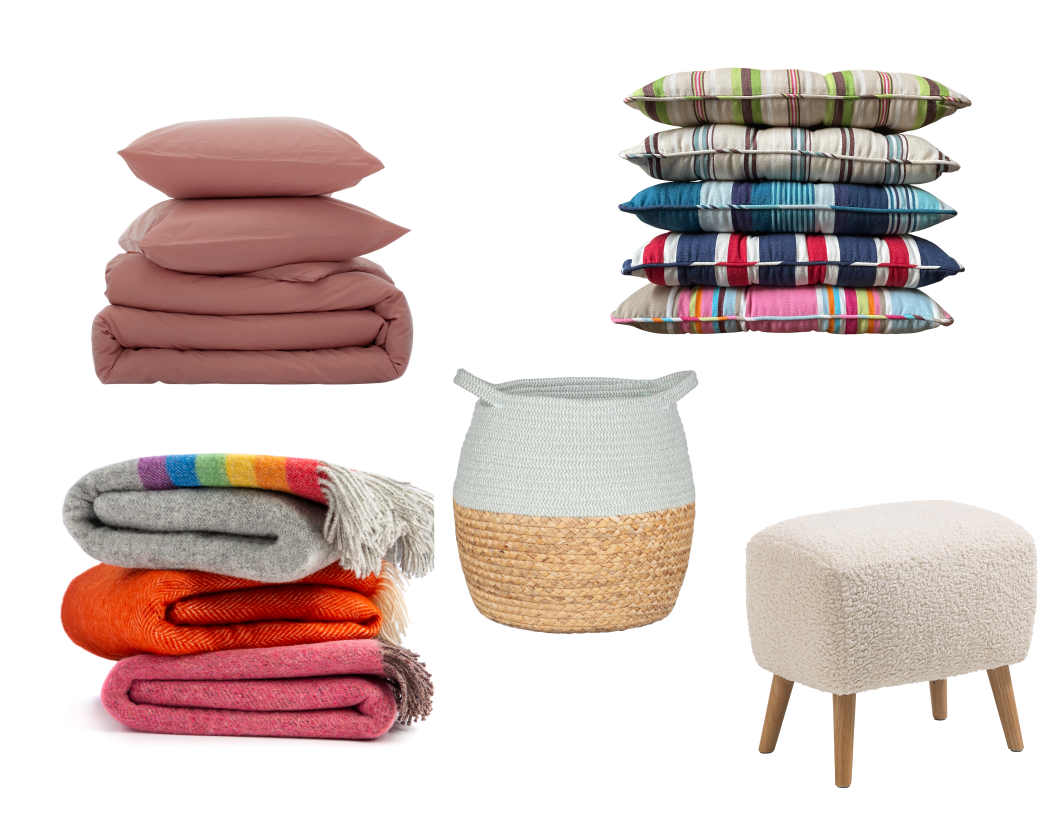 7. Just add cushions
As well as throws, baskets, new bedlinen and anything super textured and colourful. It's easy to overlook soft furnishings but they can make a big difference to the look of your rental.
Above (clockwise from top top left): Organic cotton relaxed percale duvet set, from €110, Consciousconvert; Stripe seat pads from €32, The Stripes Company; Vildsund off-white pouffe, €89.99, JYSK; Eze two-tone basket, from €12, B&M; Donegal tweed throws, €95 each, Orwell & Browne.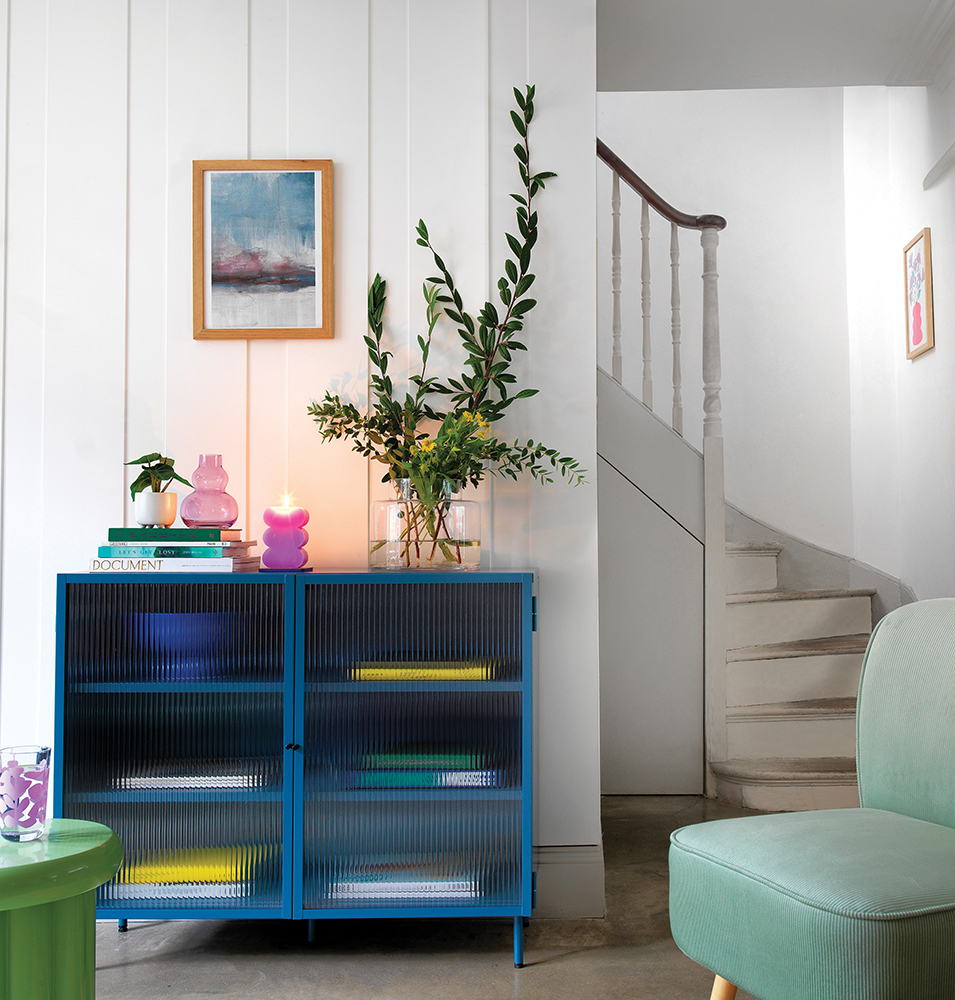 8. Slot in lots of storage
Typically, rentals don't come with a whole amount of storage but that doesn't mean you should edit your belongings to suit. Instead, invest in stackable storage to maximise underused vertical space as well as statement freestanding pieces (like this Habitat Morillo sideboard from €328, Argos) that will add character – and can be taken with you when you move on.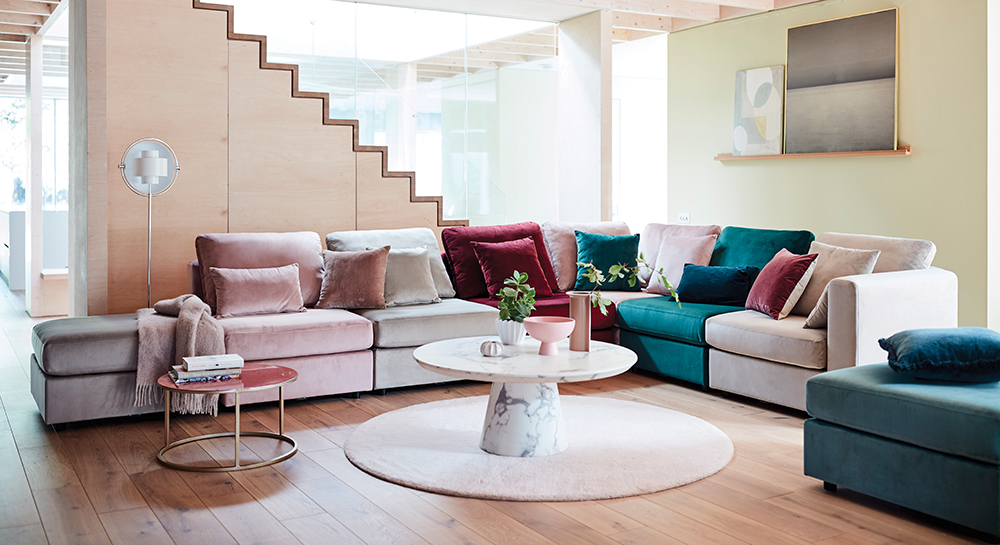 9. Invest in modular furniture
A fully furnished rental might seem like a good idea initially but chances are you'll be stuck with furniture you don't like (read loathe). If you can part furnish yourself, spend on big ticket items and opt for modular designs like sofas that can be reconfigured to suit any size and shape of space or added to for a new look or as your needs change.
Above: Sofables modular furniture in So Social configuration, comprising six seats, eight sides and end seat unit, seen in Splendour fabric, €4,344, DFS.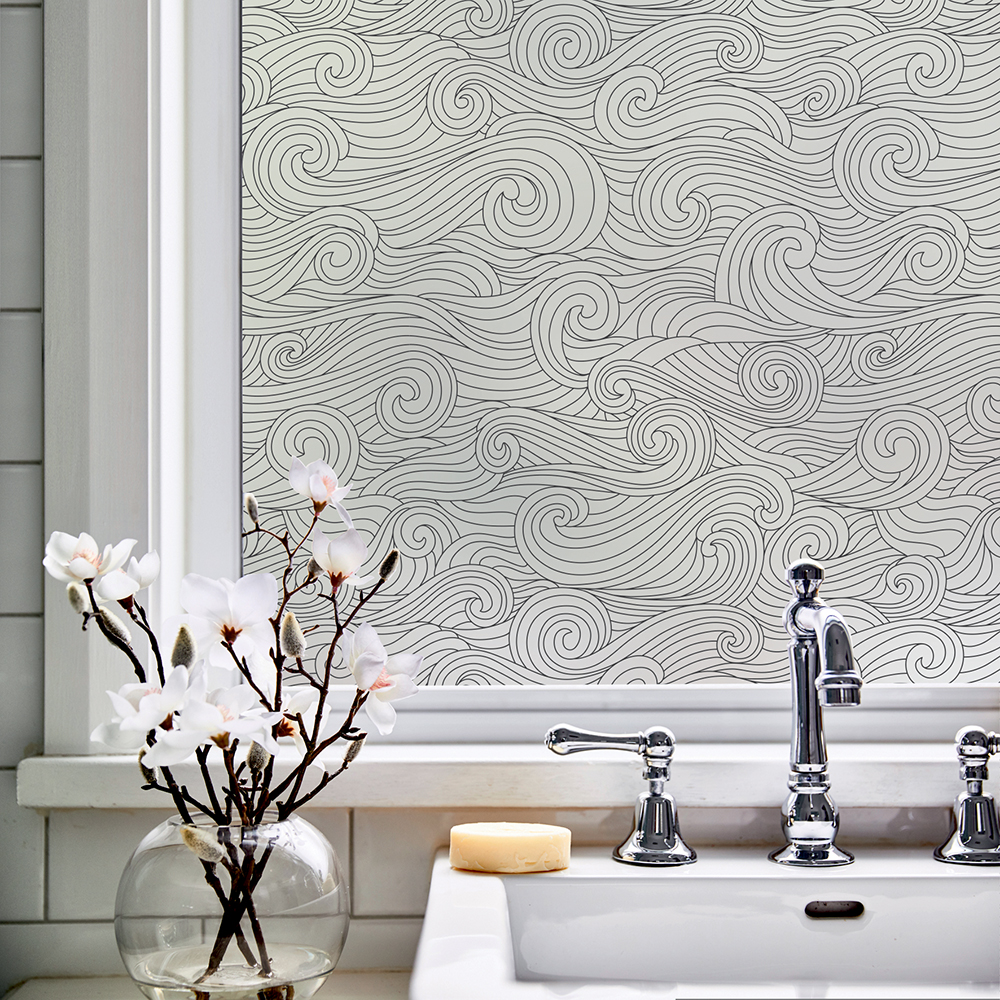 10. Fix windows with film
Window dressings are often overlooked in rental properties, yet it's amazing how swapping out existing treatments or adding your own can have a big impact. In bathrooms where privacy is an issue and you don't want to fork out for expensive blinds, opt for window film (Waves film, €17.79, Purlfrost) as a stylish, affordable (and removable) fix.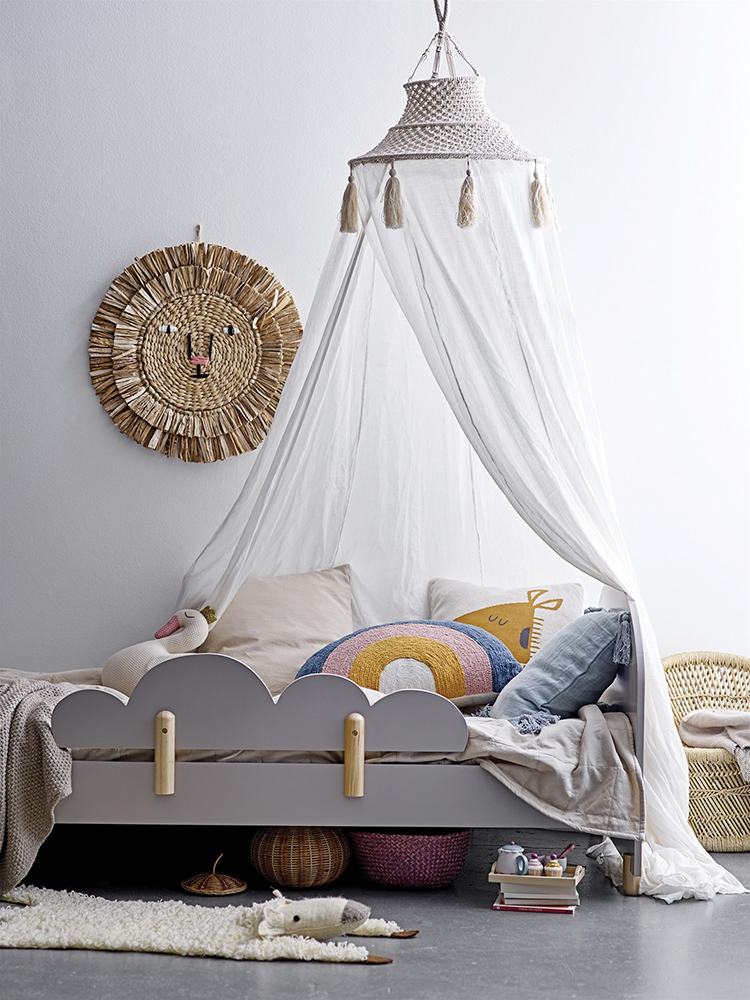 11. Hang a canopy
Kids' rooms can be super tricky to decorate in a rental especially when your instinct is to paint the walls, but you're not allowed. We love this cute idea from Bloomingville which uses a canopy (Hugh, €185, Bloomingville for Irish stockists) to make the bed the star attraction It can be hung from the ceiling with a screw-in hook that won't cause too much damage which can't be repaired with filler.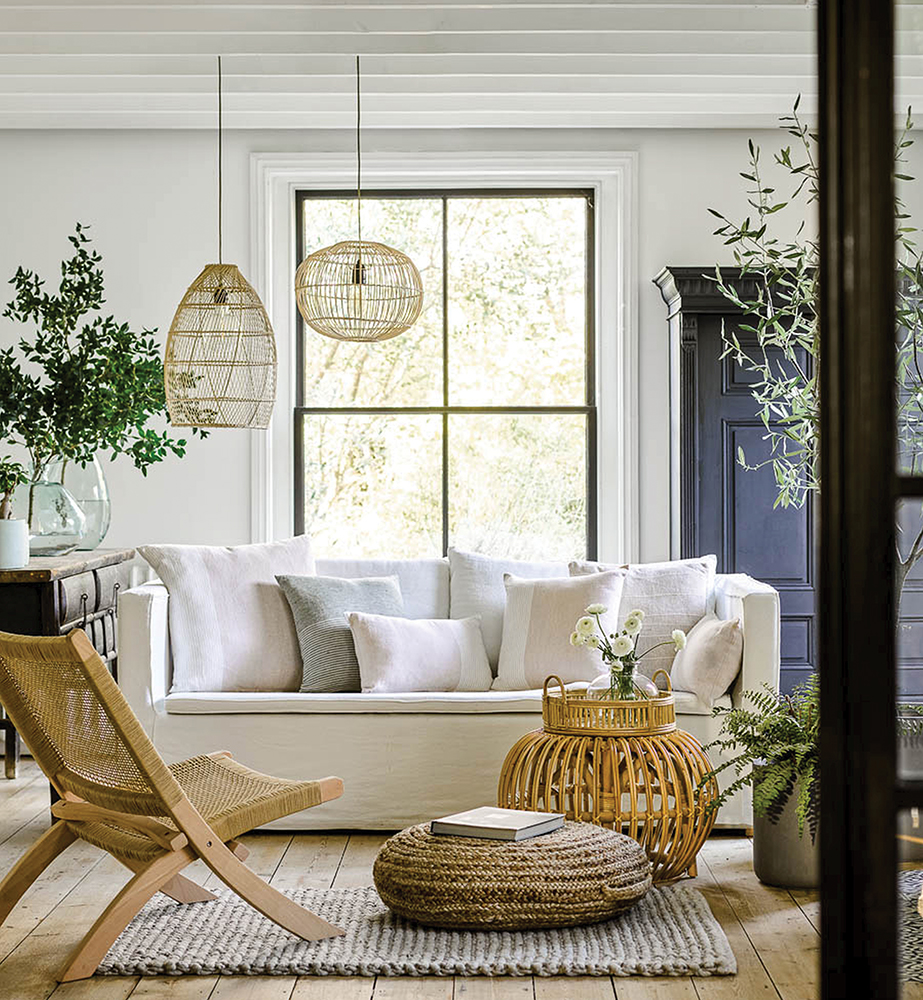 12. Add plants, everywhere
Never under-estimate the power of plants when it comes to making your home feel lived in. Choose decorative pots to add colour and interest and sit atop a sunny windowsill or shelf. For maximum impact group together several plants or invest in one or two oversized varieties and use to give a dull corner a much-needed boost.
Above: Furniture from Garden Trading.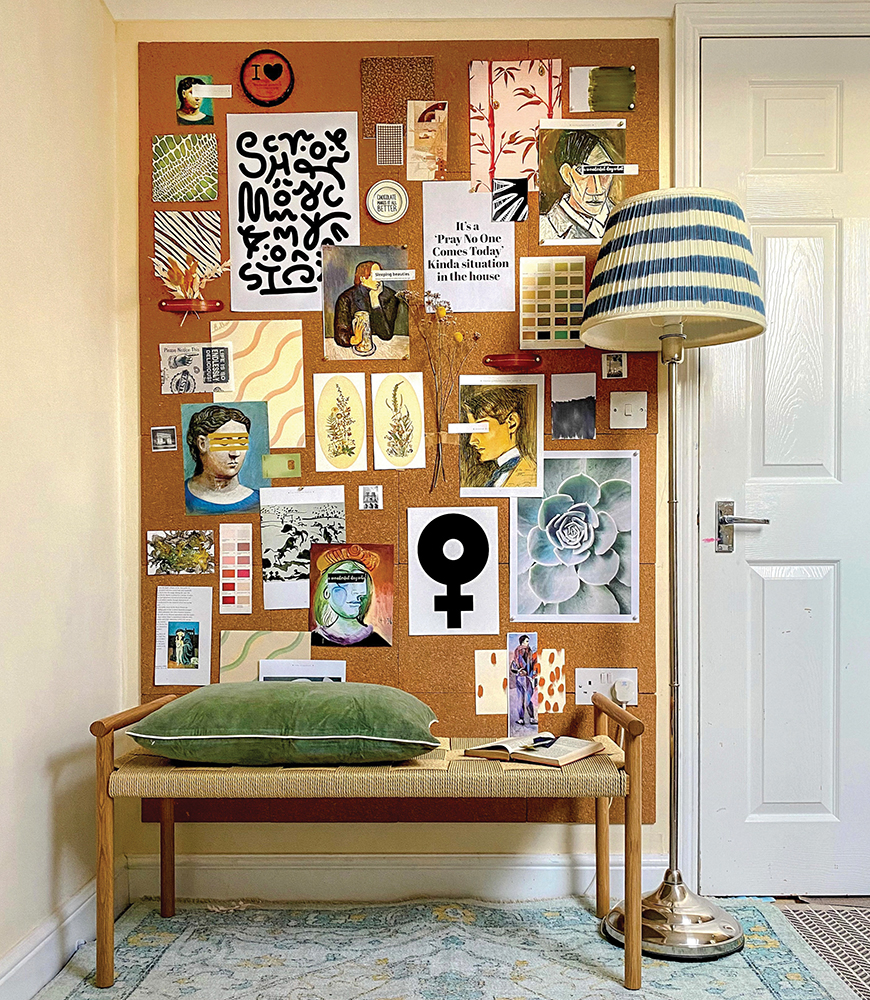 13. How to…DIY a cork noticeboard
Self-confessed rental hacker, The Pajaama Hub's Amara shares how to create a feature wall using self-adhesive, easily removable tiles.
Measure your space and work out how many tiles you need. It's always good to buy extra just in case.
Before you start, make sure the wall is clean and dust free.
Peel off the backing sheet and stick down tiles one by one making sure there are no gaps.
Use a sharp Xacto knife for cutting around switches for a neat look.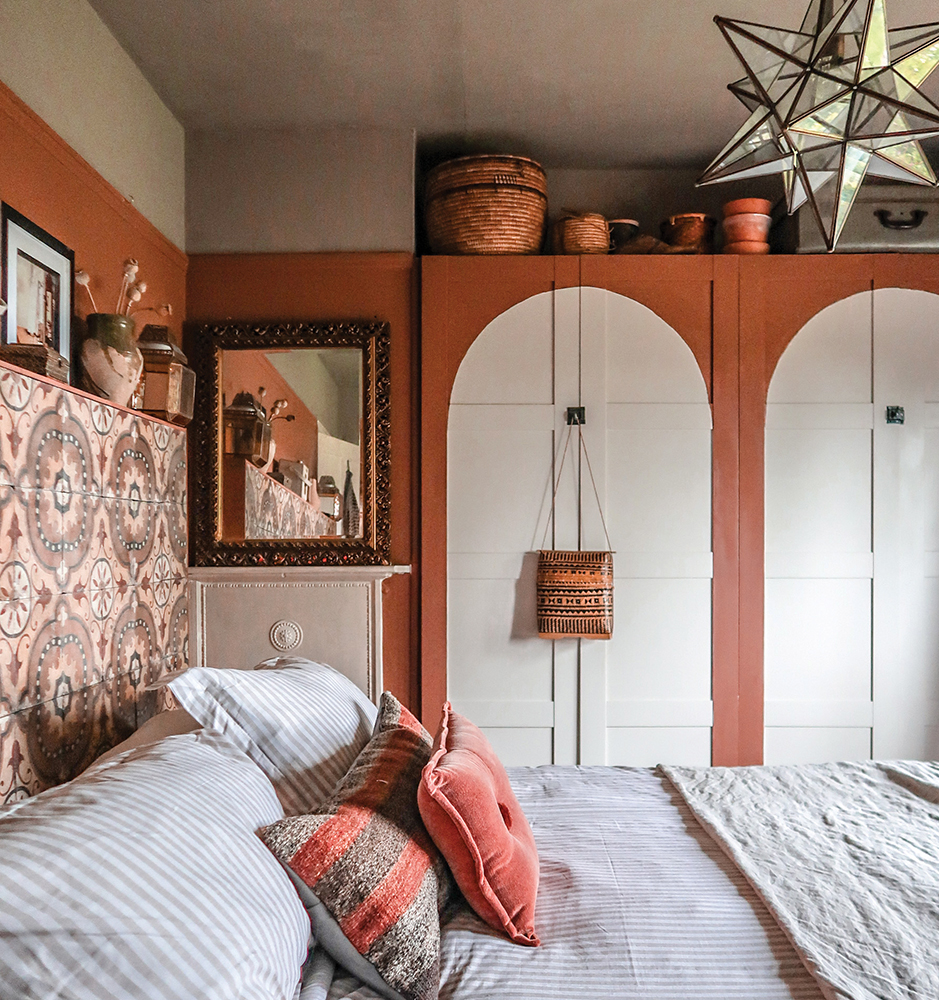 14. How to…Hack Ikea Pax wardrobes
When you don't want to invest in expensive furniture, buy budget and personalise. Interiors blogger and renter Hayley Stuart reveals how.
Clean your wardrobes first and lightly abrade with sandpaper.
Cover with a multipurpose primer and allow to dry. Apply a base colour of Dulux Shifting Sands interior eggshell.
Use a pencil with a string attached to draw arches.
Fill in the arches using Dulux Folk Tales interior eggshell.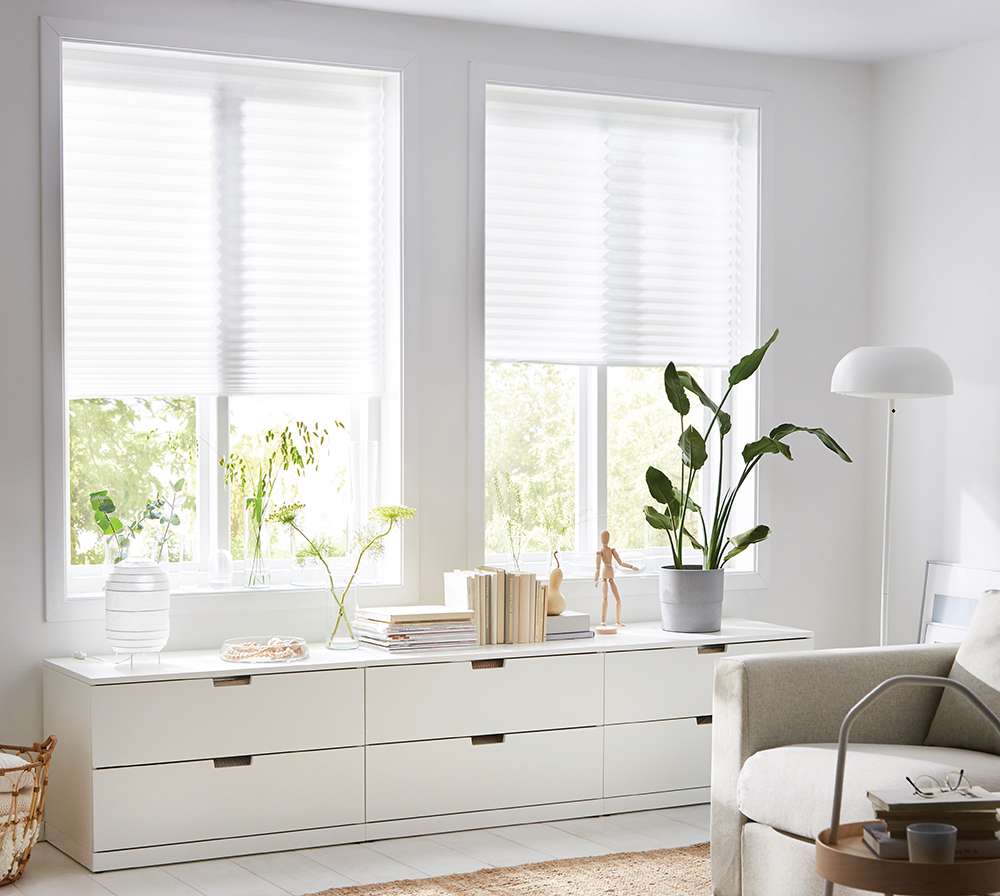 15. Dress windows with clip-ons
If ever a window solution was invented for rentals, this Schottis pleated blind from Ikea is it. Priced at a bargain €5, and garnering an average 4.2 star review on the company's website, the blinds can be cut to size easily and attached to windows using clips without the need for drilling. Genius!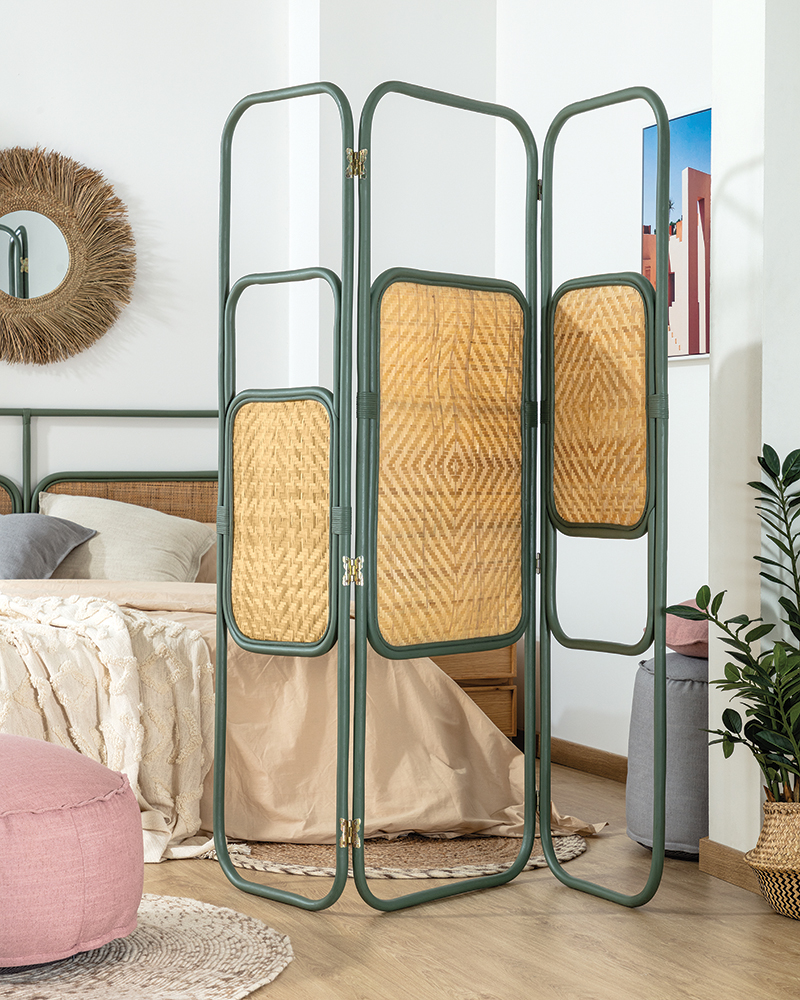 16. Divide and conquer
Often when renting, a big compromise is space – and how it's divided up. Of course you can't go knocking down walls, so when you want to define zones and create a little privacy, adding a screen is the easiest solution. This Margaret rattan screen, €328, from Kave Home, is not only cost effective, but super stylish too.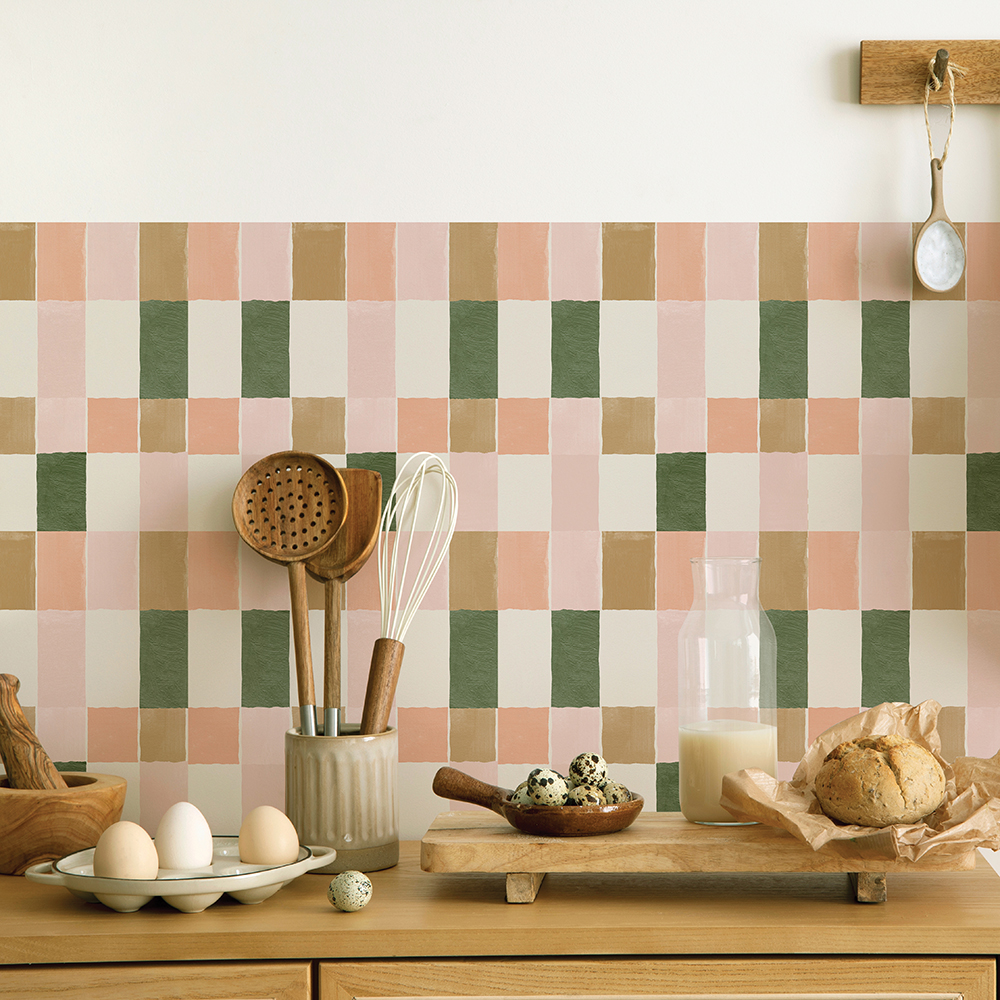 17. Stick on a splashback
When you'd love to tile a kitchen or bathroom splashback but your lease won't allow it, try this temporary design trick. Sirface Graphics' peel and stick vinyl wallpaper panels can transform any flat surface in minutes, without fuss. They're water and heat resistant and easily cleaned with a damp cloth. Their new Farmhouse green splashback panel (pictured), from €9, is our favourite, Sirface Graphics.
Feeling inspired? Keep up the momentum with our 7 easy updates to give your home a refresh.
Share This Article