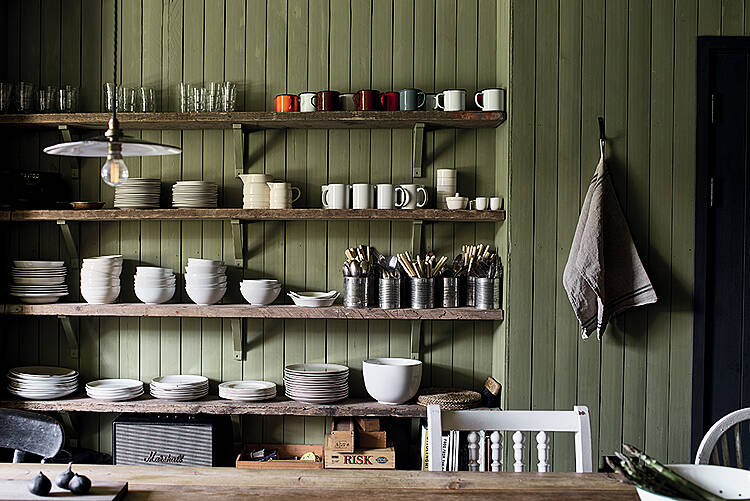 Interior stylist Sally Denning says natural elements are the key to creating schemes that will nurture, relax and restore you. Follow her 7 steps to an altogether calmer home
Words: Sally Denning | Photography: Polly Wreford
1. Introduce restful colours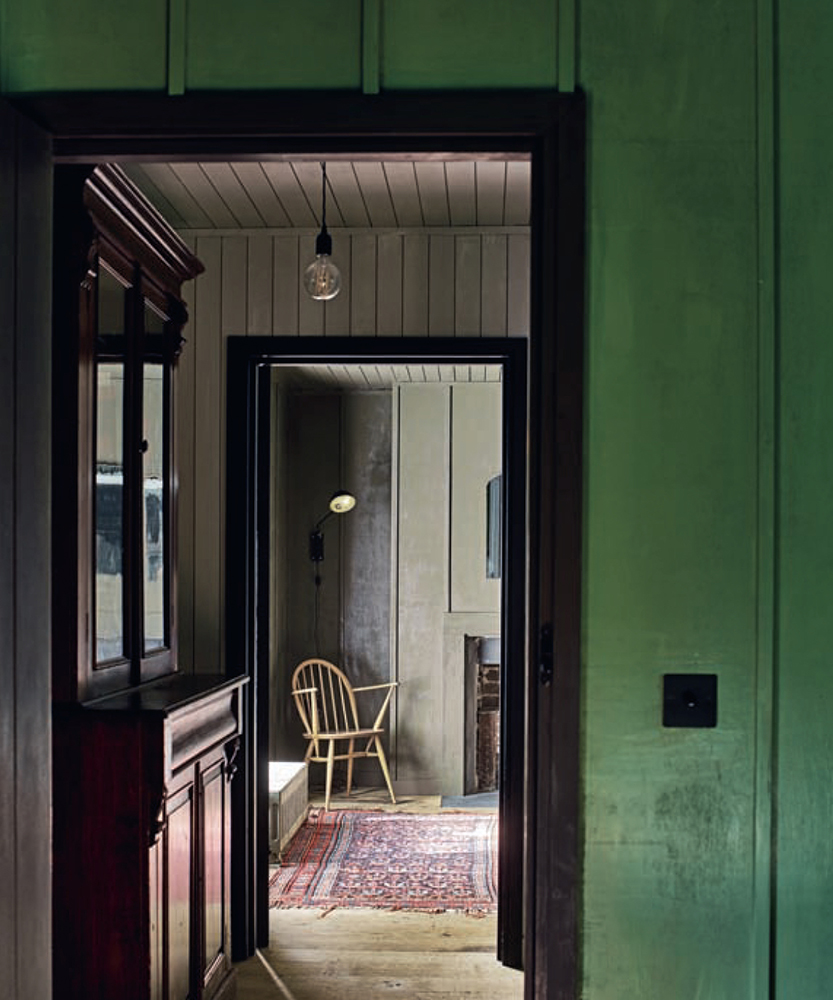 Creating a restful space that makes your shoulders drop the moment you walk through the door can be achieved in many ways, and getting the colour palette right is an important one of them. Colours can stimulate and excite but they can also make us feel relaxed and at peace – just what you want in a calm home. Different natural tones have different connotations. Restful tones include green, which is associated with peace and calm, and pink, which is believed to reduce aggression. Earthier browns signal safety and security.
2. Layer in raw materials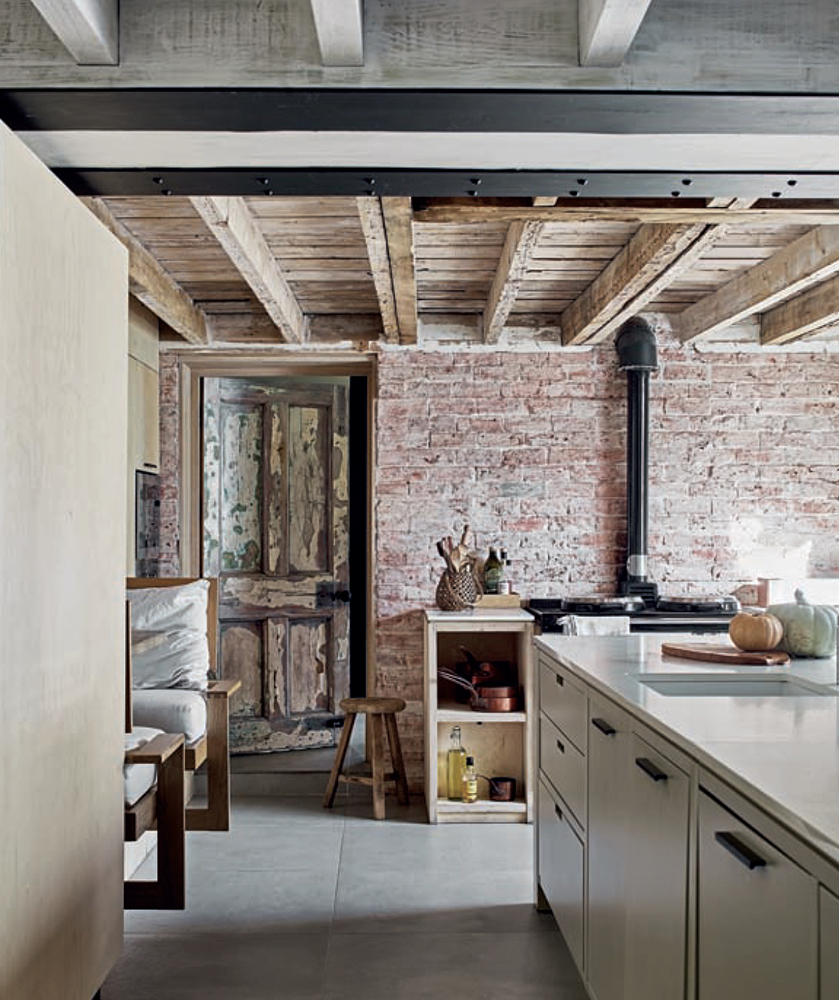 For me, a home without texture is a home without soul. It is one of the key design elements to include when planning a renovation. Maybe it's the beautiful patina of old wood or weather-worn brick that puts you at ease, sparking an association with the outdoors and the elements, or perhaps the gentle softness of well-washed linen fabric makes you want to reach out and touch it. Mixing bare brickwork and stripped wood with sleek modern  cabinets in this kitchen (above) adds a calming tactility and timeless quality.
3. Look to the floors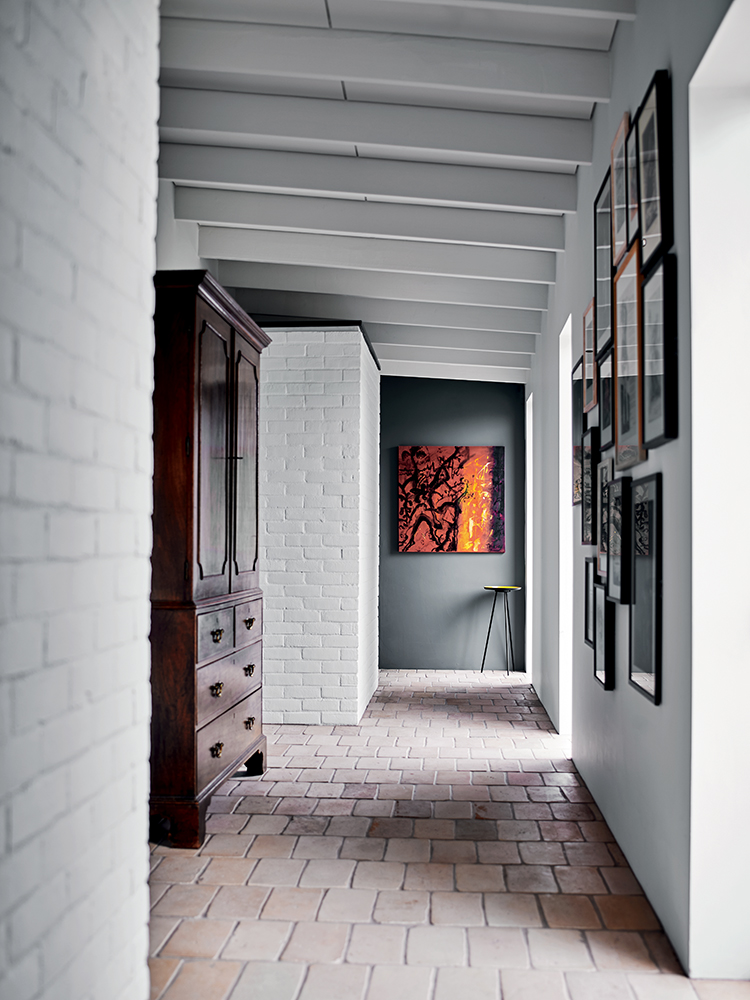 Floors are usually the second largest area within a room, so the finish is key to how it will look, feel and sound. Opting for textural flooring will add visual and tactile interest; consider natural floorcoverings such as sisal, jute and coir which are versatile and hard-wearing. The softest and most tactile option is of course carpet; it feels luxurious underfoot and is ideal for dulling noise. Quarried stone, such as limestone and slate flagstones will bring a grounded earthiness to a room, while reclaimed floorboards add a pleasing patina and both options work well with underfloor heating for a gentle radiant warmth. Layer up with rugs to add interest, pattern or colour but do mix in some plains, as bold pattern can easily dominate and make a calm scheme feel unbalanced. The painstaking placement of pavement tiles cut from 19th century bricks from Eastern Europe not only looks pleasing but brings a subtle texture to this uncluttered hallway (above).
4. Create a smooth calm visual pathway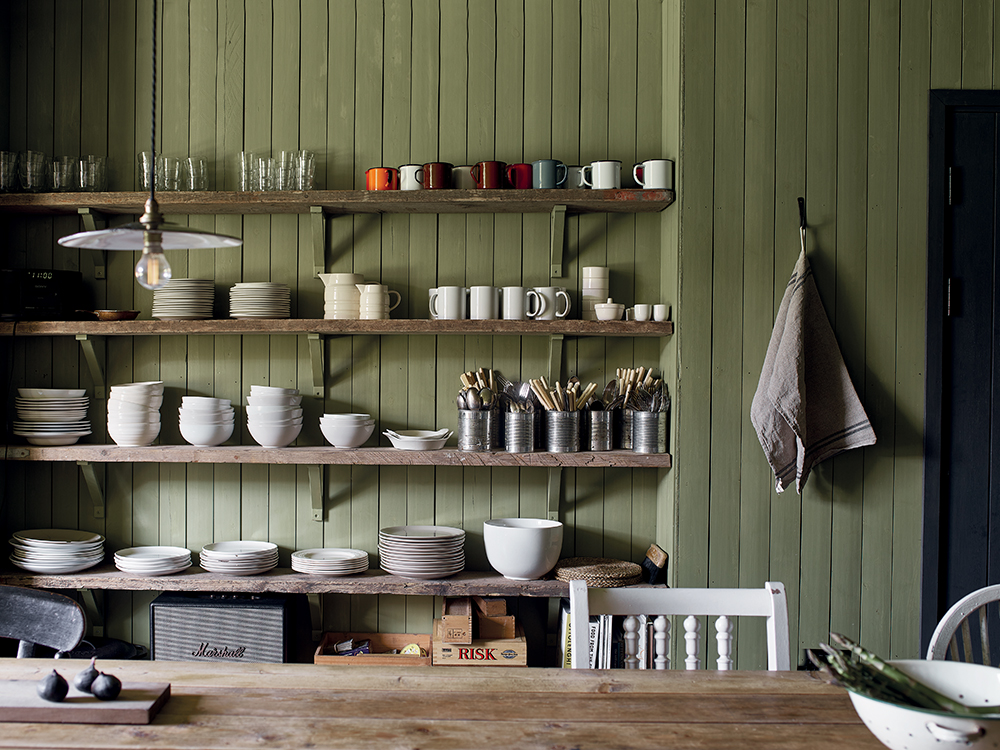 Muted tones bring a calming quality to any room, and help to create a reposeful, quiet scheme. Sticking to the same tones throughout your home, will also ensure that your decor works well as a whole. Muted tones are created when a colour is desaturated with black, grey or a complementary colour, resulting in a subtle shade that is easy on the eye, so they speak softly and quietly rather than shouting out, 'Hey look at me!'. They are the opposite of vivid colours that pop; instead they calm and ground a space with their knocked-back colour. In this farmhouse country kitchen (above), soft green sits restfully behind chunky wooden shelves and piles of white ceramics add a sense of warmth and earthiness to the laidback scheme.
5. Add in touch-me textures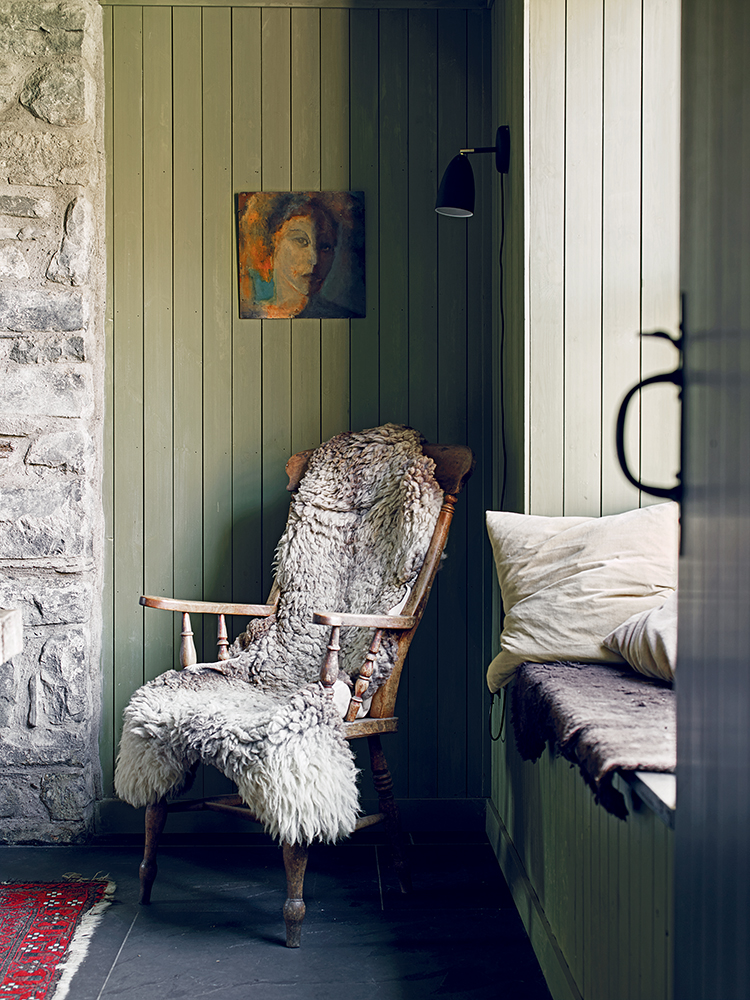 Touch is key. A hug from a friend or loved one can instantly bring peace and serenity, and filling your home with inviting and tactile textures will have the same effect. As a stylist, I think textiles are probably the quickest way to create a relaxed, easygoing look, and they are a firm favourite in my home. There are options to suit all different homes and lifestyles – choose loose weave washed linen and sturdy practical cotton plains or ticking if you have children or pets and anticipate that items will be in and out of the washing machine. More luxurious, tactile choices include sheepskin, natural wool, luscious velvet or chunky cord and bobbly bouclé. Don't forget that natural fabrics such as hessian, raffia and jute, while not strictly textiles, are another way to introduce touchy-feely texture to a scheme. Upholstered chairs and sofas also up the cosy factor in a living space. Pile them high with cushions, blankets and throws in contrasting fabrics and layer, layer, layer for an instant mood of relaxation.
6. Bring in small-scale pattern for calm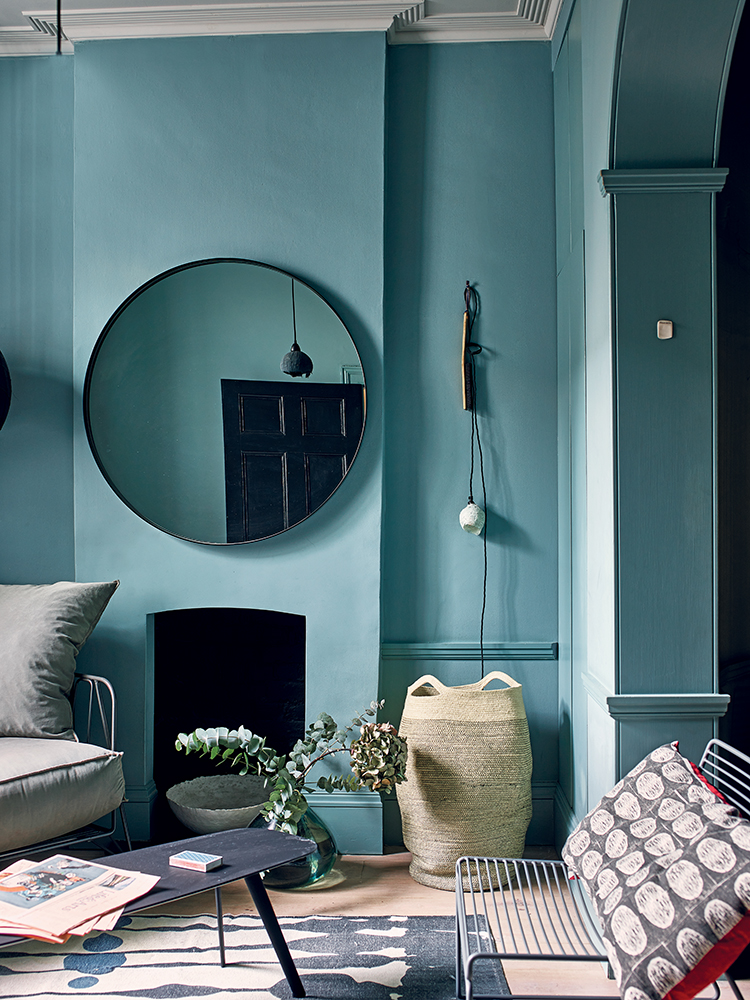 Pattern may not be the first ingredient that leaps to mind when putting together a tranquil interior but the repetitive rhythms of smaller-scale patterns found in nature have been proven to reduce stress. There are many ways to use these to create a calm feel – it's all about the type of pattern, how much you use and where you use it. Just one patterned cushion or abstract rug may be all you need to add an extra decorative layer, while retaining a room's inherent calming qualities. If you are mixing different patterns try to stick firmly to a colour palette. The main pattern should be your hero, used on a sofa, a bedhead or a pair of curtains, then you can add a few pops of a less complicated or small-scale print. Dilute these with lots of plains and textures, so the elements blend in rather than dominating or fighting each other.
7. Create your own curated style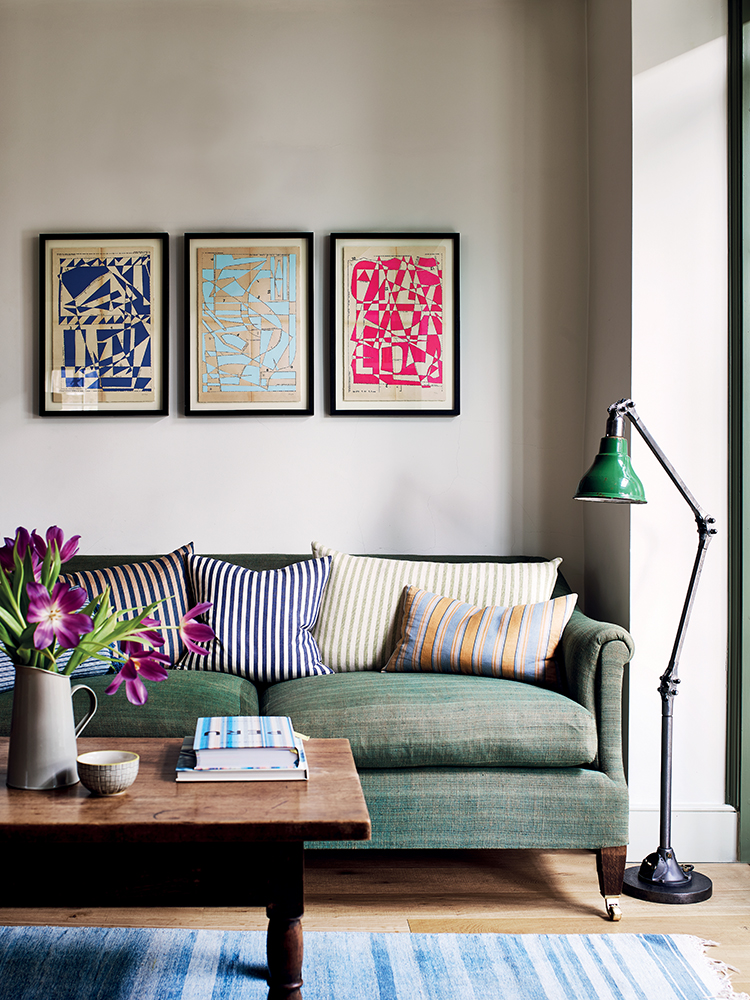 The way in which multiple possessions are organised will make all the difference between a calm and thoughtful display and unruly or distracting clutter. Regardless of what they are, if your belongings are arranged in a considered way, pretty much anything can look good – even household cleaning equipment. Items that fall into the same category always sit well together, be they ceramic jugs, glass vases or black and white photos. Grouping items in threes is a fail-safe stylist's trick but you can experiment with larger collections on dressers or open shelves to create a beautifully balanced installation. In the scheme above, classic stripes against a plain green linen sofa and neutral walls give colour and interest in a way that feels considered and clutter-free.
This extract is taken from Calm: Interiors to nurture, relax and restore, by Sally Denning, published by Simon and Schuster. It is available in all good bookshops and online now.
Find out more about Sally on her website or by following her on Instagram @Blackshorestyle
To bring even more calm to your home, don't miss Mindful Ideas for Zen Living and Mindful Minimalism: 7 Way to Bring Zen to Your Bathroom.