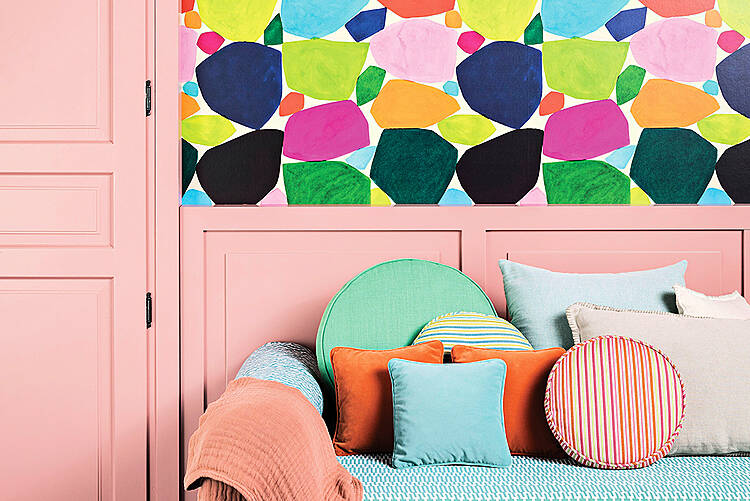 Five top designers talk through the hottest design and decorating trends and offer their top tips for recreating them in your own home
Compiled by: Róisín Carabine
Julianne Kelly: Create joy with colour
Bring happiness home with hot hues in uplifting shades and experimental pattern and print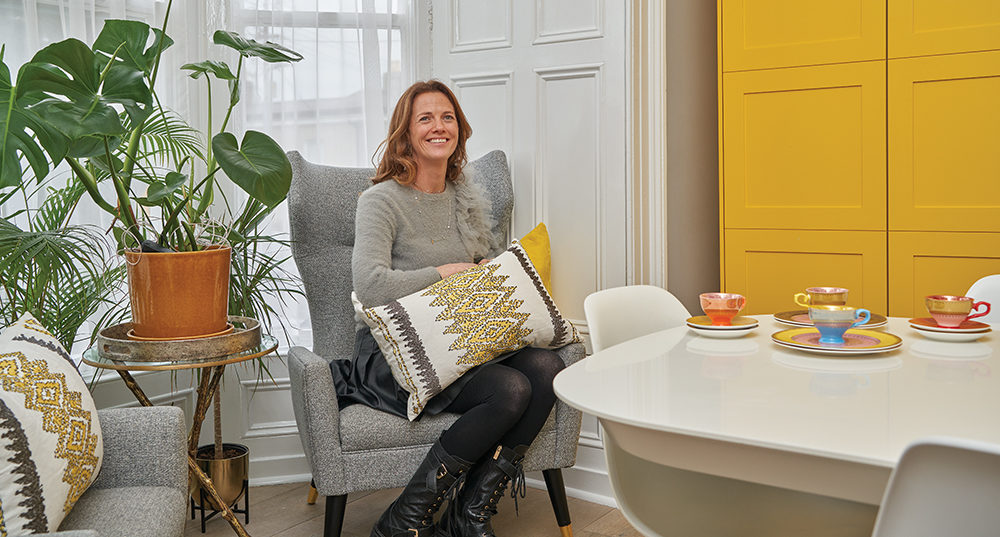 "Having spent more time at home than usual, the need to inject some positivity and optimism into our surroundings will see people embracing a more joyful colour palette as well as being more experimental with print and pattern," says Dublin-based interior designer Julianne Kelly. "The dark greens, navy and blush pinks that were big players in 2021 are being ditched in favour of yellows, pinks and oranges and even the long-forgotten red shades.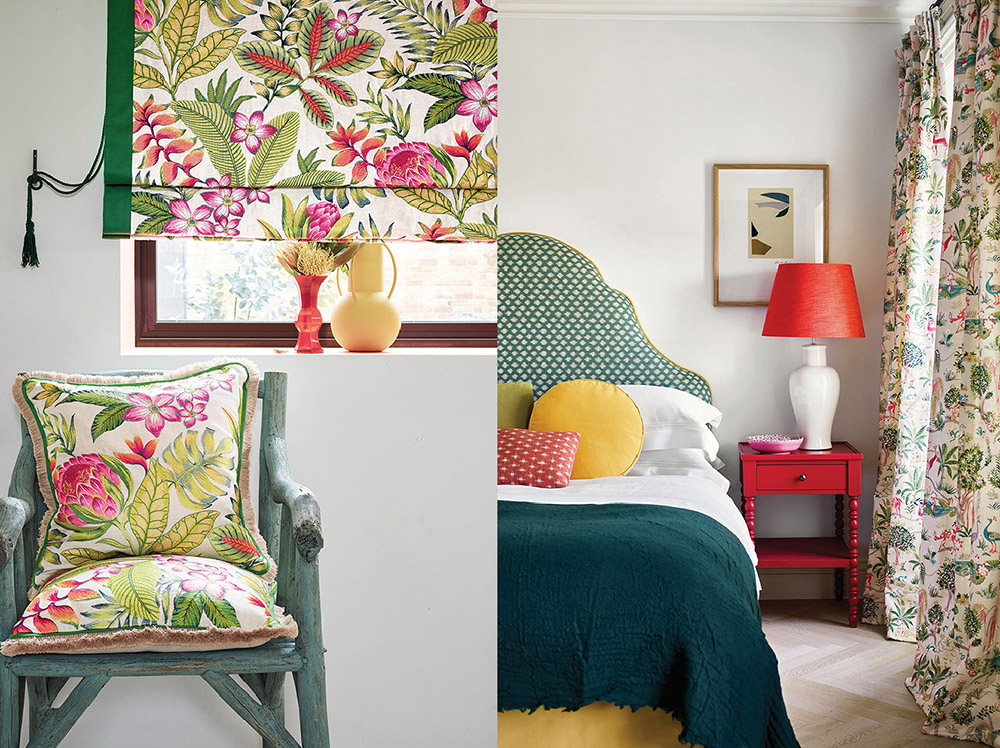 Images: (left) Blinds and cushions in Laly, by Manuel Canovas; and (right) Headboard in Juno, cushions in Arlo & Raffi, curtains in Wildwood, all by Jane Churchill.
"For a dramatic impact why not saturate walls and ceiling in one shade and pick out an accessory or piece of furniture in a primary colour. It's amazing how getting rid of a white ceiling can really accentuate the depth of colour on the walls, while also having a calming effect.
"If all that sounds too bold, consider adding colour through lighting. It's super easy (and relatively inexpensive) to change a lampshade's fabric. I'm loving heavy velvet and boucle fabrics in rich colours on lamps at the moment. Pair them with a golden foil on the inside for a total luxe look."

Image: Julianne's Clarinda project is a lesson in how to colour pop perfectly using cushions and accessories for an unexpected hit.
Lara Wasson: Use natural materials
Embrace timbers, wool, sisal and stone for a grounded look that's comforting and honest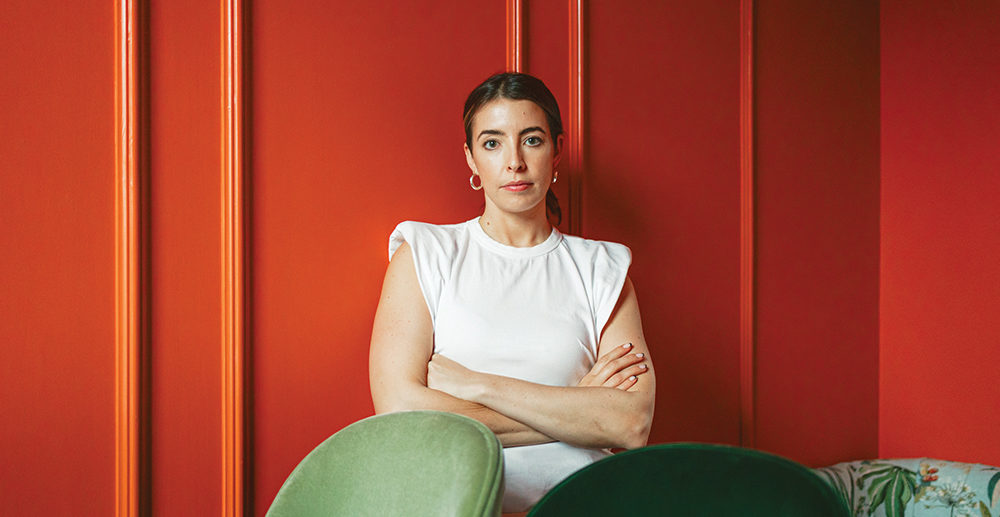 "With the world feeling like an unpredictable place to live right now, our connection to nature has never felt more important. For interiors, this has translated into bringing the outside in and using natural materials to decorate our homes," says former fashion buyer and serial renovator Lara Wasson, founder of new Irish sustainable light bulb shop Litt.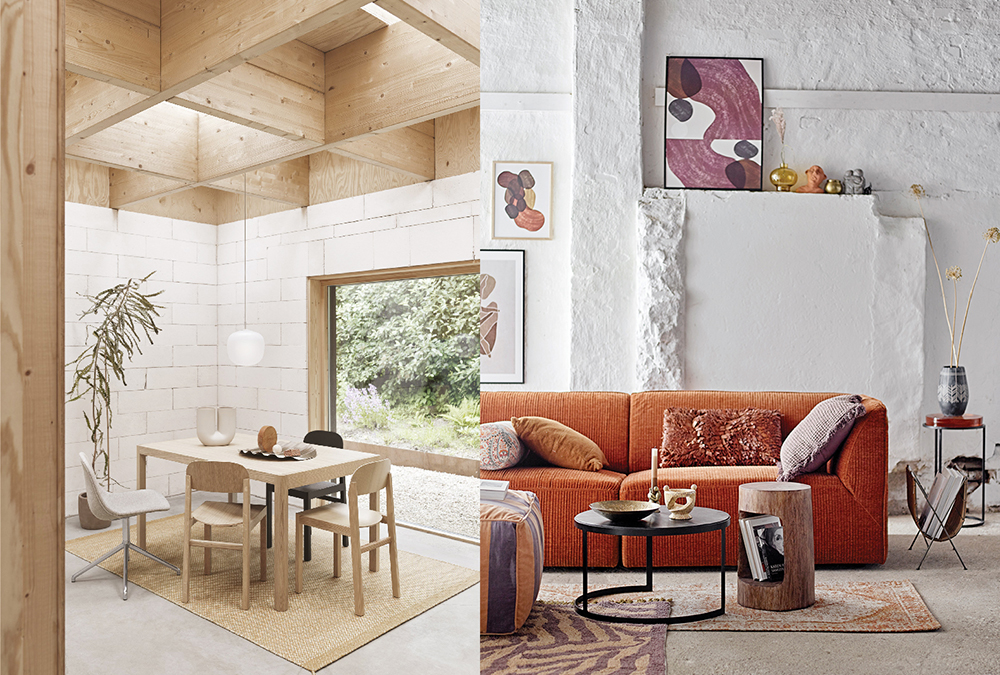 Images: (left) Workshop oak table from €1,895 & chairs from €375, Ply rug, from €1,095, Muuto; and (right) Petra sofa, €2,399; Sirius rug, €169; Izza rug, €155, Bloomingville.
"In 2021 we enjoyed the benefits of adding plants and trees to our indoor spaces, in 2022 this is set to extend to the furniture and fixtures throughout our homes. Think rattan sofas, wooden accessories, raw stone planters, opaque glass pendants and soft textiles in natural wools and linen. Naturally imperfect by design, these materials are perfect for adding instant character and texture to a room, creating a look that is stylish and relaxed and enveloped in nature.
"As the trend develops, I predict interiors fans will take a more sustainable approach to buying, sourcing upcycled, vintage and ethically produced pieces in eco-friendly raw materials as well as switching to dimmable, soft, warm energy-efficient light bulbs to accentuate a sense of calm."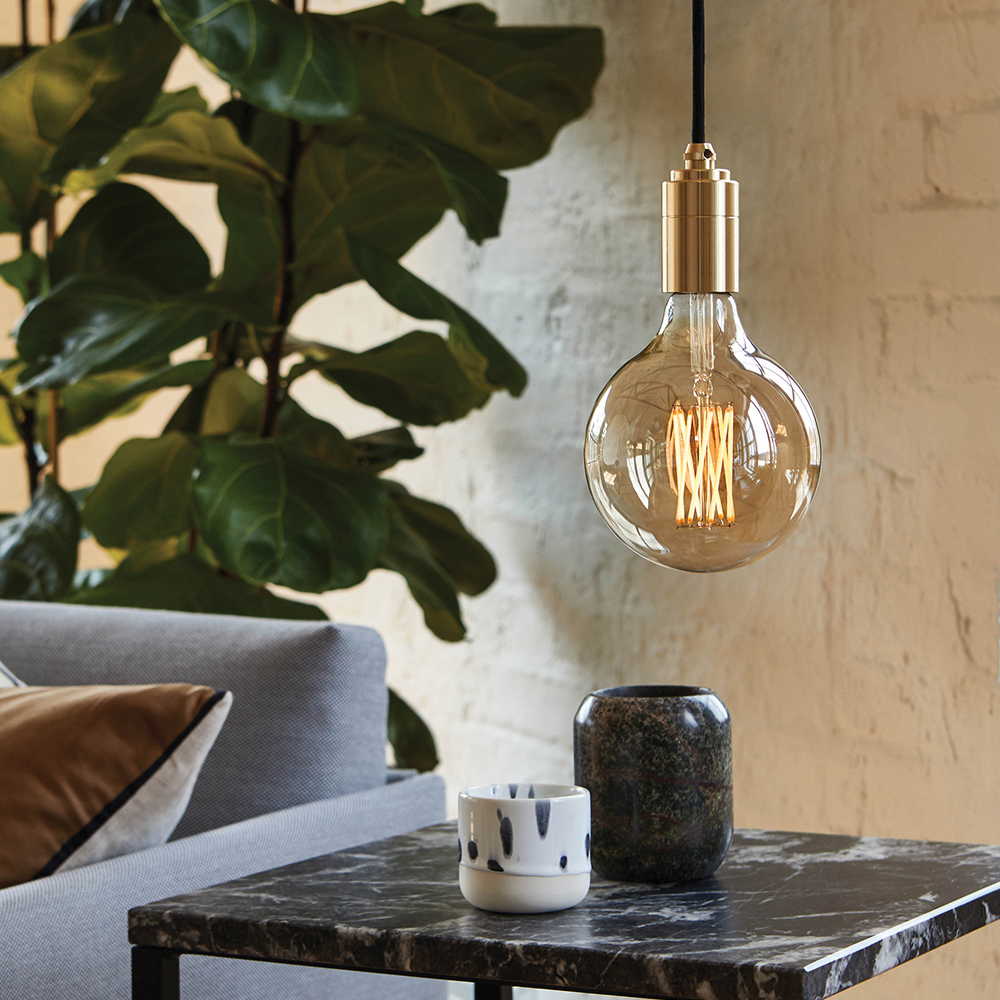 Image: Gaia, 6W bulb, €28 & Brass pendant, €70, Litt.
Arlene McIntyre: Embrace broken plan interiors
Use screens, joinery partitions and open-plan bookcases to zone areas and create privacy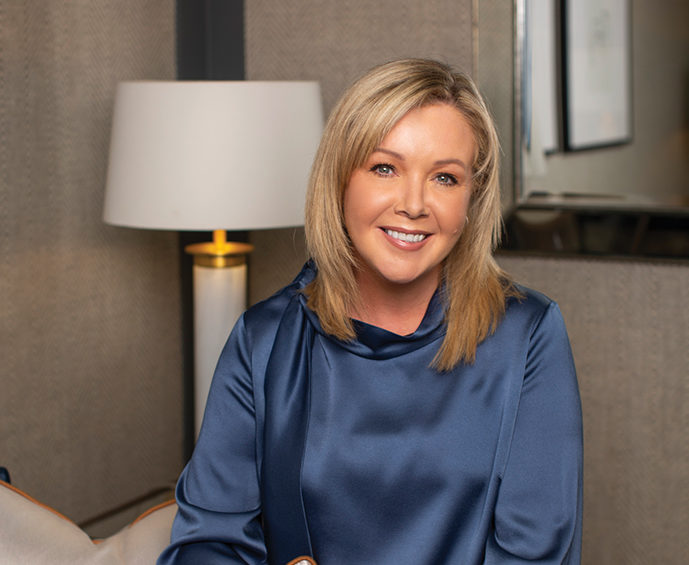 "The last 18 months has really forced us to think about our home's functionality and how we can make it work harder. An increasing demand for flexible zoned living spaces and greater privacy will see the current trend for broken plan living really come into dominance in 2022," predicts Arlene McIntyre, creative director of Ventura Design.
"Living in one big open plan space is not as desirable as it used to be. People are now craving more intimate corners and separate zones that all have different functions and are seeking creative ways to achieve this.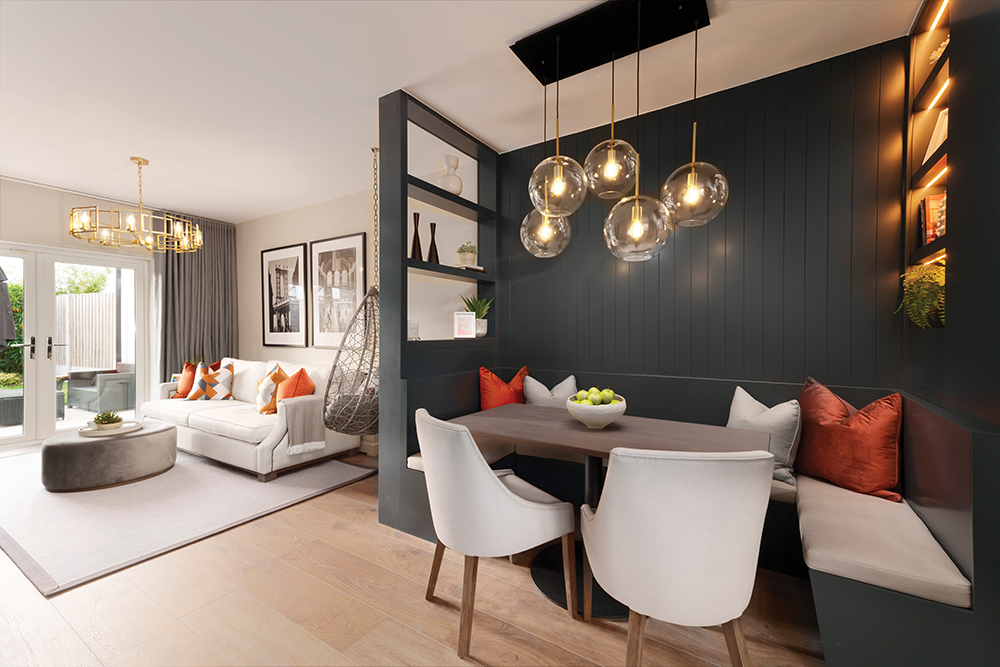 Image: Want to zone off an open plan living/dining room? Slip in a snug. Photography: Piotr Zawistowski.
"We're getting asked more for snugs and better functioning kitchen/living and dining spaces with areas where people can go and watch TV or eat independently, that have their own vibe and feel like they are separate and private yet still part of the one space.
"Achieving this separation while still maintaining a seamless design flow is all about the clever use of 'semi-divisions', for example using screens or open plan bookcases as room dividers. Consider too extra-long islands to zone off dining areas, sunken living spaces and partitioning long rooms with half walls."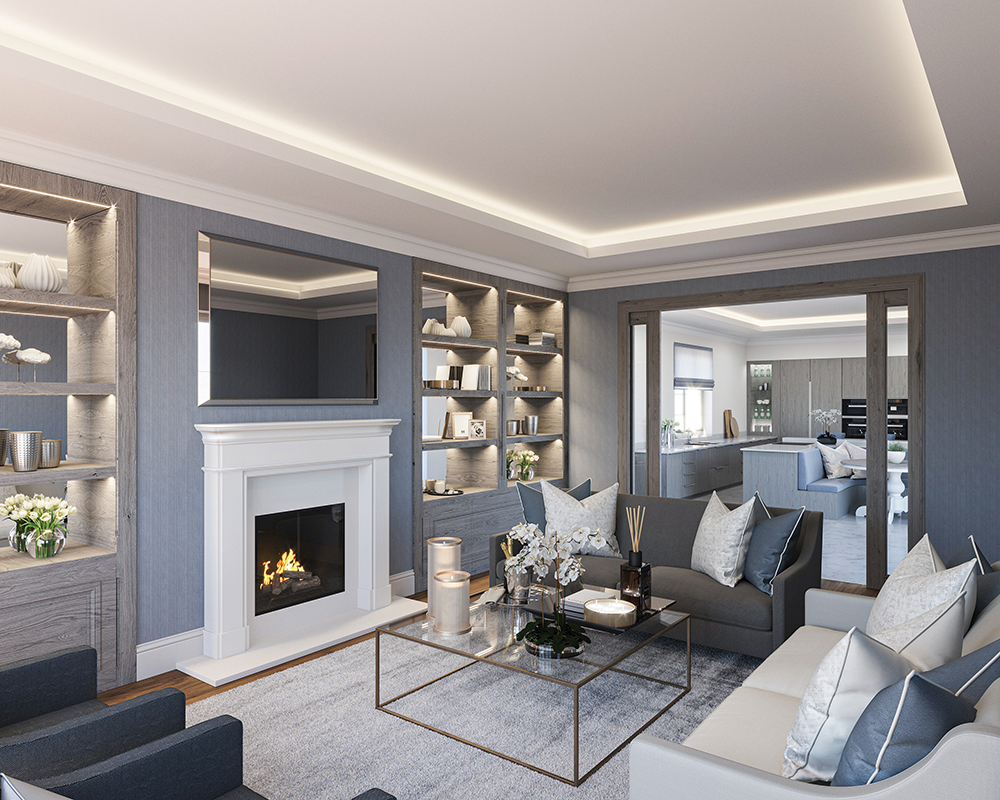 Image: Arlene's solution for joining two rooms while still maintaining privacy? Floor-to-ceiling sliding glazed doors.
Maoliosa Murray: Fall in love with Parisian palour chic
Organic shapes combine with luxurious textures for a twist on the classic French style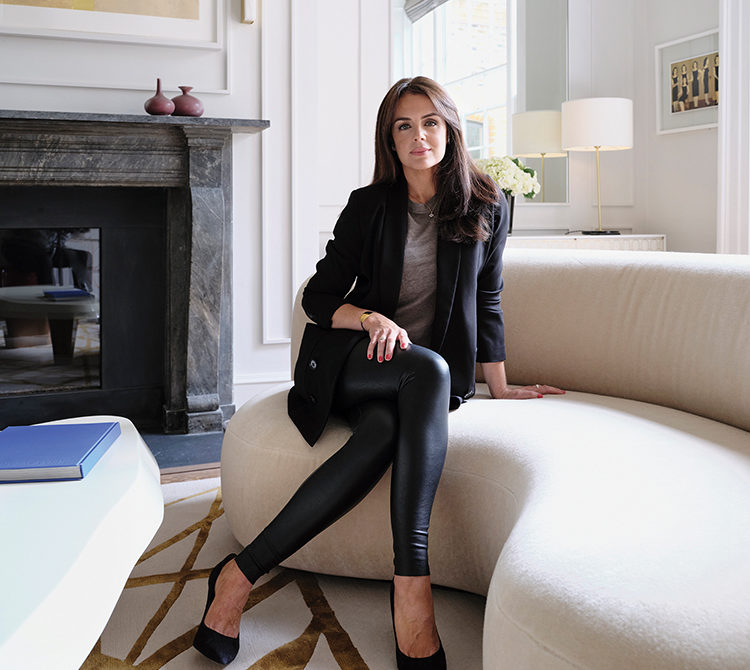 "Classic Parisian decor never really goes out of fashion so it's hardly surprising that for 2022 we're seeing a revival of this timeless interior design aesthetic – but with a modern twist," says Maoliosa Murray, owner of one stop Dublin-based retail store and design consultancy, Maoliosa, (Maoliosa.com), official Irish partner of The Rug Company and The Invisible Collection.
"Driven by the designs of contemporary French architects and designers such as Charlotte Biltgen, Joseph Dirand, Pierre Yovanovitch, Thierry Lemaire and Parisian brand Pierre Augustin Rose, the trend is a celebration of craftsmanship, luxurious materials and sophisticated neutral tones.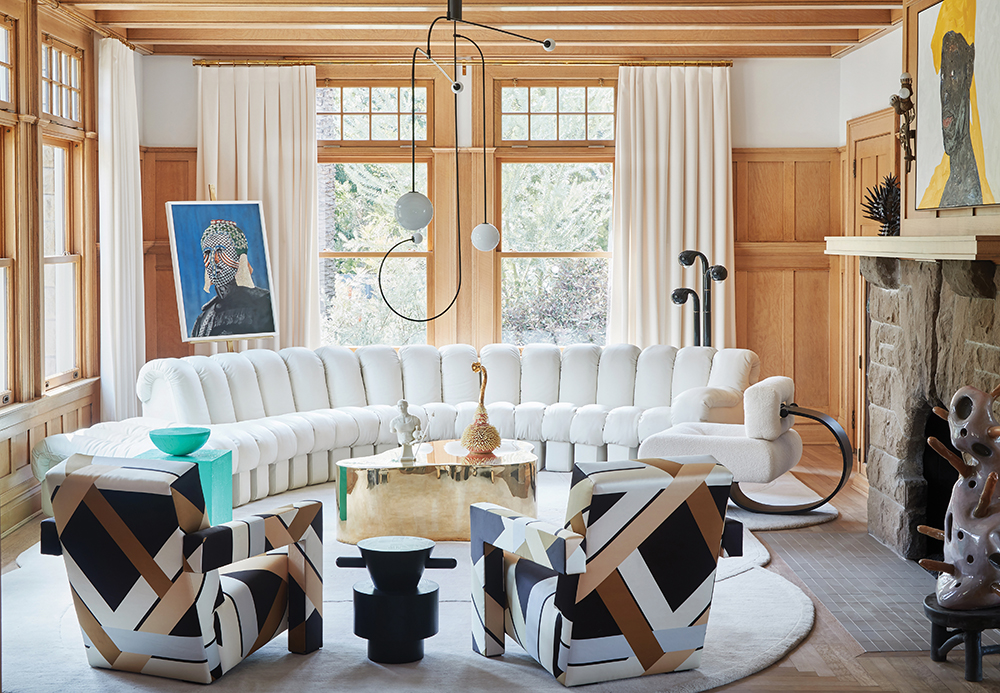 Image: Bespoke rug design by Ghislaine Vinas for The Rug Company. Photography: Garrett Rowland.
"Think chic, elegant spaces featuring curved sofas and armchairs in luxury sable mohair velvets, camel suedes and cream bouclés, mixed with organic-shaped coffee tables and side tables in glossy black lacquer. Use curved banquette seating, a detail that Parisians have always incorporated into their interiors, to create functional areas in overlooked nooks and add circular rugs, the perfect choice for odd-shaped layouts, to define spaces such as breakfast areas and home offices.
"Lighting is also key. Choose soft lighting for atmosphere and take a layered approach with a mix of wall scones, table lamps and a statement chandelier."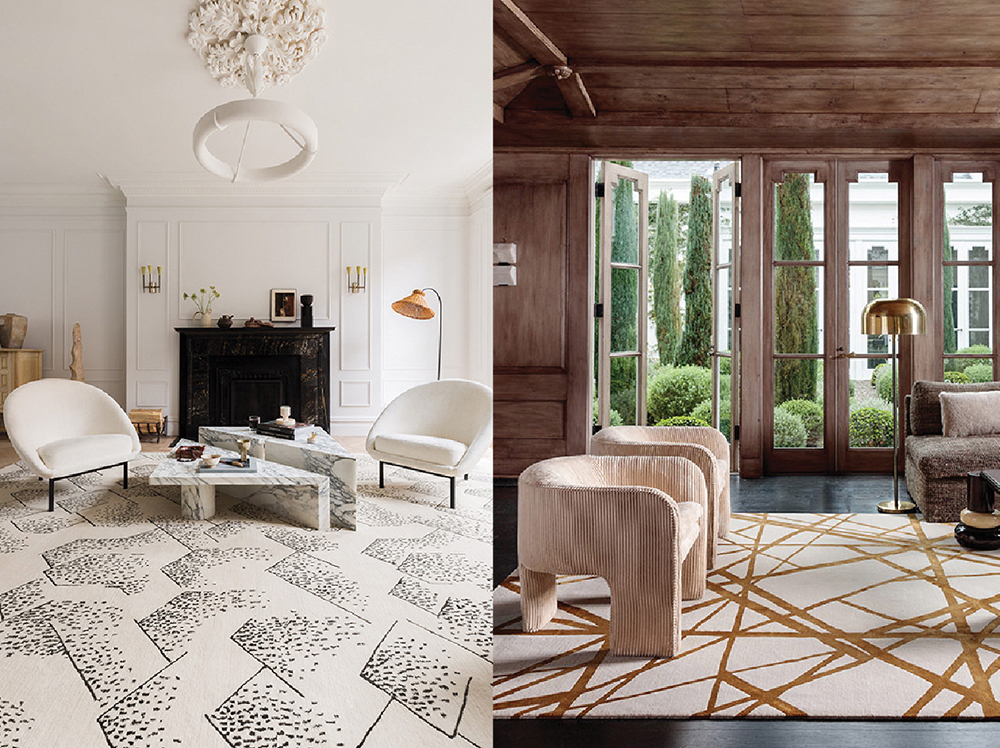 Images: Brink Ivory rug (left) and Channels Copper rug (right) both by Kelly Wearstler for The Rug Company.
Emily Maher: See, out tactile textures
From strokable fabrics to luxuriously textured wallpapers, a tactile design aesthetic is in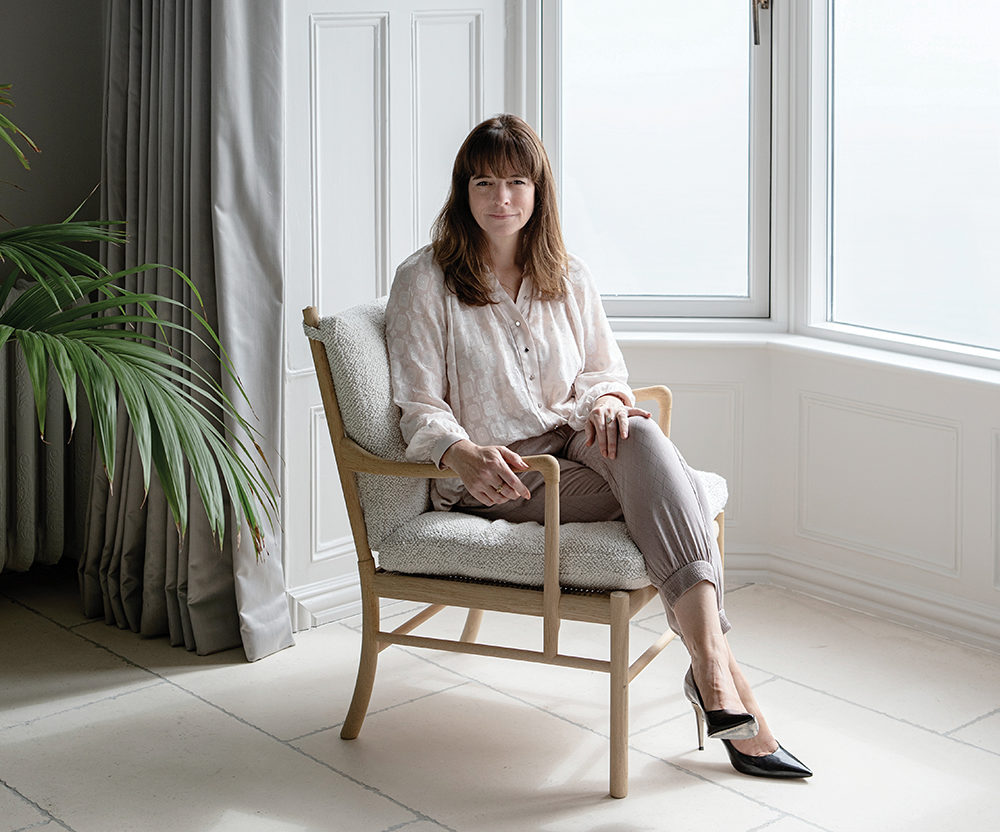 "This sensory trend has been developing over the last year as we seek to establish a more positive connection to our interiors as a means of boosting our wellbeing," says Emily Maher of Dublin interior design practice and concept store Lost Weekend.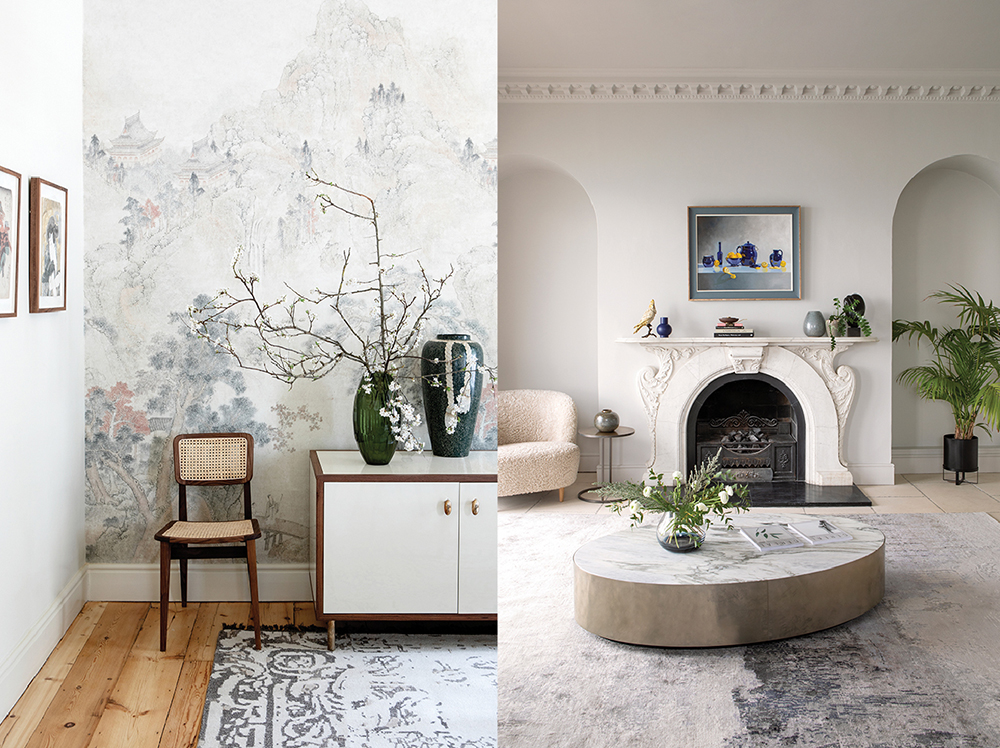 Images: Two schemes by Emily Maher; (left) a feature wall in a delicate Oriental-inspired textured linen and (right) a natural stone and platinum steel coffee table on top of a soft wool and silk rug.
"We're craving comfort and cosiness from our living spaces and decorating with tactile fabrics and textured surfaces that appeal to the touch can help us achieve this. This look is all about luxury. Think rolled marble, aniline leathers, embossed fabrics and sumptuous wools. And don't be surprised by the resurfacing of old favourites like bouclés, mohair velvets, heavy jacquards and even grasscloth wallpaper – perfect for creating texture without adding pattern. (Also good if you have wonky walls!).
"Contrasting these fabrics and materials is key and will elevate your scheme, adding depth and interest. This can be done simply by layering fabrics – a mix of cotton and satin sheets, velvet cushions and cashmere throws, for example – or using different materials as accents."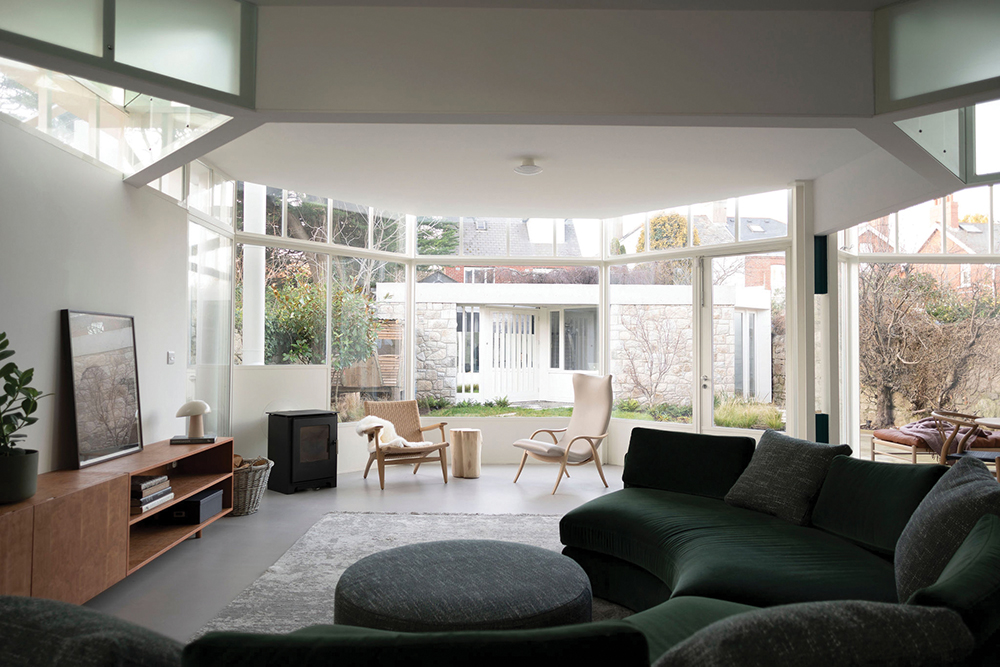 Image: The soft curves of this supersized sofa makes sitting down an incredibly sensory experience.
Featured image: 'Carnival' wallpaper from the Draw Me a Wall! Collection by Pierre Frey, Julianne Kelly Interiors.
Looking for even more ideas? Make sure you check out 12 Easy Tips to Steal from the Home Edit's Instagram.