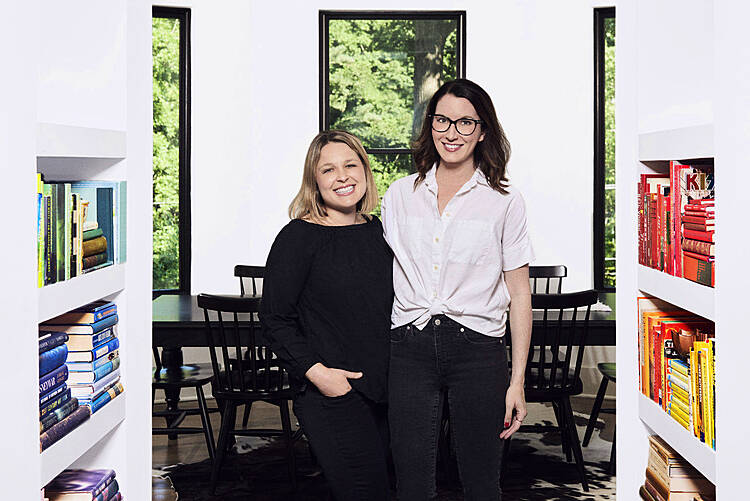 Bet when you were younger, you didn't think that one of the most envy-inducing internet trends would be showing off how organised your under-sink cabinet is. Yet here we are.
This phenomenon is largely due to the influence of Instagram sensations, professional organising team, The Home Edit. The Home Edit, founded by Nashville-based mums, Clea Shearer and Joanna Teplin has attracted celebrity clients such as Reese Witherspoon, Kim and Khloe Kardashian and Gwyneth Paltrow. They've had a hit Netflix series, published books and launched a collection of home organisation products.  And with 5.3 million Instagram followers, they're one of the biggest names in the interiors space.
So what's all the fuss about? It's the magic combination of their absolutely perfect organisation projects, combined with their less-than perfect, hilarious, keep-it-real attitudes. And most-importantly, their easy-to-follow tips for achieving a perfectly organised home.
Here are some of their most-used methods.
In the clear
It's an obvious one, but probably the best takeaway from the experts; keep your storage items transparent and easily identifiable. This allows you to quickly find what you're looking for, allows you to keep an eye on stock levels and, in the case of food items, reminds you that you have something and will hopefully encourage you to eat it before it expires.
Keep a mini stationery store
Never be caught off-guard for a spontaneous celebration or important milestone. Keep a stash of greeting cards ready, but make life easier for yourself by dividing and labeling each category. This is a prime example of why labeling is crucial. You do not want to mix up a birthday card with a sympathy card.
All shapes and sizes
They make organizational products in all shapes and sizes these days, so even your most awkward spaces can be catered for. Under the sink areas are often notoriously annoying to organise as plumbing takes up so much of the area. Fear not, there are still plenty of openings available for you to maximize space. Try stacking drawers or tall canisters either side of the plumbing, and a low-profile container or lazy Susan in the center.
R-O-Y-B-I-V
Introduce Mr. Roy G. Biv to your space and let the rainbow loose. This is not only an aesthetically-pleasing option, but is a good option for visual people who often remember the look of something, rather than its title. This is quite a controversial method when it comes to bookshelf-organising, however. Book purists often cringe at the idea that encyclopedia about Ancient Romans should find themselves rubbing shoulders with Danielle Steel or EL James. 50 Shades of Grey? More like 7 shades of rainbow.
Make it easy for kids
Rainbow order is also great for kids who are more visually-led. This could be a great way of storing toys that they have in abundance. Ideally the little ones will take such pride in this system, they'll be more likely to maintain it.
Create a handbag transition zone
If you're a regular handbag-changer-upper (hey, that's a word!), a "handbag transition zone" is a must-have in order to keep the process as efficient as possible. Here, you can dump the random hair bobbins, coins and- these days, masks and mini hand-sanitizers- to add in or take out as necessary. You probably haven't had as much need for something like this in the past year... but once "normal life" resumes, you'll be glad of it when you need to transition from a smart handbag for the office, to a clutch on a Friday night, and then back again to a larger tote bag for taking the kids out and about on Saturday.
Choose materials that suit your home
A lot of The Home Edit's projects are bright and colourful and use lots of acrylic. But if you want to keep your plastic usage to a minimum, and bright colours aren't your thing, try using glass, bamboo, metal or wicker to contain your bits. Love her or hate her, Kim Kardashian's plastic-free pantry makeover using glass canisters is a work of art.
Hang in there, handbags
Handbags can be awkward to store, but did you know that there are such things as handbag hangers?! Because it was news to us, before The Home Edit introduced us to this very clever concept. So simple, but so brilliant.
Few scoops
Storing dried food- such as baking ingredients or smoothie powders in deep drawers, with a labeled lid allows you to reach in and scoop out what you need quickly and with limited mess. This is also a great idea for porridge toppings and will make breakfast preparation feel like a trip to the pick and mix.
Vitamin E-asy
Streamline your morning by creating a "tea and vitamins" drawer. Having your morning essentials in the one spot saves time, hassle and makes you more likely to take those supplements you spent a fortune on!
Embrace backstock
Our pals Stateside have more access to big-box stores that allow you to buy in bulk, like a Cash and Carry for non-business owners. But the Great Toilet Paper Shortage of 2020 really made us wish that bulk shopping was more common here. In its absence, take advantage of special offers in store and create your own little stockpile. Stored neatly like this, you'll be well-prepared for stock issues.
Grab and Go
Similar to the previously mentioned handbag transition zone, a "grab and go" drawer is great to keep beside your hall door. Great for those items you need on the go, but don't have time to run upstairs for or rifle through the cabinets for. Think lip balm, cereal bars, tissues, keys.
If you try any of these tips yourself, make sure you tag us on Instagram @houseandhomemagazine to let us see.
For more ideas on getting your home in order, check out these unusual ways to upcycle and repurpose furniture. Make sure you keep an eye on the House and Home Instagram page where we post interior inspo daily.