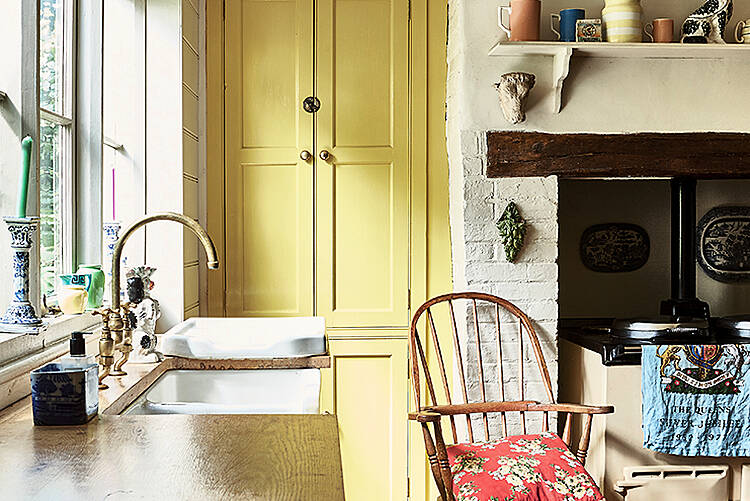 Stylist Selina Lake celebrates current 'new nostalgia' in interiors, and explains how to get the look.
Words: Selina Lake | Photography: Rachel Whiting
In her book Heritage Style, Selina Lake shows us how to take a fresh take on traditional design. It is packed with ideas for how to bring a touch of the past to every room in the house, with clever hints and tips to make the most of existing features, as well as how recreate a heritage feel. Here's eight to get you started.
1. Replace lost features
I am a firm believer that a fireplace can make a room. They work in all types of property and can be purely decorative or an integral part of a home heating system. It is the perfect spot for a styling moment and anything goes really, from flowers, candles, mirrors and clocks to vintage, metal toys, decorative ceramics and straw hats. Make the most of the area around it by adding logs, kindling, baskets, lanterns and ambient candles.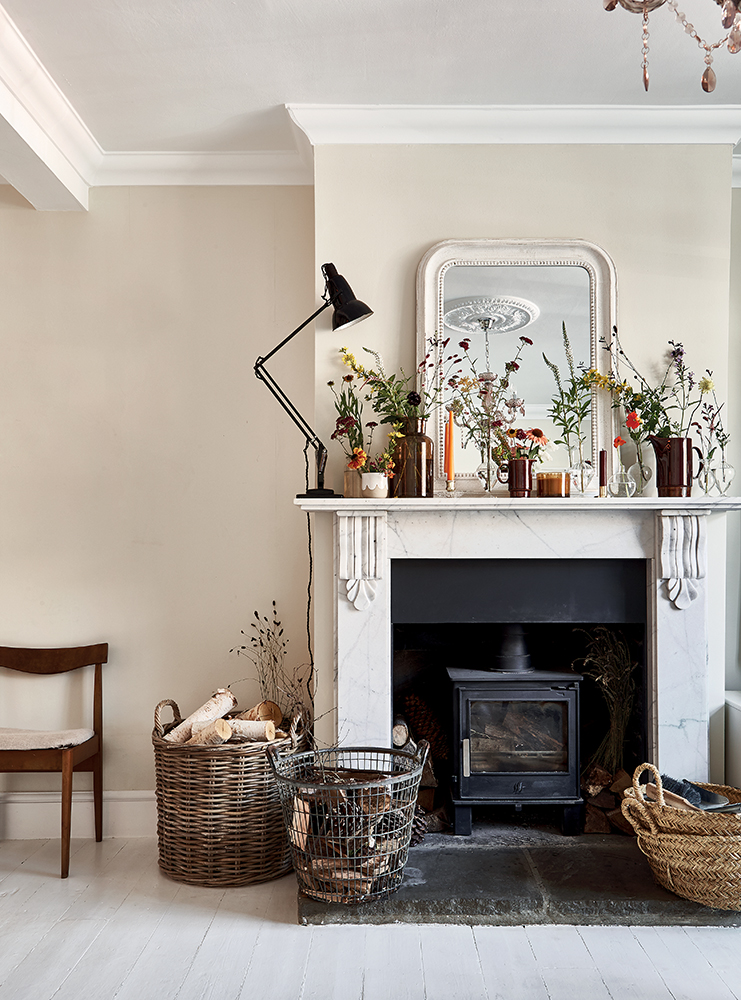 2. Get the lighting right
Get the lighting right and a room will just seem to gel. The best approach is to combine different light sources in every space, from lamps to wall lights to floor lamps, If you source a vintage or antique light fitting make sure the wiring is safe and certified before using – it's best to have the item inspected and tested by a trained electrician. In this twin bedroom (below left), a pop of red in the shape of angled metal over-bed lights is a lovely, jolly touch.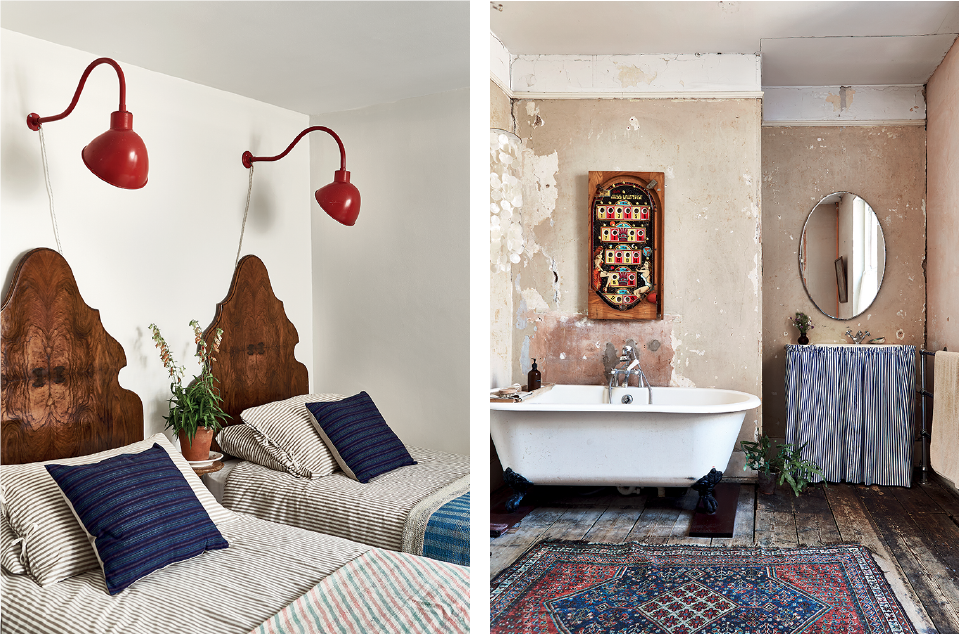 3. Keep it simple
Heritage style isn't all about polished rooms and completed renovation projects, so relax and enjoy the process. In this bathroom (above right) the owners peeled off the wallpaper to reveal bare plaster, which adds charm and suits the age of the property. A fabric skirt conceals the storage below the sink. This would be a great quick decorative fix if you are renting.
4. Gather round the table
Good heritage style describes the balance of period properties with modern-day life, and can be perfectly encapsulated in the kitchen. When I think about dining tables, my mind conjures up a family meeting point with lively conversations, great meals and plenty of space for craft projects, puzzles and baking. I love this clever combination (below) of mid-century chairs with a long bench running along one side, which feels informal while still being sophisticated.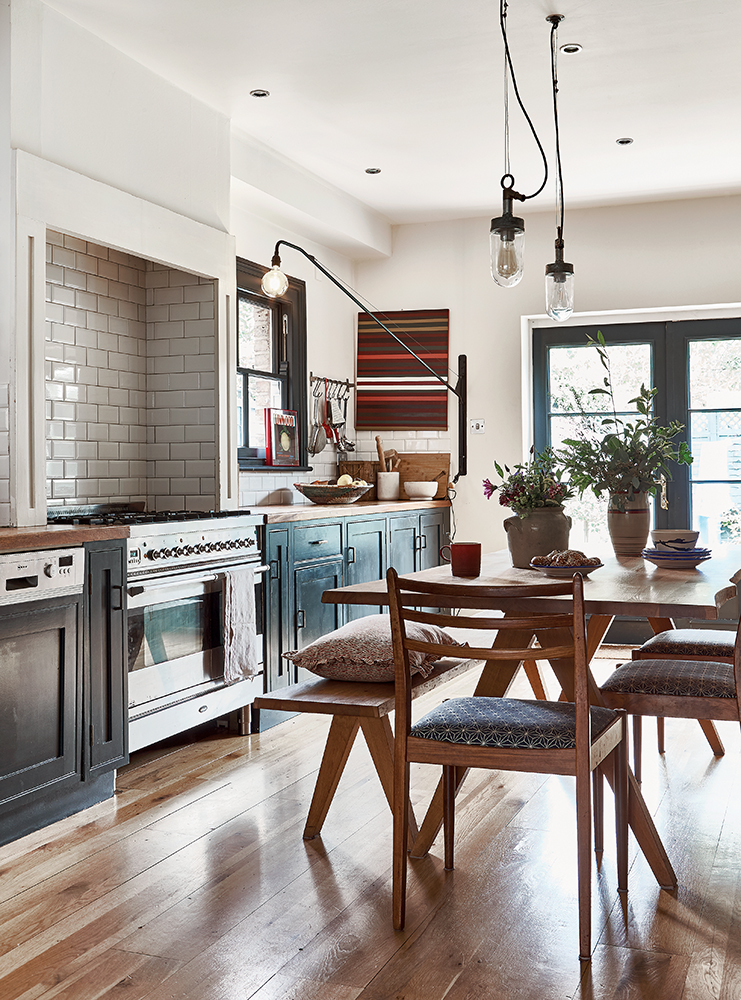 5. Create a welcoming entrance
Hallways and entrances set the scene for the home, yet so often they are a missed opportunity, becoming dead spaces filled with clutter. Even the narrowest space can accommodate a skinny shelf, while a runner can bring colour and pattern as well as making the space look more finished. Hang a practical coat rail and a few favourite artworks and you are done. Don't forget to include a mirror so you can check your hair on the way out the door.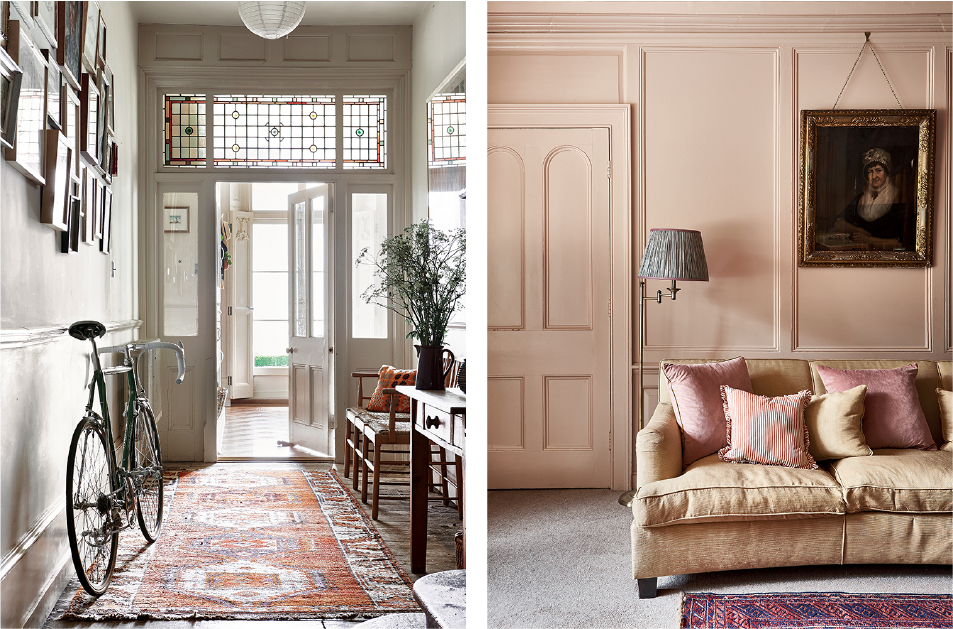 6. Choose a timeless palette
Colour and pattern are key elements of heritage style and these days there is a huge range of heritage paint colours as well as wallpaper and fabric patterns to choose from, with many companies looking to the past and historical properties for inspiration. Heritage paint ranges tend to be fairly classic (you won't find an acid lime green or neon pink), meaning they work in a wide variety of settings. Clay, plaster and powder pink tones are soft colours, used in any room in the house to add warmth and a subtle, grown-up elegance. These pastelly, earthy neutrals (see above right) work perfectly in an old home and combine well with deep reds, muted mustards and rich ambers.
7. Make the most of high ceilings
Add character to lofty spaces with vertical displays, such as these flowers hung up to dry, or suspend a collection of baskets. Tall cupboards look great draped with hop vines (see below).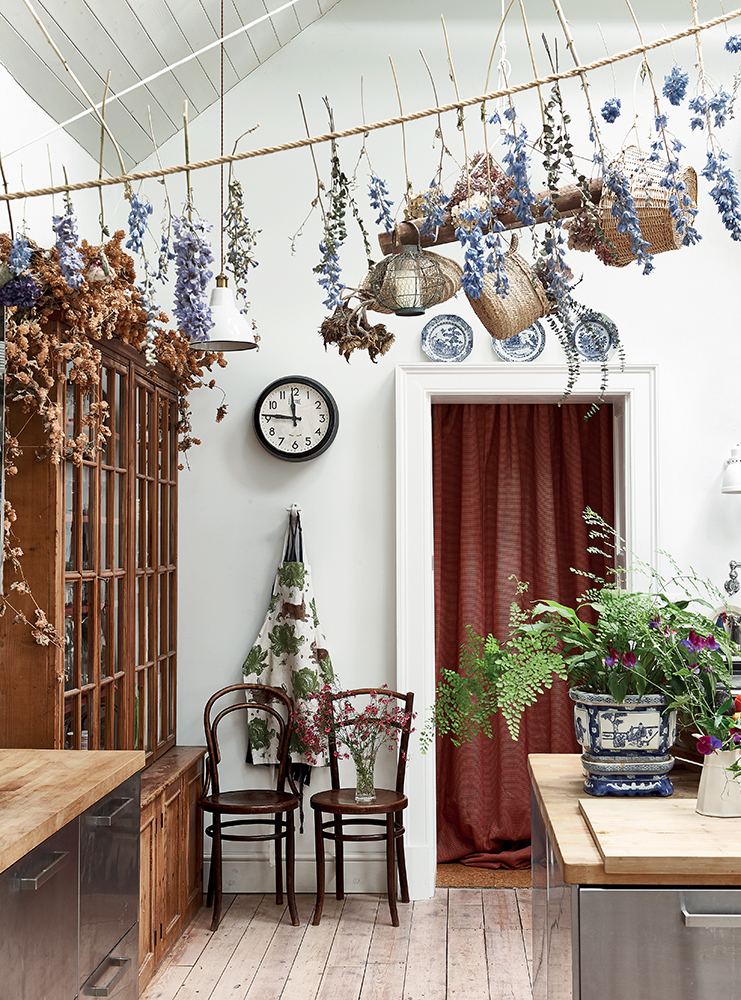 8. Embrace vintage style
Yellow is becoming a go-to colour for those seeking to add a cheerful feel-good factor to an interior. If vibrant yellow feels too much for you, steer towards muted mustard, ochre and turmeric tones for a burst of golden sunshine. This homely kitchen-dining area (below) is furnished with an array of rustic pieces, mostly collected from car boots, yard sales and vintage fairs. The cupboards are painted in Haymarket by Mylands Paint (available at Stillorgan Decor)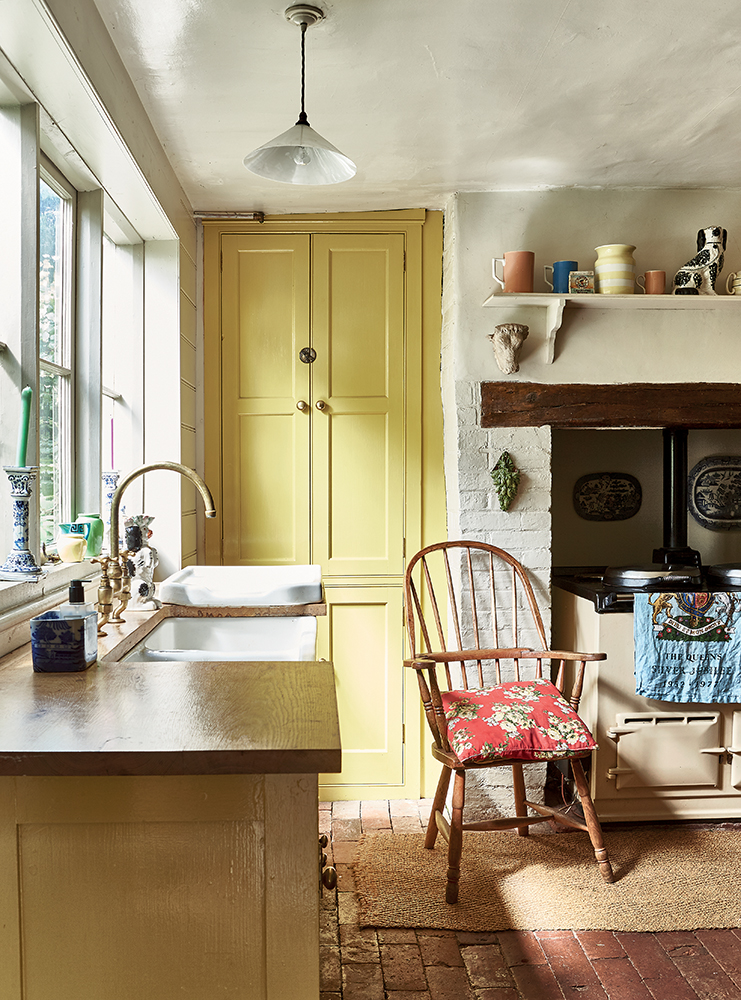 Heritage Style by Selina Lake is published by Ryland Peters & Small and is in book shops now. To find out more about Selina, her other books and her work, check out her website, or you can fine her on Instagram @selinalake
Looking for further inspiration? See how Sarah Duggan gave a modern aesthetic to her period home in Dublin's Portobello area.
Share This Article