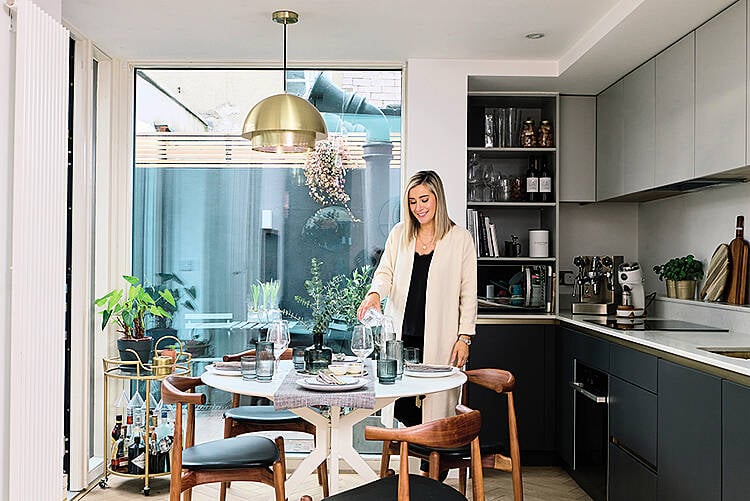 Fashion buyer Sarah's house is a lesson in chic, monochrome style, and she has made good use of every inch to create a perfectly proportioned home
Words: Ciara Elliott | Photography: Philip Lauterbach
Sometimes it is the unexpected things that lead you on the newest and most prodigious paths. Having saved up and got themselves in a position to buy, Sarah Duggan and Ian McNamee were set on finding their dream home in the sought-after location of Ranelagh in Dublin 6, and had been scouring the area for almost a year, seeing every property in their budget.
"After we had spent yet another weekend going to uninspiring open houses, we decided to widen our search just a notch," says Sarah, who is a fashion buyer. "We had just enough time on our parking meter and this house, in the Portobello area just a few miles south, was showing that morning. It is a 1900s redbrick house, with room to improve, just what we had been looking for. We immediately recognised its potential and loved the location. The rest, as they say, is history!"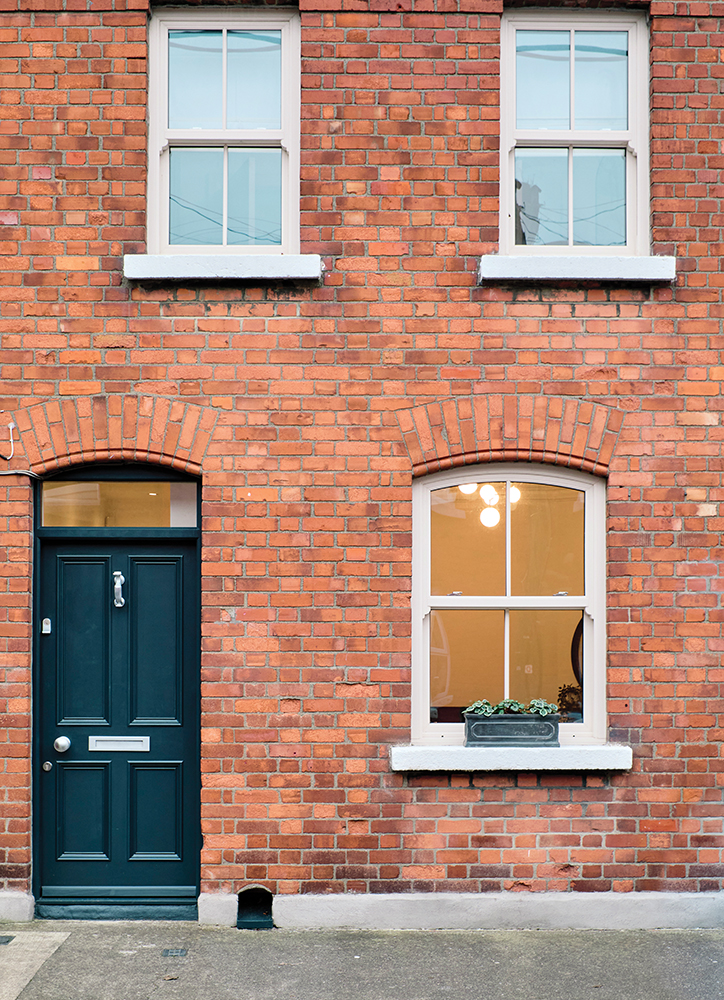 A few professional opinions, quotes and a survey later, the couple put in an offer which was accepted. Not long after, they had the keys. Engaging architect, Emmet Duggan and building contractor, Charlton Construction, works began on it six months later.
"We actually never lived in the home until it was ready," says Sarah. "Our plan was always to fully renovate, as we knew the house needed a lot of work when we bought it, so we factored in the time." With this in mind, it was all about advance research and planning. The house had original features which they wanted to made sure to preserve. The front room has an interesting curved wall detail and the backyard has a large vent that looks like a periscope. There's also a boot scraper at the front of the house.
There were original fireplaces to restore and ceiling details to freshen up. The couple employed the Dublin Mouldings Company to fit covings and put in a ceiling rose in the front lounge. The fireplace in the bedroom was restored by local company, Antique Fireplace Restoration.
"We worked with a great architect and had a pretty comprehensive wish list, and discussed each aspect of every room before starting," says Sarah. "My background is in design, so I was naturally invested in research. I trawled Instagram, Pinterest and looked at magazines to get inspiration for colours, textures and furniture. I had a strong aesthetic in mind. In terms of style, I like clean lines, geometric shapes and tight colour palettes, along with respecting any aspect of original details and the heritage of a home. Having grown up myself in a period house I really appreciate the mixing of old and modern aesthetics."
"We also made a list of things that frustrated us about our previous homes," says Ian who is a solicitor. "Practicality and storage are two things we think are important in designing any home. You have to be really inventive on both fronts in a smaller home." With this in mind, the couple had pull-down stairs to the attic fitted (from Stira) and used ottoman storage furniture where they could so they have space to put items like cushions and bed linen.
Sarah says that the renovation luckily went very well, with few mishaps or disasters along the way. "The only funny story I can think of is what we now call 'Pipegate'," she says. "Having installed an en-suite bathroom upstairs, the only internal drainage option meant that we had to step our fridge and countertops out to accommodate the pipe. Our architect suggested that instead of simply extending it we could add a raised shelf at the back. We were hesitant, but now we couldn't live without it. It's brilliant for storing items like hand wash, chopping boards and herbs, and keeps the main countertop clutter free."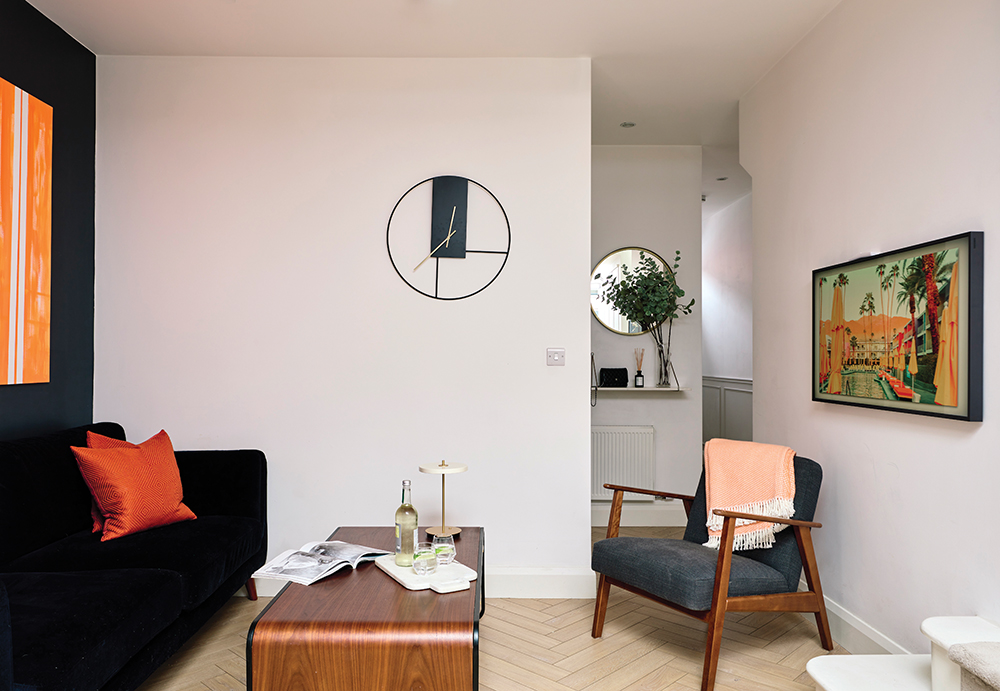 Sarah says one of her favourite items in the home is their Samsung Frame TV (above right). "It's so discreet and brings colour to our kitchen. Often people walk by and don't even notice it, it's a fantastic space saver."
Any advice for others heading into a similar renovation? "I would say invest in framework like windows, insulation and storage - the fun interiors and decor stuff can come in time if you're under pressure with budget. It's so important to get the bones of any house right."
Front lounge
A modular sofa from BoConcept, (spotted first at The Ideal Home Show) and Eames-style chair (CA Design), create a mid-century mood in the front lounge. The mouldings and ceiling rose look original but were retro-fitted by Dublin Mouldings. The lighting is from Stillorgan Decor with artwork created by Sarah herself.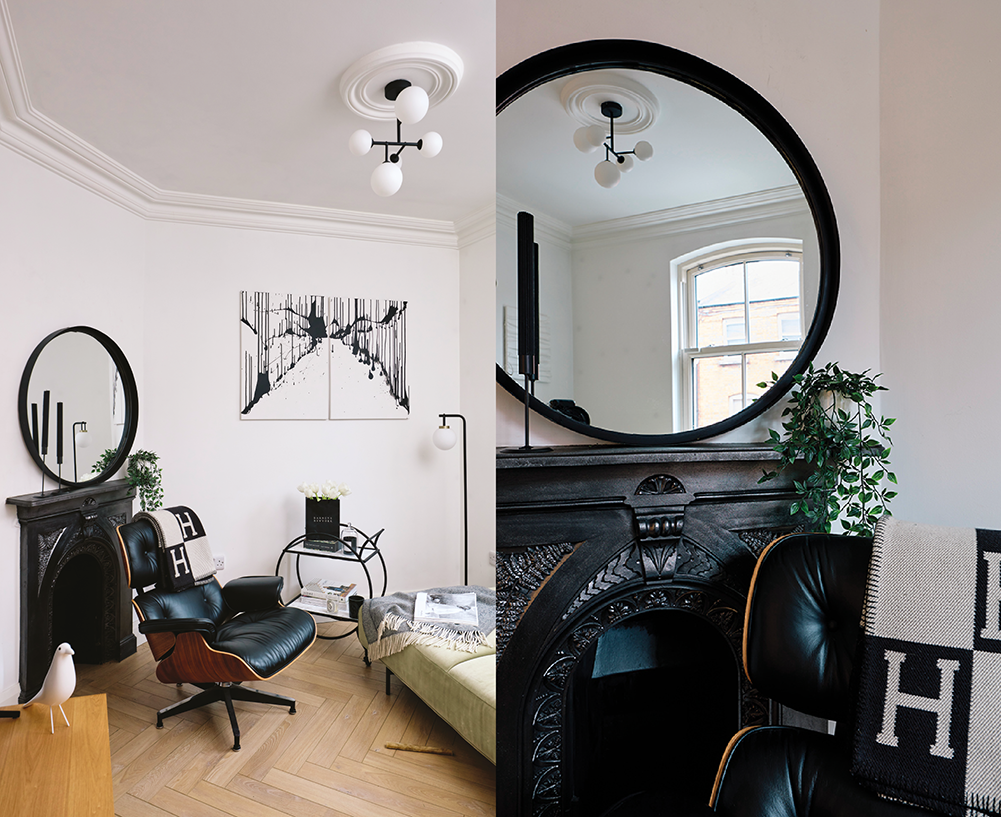 Open-plan living room
"Our navy velvet sofa from EZ Living Interiors is so chic and comfortable and was such a fantastic price," says Sarah. "It was definitely our best house buy!" The couple's other favourite item is their Samsung Frame TV which, Sarah says is so discreet "it could easily pass as an art work."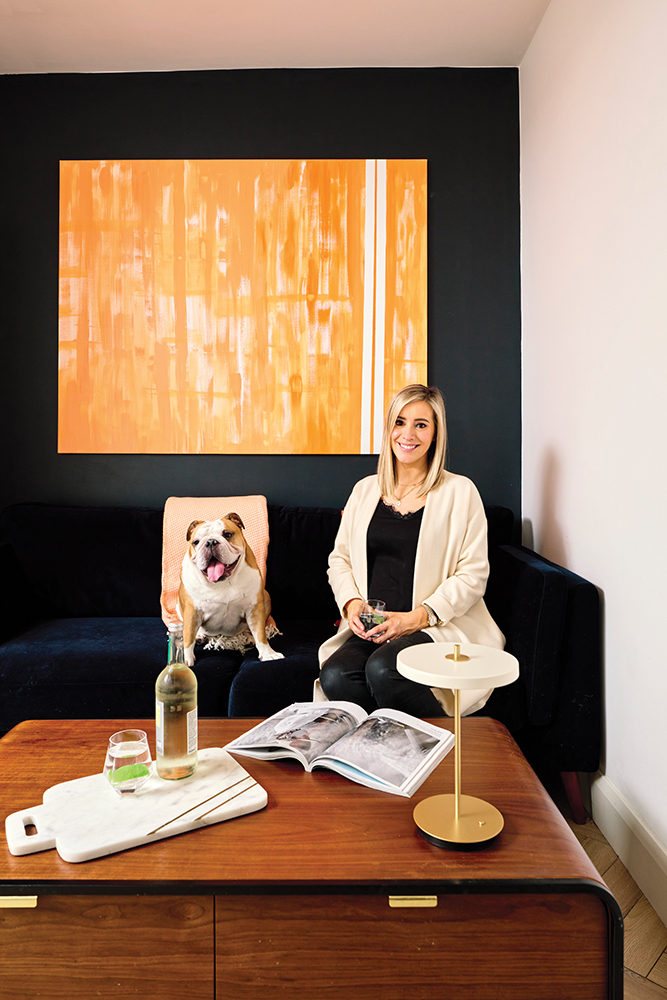 Kitchen
The sleek two-tone handleless kitchen with quartz worktop and bespoke gold sink is from Kerwood Design with appliances throughout from Neff. The stylish dining table with Hans Wegner Elbow-style chairs are BoConcept and CA Design. The brass pendant light is also CA Design.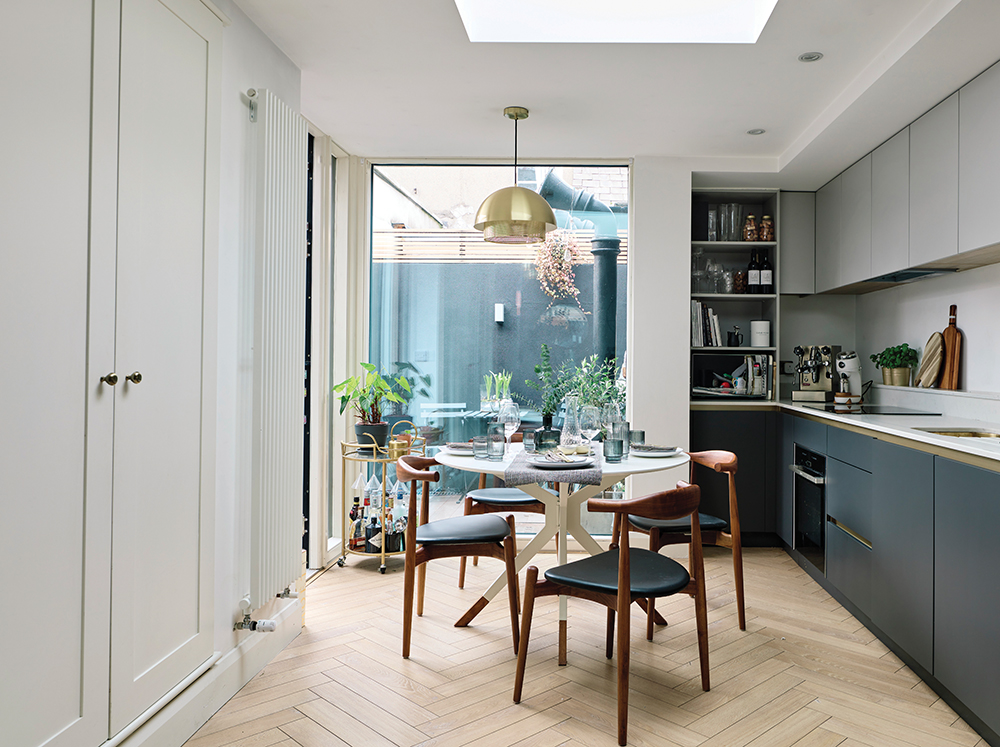 "This is my favourite area in the house as it is where Darla, our English bulldog chills," says Sarah. "We spend most of our time catching up after a day's work together in here, and getting to enjoy the light just flooding in." The kitchen is painted in Brilliant White by Dulux with a pop of dark colour on one wall which is Railings from Farrow & Ball. The laminate herringbone floors, fitted throughout the downstairs of the house, were sourced from BTW Sandyford. "We don't have any tiled backsplash in the kitchen," says Sarah. "It might be controversial but it works for us."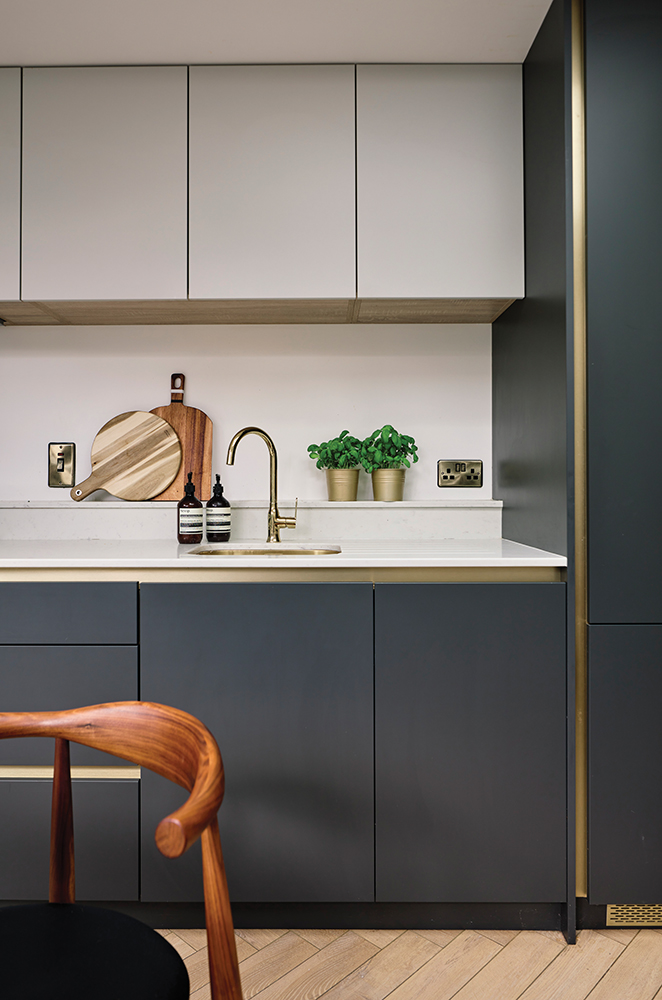 Bedroom
"An ottoman bed (which we bought at Kian) for storage is crucial for us in a small house," says Sarah. "I didn't add a headboard as we didn't feel we needed it." Custom-built wardrobes by Kerwood Design.  and clean, minimal lighting from Hicken Lighting complete the serene scene. Sarah has added tactile touches with linen bedding from Amurelle, a blanket from Foxford and cushions from Sew & Co.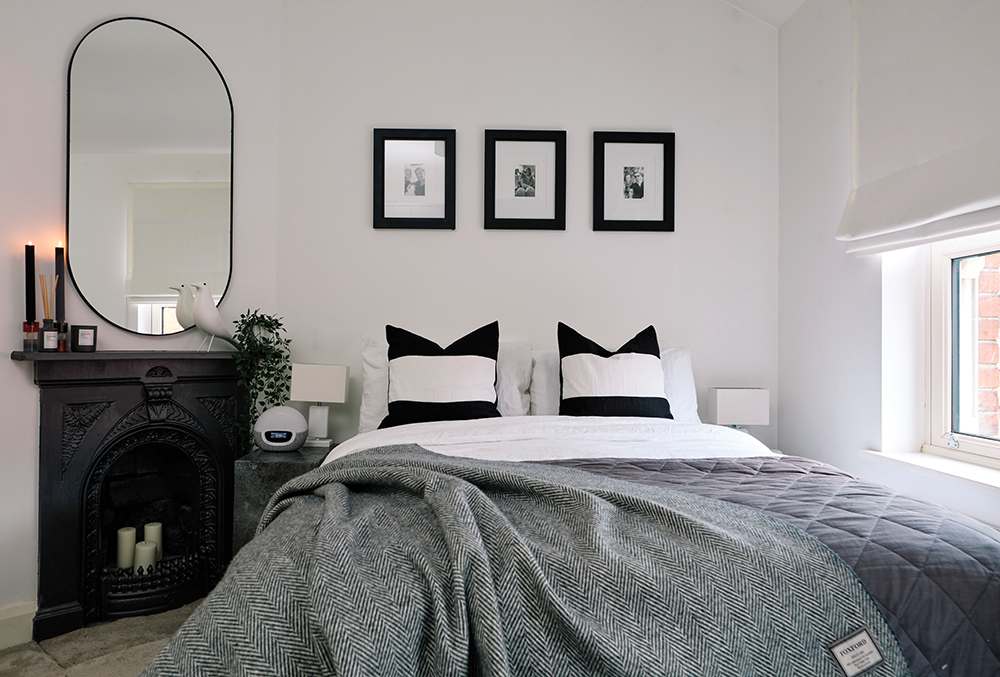 "The side tables are an upcycle – I used cement look self-adhesive film DC Fix," says Sarah. The large leaning mirror is from Harvey Norman with round mirror from Ikea. "I love the look of a clean, round shape above a fireplace," says Sarah. Their blinds were made by Sarah's mum using kits from Hickeys. The curtains are from Ikea, the mantlepiece candles are from Luxetched, and the couple's carpet is from Morgan Doyle.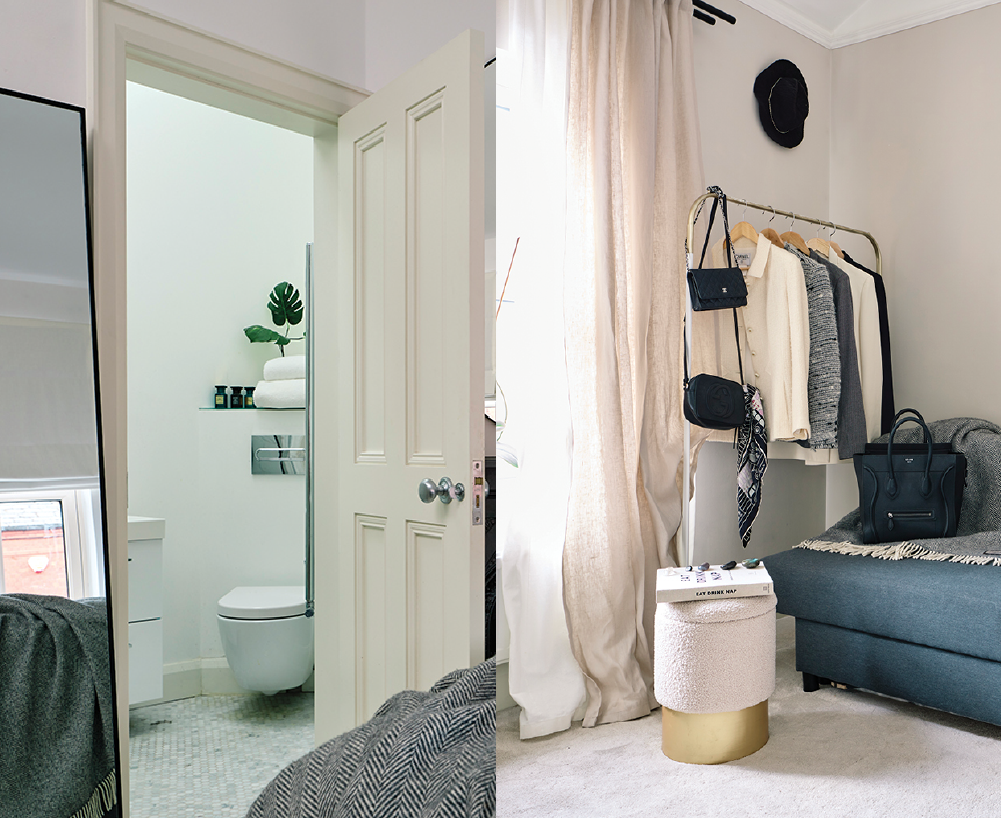 Bathroom
"I definitely have a thing for round mirrors," laughs Sarah. "This one is from Homesense." The sanitaryware, textured subway wall tiles and mosaic floor tiles are all from BTW Sandyford.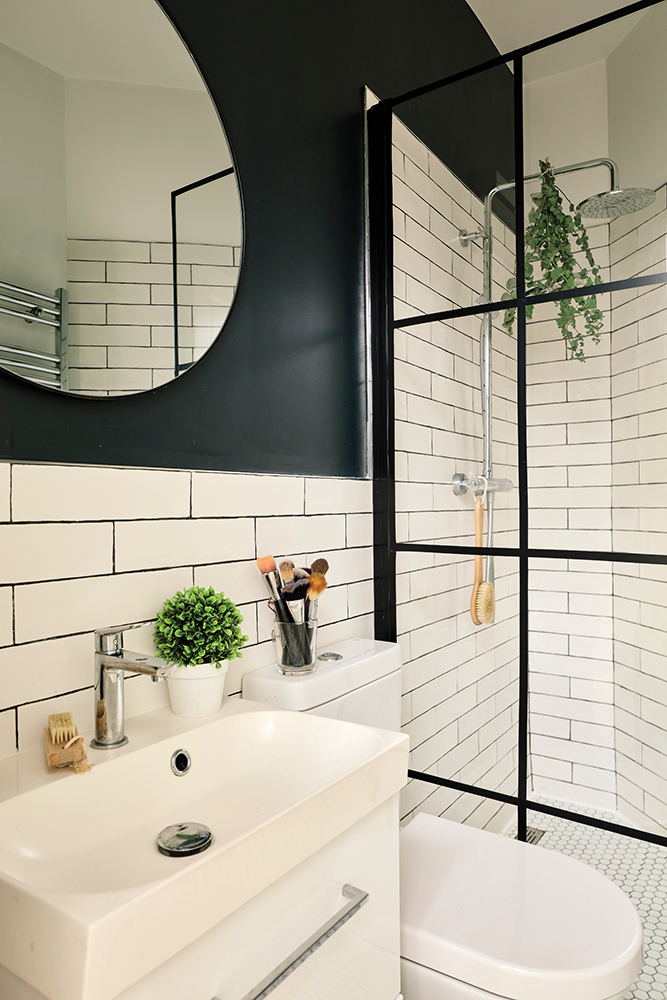 Follow Sarah on Instagram at @portobellorenovation
Love having a look around someone else's home? You can see a huge selection of others in our real homes section. Prepare to be inspired!
Share This Article