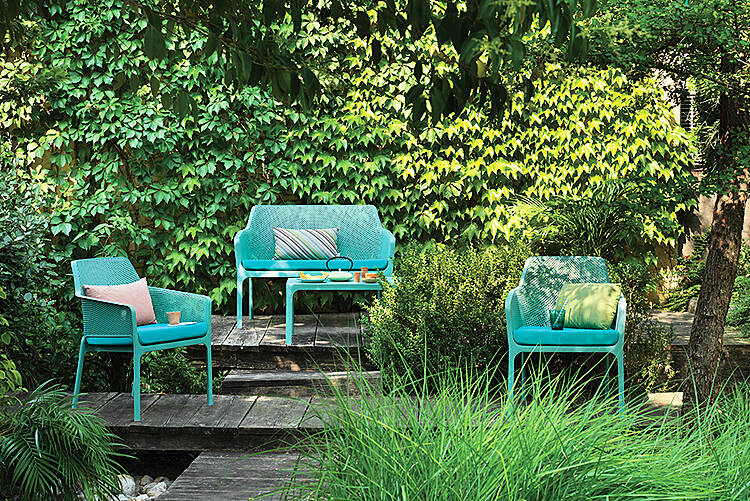 From poor planting to putting the patio in the wrong place, here are the common design mistakes we all make – and how to avoid them
Words: Róisín Carabine
Making the most of your outdoor plot with a gorgeous garden makeover can boost your health, happiness and potentially your home's value. But planning the perfect space isn't without its pitfalls. From layout to landscaping to choosing what to plant – and where – there are lots of decisions to be made to ensure it looks good and feels great. And that's before you even factor in furniture and decoration. Whether you plan to hire a professional or do it yourself, avoid these common design mistakes and get your garden right from the get-go. Read on for what not to do.
Mistake #1: Zero thought for maintenance
It's one of the most common design mistakes. We create the perfect outdoor space and expect it to stay that way. Gardens require regular upkeep which is time consuming and hard work. An obvious solution is to lose the lawn – or fake it with an artificial alternative. The latest designs are hyper realistic, super durable and made from eco-friendly materials. Consider too, reducing the size of planted areas; swap out needy plants for easy care perennials and use mulches for less weeding. Also, a composite deck is easier to look after than timber, and longer lasting.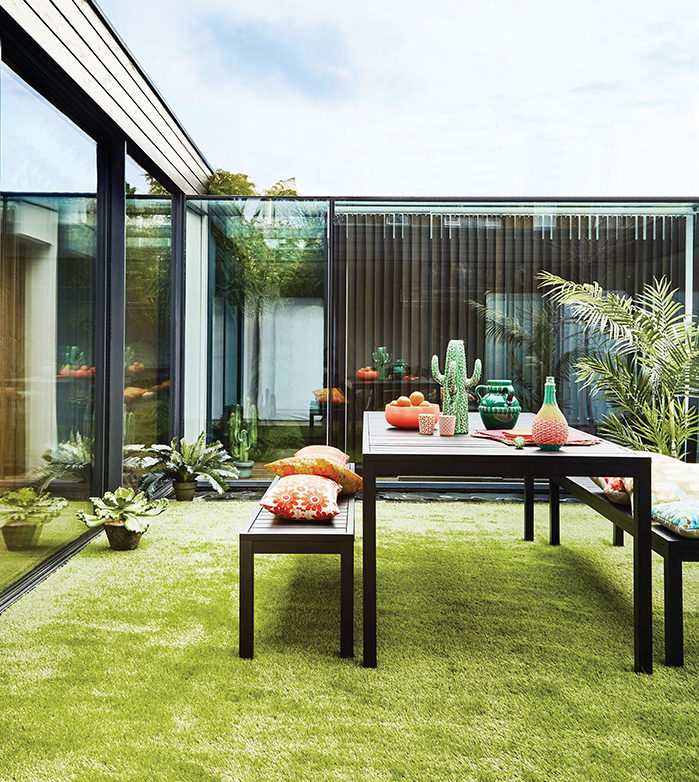 Image: Downham Artificial Grass, child and pet friendly with a seven-year manufacturer's UV warranty, from €33 per sq m, Carpetright
Mistake #2: Bringing the inside outside
Styling the outside like it's inside is an Instagram favourite, but if you're tempted to repurpose your old sofa on the patio, don't. There's a reason why designers create outdoor-specific ranges. The weather. The best garden furniture is waterproof, UV-resistant and super durable – ideally teak, synthetic rattan or rust-proof aluminium. Check that upholstered chairs and lounges (and cushions) use good quality outdoor fabric (with removeable covers) that don't fade or attract mildew. As for rugs, recycled plastic is an easy-clean eco idea while a reversible design gives two patterns for the price of one.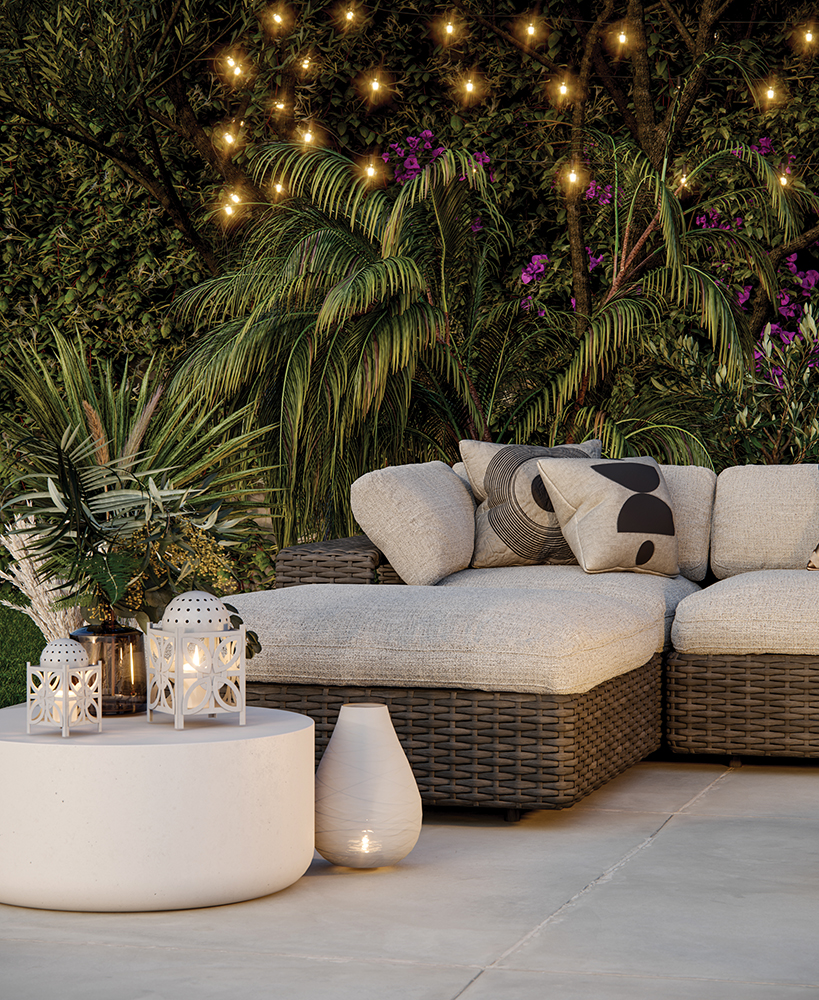 Image: Nook modular Corner Combo Lounger, featuring two corner end units, one armless unit and one ottoman, €3,699, Harvey Norman
Mistake #3: Playing it safe
Don't let a lack of garden or small garden limit your design dreams for outdoors. Often when space is tight we tend to be less dynamic with the decoration, thinking it will look bigger uncluttered, when in fact the opposite is true. The secret is to be selective with what you put in; design to scale and add the right number of things. Don't forget to include a focal point; something unexpected like a swing seat or hammock not only provides pleasure but will also give the space movement and impact.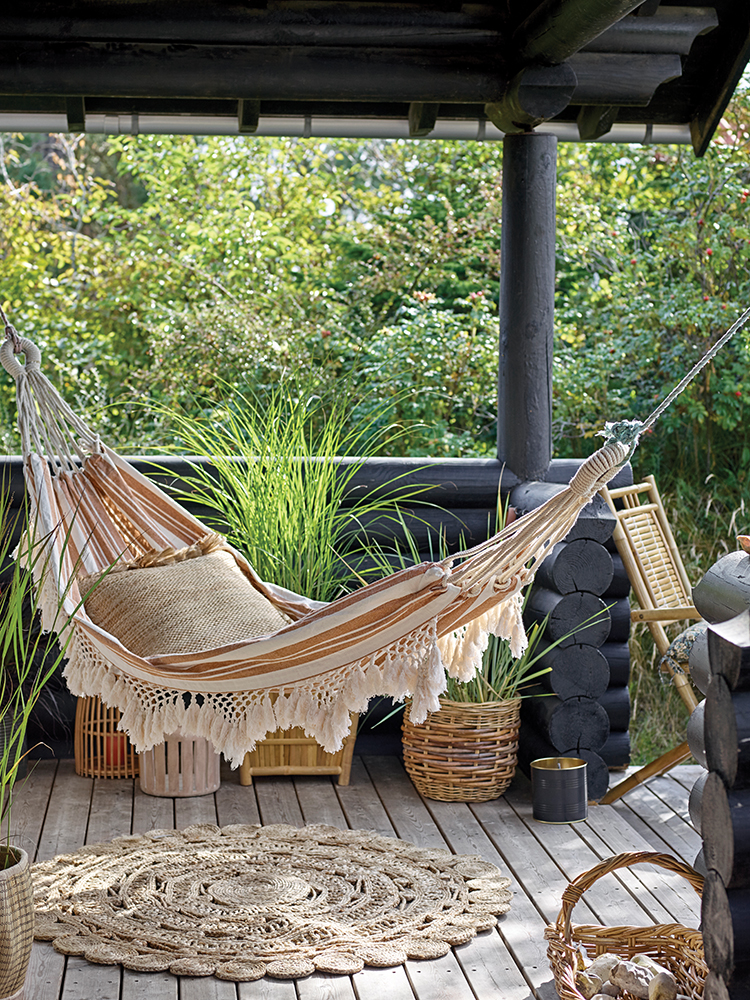 Image: Cruz cotton hammock, €145; Guilian jute cushion, €62.90; Sacha jute rug, €165, Bloomingville.com for local stockists
Mistake #4: Lack of flow
Zoning your garden into distinct areas for different activities is a brilliant way to break up the space, but a lack of connection and unity can quickly undo its success. Creating a sense of flow both physically and visually is key. Putting down paths is an obvious solution; curved designs will make the journey slower and more enjoyable. Another unifier is repetition; repeating plants, materials and colours creates harmony. The best gardens are ones that surprise, so don't forget to design in some secret spots.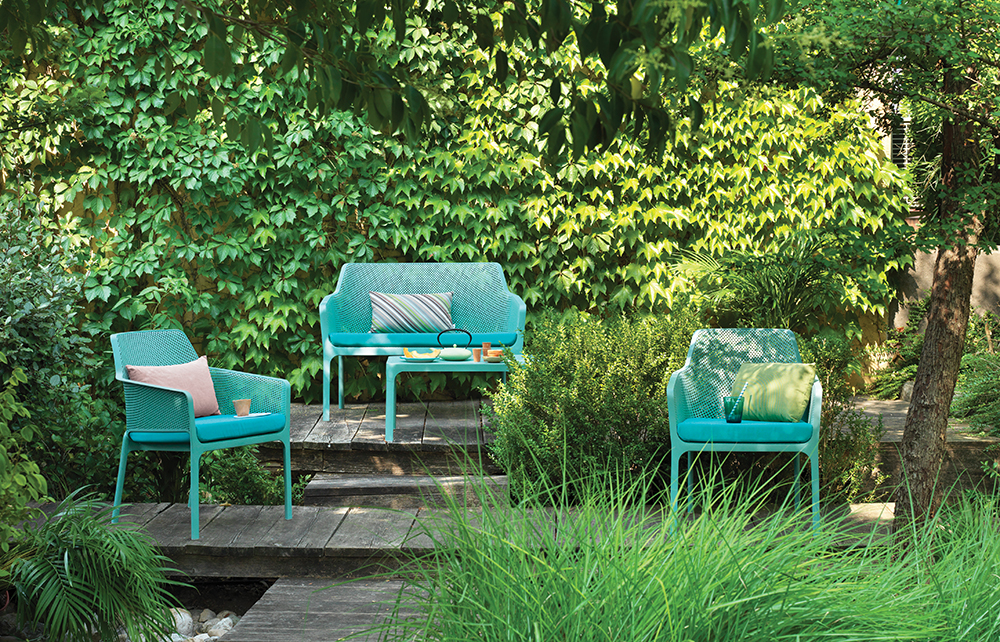 Image: Net bench (Salice) €190 (with cushion, €102) & chairs, €95 each (with cushion, €35), Pieces.ie
Mistake #5: Poor furniture arrangement
Two sofas or chairs facing each other with a table in between is a layout that always works. Position close enough to chat tête-à-tête with enough space to move around freely. Alternatively, a sectional sofa is great if you like to entertain and can also help to create boundaries within a patio. Zone the space with an outdoor rug and add side tables for more surface space, or pouffes if furniture doesn't recline.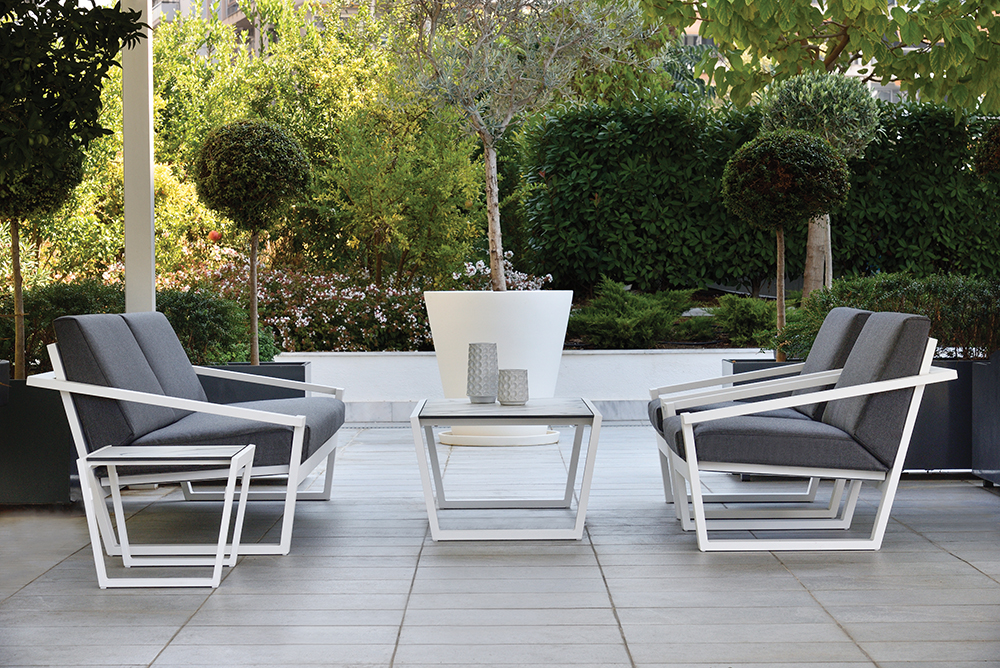 Image: 10DEKA 'Costa' collection of high end, super durable aluminium outdoor furniture. Coffee table €425; armchair €770; sofa €1,895, available exclusively at Rare Home
Mistake #6: Ignoring the neighbours
Good fences make good neighbours. So do hedges, climbing plants, trellises, trees and parasols. Failing to protect your garden from prying eyes (and unsightly views) can leave the space – and yourself – feeling exposed. Privacy promotes enjoyment and with a bit of careful planning, creating more needn't be harsh or ugly looking. Whether you opt for a manmade or a natural solution, just make sure to take care that it doesn't block the light.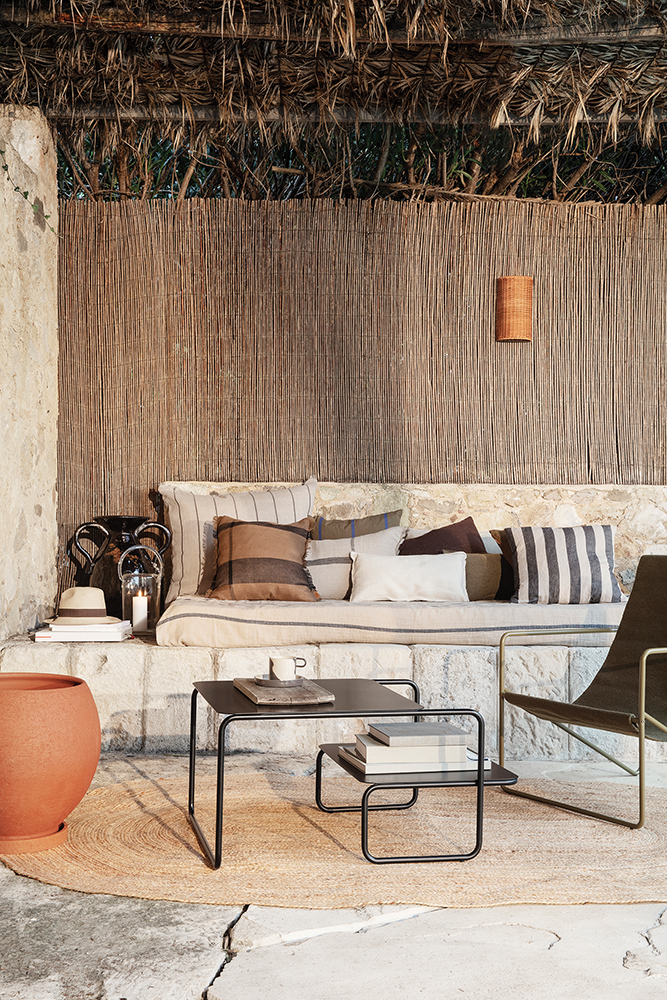 Image: Ferm Living 'Level' coffee table in powder coated steel, €449, April and The Bear
Mistake #7: Disconnection with the house
Creating a visual as well as a physical connection between indoors and outdoors is the backbone of every good garden design – yet it is also often the one thing many of us still get wrong. To get it right you need to stop treating the spaces as two separate entities; what's inside should be reflected in the design outside so the link is almost seamless. Repetition of similar materials, colours, textures and furniture is a great unifier. Consider too using the same colour of flooring throughout both spaces especially if they're connected by double doors with a flush threshold.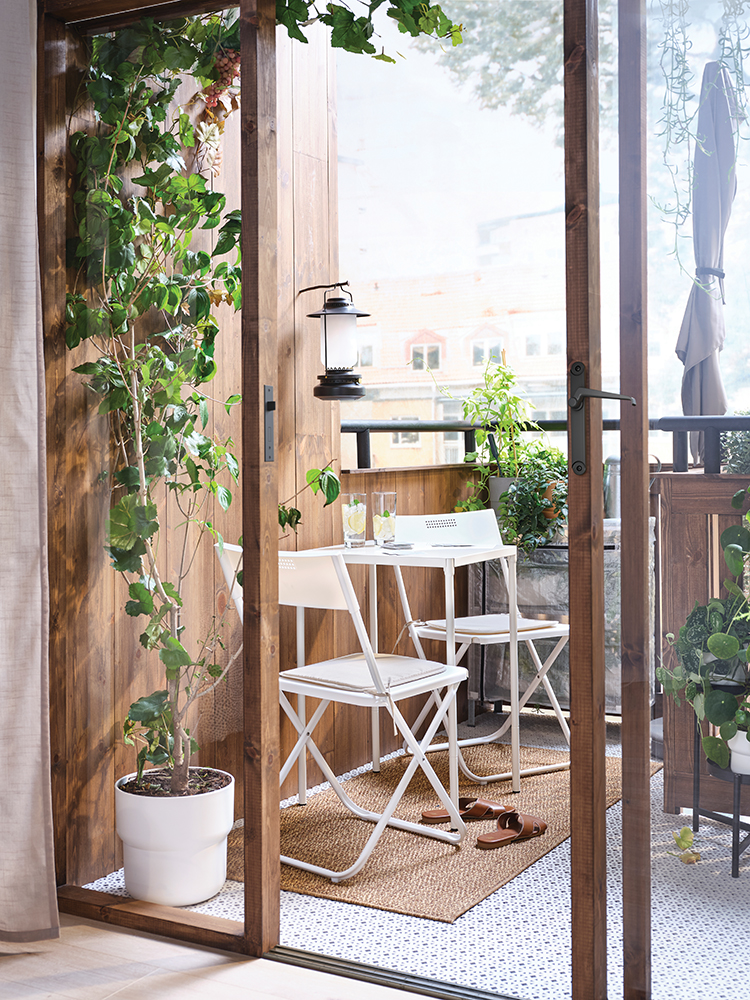 Image: Ikea
Mistake #8: Skimping on shade
While sunshine in Ireland isn't guaranteed, when it comes, shade is a must. A freestanding parasol or lightweight sail shade is a cheap easy fix. Or how about trying an awning? Many modern designs are now electrical. Another option is a pergola, with either a remote-controlled retractable roof or louvered roof – made from aluminium for low maintenance. "It can be mounted directly outside your house, on a patio, and with the addition of glass sliding walls can become an outdoor room," says Noreen Cassidy of Pavilion Outdoors, who are Irish specialists in luxury outdoor structures (see below).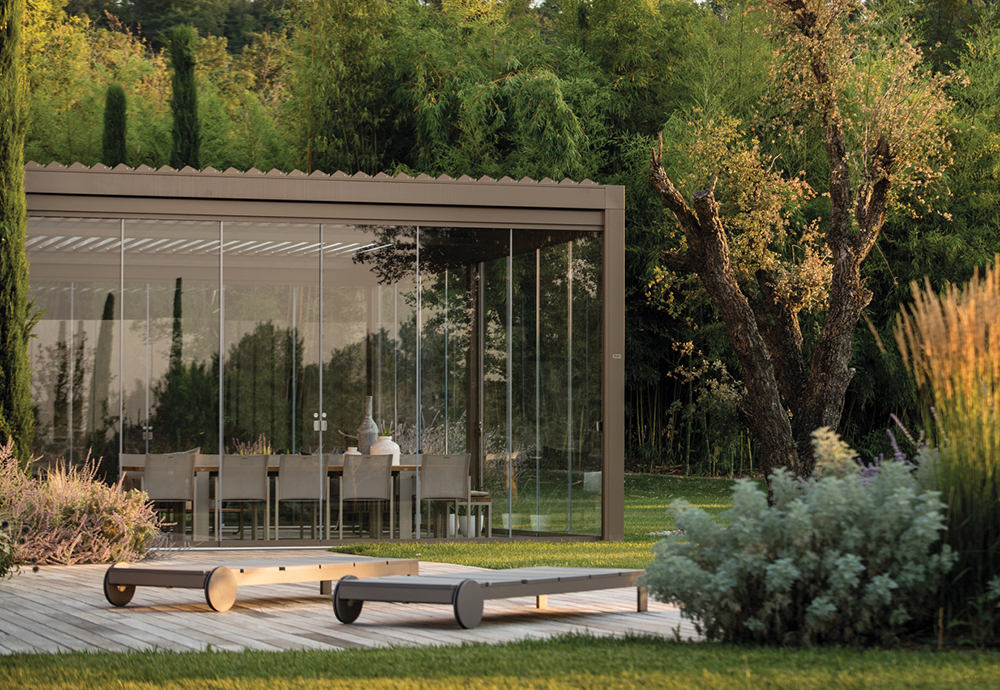 Image: Pavilion Outdoors
Mistake #9: Failure to factor in heating
Good outdoor heating will prolong your time outdoors long after the sun goes down. Firepits and chimineas are a quick, affordable solution. Try building an outdoor fireplace and you'll be able to sit out even in colder winter months. Gas heaters are another idea but like other sources only heat the surrounding air. Infrared heaters emit radiant heat and are energy efficient as well as eco-friendly (they don't require fossil fuel to work or produce any toxic carbon dioxide) but they do require electricity access.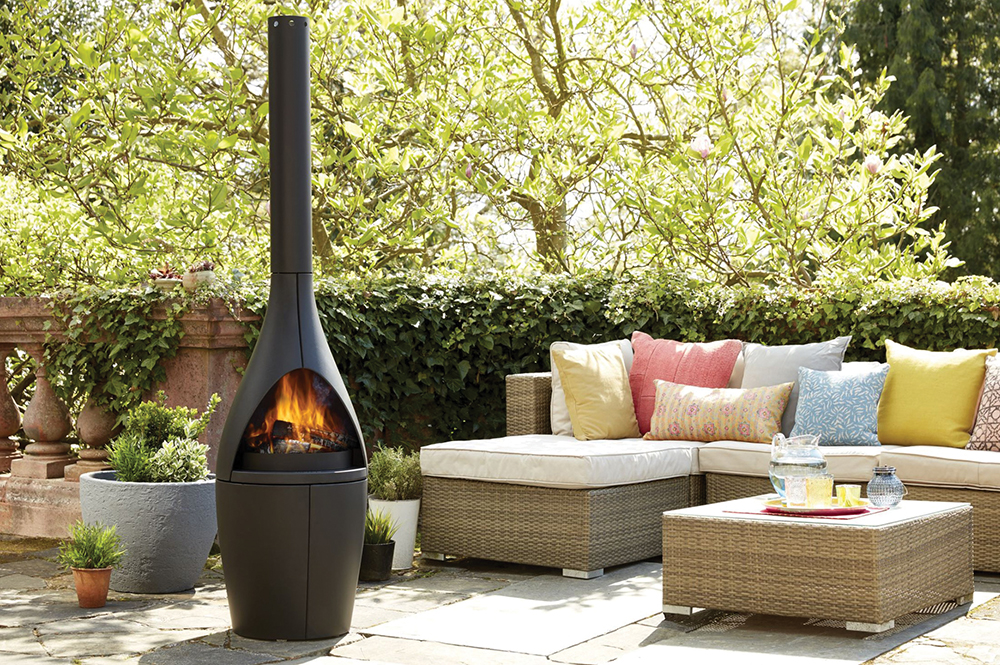 Image: Morsø Kamino freestanding outdoor fireplace, from €1,600, available from Fenton Fires
Mistake #10: Not nearly enough seating
A bistro table and chairs might work for breakfast, but where are you going to gather for lunch or entertain friends? Even the smallest of outdoor spaces can accommodate a little extra furniture without feeling overcrowded. Make the most of your garden with a carefully considered seating plan (using multi-functional furniture where possible) that allows for dining, relaxing and hours of lounging – in different spots.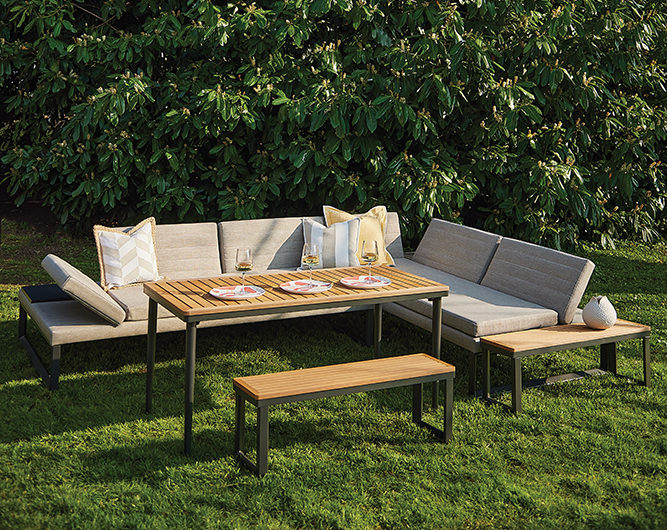 Image: Casablanca flexible outdoor large sofa €1,998; dining table, €798; end table, €398, from Meadows & Byrne. Photography: Miki Barlok
Mistake #11: Undervaluing the power of lighting
Outdoor lighting provides illumination and atmosphere and is a brilliant way of highlighting your garden's best features. The ideal lighting plan combines a mix of different light sources from above, below and eye-level. Mains-powered lighting gives better control and is worth it if you're redesigning. For the perfect summer-ready garden Ellie Cox at Lights4Fun suggests: "Fill courtyards with twinkling fairy lights or light up your patio with lanterns. Add clusters of weatherproof LED candles to your table settings and hang traditional-style festoon lights overhead."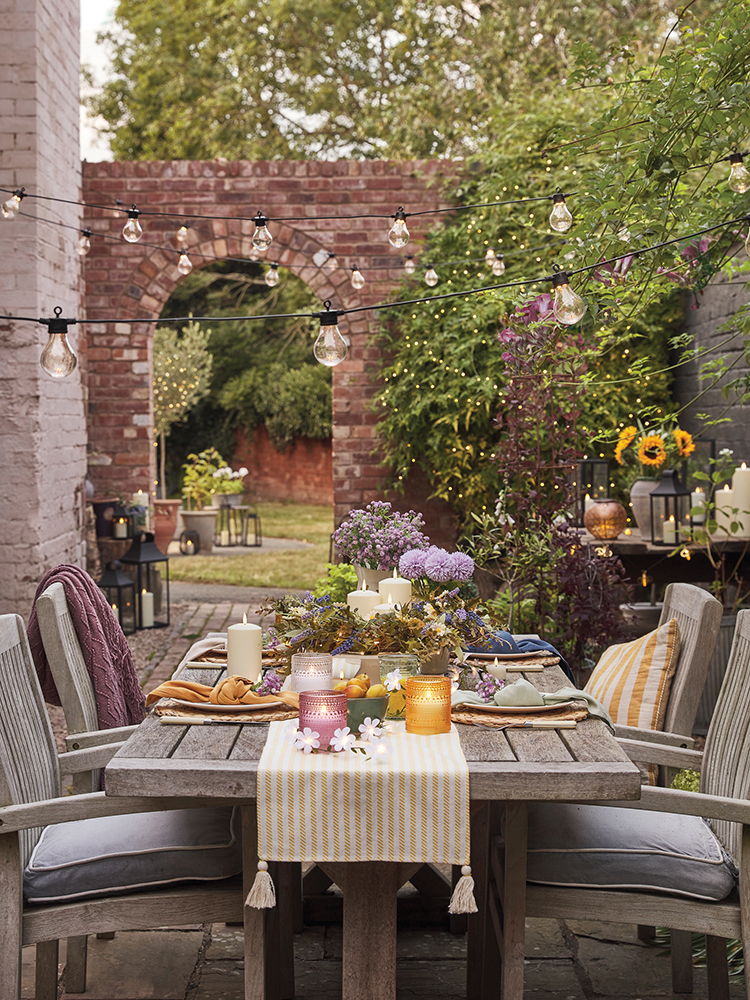 Image: Meadow Flower Spring Wreath Micro Light Bundle, €54; Core Connect 5m Warm White Connectable Festoon Lights Black Cable, €33; Set of 3 glass jar TruGlow Candles, €42; White Flower Micro LED Garland, €12; TruGlow Waterproof Outdoor Candle Trio, €33, Lights4Fun. Photography by Oliver Perrott
Mistake #12: Right plants, wrong place
A good planting scheme requires proper planning and research. "Unless you want to grow in pots, it's always a good idea to check the quality of your soil first," says Des Carton, head gardener at Avoca, Kilmacanogue. "When buying plants, don't be afraid to ask for advice – or at least read the label – to find out what they need to thrive and survive (do you have the time for maintenance?) and where to place them. The best gardens look good all year round, not just in the summer months. You don't have to have a colour-coded plan but it can make for a more relaxing garden if you choose a few complementary colours."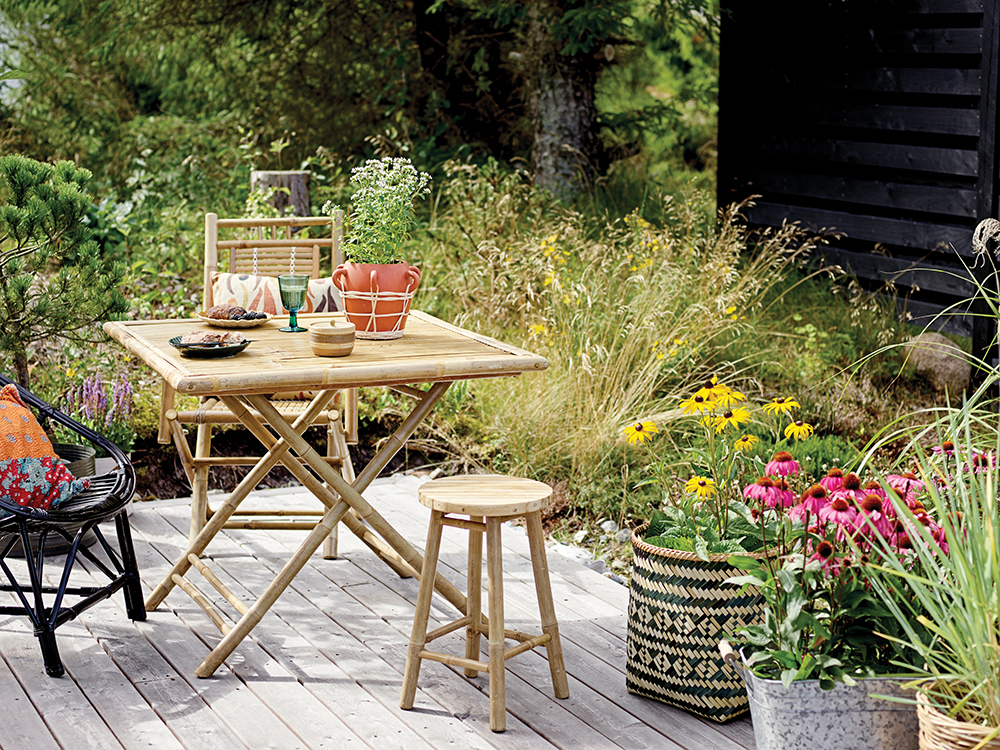 Image: Bloomingville Sole bamboo stool, €99.90; Sole dining chair, €149 & Sole dining table, €179. For stockists see Bloomingville
Mistake #13: Patio in the wrong place
Plonking a patio just outside the back door – while often convenient – is not always the best spot. The ideal location should take into account your lifestyle (when and how you use the outdoors) and available sunlight while providing the best views. A south-facing patio is a popular choice but breakfasts can be chilly if the sun hasn't arrived and afternoons can get hot if it's exposed. Consider a detached patio, away from your home for 360-degree vistas. Patio size is key; if it's big enough for furniture as well as an outdoor kitchen and fire pit, all the better.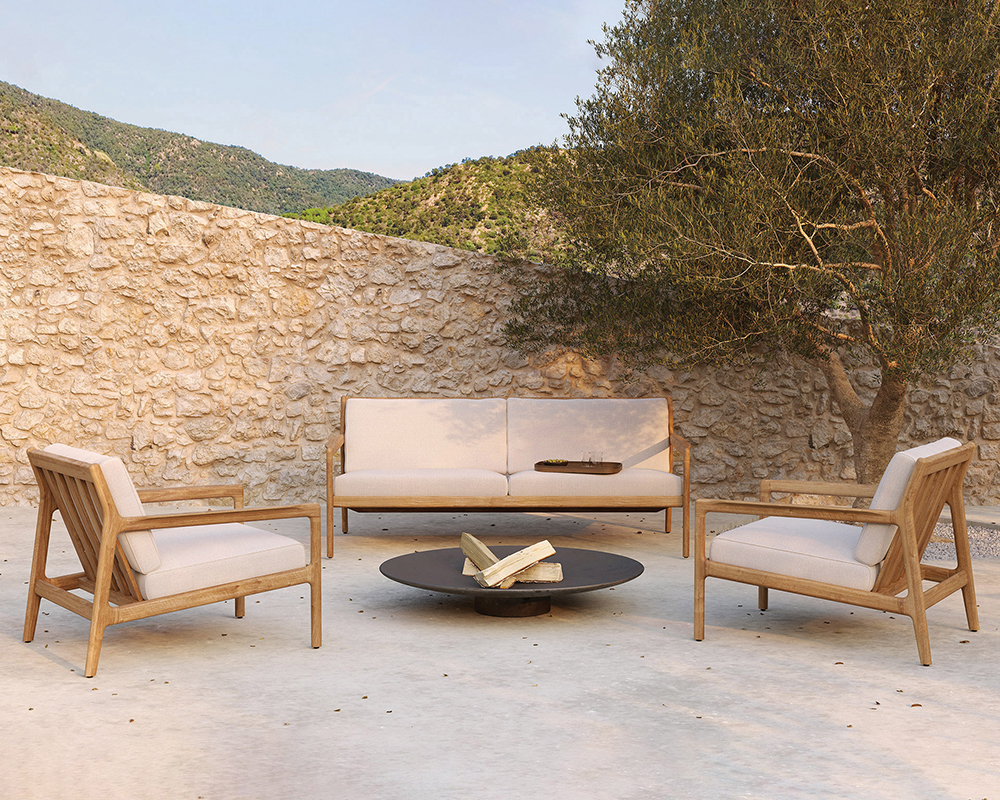 Image: Ethnicraft teak Jack outdoor two-seater sofa, €3,429 in off white & teak Jack outdoor lounger in off white, €1,605, CA Design
Mistake #14: Overdoing the hard landscaping
Too much hard landscaping outdoors is never a good idea. It needs to be right for the location (think about complementing your house) and varied so it doesn't overwhelm. You can try playing about with materials – wood, stones, decking – and work in different levels to create a more dynamic space. Durability and maintenance are also key. If choosing tiles, Tubs & Tiles, Dublin recommend they be for outdoor use, at least 20mm thick and have an anti-slip rating of R11. They also suggest matching them to indoor tiles from the same range for continuity between the spaces.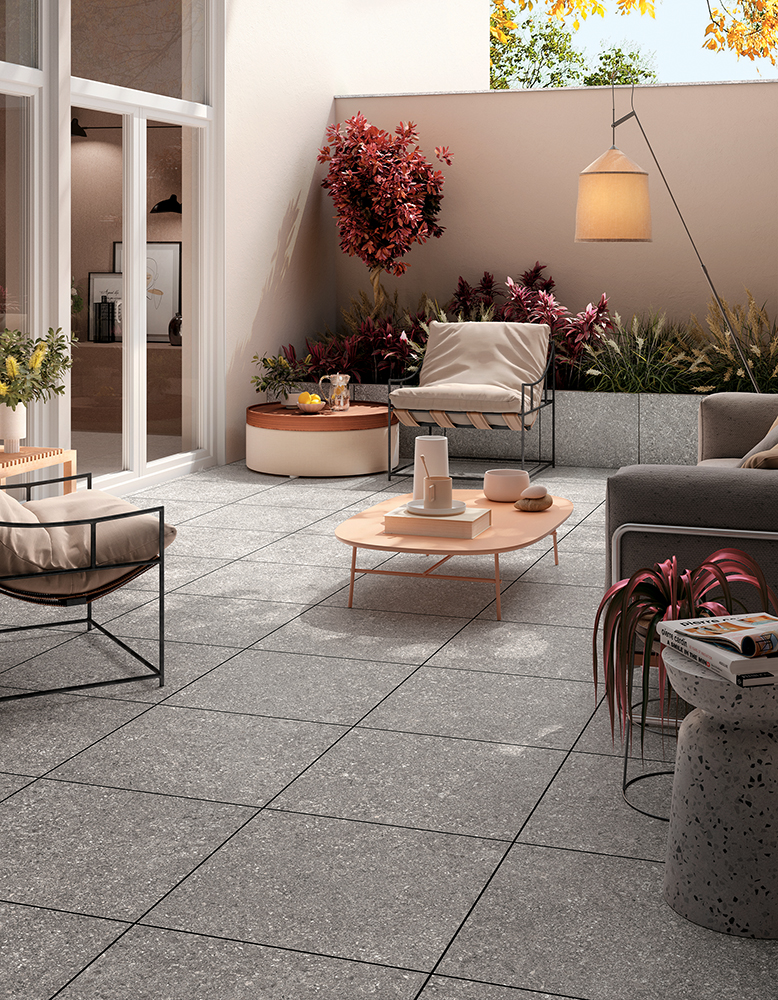 Image: Mirage 'Norr' terrazzo-effect Italian porcelain outdoor tile – anti-slip, stain, frost and fade resistant – from Tubs & Tiles
Mistake #15: Too much styling
Accessories are a great way to decorate your outside space but throw too much at it and it can look over-styled and contrived. Curation is the key. Think about what you're adding and don't be afraid to edit back what you have. The space should suit your surroundings and reflect your personality. Avoid trends and the temptation to copy slavishly what you've seen on Pinterest or Instagram. Once you've established a look, stick to it.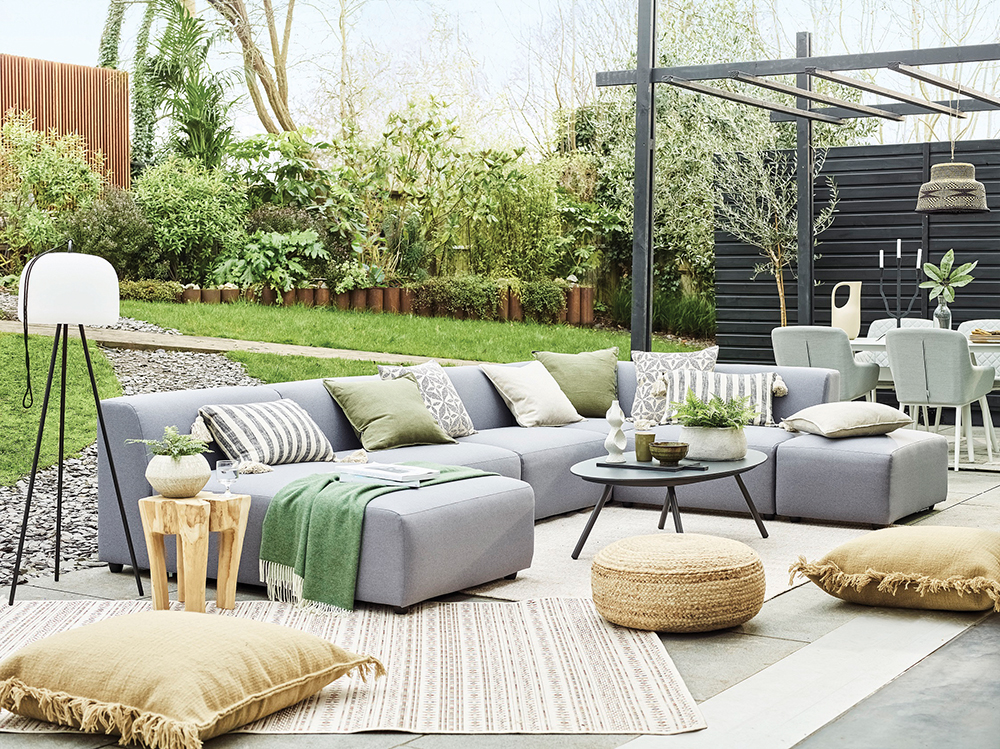 Image: Salvia six piece corner group sofa in Alfresco Express Slate, €3,379, DFS
If this inspires you to begin your own garden makeover, don't miss a few more hints and tips from those who have gone before you in our Garden Inspiration series. The first one is here.
Share This Article