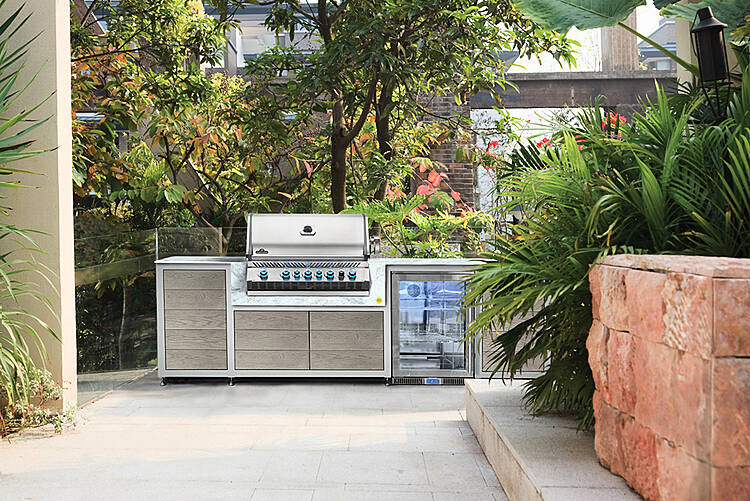 Love entertaining outside? Upgrade to an outdoor cook space complete with sink. Here's our top tips for all you need to know...
Words: Róisín Carabine
There was a time when cooking outdoors meant throwing some burgers on a charcoal barbecue. It didn't happen that often, and only on a hot summer's day. Now, such is our obsession with al fresco dining we're taking all that's inside outside – and not just tables, chairs and sofas. The kitchen too, replete with sink. Some more elaborate, custom-made set-ups even include under-counter fridges, pizza ovens, dishwashers, built-in wine coolers and bars. If you're looking to upgrade your outdoor cooking station and take it to the next level, read on for tips and expert advice on how to get it right. From DIY builds to off-the-peg designs, low-cost hacks and beautifully bespoke creations, we have a solution for every style and budget…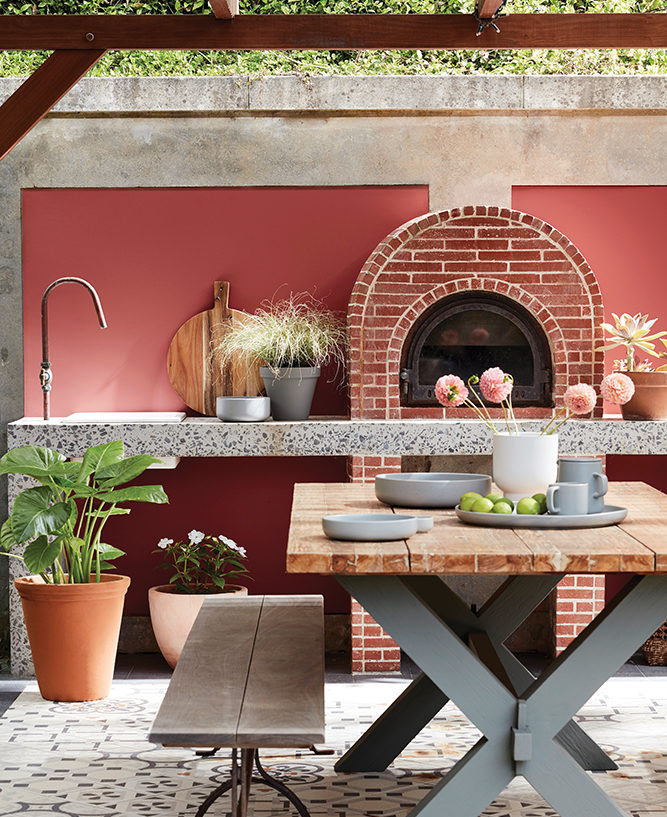 1. Make space for a sink
Adding a sink outdoors is a no-brainer. Laying pipes and drainage can be expensive, however, especially if you want access to running hot water. Locating the sink as close to the main house as possible will allow you to access indoor plumbing, otherwise opt for an external wall, below an existing outdoor tap, if you only need cold water. Outdoor sinks are typically only used for washing hands and prepping food anyway.
Above: Back wall painted in Little Greene Tuscan Red (140) Intelligent Masonry Paint, Little Greene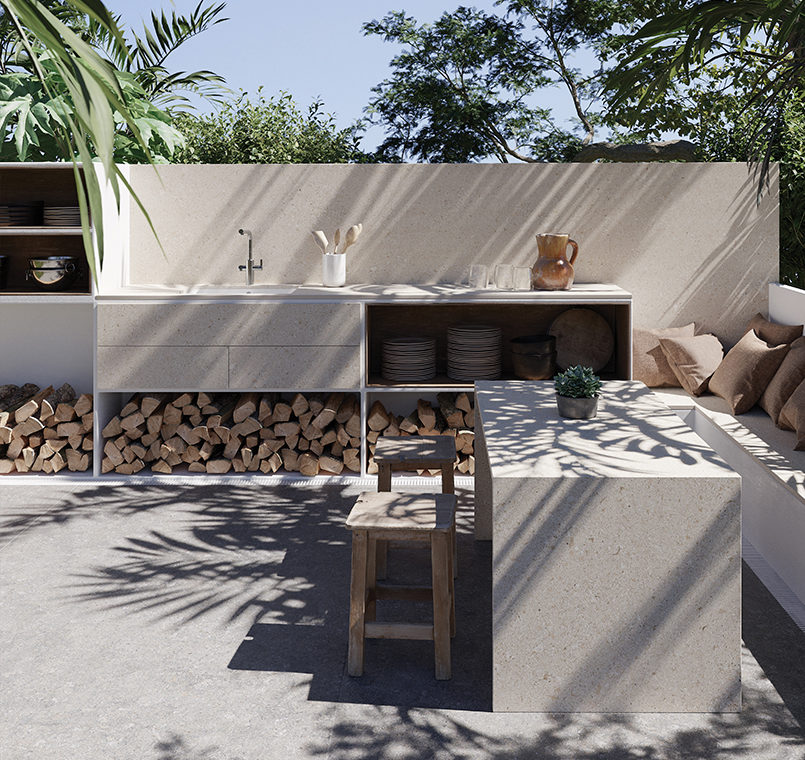 2. Select the right surfaces
The material you choose for your worktops is really important. It needs to be robust, non-porous and weatherproof. "Surfaces that last whilst maintaining their integrity and beauty is essential,' says Andres Alonso, architectural and design expert, Cosentino UK. "Dekton by Cosentino is the ideal outdoor kitchen foundation thanks to its resilience and design credentials. It has a high resistance to sudden temperature changes due to its low coefficient of thermal expansion – including high UV protection – is non-porous and boasts high resistance to abrasion and scratches."
Kitchen in exterior Dekton VK02 Avorio and VK04 Grafite, Cosentino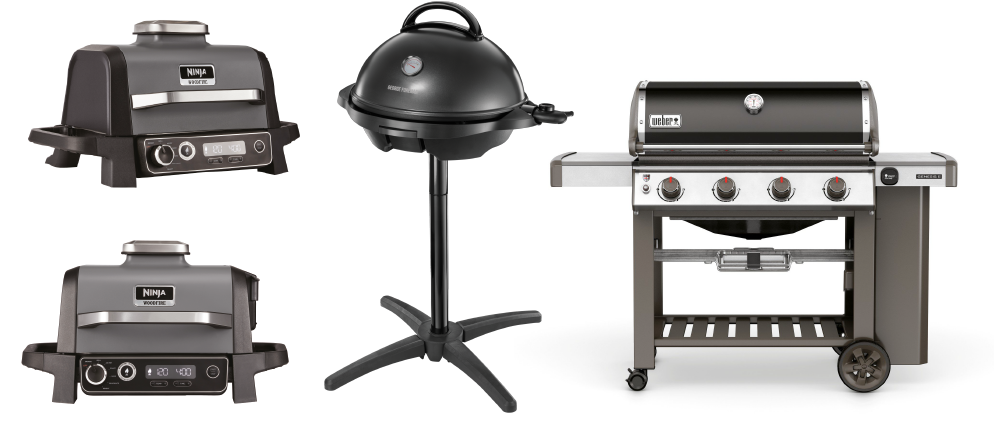 3. Factor in portable cooking solutions
For when you want to make the most of a big garden, or don't want the hassle of firing up the oven (especially if you're just cooking for two), some kind of modular cooktop that can be easily carried and positioned anywhere is a great idea. Not only will it improve the functionality of your outdoor space, it offers an additional more casual means of cooking when required.
Above (from left): Ninja woodfire electric BBQ, grill, smoker and air fryer, €299, Harvey Norman; George Forman Indoor/Outdoor BBQ grill, €99, Harvey Norman; Weber Genesis II E410 gas barbecue, €1,359, Weber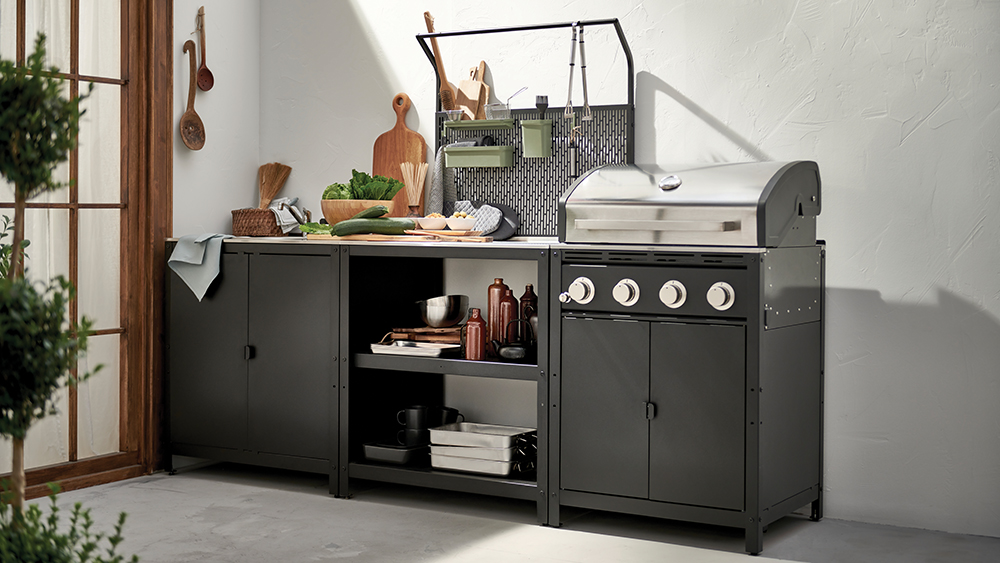 4. Storage is key
Shelves will ensure your outdoor kitchen is both practical and functional. You'll need to factor in storage for crockery, utensils and cookware with space for logs, if any appliances are wood-fired. Options range from sleek integrated solutions to something more casual with a mix of open shelves, cabinets and hanging rails. Modular systems, such as Ikea's Grillskar series, (pictured), that can be adapted to suit your space and even added to as your needs change, are worth considering.
Above: Kitchen island two-door shelf unit, €220; kitchen island shelf unit, €150 with back panel, €55; Grillskar gas barbecue in black stainless steel, €729, all Ikea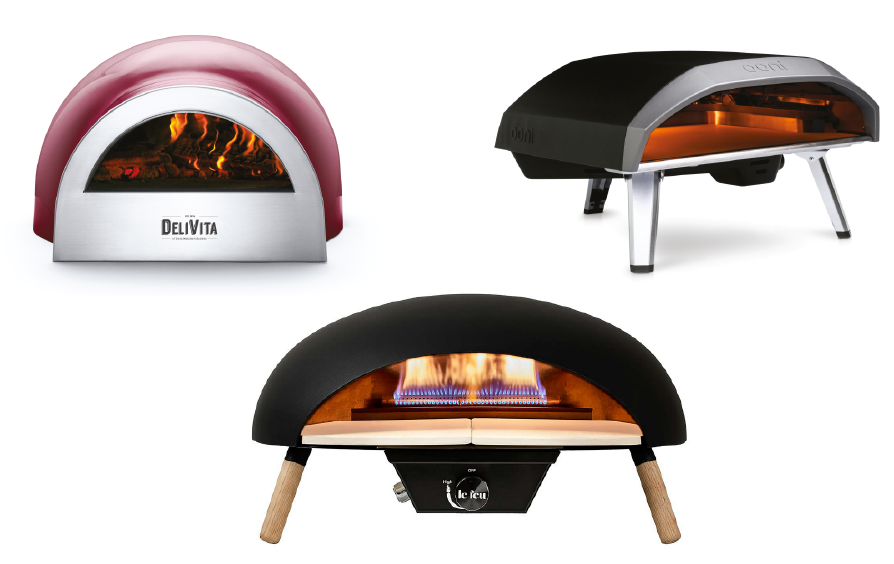 5. Add a pizza oven to the mix
Purchases of pizza ovens soared during lockdown as homeowners embraced the 'fakeaway' trend in a bid to stay entertained. They're now regarded as an outdoor kitchen staple. If you'd like to work a pizza oven into your set-up consider how you like to cook. Wood-fired ovens are best for authenticity, while gas offers convenience. Or how about a multi-fuel option? You could even have a go at building your own.
Above (clockwise from top left): DeliVita, portable wood-fired pizza oven, from €1,625, DeliVita; Ooni Koda 16, gas powered pizza oven, €599, Meadows & Byrne; Le Feu Turtle, gas pizza oven, from €581, Cuckooland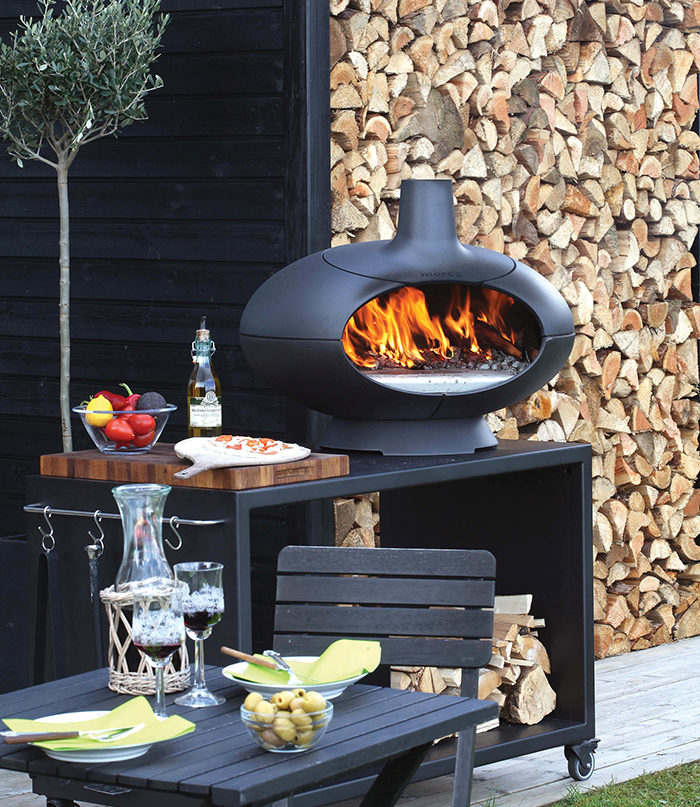 6. Just add wheels
Outdoor kitchens come in all shapes, sizes and set-ups. If you don't want to invest in a permanent structure you can't take with you should you decide to move on, consider some kind of cook station on wheels, complete with appliances, shelving, closed storage and worktops, that can be rolled into position whenever you want to entertain.
Morso Forno Delux Garden Package, from €3,300, Fenton Fires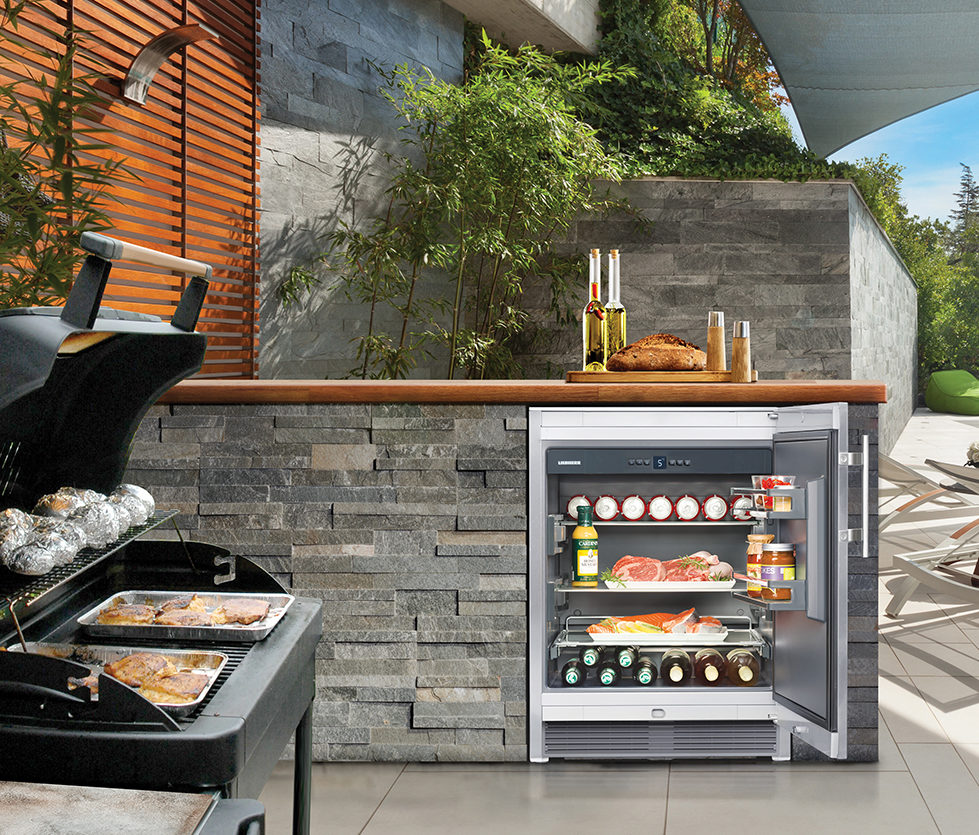 7. A fridge is a must, right?
The more you add to your outdoor kitchen, the better it becomes. So, by that reasoning, a fridge is non negotiable, right? Of course, you can't put any old fridge outdoors; it needs to be an outdoor model, and they can be pricey. If your budget can stretch to it, Liebherr's OKes 1750 Outdoor Cooler (above) is definitely a worthwhile investment. Made from high quality, rust-proof stainless steel, it comes with a lock for secure storage and works in temperatures from +2°C to +35°C. See My Liebherr for stockists.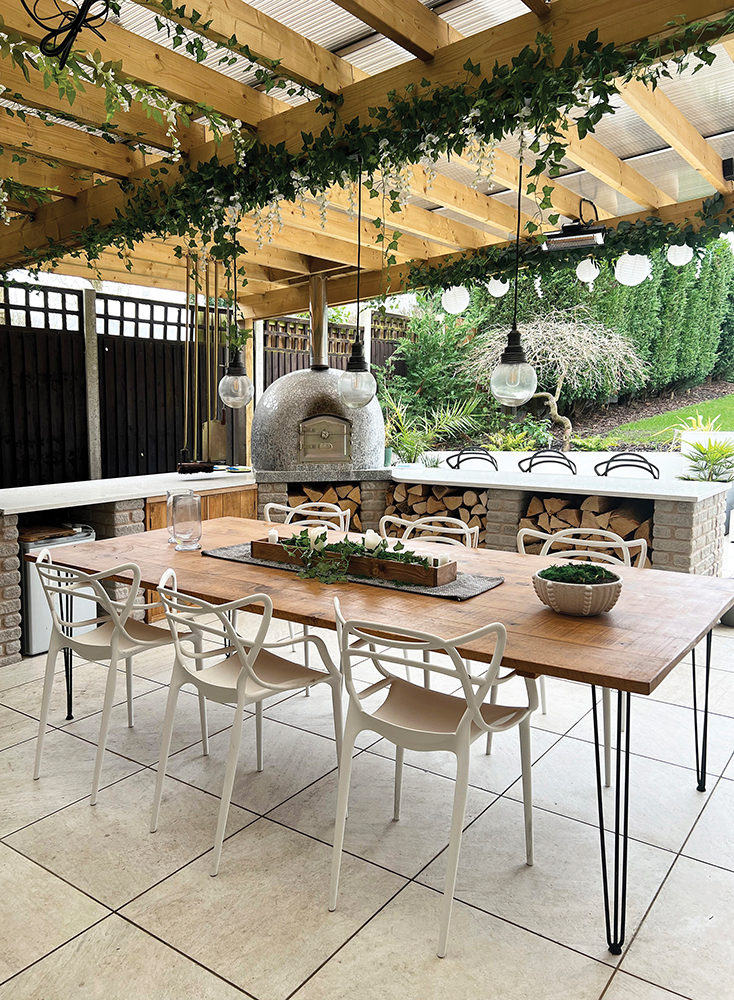 8. Get the layout right
L-shaped, U-shaped, or a straight run of units along one wall? You may want a design that incorporates an island or a dining table and chairs. Or both. Ultimately. layout will be dictated by the size, shape and orientation of your garden, and how you like to entertain. Remember too to factor in circulation space around the different zones, not only for safety but to allow you to prep and cook easily and move about freely.
Above: Brooklyn outdoor (and also bathroom) globe pendant light in pewter, from €93, Industville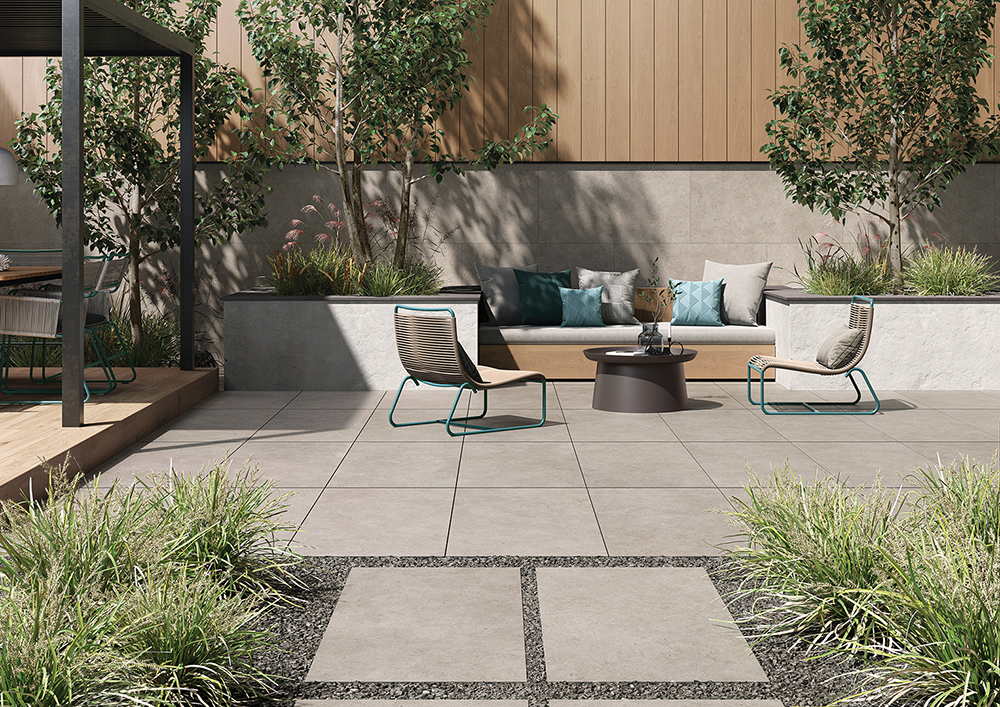 9. Don't forget about the flooring
Your outdoor kitchen will require a level foundation. You'll likely need to clear space and flatten the ground to accommodate it. It's a good idea to get a garden designer on board early on to help ground the space in its surroundings. Flooring options must be durable and hardwearing, as well as stand up to stains and spills. Outdoor porcelain tiles are an obvious choice, while concrete is inexpensive and can even be painted. Other options might include natural stone or composite decking.
Above: Mirage, Elysian Italian porcelain outdoor tiles, 60 x 60cm, from €53.75 per sqm, Tubs and Tiles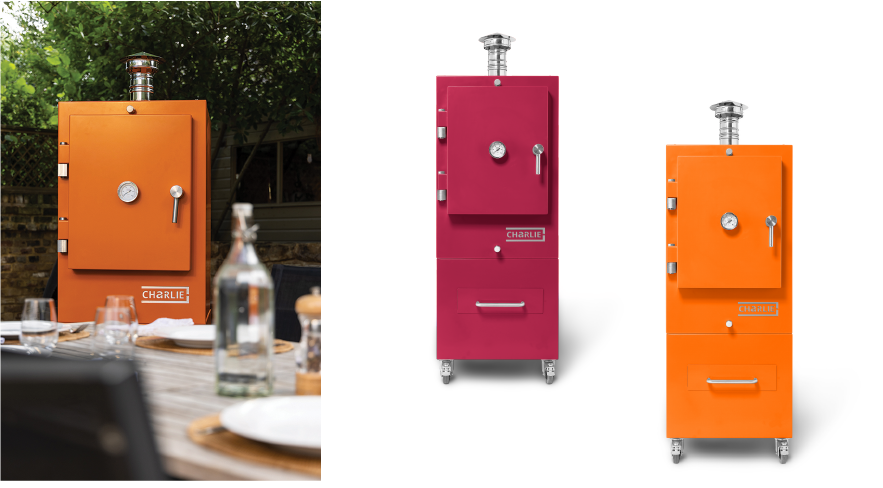 10. Choose multipurpose appliances
Not everyone is blessed with a big garden. If space is tight, but you still want an outdoor kitchen opt for multifunctional furniture and multipurpose appliances that can perform several functions. The Charlie Oven (above) is an all-in-one charcoal BBQ, pizza oven, smoker and grill, and a standout piece of kit too. Available in a range of bold colours (as well as professional and tabletop options), it's guaranteed to elevate any space. From €5,240, Charlie Oven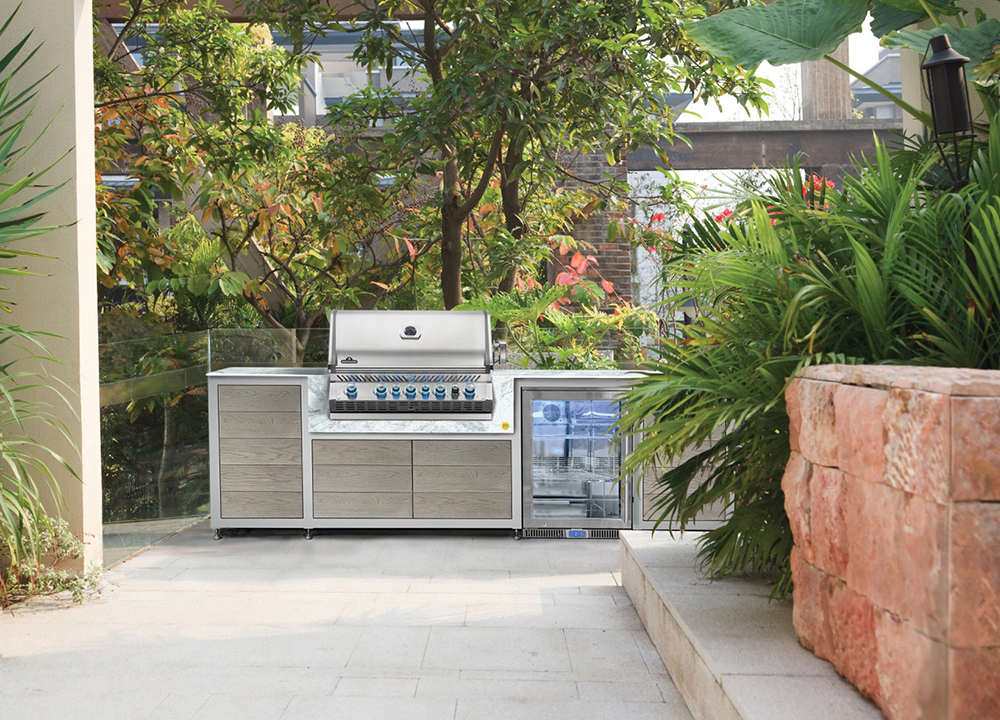 11. Invest in a bespoke design
Going bespoke outdoors is expensive but the upside is that you'll have a kitchen that suits your needs and space perfectly. Alternatively, a customised design can also give you what you want – for slightly less. Designed by multi award-winning UK designer Steve Esdaile with specifically the British (and Irish) weather in mind, EO kitchens have been created as modular units which bolt together, allowing for limitless configurations. "An outdoor kitchen is not a regular purchase, so should look as fabulous as the day it was purchased for many years to come," says Steve. "All EO kitchens are fabricated from stainless steel that is powder coated and won't rust like mild or carbon steel will. Work surfaces in Dekton are strong, UV stable and hygienic. While the Millboard frontals are a composite material that won't fade, warp or rot. And are resistant to food and drink stains."
Above: Customisable modular outdoor kitchens fabricated from stainless and powder coated, EO. Outdoor Kitchens; available in Ireland from Outdoor Scene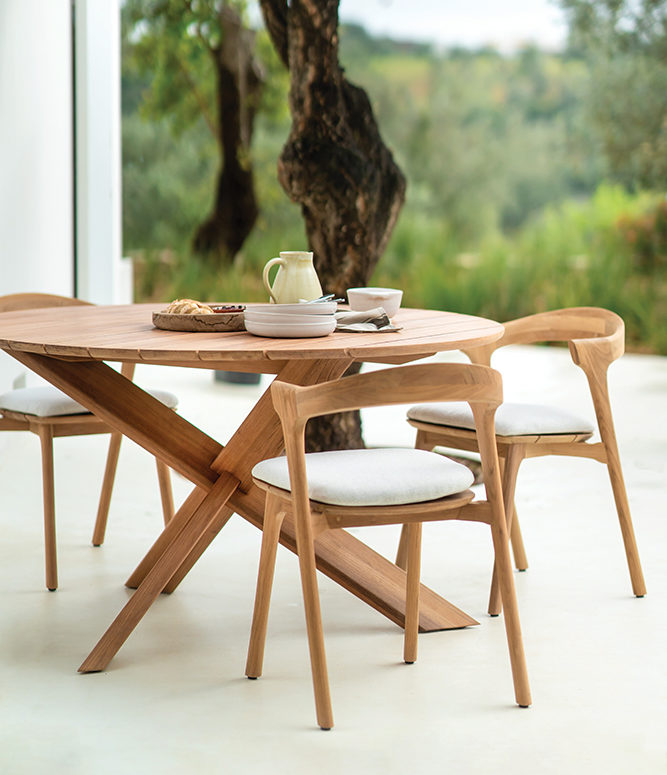 12. Factor in furniture
Part of the fun of cooking outdoors is making space for socialising and entertaining – and you'll need furniture to do that. If you're spending big money on a kitchen you don't want to be let down by nasty plastic seating. These gorgeous solid teak Ethnicraft tables and chairs are a proper investment, and will certainly help take your space to the next level.
Above: Circle outdoor dining table, (136cm), €2,349, Bok outdoor dining chair, €638.10, CA Design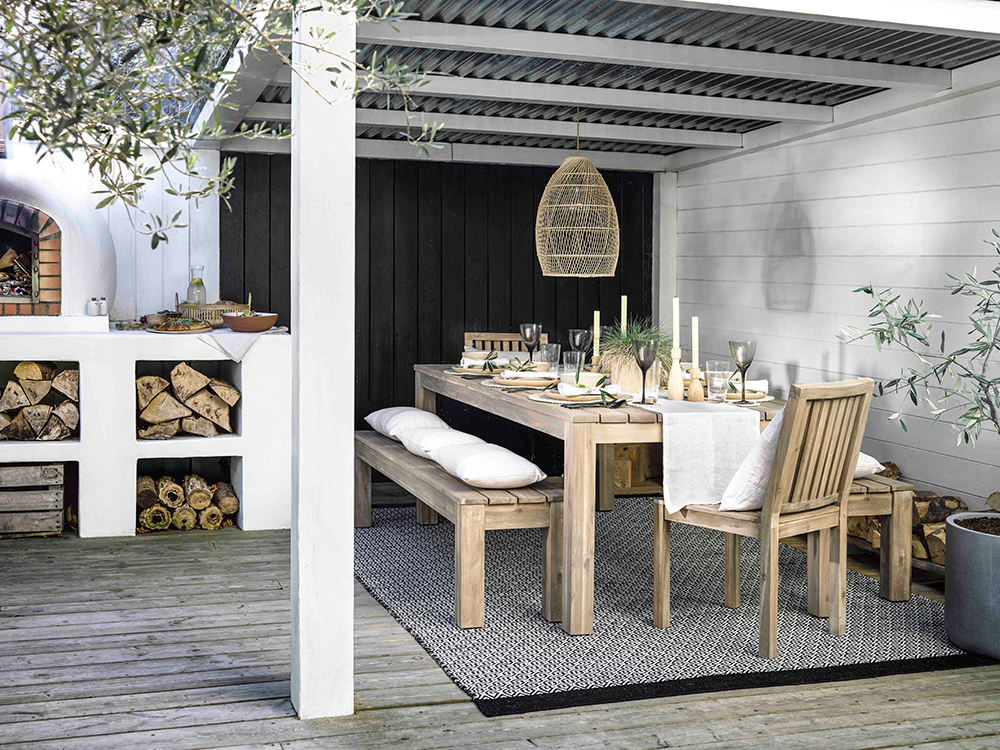 13. Build it yourself
Don't have the cash to splash on a bespoke outdoor kitchen? Why not build your own? It can be as simple as a sideboard or some shelving, or, if you're really handy, you can fashion one out of bricks – and clad in tiles or plaster.
Above: Porthallow dining table, from €990, Porthallow bench, from €699, Porthallow pair of dining chairs, from €582, Garden Trading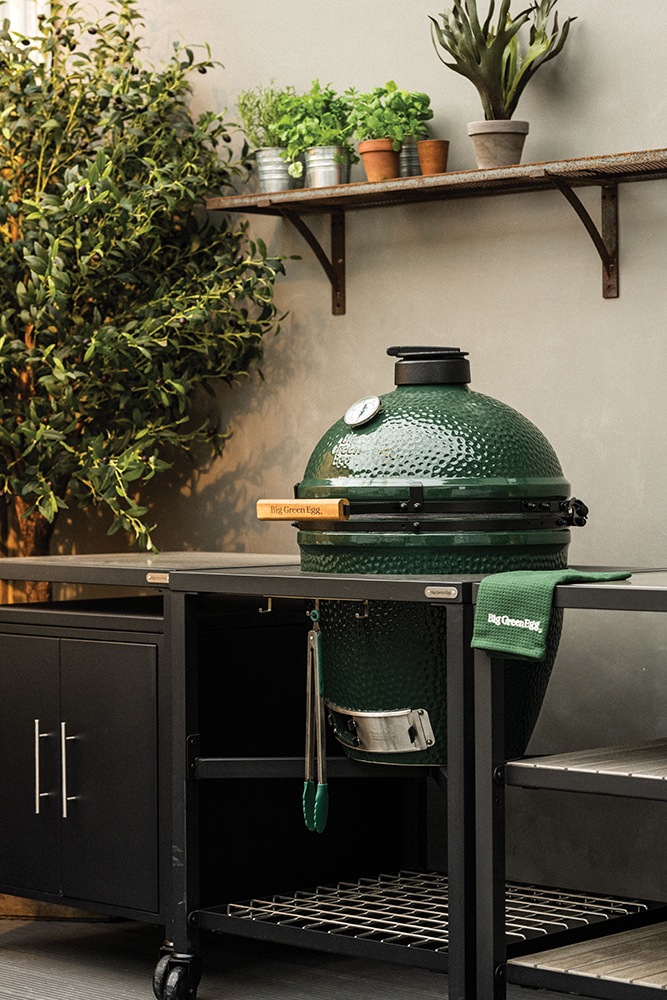 14. Let's talk about kit
If you're serious about cooking up a storm outdoors, you've got to get the right equipment – and here's where money can get blown. A barbecue is a good starting point, either portable or fixed. Although why have one when you can have two, right? Then there's pizza ovens, side burners, kamado ceramic grills, hobs, teppanyaki plates, fridges, wine coolers, dishwashers, a beer tap – the list goes on. Brand names matter too. Is your kitchen really a kitchen if you don't have a Big Green Egg?
Large Big Green Egg, from €1,600, The Garden House
Looking for more garden advice? Don't miss our recent series for making the most of your outdoor space, starting with How to...bring your indoor plants outside.
Share This Article