A renovation budget breakdown can be one of the stumbling blocks when it comes to starting to plan your a big room makeover at home. Knowing what you want the room to be is a separate ball game to knowing what you can afford. We ask the experts about what you need to set aside for the kitchen, bathroom or attic renovation of your dreams!
KITCHENS: WHAT CAN I GET FOR €30,000?
"Don't forget that plumbing, electrical, lighting, flooring and painting are all needed when renovating your kitchen but for the units, appliances and stone worktops, you should set aside the following," says Dave Fagan, brand manager of Kube Kitchens.
Kitchen units      €10,000 to €12,000
Appliances           €4,000 (from high-end brands such as Neff or Siemens)
Stone worktops €4,000
BATHROOMS: WHAT CAN I GET FOR €14,000?
"When it comes to updating bathrooms people today are aiming to recreate the spa hotel-style bathing experience at home," says bath and tiling expert Aisling O'Reilly of Dublin's Tile Merchant. Here's Aisling's budget breakdown.
Pump and Shower (€1,450) 
Many people are replacing old-style electric showers with a high-powered pump and a large rainfall-style shower head, so a generous hotel style shower can be enjoyed at home. The German-engineered Grohe range, found in many of Europe's hotel chains, are a popular choice.
Shower Tray and Door (€800)
Bath tubs are being replaced by large shower units of around 1.7m in length, so there is plenty of room to relish those rainfall-style shower heads.
Wall hung toilet and frame (€750)
No longer floor-bound, toilets are now wall-hung, rimless and free floating. This has the advantage not only of creating an element of space in a bathroom by making the floor area appear larger, it also makes floor cleaning much easier.
Wall hung vanity and tap (€750)
Vanity and tap units are now free-floating and wall-hung, a move which immediately makes a bathroom feel larger, as well as being easier to keep clean.
Mirror (€400)
Steamy mirrors are no more. Illuminated anti-steam mirrors, that come supplied with internal heat pads, so your mirror never steams up.
Radiator (€450)
Chrome radiators are over, it seems. The latest in dark and dramatic, anthracite wall radiators look so good and are becoming artistic statements in themselves.
Spots (€450)
Consider the specially-created inset ceiling lights and spot lights for bathrooms as they will provide particularly tasteful illumination in your washroom.
Fan (€200) 
Good fan extraction is essential in a bathroom to remove steam and eliminate the possibility of mould.
Accessories (€200)
High-quality towel rails, toilet roll holders and tooth brush holders all add to that sought-after luxury look so consider a generous allowance for those little extras.
Tiles, tanking, adhesive and trims (€1,700)
The tiles you choose can really make your bathroom something special and this allowance gives you plenty of options when it comes to creating the look you want on your walls and floors.
Labour (between €3500-€6000)
€3,500 and €6,000, depending on the room size, should be enough to cover the cost of ripping out old bathroom fittings and replacing the new ones, along with skip hire and updating your bathroom electrics.
ATTICS: WHAT CAN I GET FOR €17,500? (based on a standard 3 bed semi-detached house)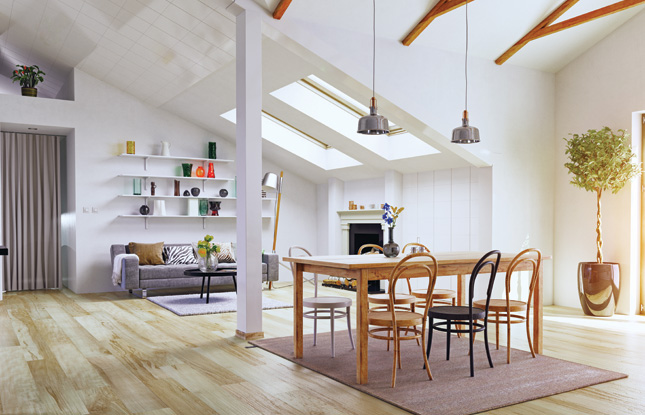 "There are many things to consider once you decide to convert your attic. What your needs are now, and what they may be in the future," says Paul Carroll of Attic Architects. Here, Paul gives us a breakdown of where your budget will go.
Survey and feasibility study (Free)
Plumbing works (€760): Moving of cold water storage tanks and pipes to the new location in the eaves space. Fix pipes for new radiator and insert a new double panel radiator with thermostatic valves.
Windows (€2,690): This is for three Velux windows, two fire escape models with new noise reduction technology, including blackout blinds. One number fitted over new stairs to light landing.
Insulation (€2,200): Rigid insulation in roof and new structural walls and insulation to floor.
Structural alterations (€2,800): RSJ steels to support the roof, structural joists and steel hangers.
Storage (€450): A new structural plywood floor in eave space to include fire rated access panels.
Plastering (€1,400): A skim coat on the attic also includes works around new stairs.
Internal alterations (€900): New partitions and frame to attic space, internal partitions to be demolished and new partition to be built to accommodate new stairs.
Electrics (€1,150): Recessed LED spot lights. Double sockets and two-way switching from old to new landings. Insertion of smoke alarms and data points.
Engineer fees (€650)
Joinery (€2,700): A matching stairs to the new third floor, fire door with stainless steel furniture, skirting and architrave, newels and spindles.
Finishes (€1,800): Painting and decorating, carpet or wood flooring.
NOTE: In some cases, planning permission maybe required, especially where a dormer construction is concerned. When an en suite is required, this can add an extra €4,900 to the cost.
Total cost incl vat (at 13.5%) - €19,862.5