Money is one of the most painful parts of any renovation, so Róisín Carabine's outlined a renovation project price guide for 11 typical projects to help you budget accurately and avoid unnecessary overspending
Whether you're planning to re-roof your home, install a new bathroom or add an extension, setting a budget and sticking to it is key. But allocating funds accurately can be tricky, especially if you don't have a clue what things cost.
To help you get to grips with spending we've put together a handy renovation project price guide, project by project, with tips and advice from the experts on how to manage your money successfully.
As with any renovation project though, be prepared to compromise and don't forget to set aside a contingency budget – chances are you'll need it!
Renovation project price guide: Installing a new kitchen
When it comes to kitchens, there's often a huge gulf between budget and expectations, which is why careful pre-planning is essential. Start by consulting in great detail with your kitchen designer or architect.
At the lower end of the kitchen cost scale, replacing doors and drawer fronts will cost from €30 each. Respray the units from just under €1,000.
For an entry-level flat-pack kitchen complete with new appliances, splashback and worktops, expect to pay around €5,000.
Installation can cost from €1,500+ depending on the size and complexity of the job.
Classic profile laminate worktops start from around €140 per 4.1 m length. Expect to pay from €3,000 per linear metre for Carrara marble.
A bespoke, handcrafted kitchen can cost from €40,000 upwards (€26,000 on cabinetry; €8,000 on appliances: €6,000 on worktops)
Renovation project price guide: Installing a new bathroom
Creating a well-designed bathroom can make a big difference to the feel of your home, as well as adding value. The costs will depend on the size of the space, the quality and style of fittings and plumbing requirements.
For a basic refit including new bath and taps, shower and enclosure, toilet and tiling, expect to pay around €5,000.
A luxury refit with wall-hung sanitaryware will cost upwards of €10,000.
A wetroom will set you back around €12,000 – €6,000 of this will be spent on installation alone.
Installation and labour can cost as much as 40% of your budget. A plumber should be able to retrofit a bathroom in two or three days.
Tiling can cost around €80 sq m
Renovation project price guide: Converting the attic
Provided your loft space isn't overrun with trusses, this is one of the easiest ways to add extra rooms. Costs vary widely when it comes to the type of conversion: non-habitable or habitable. The latter is more disruptive and costlier as it also requires upgrading staircases to fire-resistant standard and replacing doors at first floor level to fire-resistant self-closing ones.
A basic, 'non-habitable' conversion that can be used as a bedroom, office or teenage den, around €15,000
A 'habitable' conversion, approximately €25,000
Adding an en suite bathroom, add an extra €5,000+
Customised storage, €2,000+
Renovation project price guide: Adding an extension
The perfect way to get much-needed space without having to move. Cost can vary hugely depending on the size, spec and complexity of what you want and the condition of your existing house. Professional fees, (if required), disconnecting and reconnecting utilities, finishes and fittings, potential site constraints and VAT, will all push up the price.
Converting an attached garage of around 20 sq m into extra living space, from €15,000-plus. (Plumbing a bathroom will add an extra €5,000). Will not usually require planning permission but it must comply with building regulations.
A single storey rear extension of around 20 to 25 sq m, encompassing an open plan living, kitchen and dining area, around €100,000. (Budget €40,000 for the actual build and €950-€1,200 per square metre for refurbishment works).
A single storey, basic flat roof side extension of 20 sq m, around €120,000.
Two-storey rear extension of 30 sq m at ground level incorporating utility and loo with 15 sq m above, around €150,000. (Making good the existing house can cost a further €100,000 depending on its condition).
Renovation project price guide: Installing heating
Upgrading your current heating system or replacing it with a new one can be daunting. Getting it right can massively improve your experience of living in your home, and potentially save you money on heating bills.
Install an electric heat mat in your bathroom or en suite, around €
Buy an entry-level solid fuel stove with basic liner and have it installed, around €2,500.
Retrofit a 'wet' underfloor heating system (downstairs) in an average three-bed semi, around €3,200+. Ripping up and replacing existing flooring and adjusting door heights will add to the cost.
Replacing all radiators and pipework, around €6,000-€7,000. Standard radiators cost from upwards of €100 a piece to €400+ for something designer.
Switch from oil to gas heating, around €8,000. Budget around €1,000 to connect to the network and €3,500 for a new gas boiler. Installation can be fairly disruptive and making good the mess to floors, walls and décor could add an extra €5,000.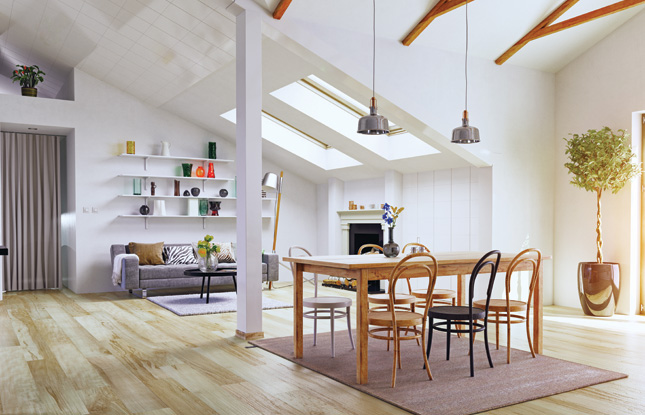 Renovation costs - the nitty gritty
Don't forget to budget for the costs of those hidden projects that make your house a home. Prioritise the jobs that need done first and in a logical order; there's no point fixing plaster in a room that will need rewiring.
REWIRE: Complete house rewire of three-bed semi from around €7,000 – including chasing walls and lifting floorboards where necessary (and making good), new cabling, sockets, pendants and smoke alarms. Dimmable switches, metal sockets, complete re-plastering, new ceiling panels, extraction fans etc will cost extra.
RE-PLASTER: Cost depends on the size of the room and how much work needs to be done in terms of preparation and finishing. Expect to pay from €400 to €700 per room for plaster; up to €1,000 with skim finish. If your walls and ceiling are in good condition and simply require resurfacing, expect to pay from €300 to €600 per room for skimming. Re-plastering a period property costs substantially more and often require the services of a specialist. Expect to pay from €500 to €950 per room for plaster and up to €1,000+ with skim finish.
PLUMBING: Depending on parts and pipework required installing a shower costs from €150 to €400; electric showers are the quickest and cheapest to install. Replacing a bath costs from €200 to €400; introducing a new bath to a room or moving its location will increase the price. Expect to pay from €150 to €400 to install a toilet; close-coupled and wall-hung loos are more expensive to install. Installing a new water tank costs from €200 to €450, with costs rising if an extra person is needed (tanks are heavy) or a new location is required.
RE-ROOF: As a guideline starting price, budget around €2,700 upwards. Costs increase if you have to repoint the chimney, replace fascia, soffits and guttering or install roof tile vents. Note too that natural slate tiles cost more than manmade, and that reroofing with smaller tiles costs substantially more as they take longer to install. A roof that's difficult to access will also add to the cost.
INSULATION: Cavity wall insulation costs from €600 to €1,000 for a three-bed semi; around €7.50 to €10.50 per square metre. External wall insulation is around €9,500; up to €25,000 for a large detached house. Internal wall insulation ranges between €4,500 and €18,000, however the payback period is still quite long.
NEW WINDOWS: Double glazing for a three-bed semi costs around €3,500 to €6,000. UPVC frames are the cheapest option; wood or aluminium costs are significantly higher. Sliding patio doors cost from around €1,350; bi-fold doors start from around €1,700.
Renovation costs: useful info
Grants: For available grants for energy upgrading of existing homes visit Seai.ie. The Living City Initiative (Revenue.ie) is a tax incentive scheme to assist and encourage people to live in inner city areas of Dublin City.
Calculating costs: Greener.ie, Boards.ie and Helpers.ie are useful sites for researching estimated costs for various renovation projects such as plumbing, plastering, etc.
Publications: Make the Home You Love by Fiona McPhillips with Colm Doyle, Lisa McVeigh and John Flood is a complete guide to home designs, renovations and extensions in Ireland.
Trades: Riai.ie has a detailed directory of architects by county and skill. ie is a network of RIAI registered architects that offer a cost-effective pay-as-you-go menu of architectural services. Find trades and get quotes for jobs on Tradesmen.ie, Tradesconnect.ie and BNI Ireland (Bni.ie).
Good to know: "For every project, no matter how small, put together a detailed cost plan of all the costs you are likely to incur. Don't forget to include professional fees, contingency budget, utility connections and VAT. Refer to it throughout the project and update as you go," says Colm Doyle, director, DMVF Architects, Dublin.
Worried about renovation costs? Make sure to keep an eye out for these 11 hidden costs that often catch people