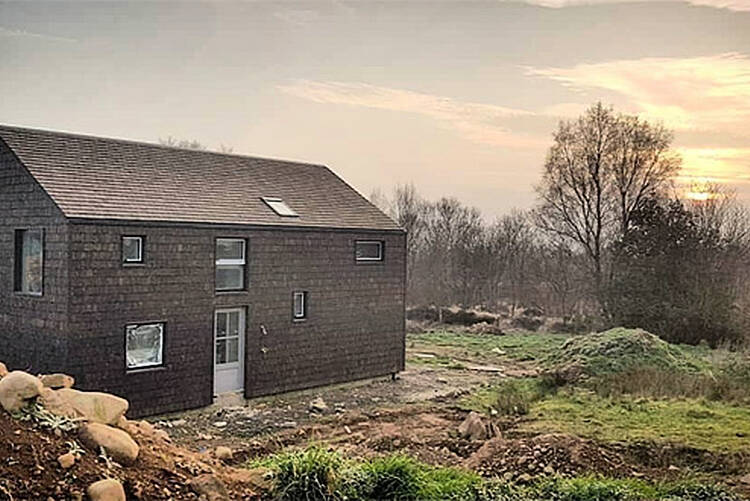 It's time! We're announcing our full shortlists for the Interior Influence 2019 Awards, celebrating Ireland's online creative community in House and Home style. We wanted to shine a light on all of our incredible nominees - and believe us, there is A LOT of talent out there - by introducing you to the shortlisted accounts in every category. 
Self-build Instagram accounts can be a lifesaver for anyone planning or in the process of their own build as they can provide useful, actionable advice as well as inspiration and guidance. This is the shortlist for the Best Self-Build accounts that inspire a nation of self-builders, sponsored by Sonas Bathrooms.

In alphabetical order, these are the 23 Irish self-build Instagram accounts that have captivated and inspired followers.
Name: Caroline - @ahousebythetrees
Following: 41.4k
About: Influencer Caroline Hassett and her husband took on the momentous task of building their own home in Co Tipperary. Now completed, she has shared with her followers all her tips and tricks for self-building.
Name: Laura-Ann - @all.thats.pretty
Following: 78.8k
About: Laura-Ann and her family have been enjoying sharing country life since their self build project was 'completed' and now she's giving away all her décor styling tips.
Name: @anirishcountryselfbuild
Following: 7,556
About: Having recently 'completed' their own self-build, @anirishcountryselfbuild is now documenting the next stage of their journey aswell as their family member's self-build next door.
Name: Donna & Ray -  @building_cappacurry
Following: 2,131
About: Having got their planning permission secured in 2019, Donna and Ray are sharing each step of their self-build, from room planning to interiors inspiration.
Name: Helena - @building_eden_house
Following: 6,084
About: Brick by brick, Helena is logging every step of the Northern Ireland contemporary Georgian farmhouse self-build.
Name: Emma, Kev and Chippy - @buildingthecrowleyhomestead
Following: 1,718
About: They officially broke ground at the end of November 2018 on their modern farmhouse and homeowners Emma and Kev have been noting the big stages of their self-build.
Name: Triona - @cheringtonhouse
Following: 33.2k
About: After a nine-month build last year, Triona and her family have completed their self build and now they're onto the fun bit - putting the finishing touches to the interiors!
Name: Stephanie and Graham -@coallanehouse
Following: 1,696
About: Owned by an architect and interior designer duo, this is an expert journey. Their highlights show their progress from week one when they broke ground, so you won't miss any of it.
Name: Serena and Chris - @darickhouse
Following: 1,645
About: A timber-frame house with some interesting design features, built by a husband and wife team. He's a carpenter too, so if you've got timber-frame questions, this is your first port of call!
Name: Deirdre And Kev - @dee_and_kev_build_kilbarr_hse_
Following: 5,757
About: Husband and wife duo Kev and Deirdre are now on the home stretch and every room is beginning to come together in their self-build home.
Name: Florence and Henri -@florenceandhenri
Following: 4,269
About: Describing their new build as 'an Irish shed with a modern twist', Florence and Henri are documenting their innovative and unique home as it takes begins to take shape.
Name: Sarah - @housebythewhitethorns
Following: 20.5k
About: Sarah has been sharing snippets of her completed Ballina self-build for over the last year.
Name: Helen - @insidenumbersixteen
Following: 53k
About: Packed with interiors styling tips, Helen's Northern Ireland self-build will provide inspiration for anyone who is starting on a similar journey.
Name: Niamh - @irishselfbuild
Followers: 13k
About: From children's bedroom décor and to pantry makeover, Niamh's self-build account is full of design ideas.
Name: Anne Marie - @irishvernacularnewbuild
Following: 744
About: With unique architecture and beautiful scenery surrounding the property, Anne-Marie's self-build is an impressive and successful self-build project.
Name: Michelle - @mrsmakeup_ie
Following: 112k
About: After waiting so long for their self-build project to be completed, Michelle and her family are finally in their property and interior decorating is now in full swing.
Name: Lauren & Alex - @our_self_build_ni
Following: 53.4k
About: A beautiful completed project to keep your hopes alive when it seems like you're getting nowhere fast with your own project, this gorgeous home is owned by an interior designer so you know the inspiration will be on point.
Name: Rachel - @rachelhobbsdesigns
Following: 1,214
About: Documenting their renovation of a 100-year-old Irish farmhouse, interior designer and architect Rachel and her family are extending and putting their stamp on the property.
Name: Sarah - @sarahs_ivy_hill
Following: 4,217
About: 'Completed' just recently in April, after a ten month build, they are now working on their many undone rooms.
Name: Dan and Jessica - @seanuahouse
Following: 8,249
About: Jessica and Dan started their Irish self build journey in mid 2017 and had their housewarming after Christmas last year. They're still working on their decor, fitting floors and buying new pieces for every room, so it's far from a completed project, but a joy to watch come together.
Name: Laura - @thebrambledboreen
Following: 1,627
About: As an ex-interior designer for Ikea, you can trust that Laura's self-build home will be one worth nothing.
Name: Gareth - @thehouseinthehollow
Following: 20.3k
About: Planning a self-build is no mean feat but as an architect, Gareth has managed to incorporate some incredible features and structures into his build.
Name: @theselfiebuild
Following: 1,507
About: Since started their build in October 2018, @theselfiebuild have been offering advice throughout different stages of the process, from furniture shopping to material sourcing.
Download your 'Shortlisted' badge for The Best Self-Build Award: