If you're feeling a little shy when it comes to colourful interiors at home, looking to one of the most colourful Irish homes on Instagram would probably be jumping in at the deep end.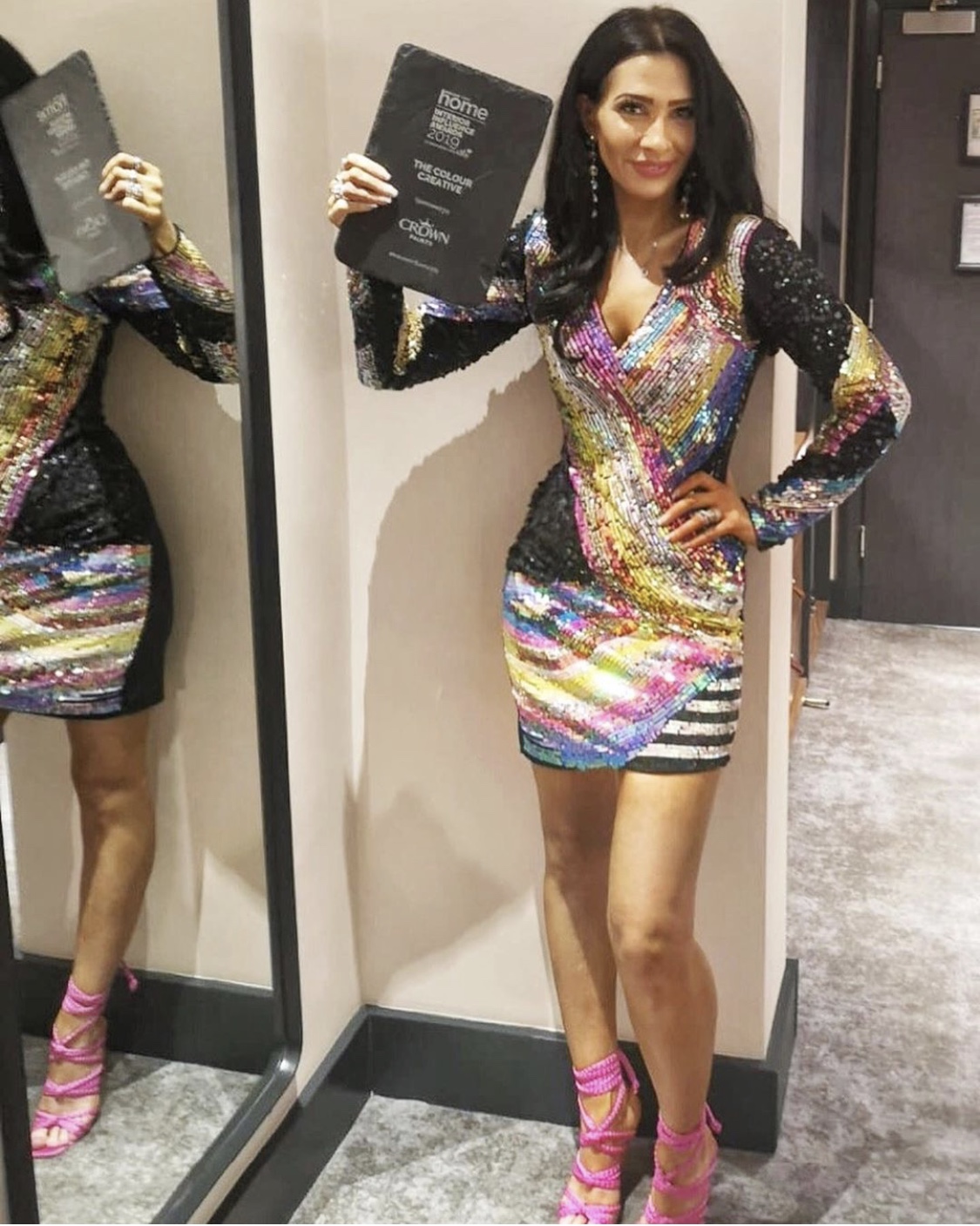 Gill Corrigan, owner of @rowans_rainbow, was our Colour Creative Award, sponsored by Crown Paints, at the Interior Influence Awards 2019 - so her colourful interiors creds are strong. However, her home wasn't always such a rainbow - everyone starts somewhere.
We've asked Gill for her five biggest tips for being a little braver when it comes to colourful interiors. Get ready to get little bolder with colour in your home!
1. START SMALL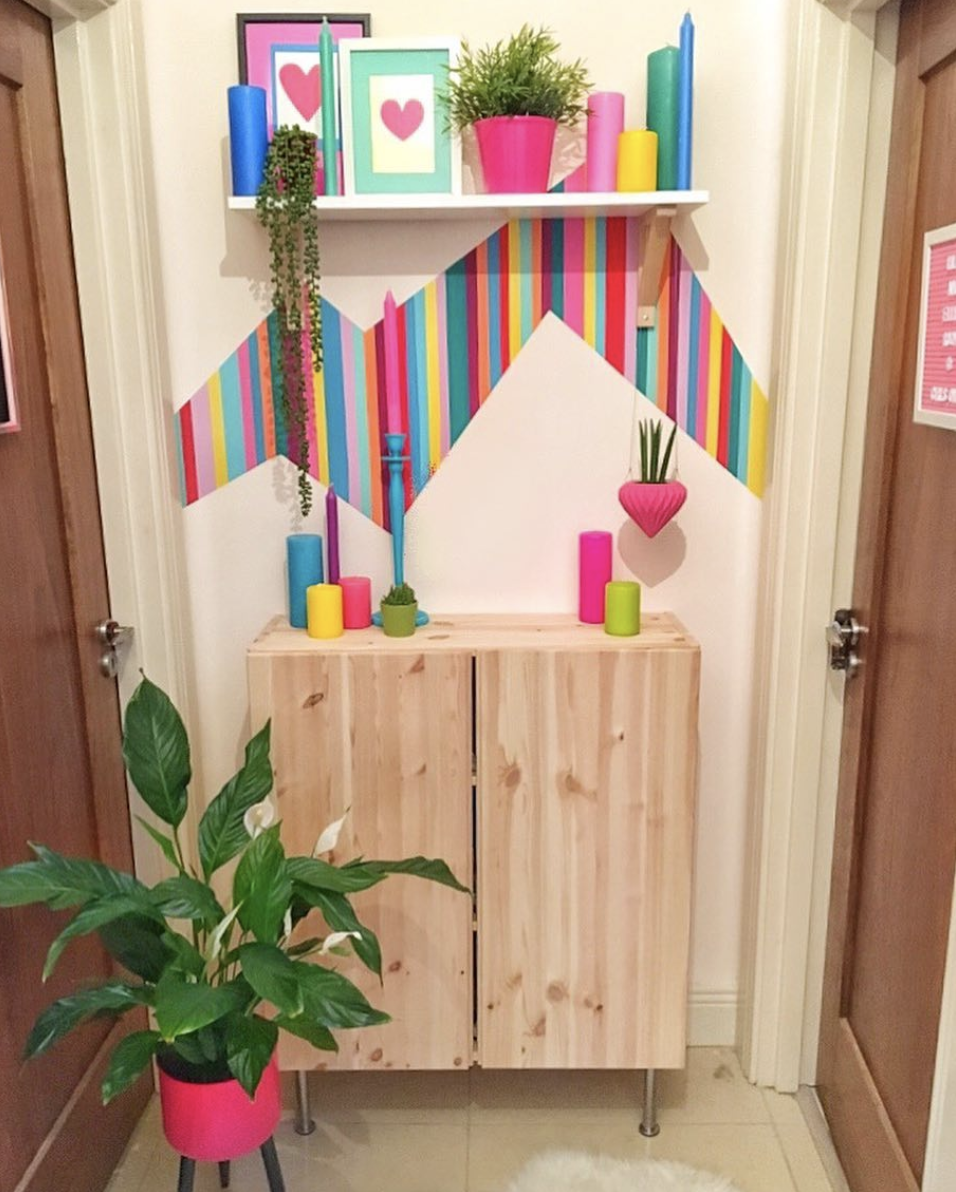 Believe it or not, I started my own colourful interiors journey just over a year ago in my totally neutral, magnolia, new home. It's so hard to know where to start when it comes to adding colour and can be overwhelming when faced with a total blank canvas but my advice is to start small.
Buy some colourful candles and some vibrant plant pots and baskets. Add some pompoms and tassels to some existing textiles and see how that feels and what colours suit you and your space. Then you can start to move on to the more expensive bits like cushions and throws.
Think rugs, curtains and prints to give effective colour pops. And personally I adore the colour a beautiful house plant or a gorgeous bunch of flowers can add.
2. KEEP THE BIG THINGS NEUTRAL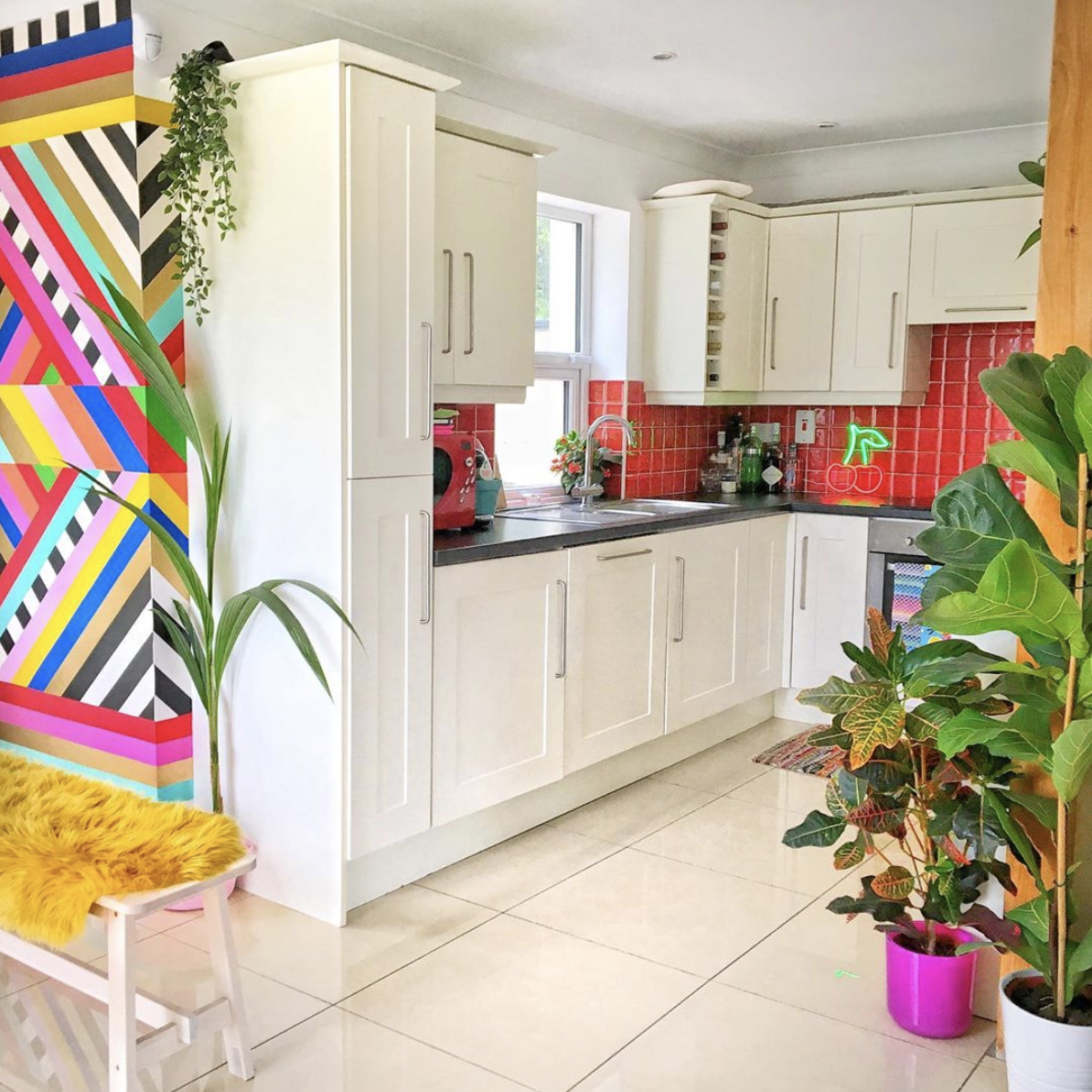 This might seem like unusual advice while we are talking about adding colour but in my opinion it is one of the most important things to consider.
While my home is most definitely colourful all of my big items and expensive purchases have been neutral. My floors, sofas, wardrobes and a lot of my furniture is white. Keeping "the bones" of your home neutral makes adding colour a breeze as anything will match.
A backdrop of neutral items also ensures colour does not become too overpowering. Also for me, probably the best thing about a neutral base is how easily you can change up the colour schemes without great expense.
3. PAINT A WALL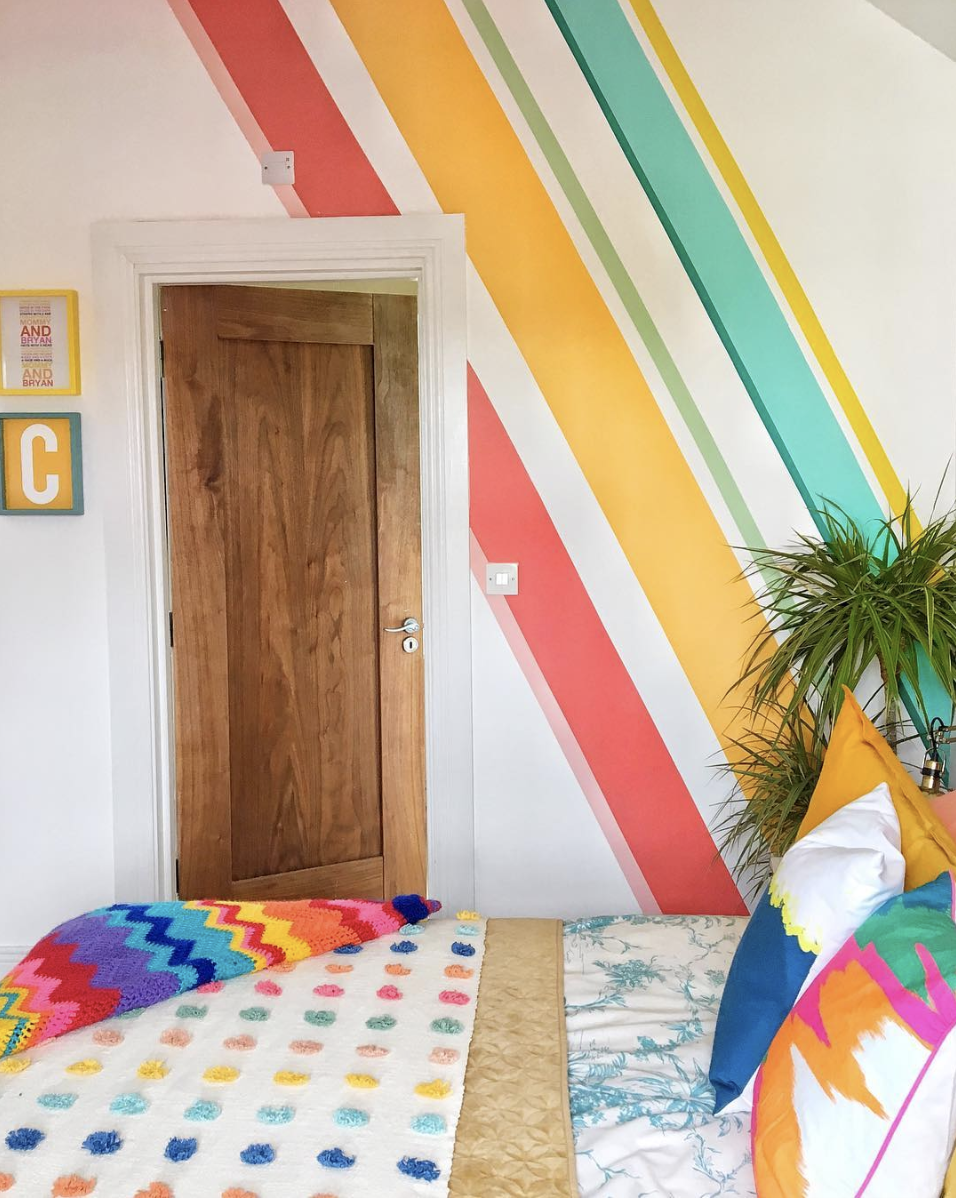 Paint is the most effective way to add colour to any space. It is inexpensive too, especially when doing smaller areas or using the vast array of tester pots that are available in any DIY store.
A solid colour can totally transform a room but remember to think outside the box - a mural or some simple colour blocking can become an amazing colourful feature and even some simple stripes can add interest to an area while adding just the right amount of colour and bringing your scheme together too.
4. TRY SOME ART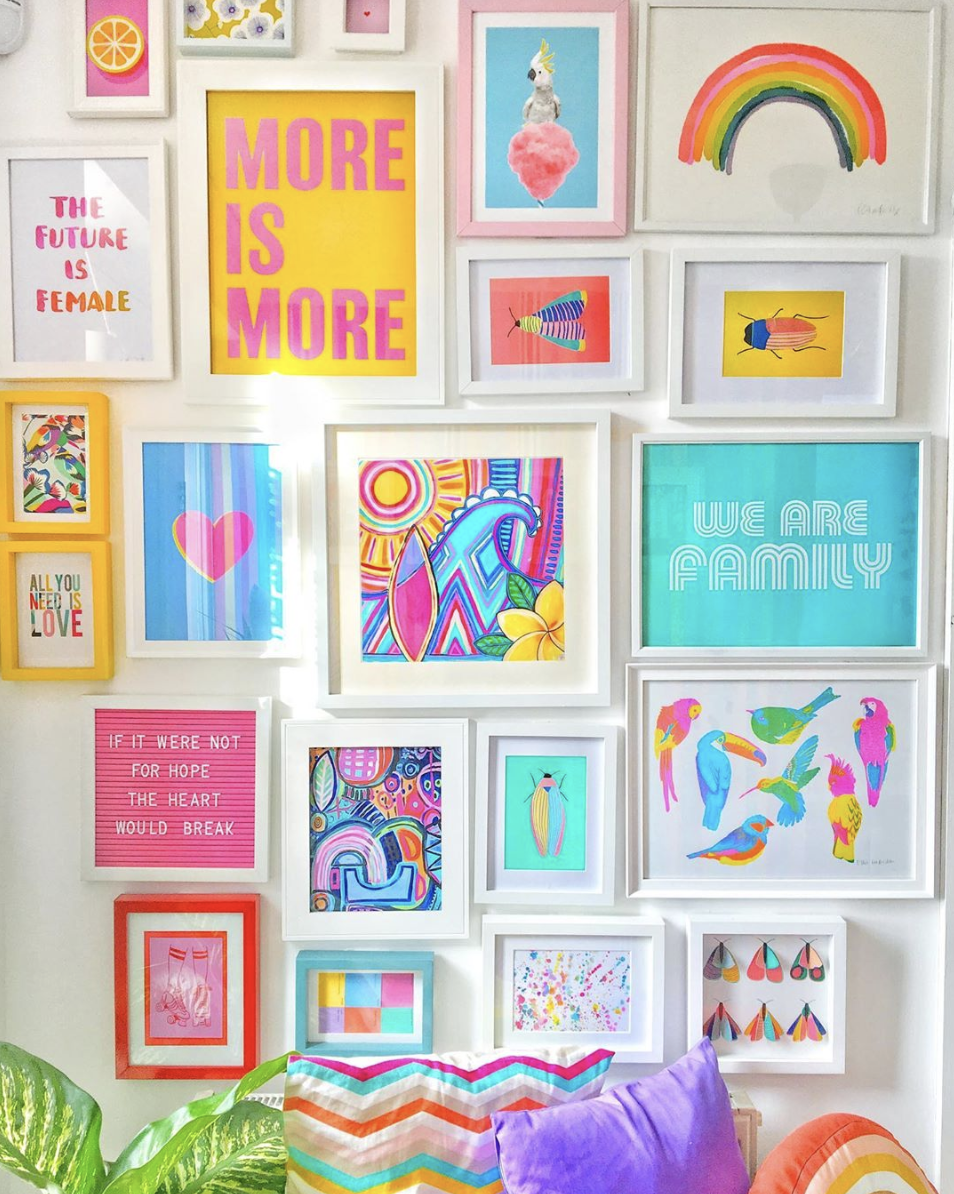 Prints and poster companies are offering an endless choice of colourful art works to suit any size room and any budget. I love to pair a large poster print with a simple white frame to add colour.
A gallery wall is another way to use a collection of your favourite art and meaningful pieces to make a huge colourful impact. You can even frame cards, postcards and create your own art to add to the gallery.
Another recent project I worked on was my removable and rearrangeable mural. I used 12 budget friendly canvases to create one huge piece of art that gave the same effect as a giant mural without the commitment of actually painting the wall. This one is perfect for renters too!
5. START WITH THE KIDS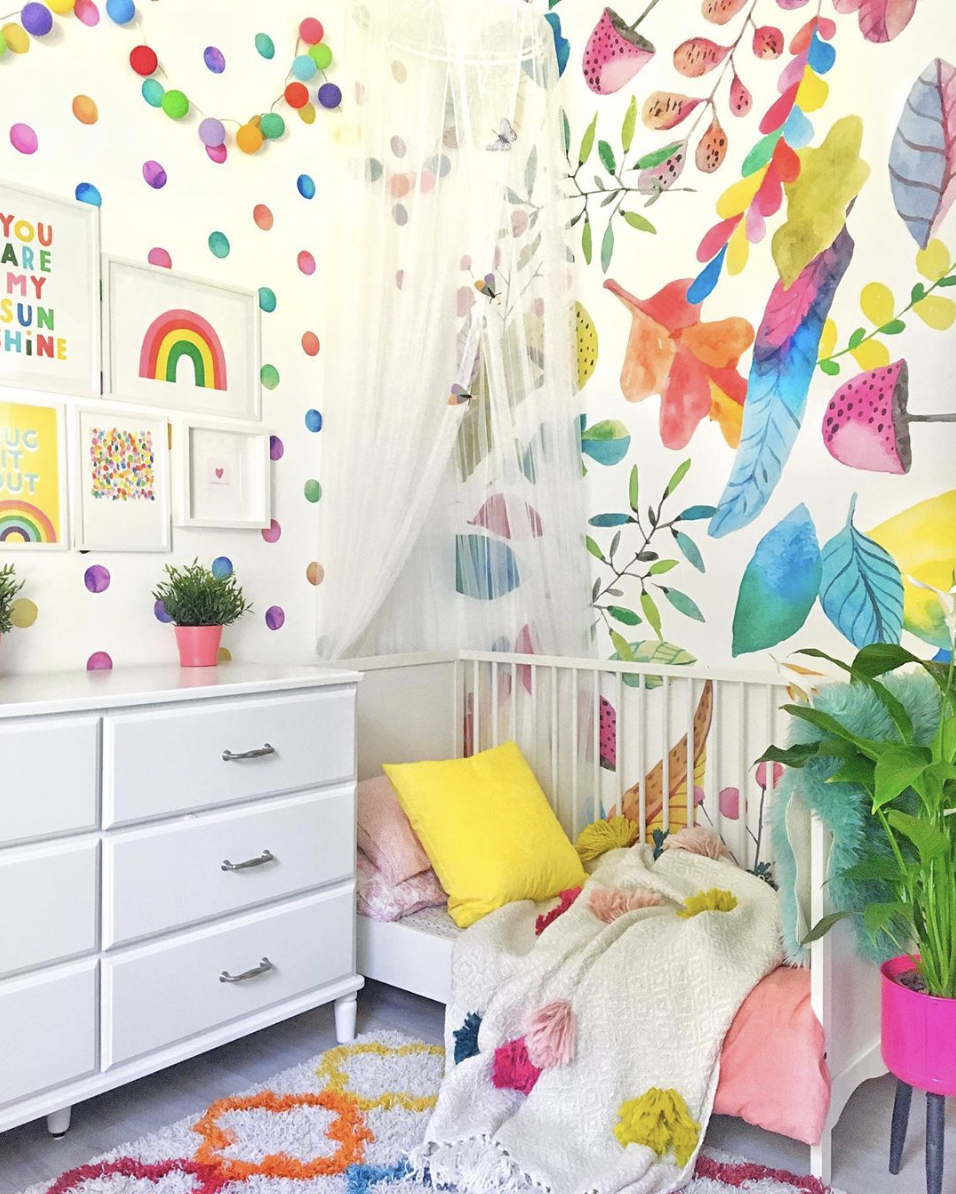 If you have children, then their rooms are the perfect place to start your own colour transformation. There is no room in the house that is more fun and easier to add colour to.
You can let your imagination run wild and let the kids join in with picking colours and accessories too. I have used large painted wooden letters to spell their names and removable wallpaper in fabulous designs.
You can also let loose with decals before adding the fun stuff like fairy lights, garlands and shaped rugs and cushions. Don't forget paper decorations like pompoms and lanterns too, which are high impact and low cost!
You might also like: 7 top tips for making a house a home, according to Laura Magee
Share This Article