Fried eggs are a pretty essential part of a decent fry up, but getting them juuuust right is quite tricky. You want a slightly crisped bottom and a runny yoke, but crucially, you want it to be cooked on top so there's no wobbly egg white left for you to contend with.
According to Masterchef UK finalists Billy Wright and Jack Layer, there is a very easy way to get everything you want when it comes to the perfect fried eggs. And, it only involves one more step than what you're probably already doing when it comes to frying eggs.
The trick? Place a lid over your eggs while you're frying them. Simple, right? But it makes sense. Speaking to The Mirror, the duo said using this trick will "seal the top, [resulting in] a perfect yolk but none of the undercooked white." Ideal!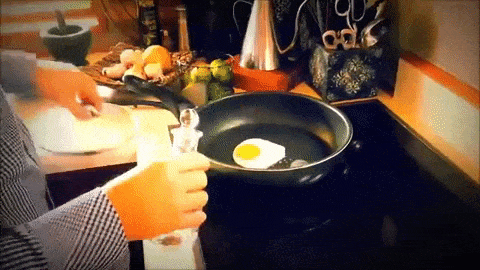 There are a few other pointers the Masterchef pair offered to perfect your fried egg skills: "The trick is loads of spitting hot oil, rapeseed or vegetable oil ideally, which is hot enough that the egg has to crackle when it goes in and enough cover the pan, almost shallow fry territory, no messing here."
This last point is something other chefs can get on board with, with many suggesting you tip the pan and spoon the hot oil back over the top of your egg. Popularised by Jose Andres, what you have to do is heat up four tablespoons of olive oil, tip the pan, slide an egg into the oil, and then spoon the hot oil back on the top of the egg.
So there you have it - turns out it's not that hard after all to get the perfect fried eggs. May your breakfast fries over the weekend be on another level after this!
While we have you... Get chef-perfect scrambled eggs with this easy recipe
Share This Article