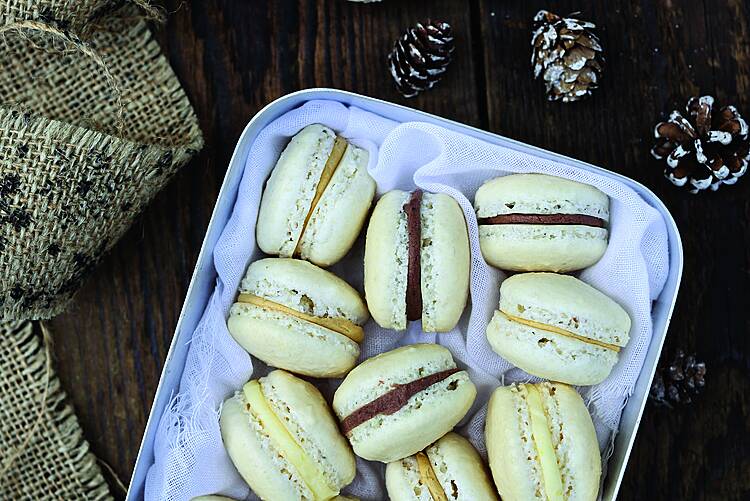 These hazelnut macarons, by Darina Allen, would make a great Christmas pressie for any visitors you have popping by (or may be visiting) on the run up to the 25th. Wrap a stack in cellophane and tie with nice ribbon and you're away.
What you'll need:
50 whole hazelnuts 4 egg whites, preferably free-range and organic
250g (9oz) vanilla sugar
250g (9oz) hazelnuts
(Makes 50 approx.)
Method:
Preheat the oven to 190°C/375°F/gas mark 5. Cover two or three baking sheets with silicone paper.
Place the whole hazelnuts on an unlined baking tray and roast in the oven for 15–20 minutes, or until the skins loosen. Remove from the oven and rub off the skins in a tea towel. Grate in a nut mill or whizz with a little of the sugar in a food processor until quite fine.
Whisk the egg with the caster sugar until they hold a stiff peak. Fold in the grated hazelnuts. Drop a teaspoon of the mixture onto the baking sheets and top each one with a toasted whole hazelnut. Bake in the preheated oven for 40 minutes approx. Cool on a wire rack.
These biscuits may be stored in an airtight tin for two to three weeks.
The new, revised edition of A Simply Delicious Christmas by Darina Allen is published by Gill & Macmillan for €27.99. It is available from all good bookshops nationwide.