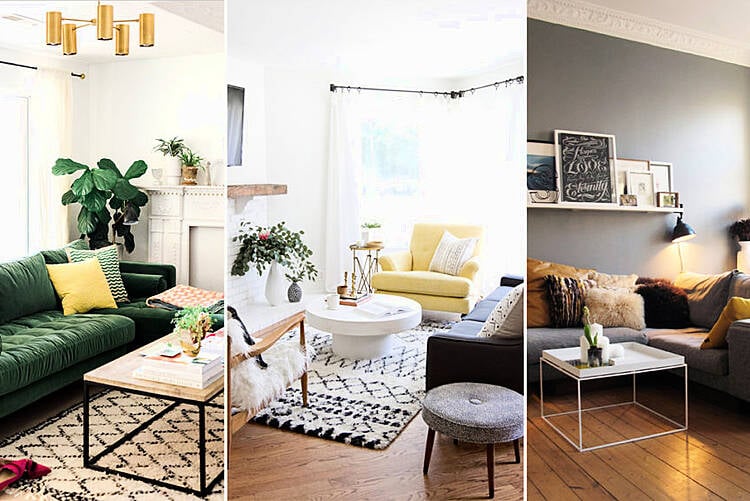 Living rooms tend to be one of the most used rooms in your home (next to the kitchen, that is), so it's important to make yours cosy and inviting. We've done the legwork for you, and rounded up ten of our absolute dream living rooms!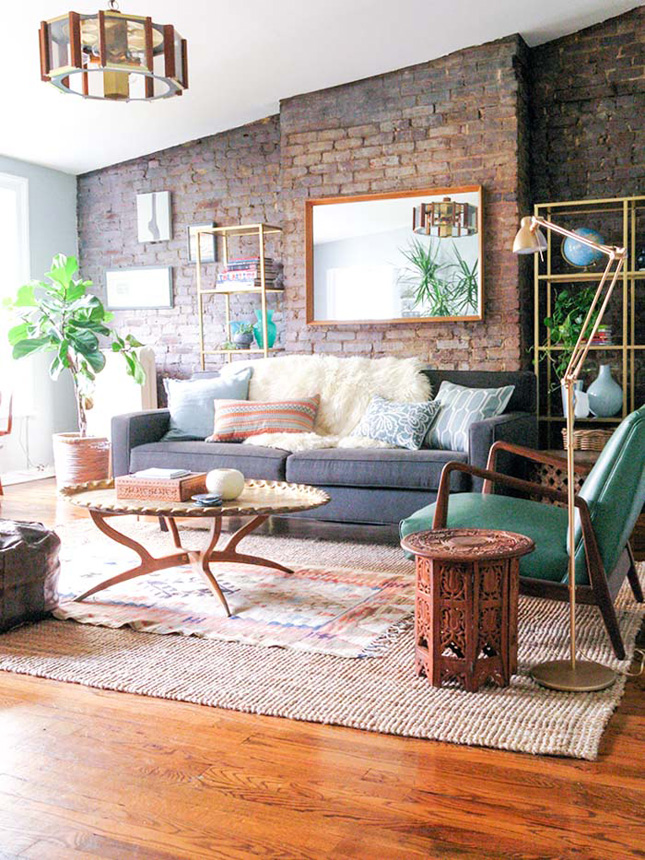 Image via: Designsponge.com
We're big fans of boho-styled living rooms, and this one's a doozy. Everything from the sheepskin throw, to the awesome tribal rug, exposed brick wall and potted plants, screams relaxed, boho vibes.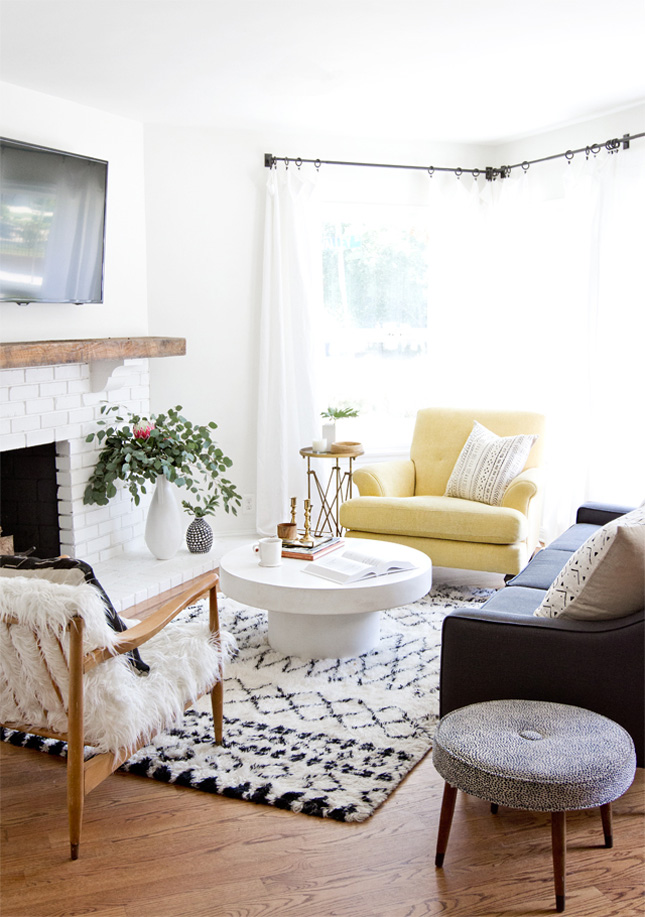 Image via: Sarahshermansamuel.com
Nothing beats a bright white room, it gives you a totally blank canvas to play with - plenty of room for colourful accessories, like this lemon statement chair.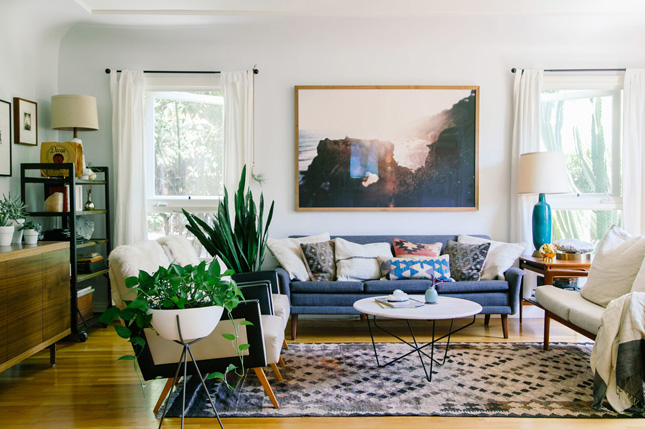 Image via: Oldbrandnew.com
If you have a wooden floor in your living room, a large rug is the easiest way to turn it from cold to cosy, in no time at all. You won't even have to put on the heating - bonus!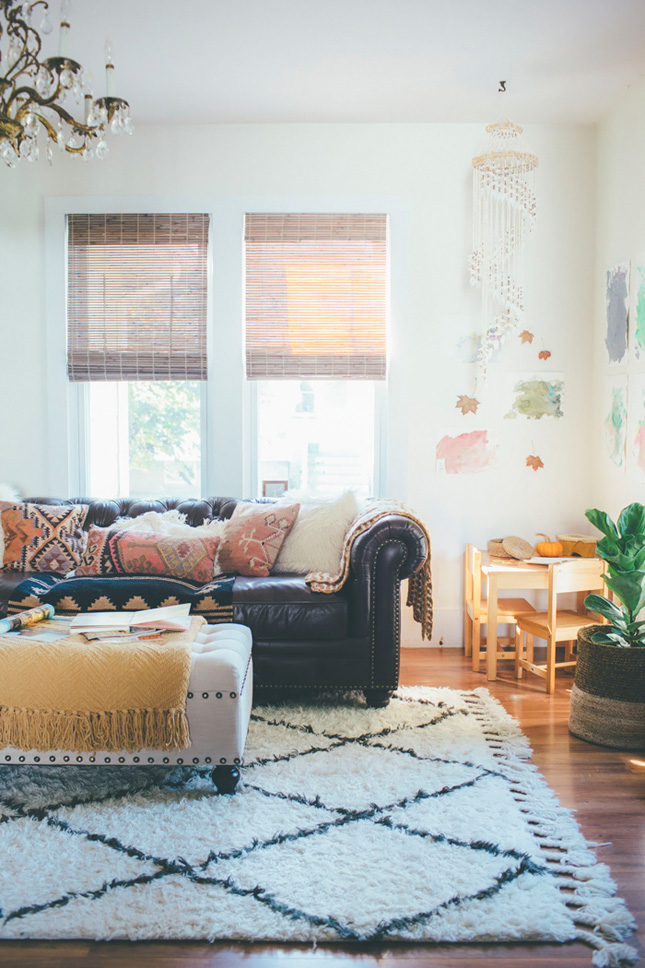 Image via: Thoughtsfromalice.com
Keeping with the boho theme - how unbelievably cosy does this living room look? We could definitely see ourselves curling up with a good book, here.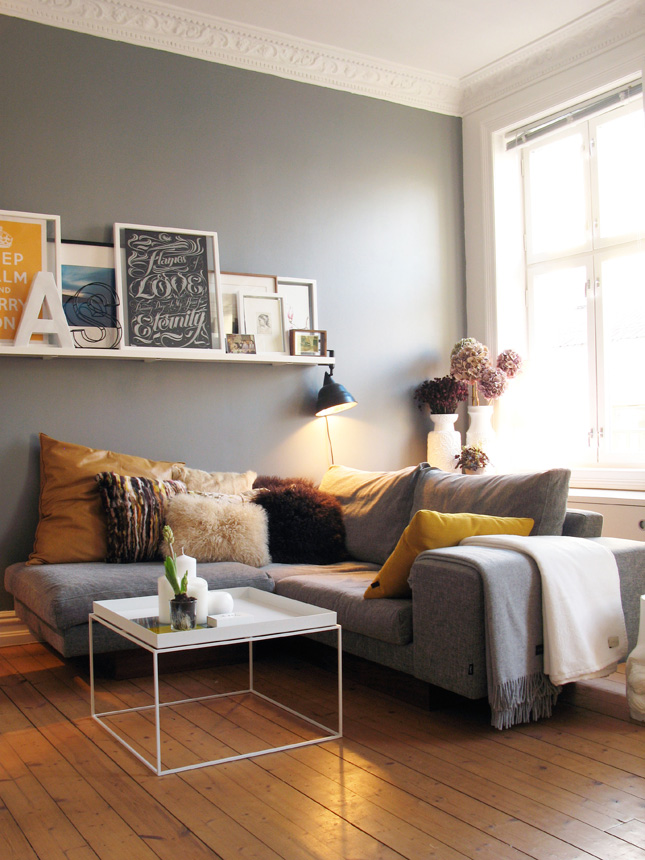 Image via: Welke.nl
Mustard has been pretty much the colour of autumn, and we're digging these statement mustard accessories - keep the rest of the room pretty neutral and you're on to a winner.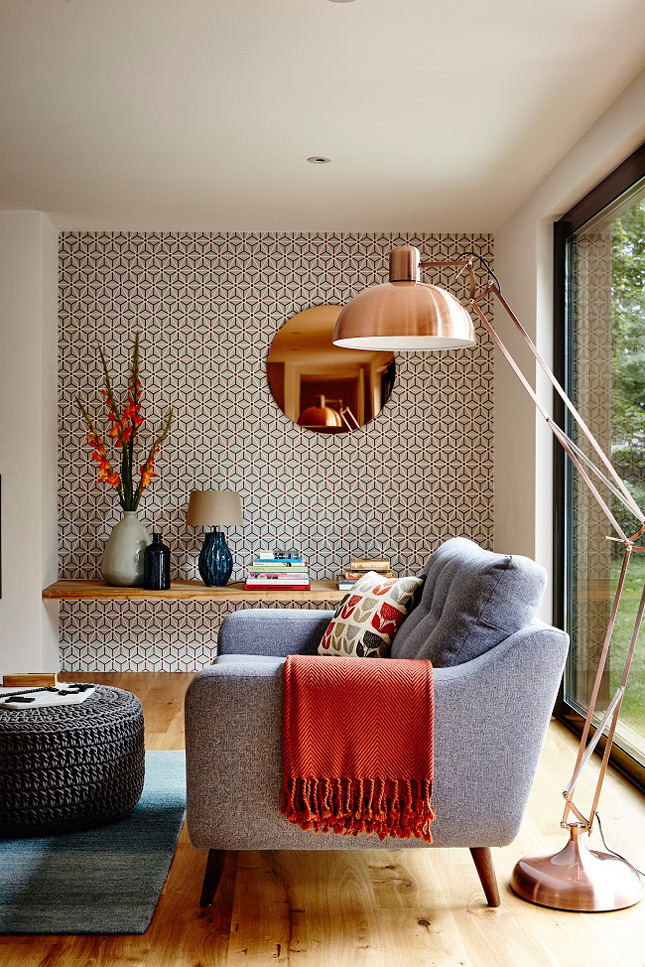 Image via: Homegirllondon.com
Throwing it back to the 70s with burnt orange, teal, copper and geometric wallpaper - we're obsessed!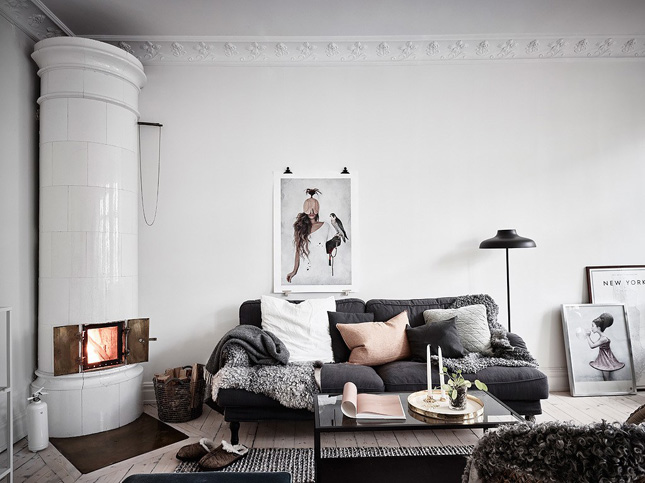 Image via: Entrancemakleri.se | Photographer: Andersbergstedt.com
White, grey and blush pink? This is playing into our hands! We love the exposed wooden floorboards and paintings just sitting up against the wall - they give the room a rustic, almost undone look, that's really on trend.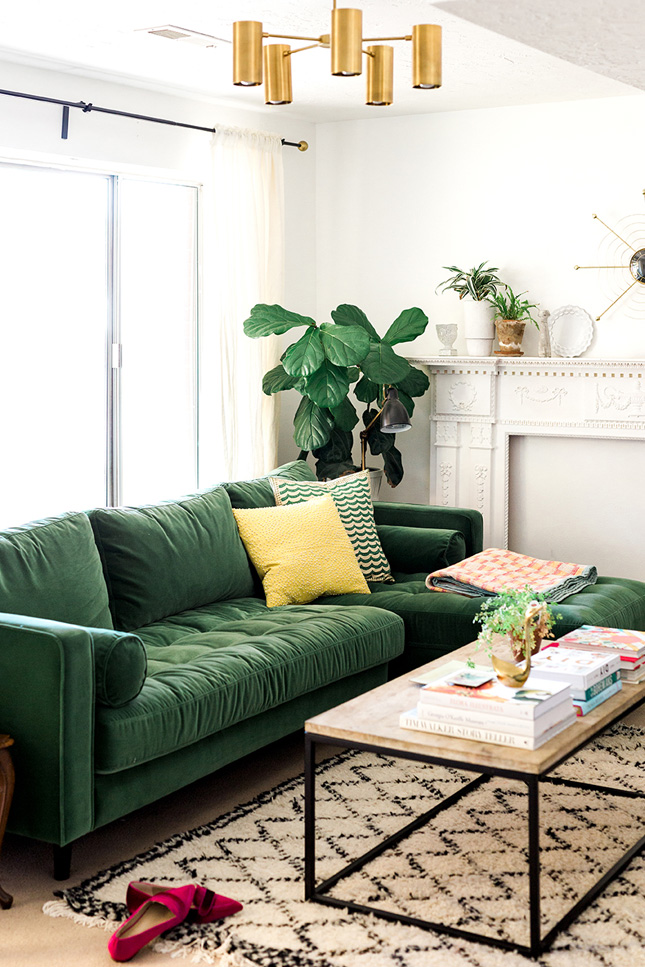 Image via: Thehousethatlarsbuilt.com | Photography: Anna Marie Killian
Did someone say statement sofa? This may be the ultimate pop of colour that all living rooms desire! Emerald green paired with a velvet finish, oozes a certain amount of luxury, that we can get on board with.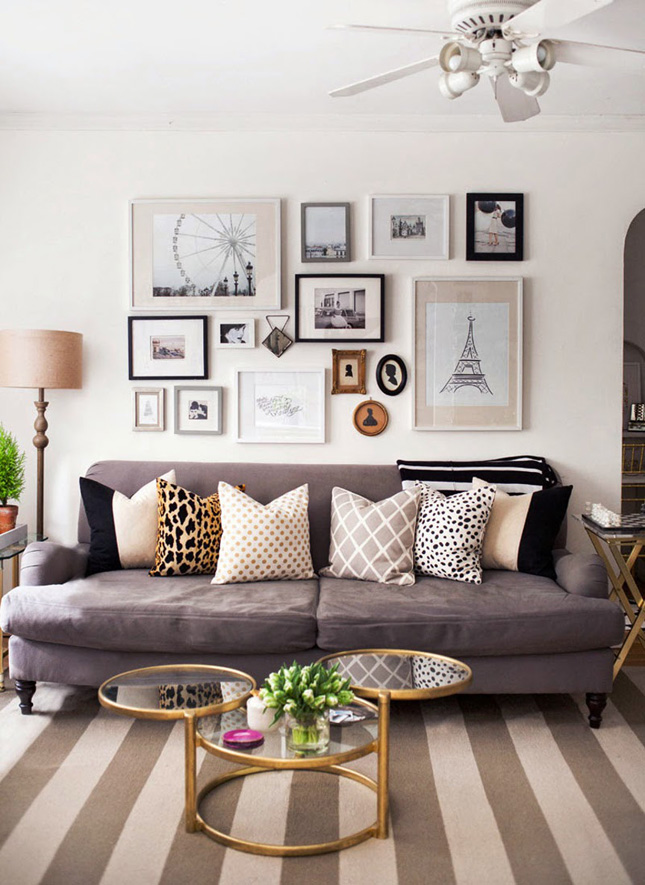 Image via: Theeverygirl.com | Photography: Jenniferkathryn.com
Cushions not only jazz a plain sofa up, they also add the maximum comfort factor - the perfect accessory, really. We also adore that gallery wall behind - a great way to stylishly display your favourite prints or artwork.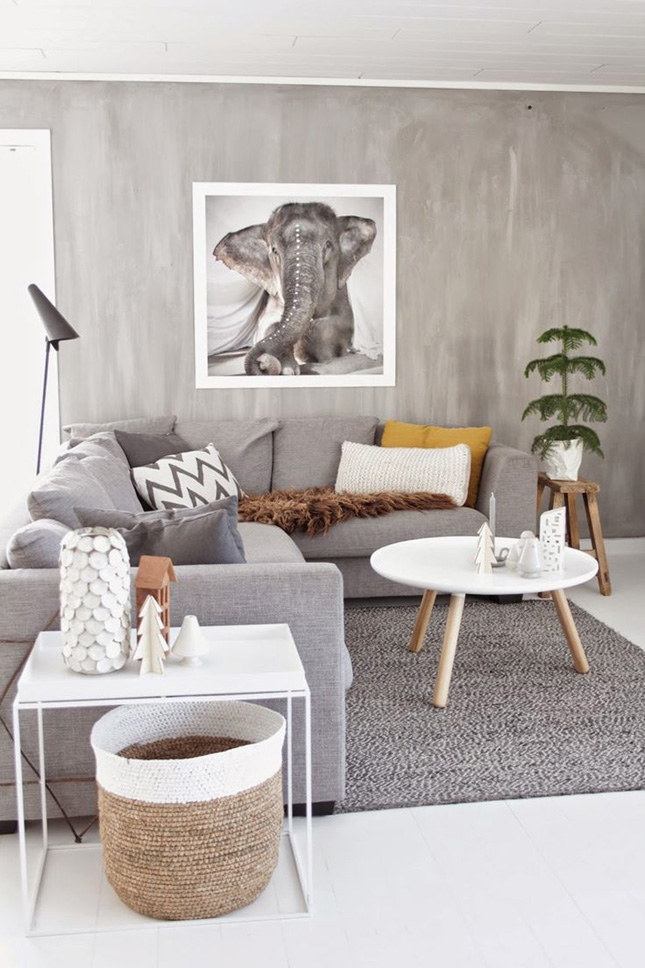 Image via: Fashion-landscape.com
Last, but by no means least, is this gorgeous grey living room - we've said it before and we'll say it again, grey is the new neutral and we're seeing more and more grey interiors popping up, lately. P.s. check out the awesome brushed walls and that elephant painting!