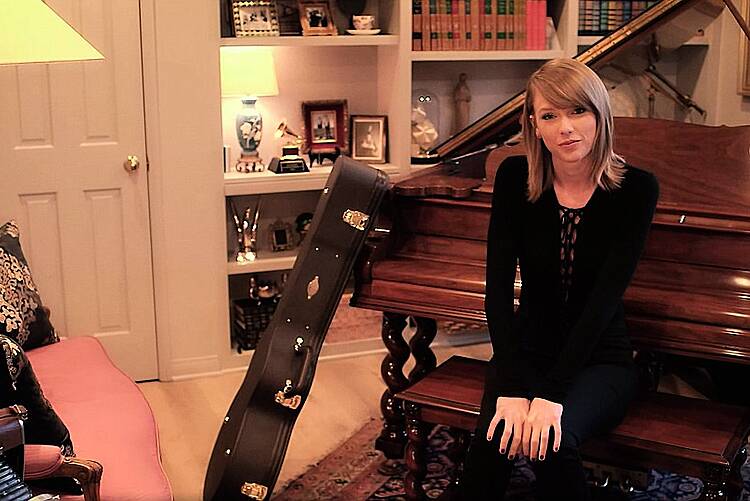 There are three things we love here in House and Home; snooping around beautiful houses, random questions and Taylor Swift. And yesterday when Vogue released the latest part of their 73 Questions video series with T-Swizzle herself, we couldn't wait to check it out. As predicted, her Beverly Hills home is feminine, classic and filled with quirky antiques. Oh, and there are cats. Lots and lots of cats.
Here are the 13 things in Taylor's house we're perving on the hardest.
The offer of a VMA award coffee stirrer
In keeping with the concept of the video series, Taylor walks the mystery interviewer through the house, answering 73 questions- some of which only spring to mind as different pieces in her home are discovered. In this case it was cats, some of her 250+ award and an extensive selection of coffee-making equipment.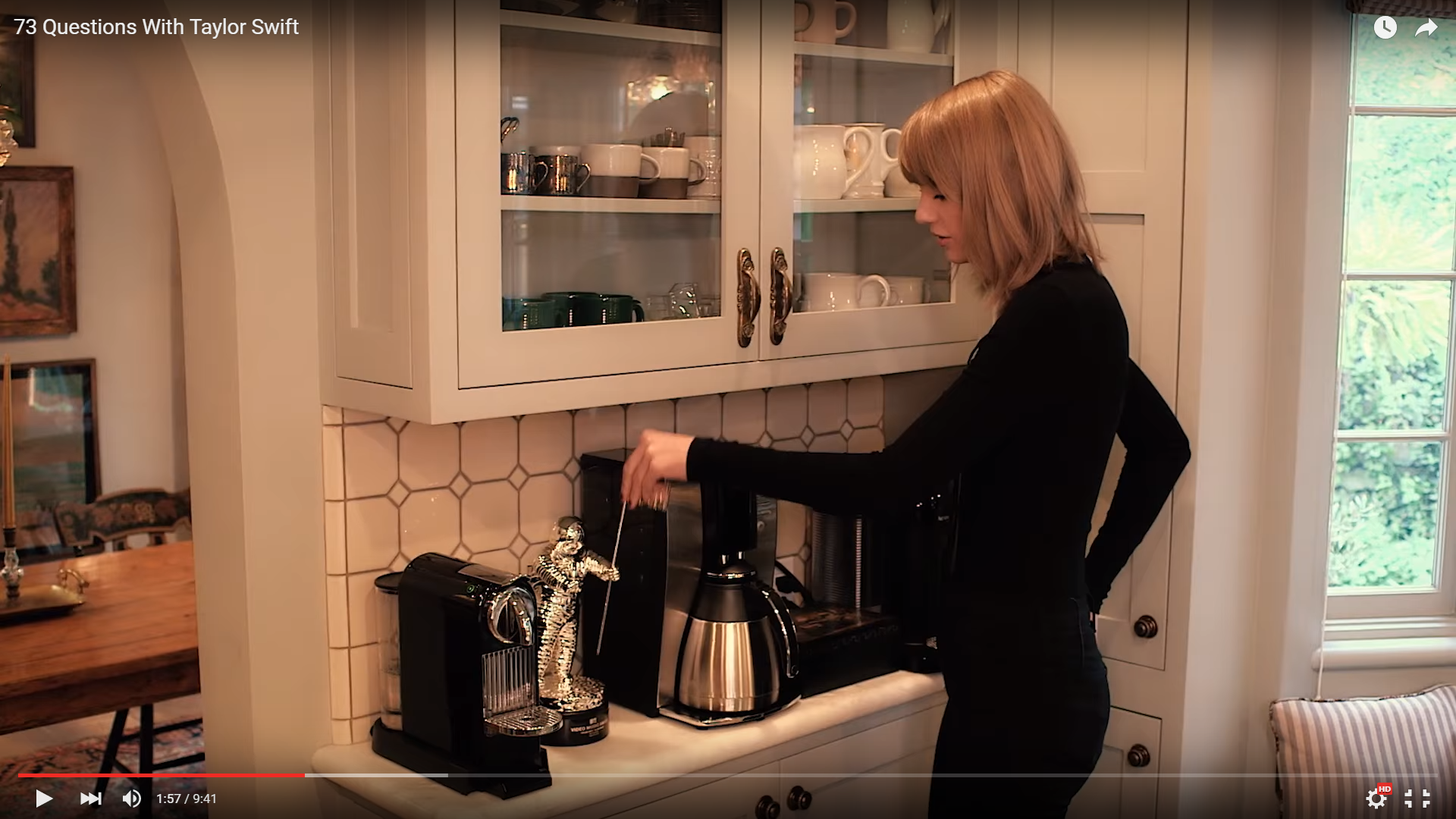 The well-matched mismatched vibe
Cosy touches like framed photos and decorative lamps dot the home. Taylor isn't also afraid of mixing prints. Persian rugs grace almost every timber floor, and French-style ticking stripe and floral wallpaper are carried throughout the space.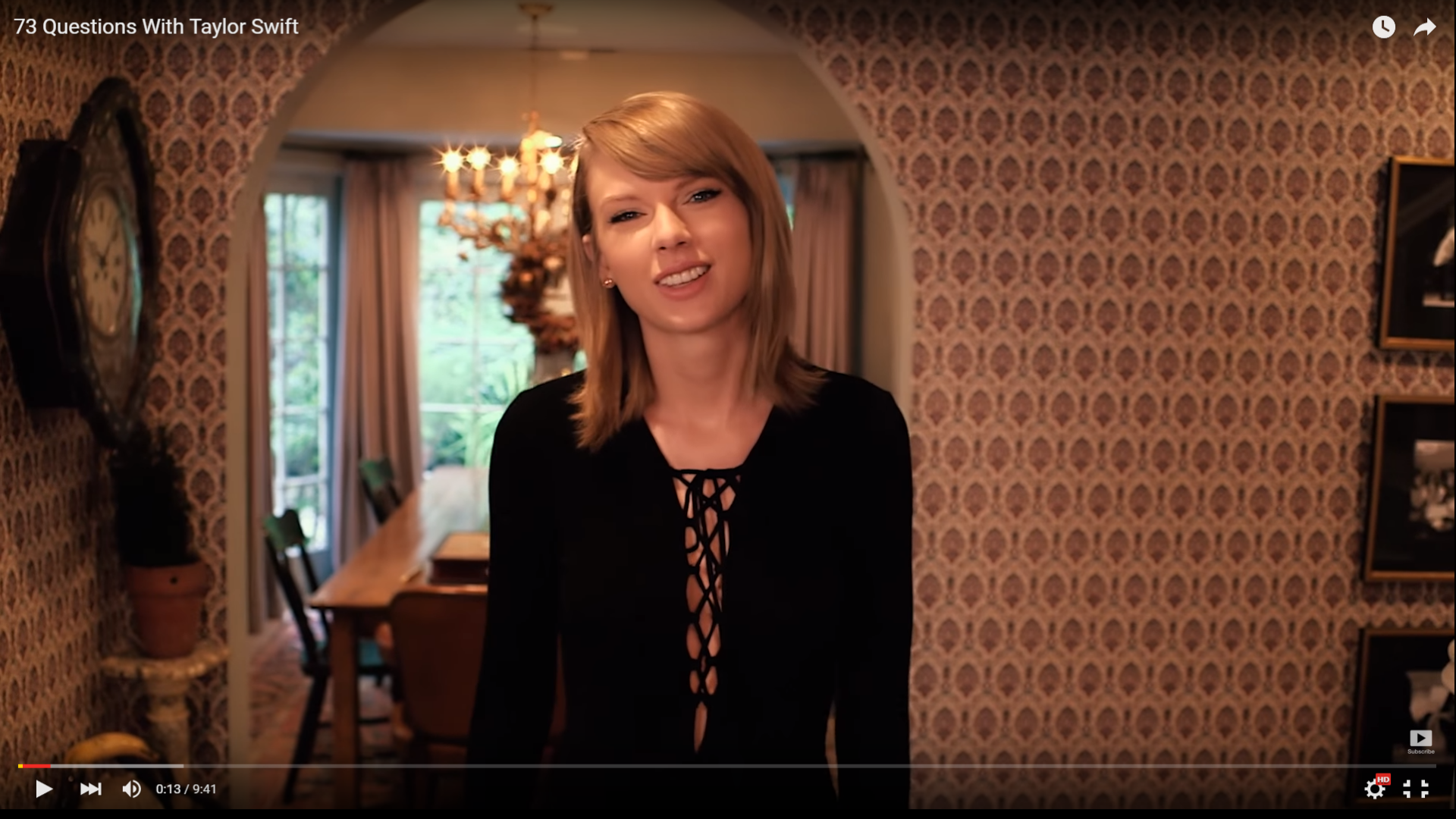 The Moroccan tiled fireplace
Taylor's fireplace/ TV built-in is clad with monochromatic Moroccan encaustic tiles. This ebony and ivory style is mirrored throughout the room in pieces of occasional furniture.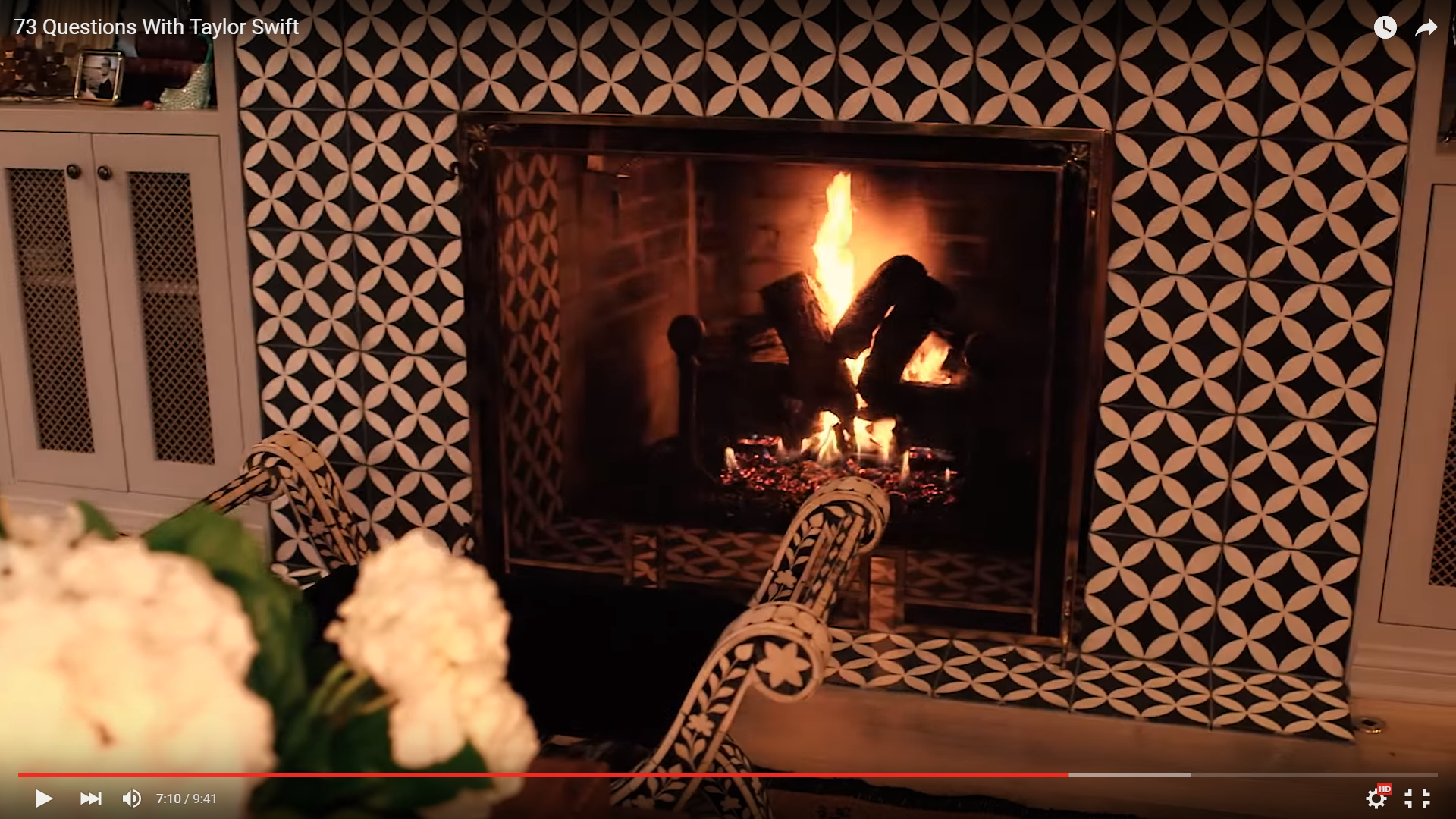 How random her stuff is
Not exactly what you'd call a minimalist; Taylor has filled her shelves with antique encyclopaedias, bell jars and bric-a-brac from her travels around the world.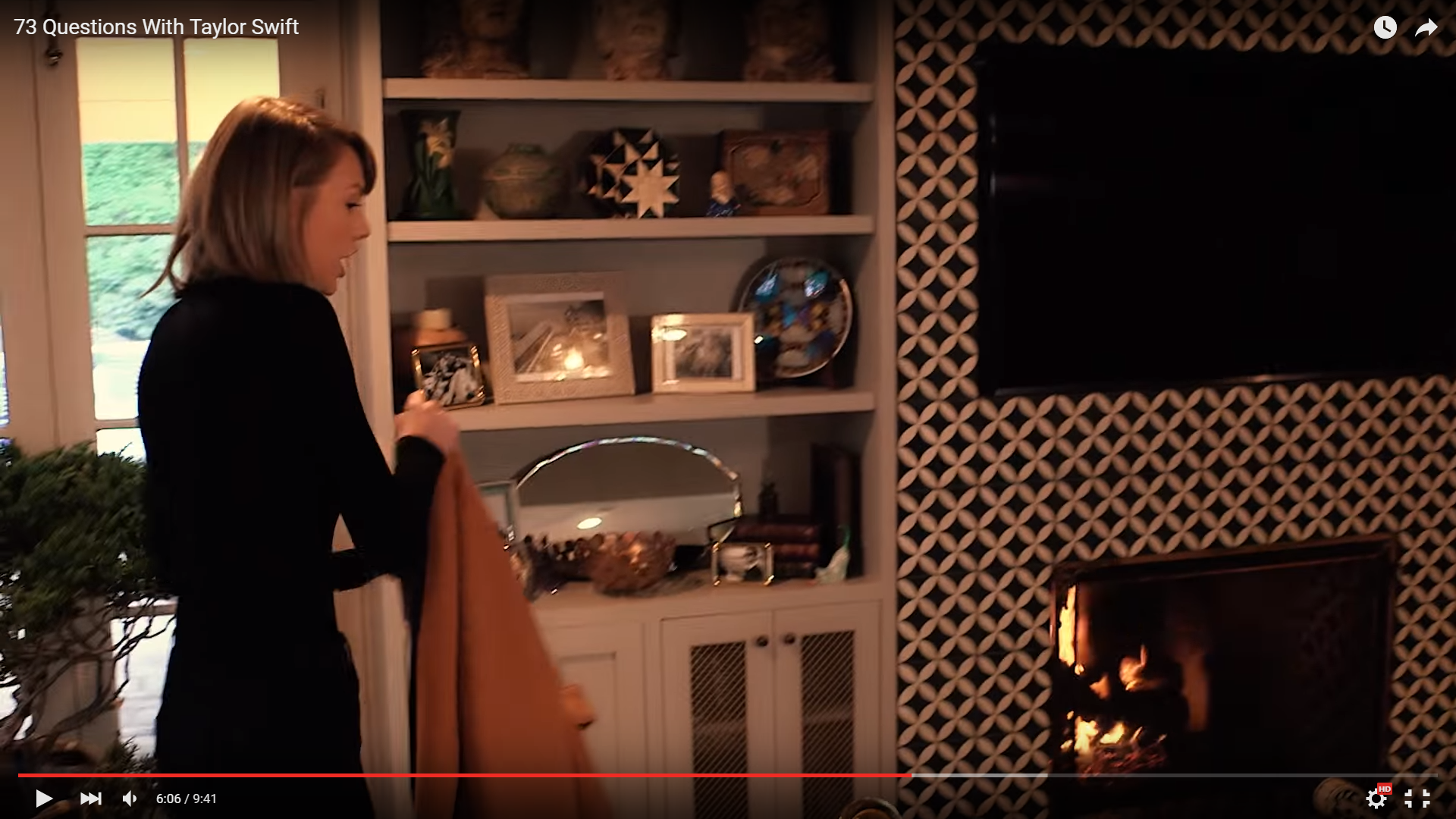 Cats. Cats everywhere.
Cats, both ceramic and real-life, are hidden everywhere.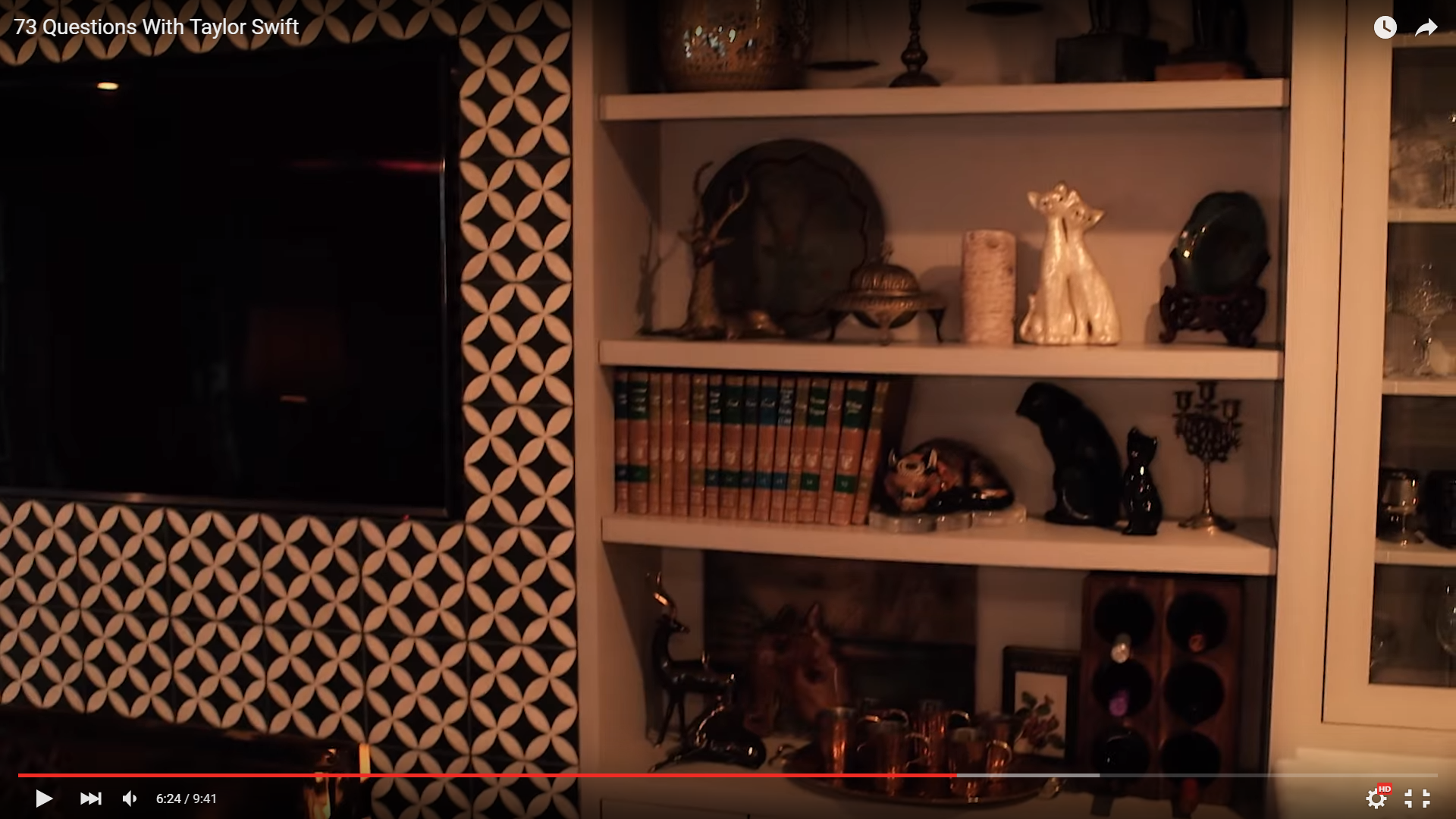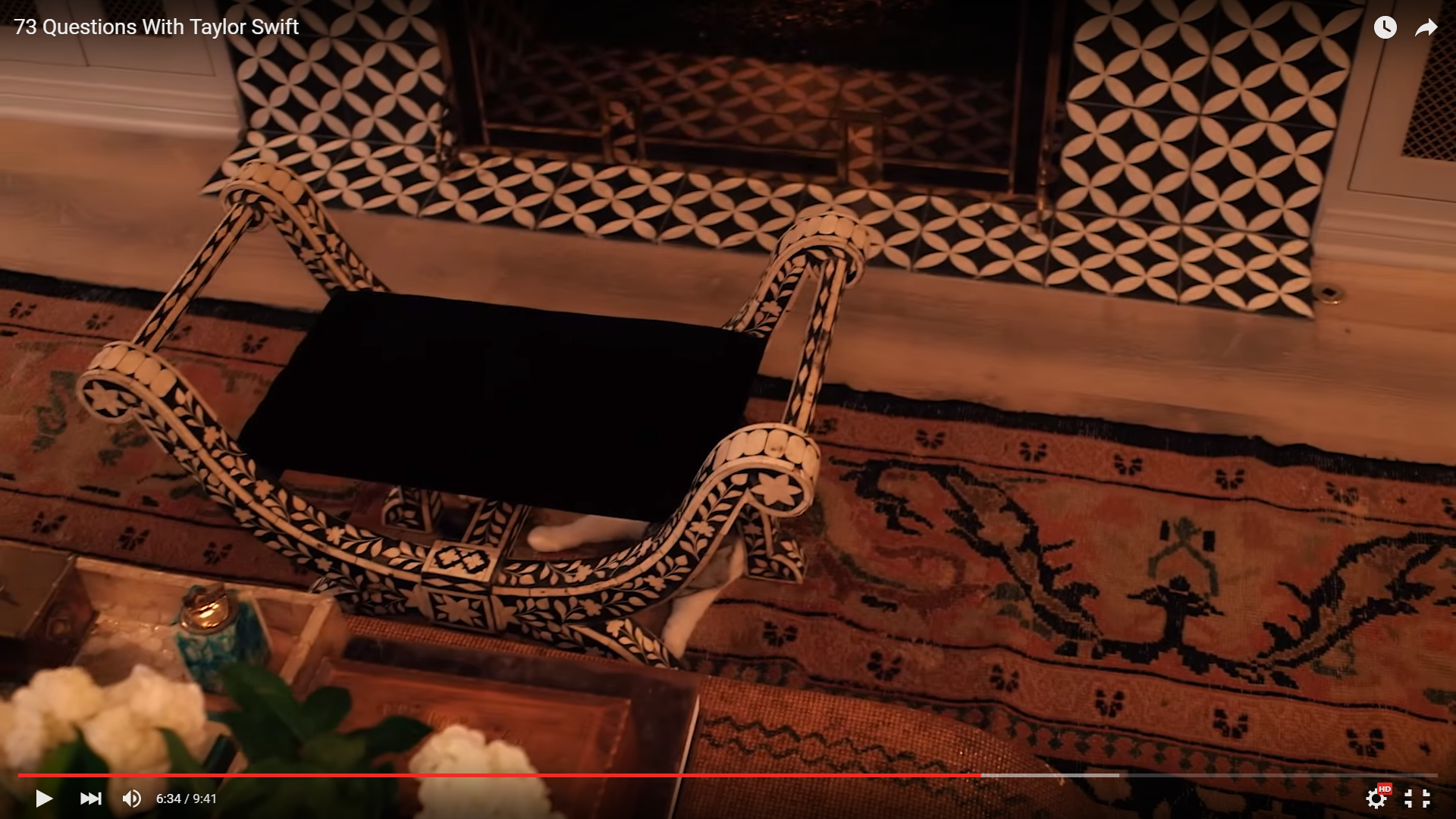 The subtle reference to her boo, Calvin Harris
A simply-framed print reads "You have successfully buried yourself inside my head. 2/26/15". A lyric for a future song maybe? A message from boyfriend Calvin Harris? Any "Tayvin" fan worth their salt will know that this is the date that she and the Scottish music producer first met. The feels everybody! The feels!!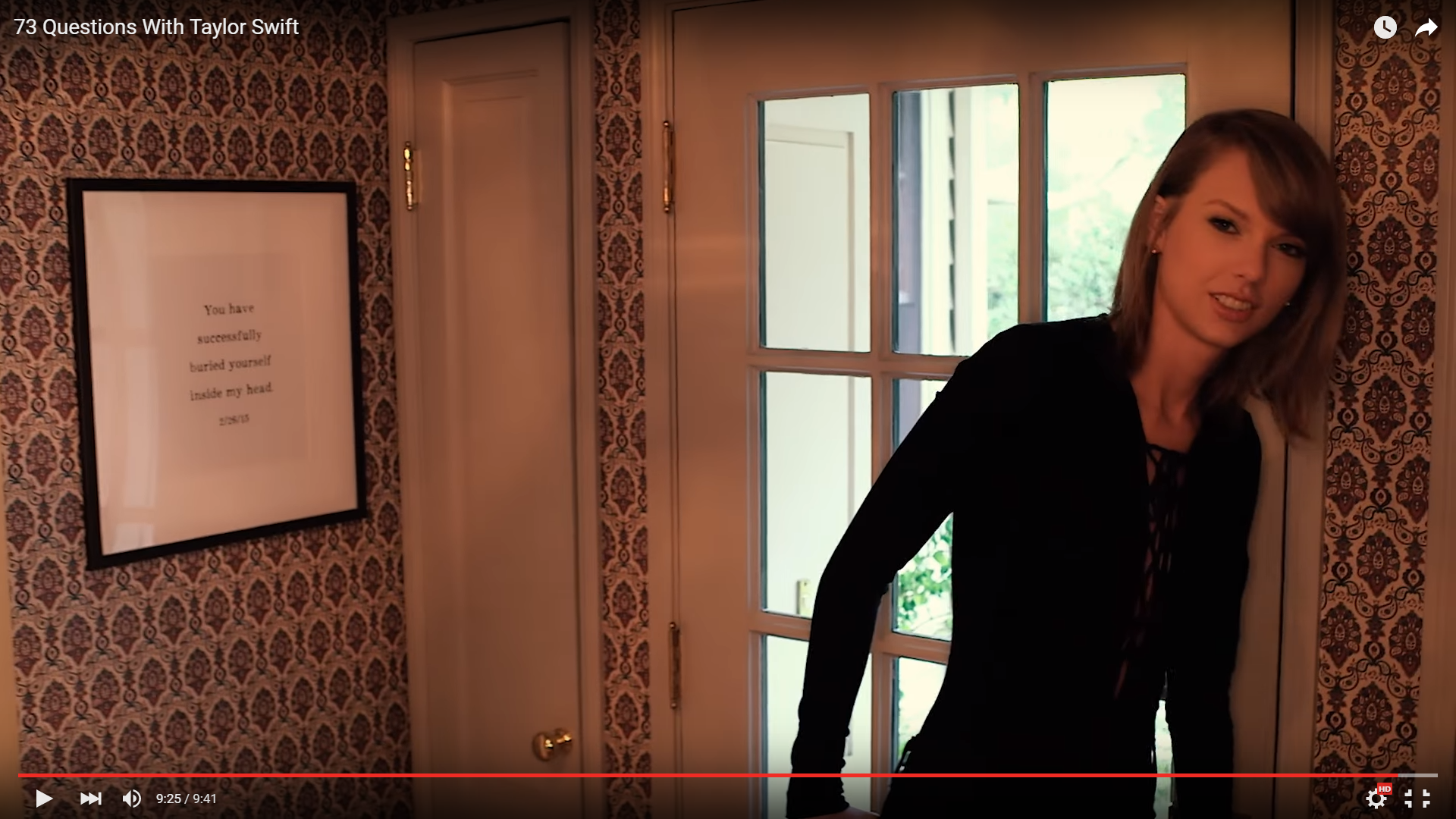 Her fancy Scrabble board
The dining room is painted in a bone grey colour and decked out with a rustic table, oriental side chairs and tan leather end chairs. On the walls hang some of the paintings Taylor has picked up in flea-markets. "Hello Vogue"; even Taylor's Scrabble board is glorious!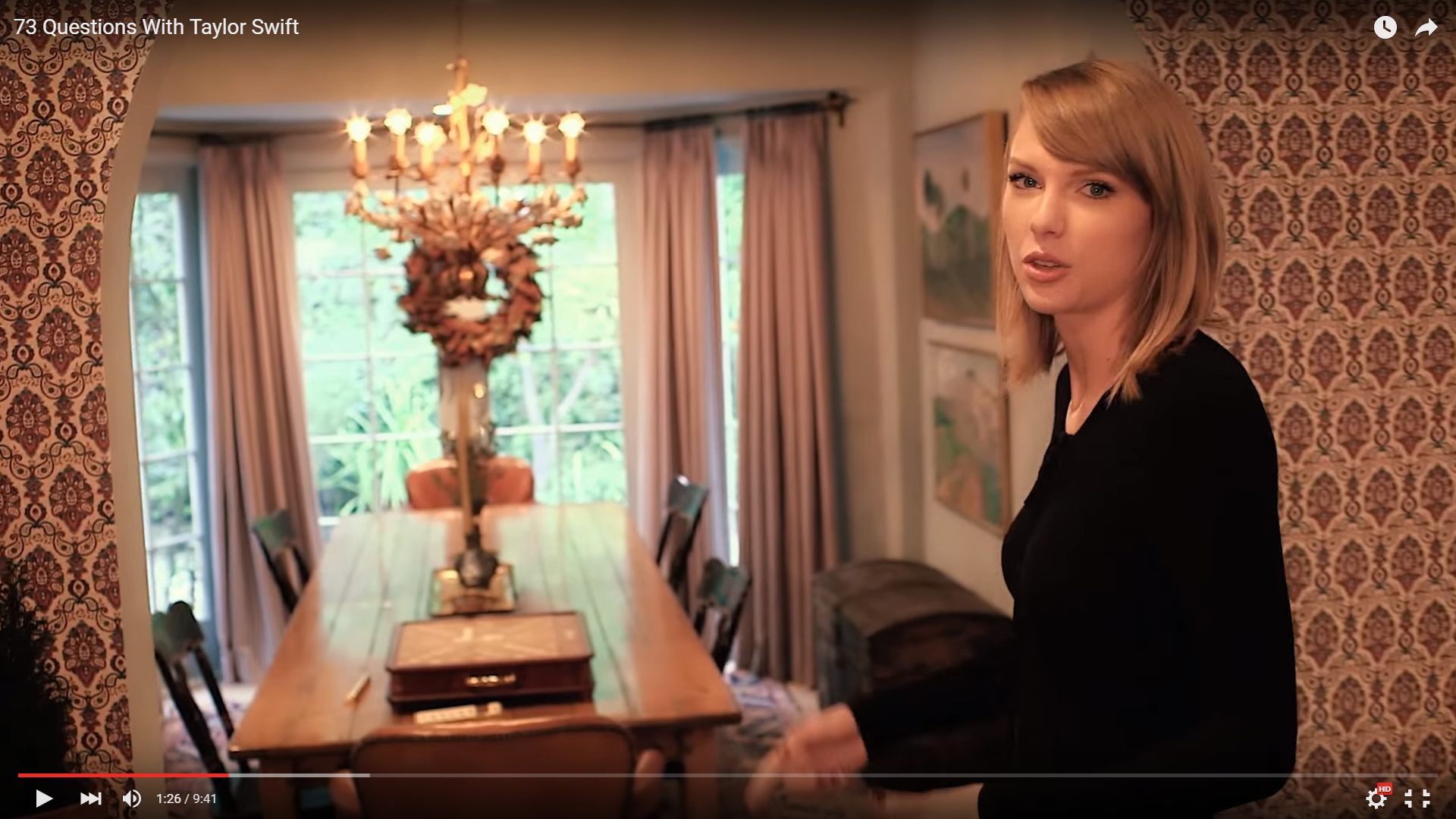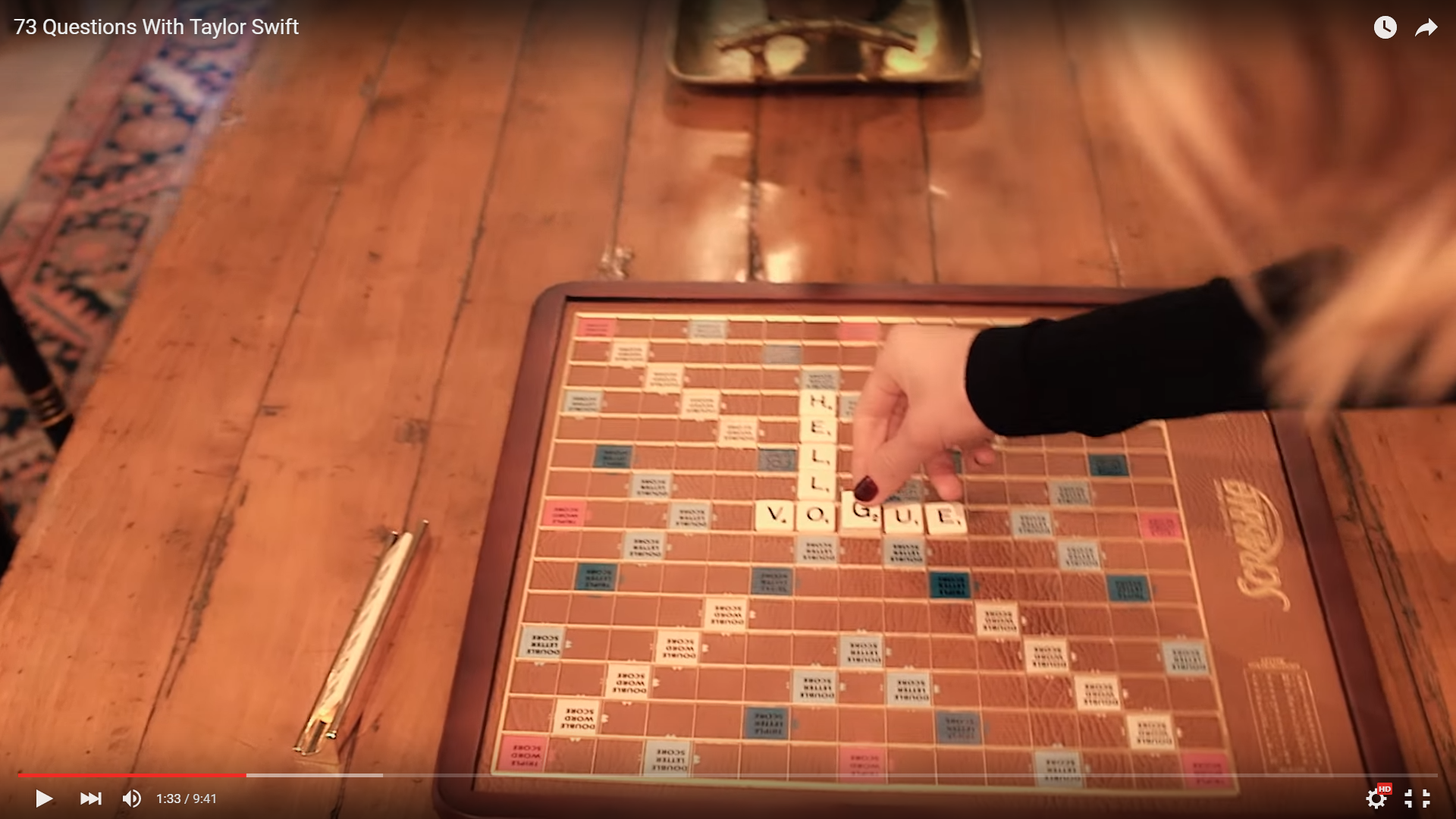 The fact that it kind of looks like a wizard lives there
A neutral colour palette with pops of rust, duck egg blue and muted coral brings a sense of unity to this eclectic home. The atmosphere is softened even further by the presence of plants, agate crystals and (unidentifiable!) natural objects displayed in bell jars. Wait, is that a crystal ball she casually keeps on her table? Is this Hogwarts or Taylor Swift's house?! We're beginning to get confused...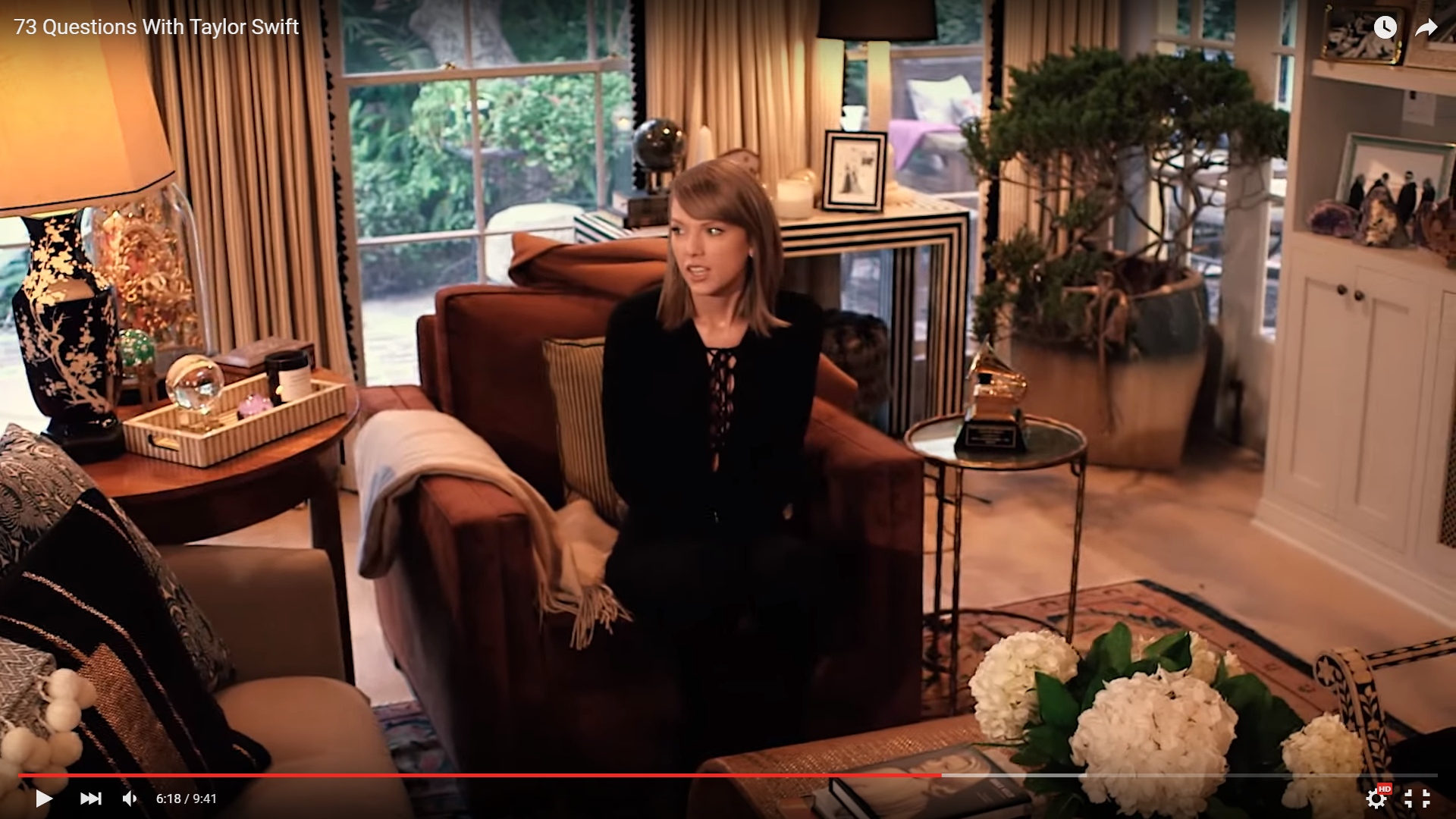 The secret to her good lyrics perhaps?
Where the magic happens! Taylor's music room complete with an envy-enduing antique piano. Do you reckon she consults those leather-bound dictionaries when writing her lyrics? Her songs are very wordy...?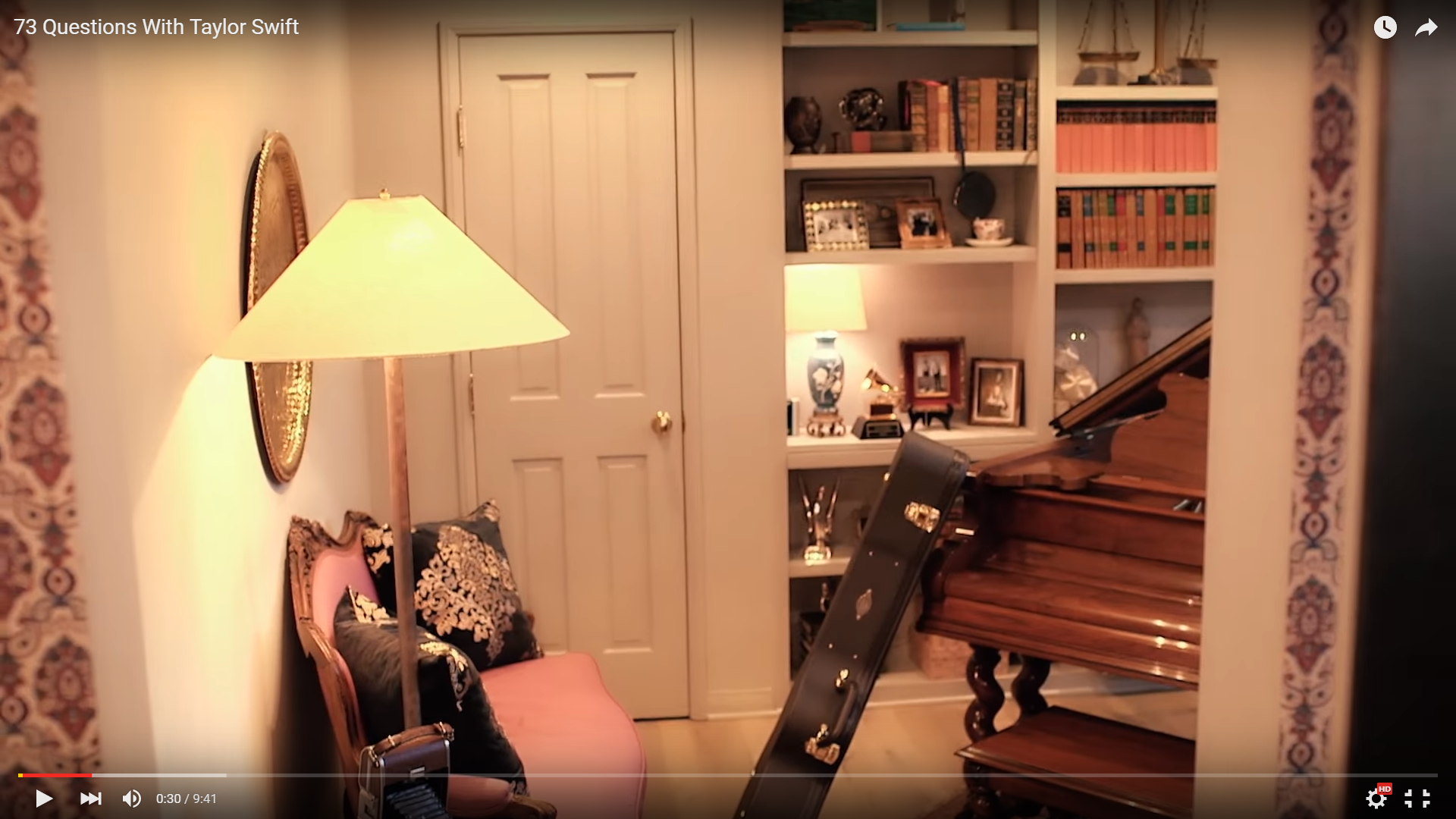 Her open-shelved kitchen
Chalky duck egg cabinetry, marble countertops and simple white tiling are jazzed up with ornate brass doorknobs and shelving brackets. For another duck egg/ marble kitchen combo, check out Greg and Sarah's Edwardian Airbnb we featured in our March/ April issue.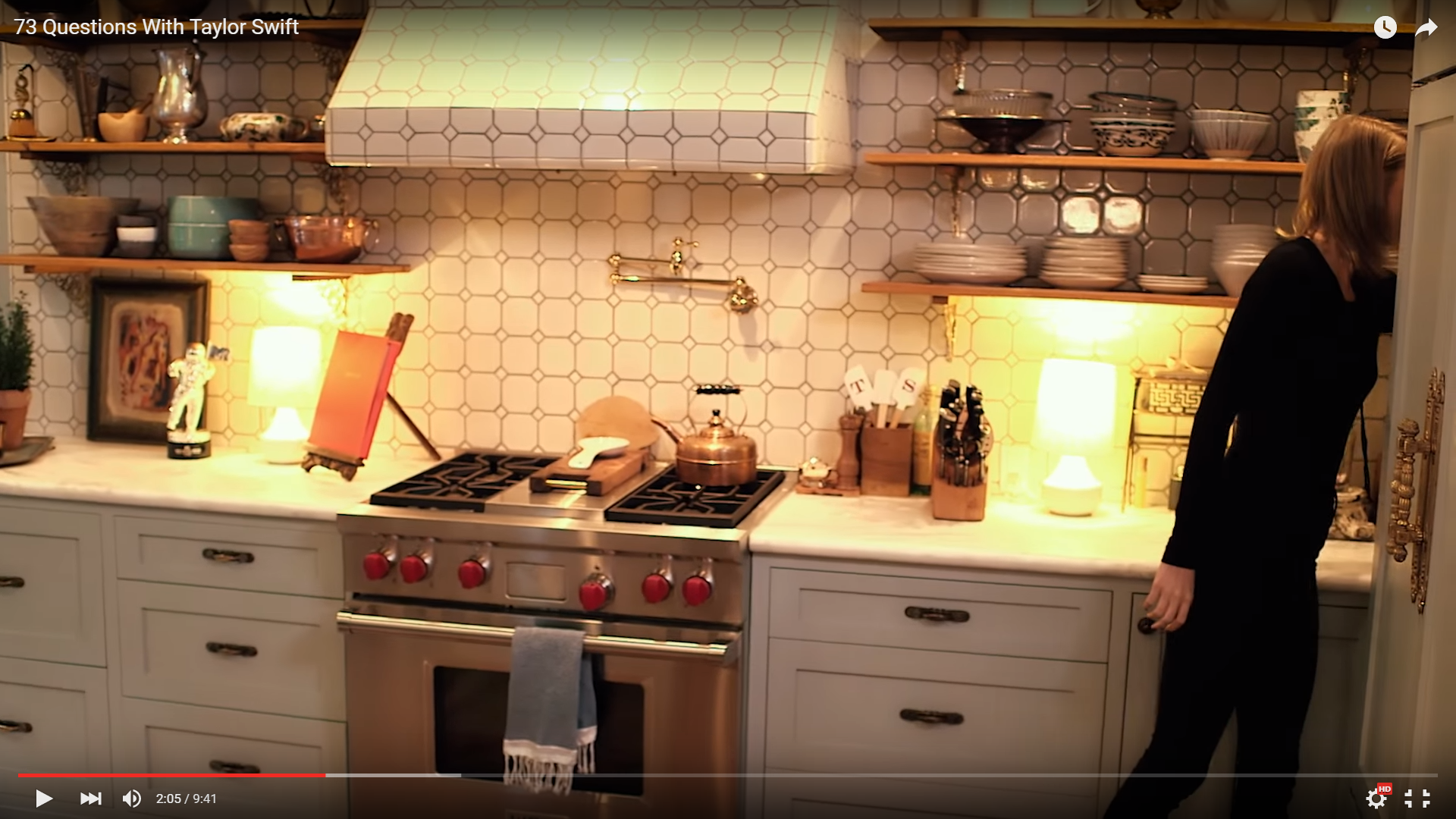 The bigger the stardom, the bigger the plumbing
An oversized brass faucet adds both a beautiful and practical focal point to the kitchen island. The tall wardrobe-style pantry ensures clutter is out of sight, yet easy to reach.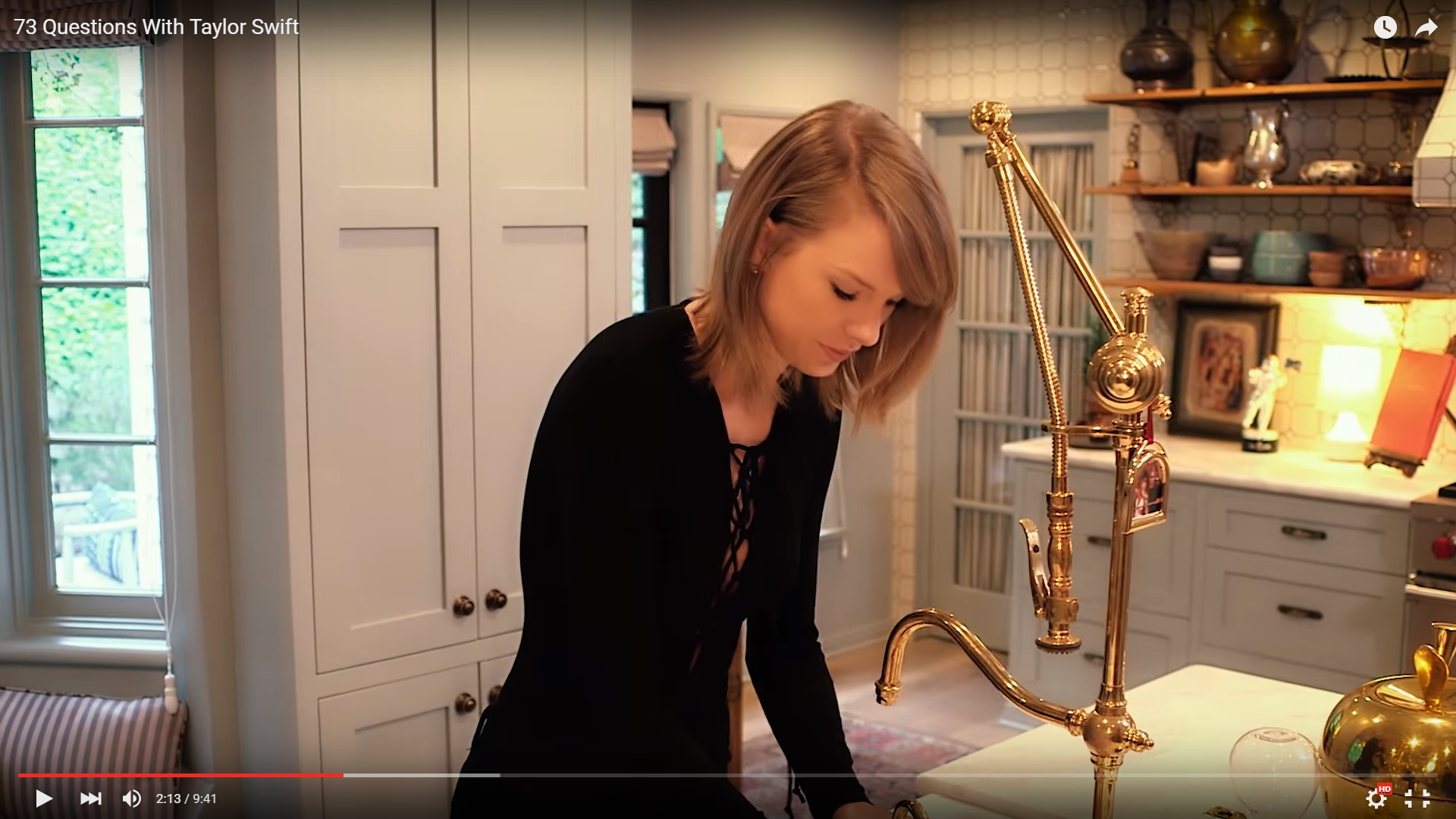 Her cute, yet achievable entryway
Statement lamps, candles and plants help create a welcoming entryway. Best of all, this set-up can be adapted to any budget.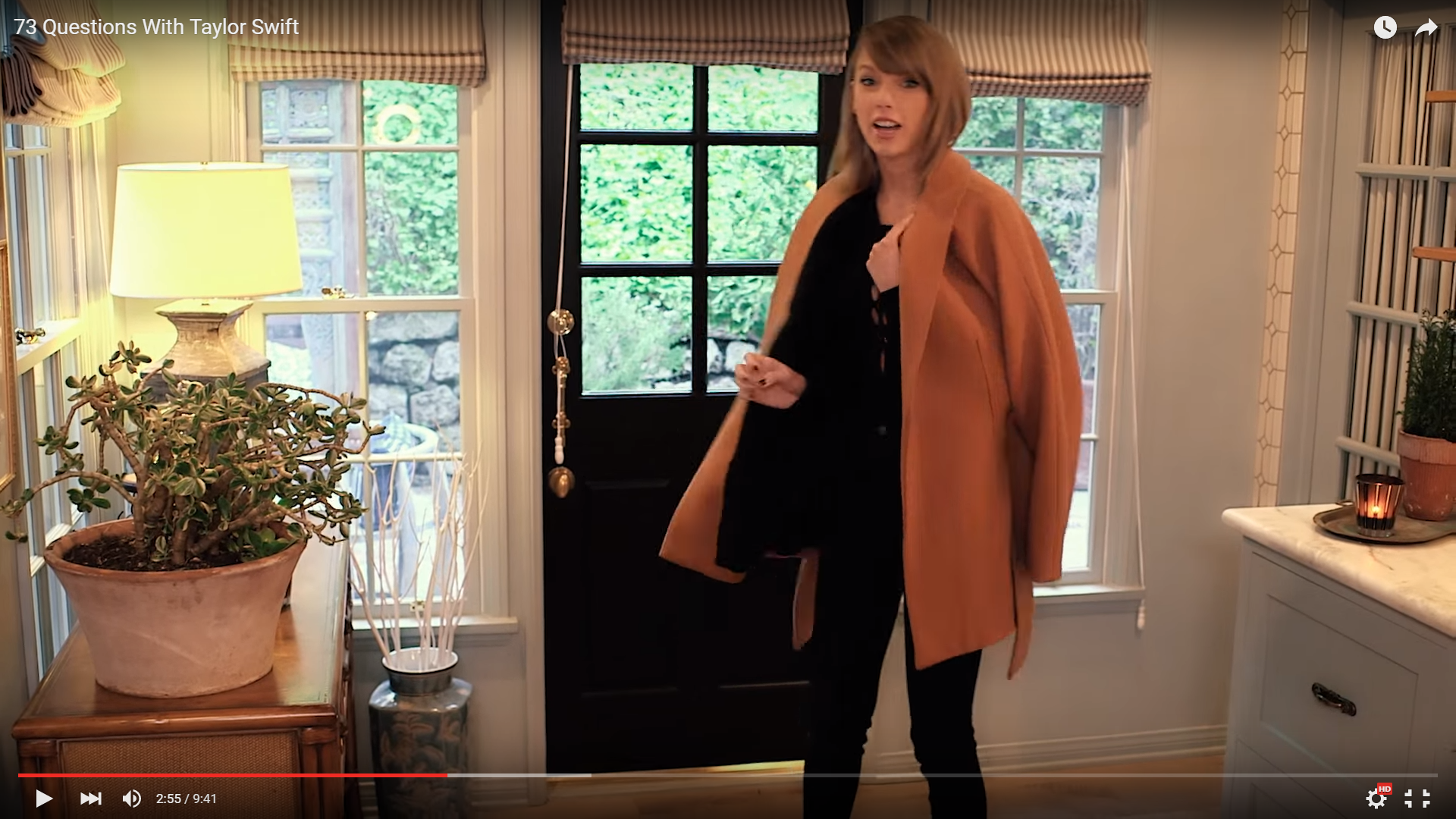 And we're saving the best until last: the backyard our dreams are made of
Famous for her hosting skills, we can only imagine the craic to be had at one of Taylor's barbeques. She has a vintage rickshaw taxi for crying out loud! It'd be like a much more whimsical version of Grafton Street at 3am.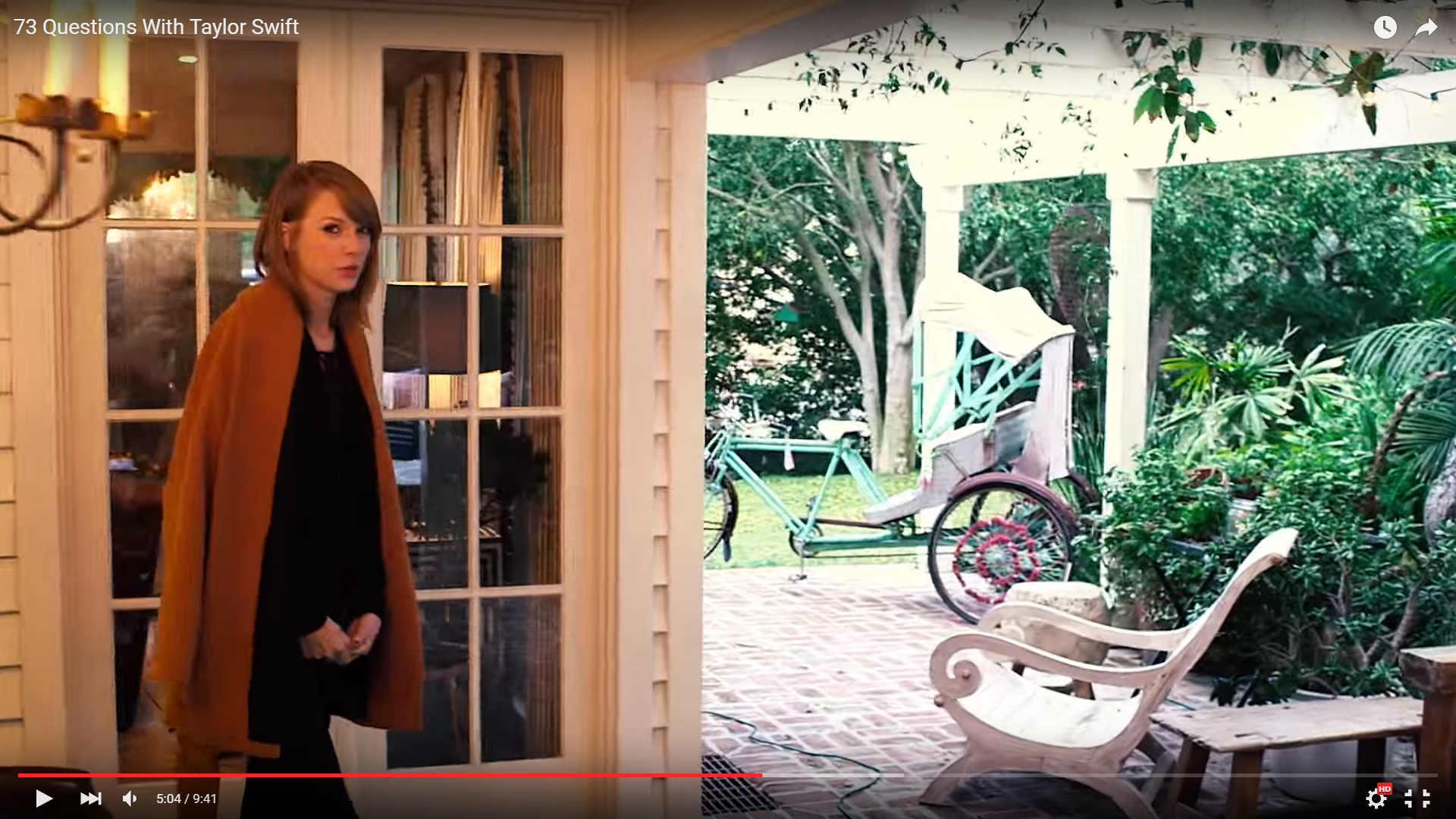 Outdoor furniture comes in the form of intricately-carved Indian canopy beds and Appalachian rocking chairs. Moravian star lanterns, orange trees and batik cushions inject some colour into the outdoor area.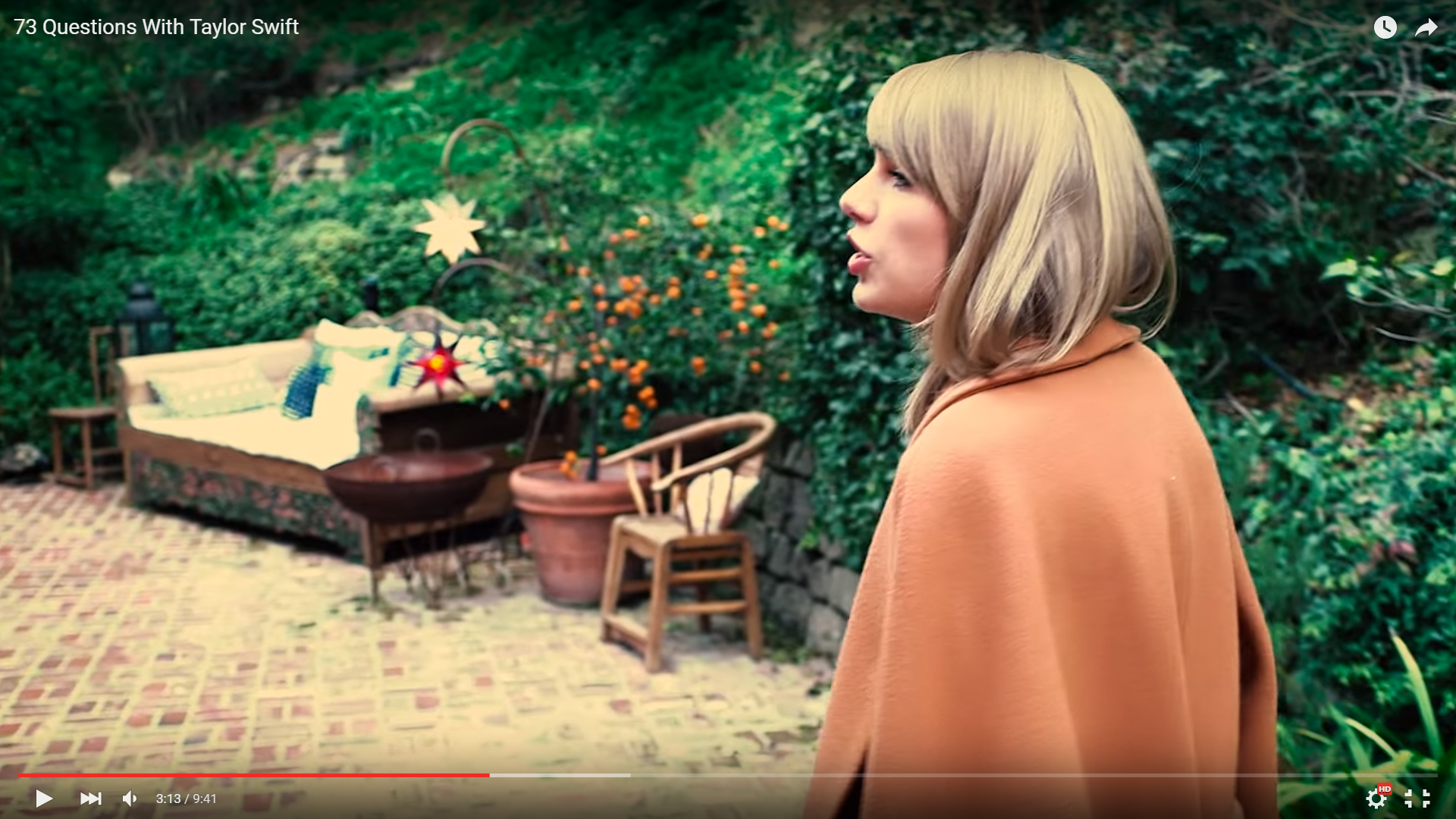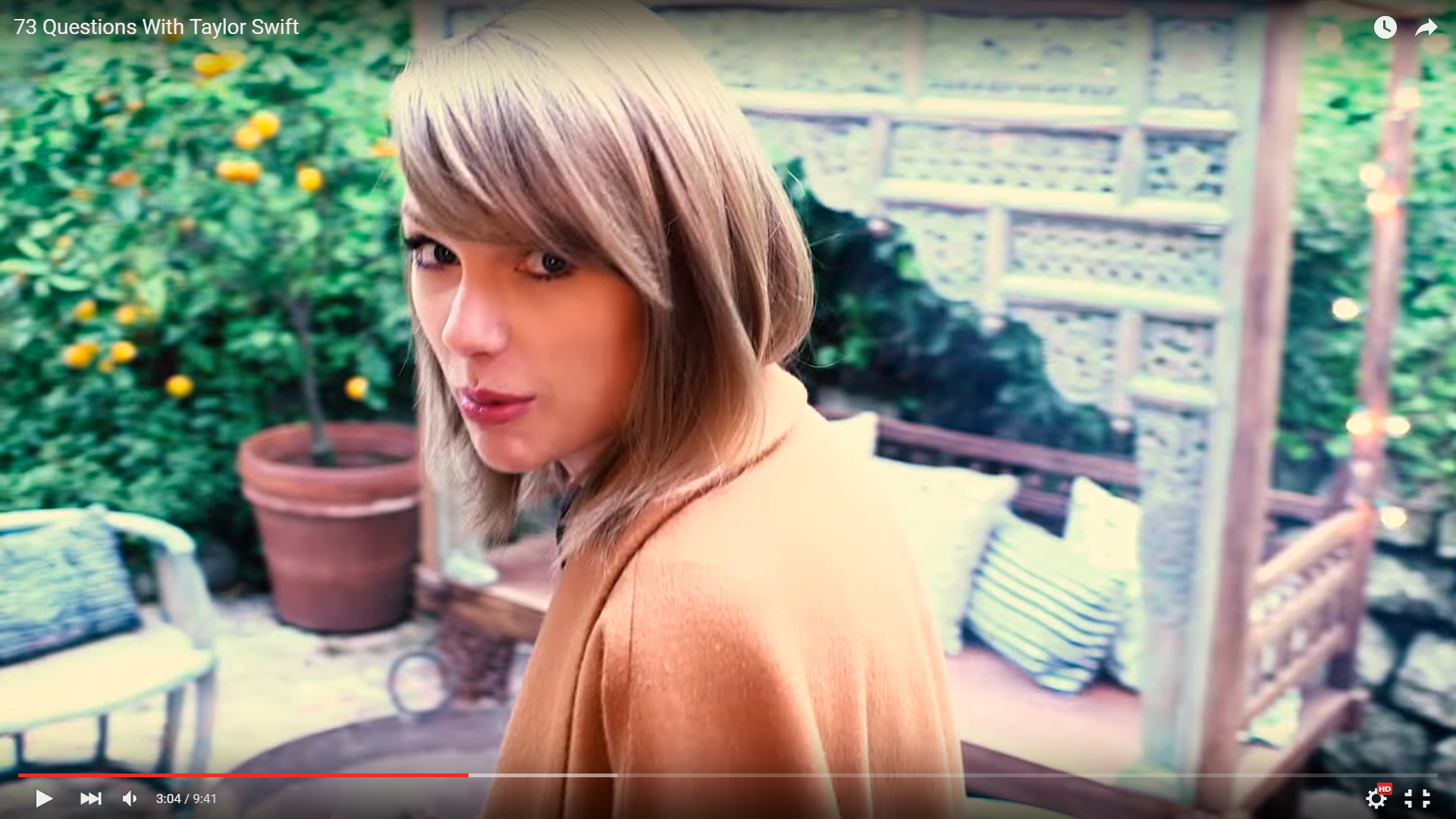 Tay-Tay, when can we be invited around for VMA-stirred coffee?
Words Louise Dockery
Share This Article