This is indeed an unusual time for the interiors-obsessed among us. Many of us have been working from home, and looking at the same four walls, everyday for a year. We feel like we're in desperate need of a change of scenery, and due to lockdown restrictions, that will have to come through the form of home updates. Add in the inconvenience of construction work being at a halt, it means we're having to get creative and do it ourselves.
Not to worry, we're here to offer some solutions. Even if your DIY skills leave a lot to be desired, here are some simple ideas anyone can master with even the most limited resources.
Bookcase pantry
Walk-in pantries are the thing of foodie dreams. The idea of having an endless supply of spices, condiments and dried foods creates opportunities to get experimental in the kitchen. Having the physical space to buy in bulk will also reduce your weekly grocery bill and make meal-planning easier.
Unfortunately, walk-in pantries aren't standard in Irish homes, though some creative folks like Dee Noone have built them into their homes, as we discovered when we visited her Galway cottage a couple of years ago. Obviously, a walk-in storage space would require construction work most of us are unable to carry out ourselves.
That's not to say you should give up on your pantry dreams. If you can assemble an inexpensive flat-pack bookcase, you can make yourself a bookcase pantry. Styled up with matching canisters, cook books and baskets, you could create a lovely feature to practically display what you already have crammed into cabinets.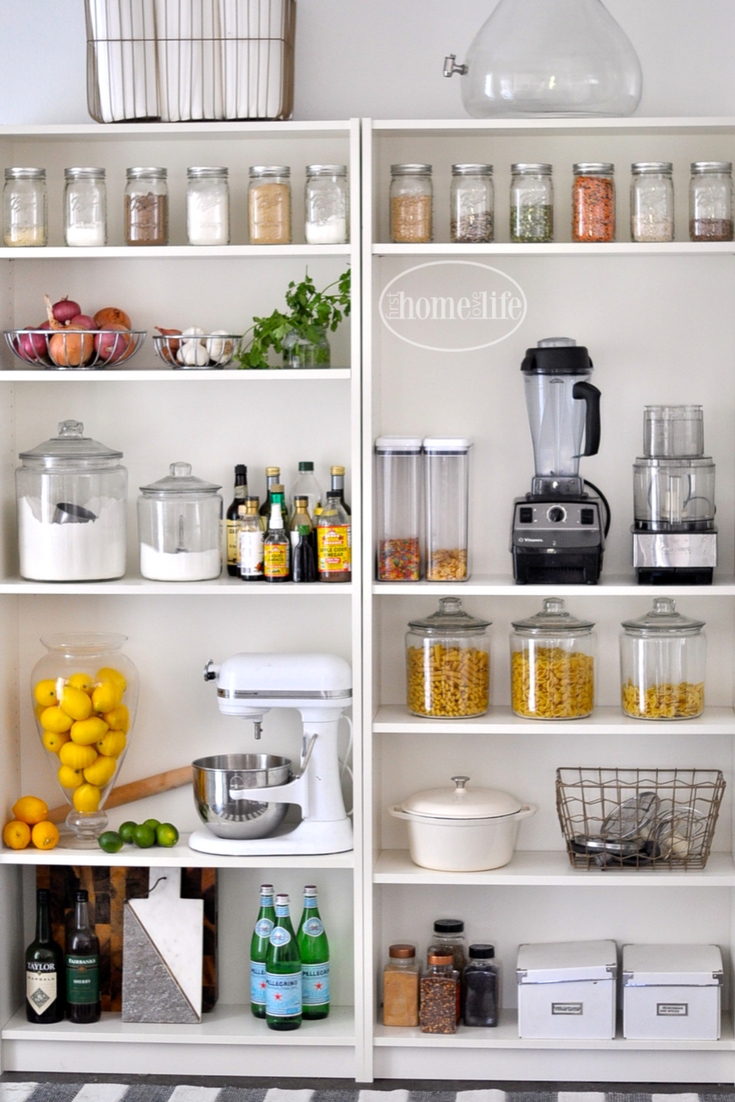 Stick-on tiles
Self-adhesive tiles are a renter-friendly, inexpensive way to completely transform the look of your space. Whether you're into a bohemian Moroccan look, vintage English farmhouse replicas or sleek and simple modern styles, there's something to suit all tastes and budgets. That being said, we'd advise avoiding suspiciously low-priced sets, particularly if you're ordering online. Stick-on tiles, done right, can look amazing and feel authentic to the touch. But some can look plasticky and cheap, so try to order from a trusted merchant.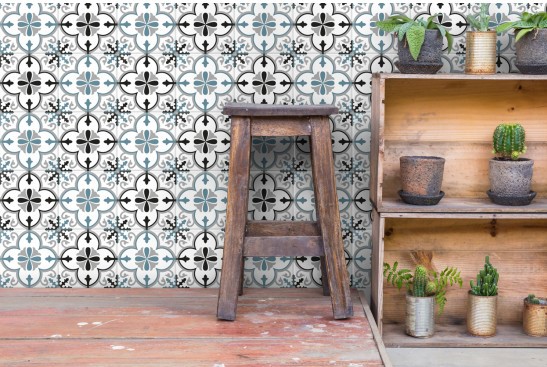 Plate wall
Any "grandmillennials" out there looking to add a little grandma chic to your space? Plate walls were the gallery walls of our grandparent's day. It was a sweet and inexpensive way to add art to a blank space, using what they already owned. Plate-hangers can be picked up inexpensively online or in hardware shops, or plates can even be hung with weight-bearing Command strips. The perfect way to use your "good plates" that have been sitting in your cupboard for far too long.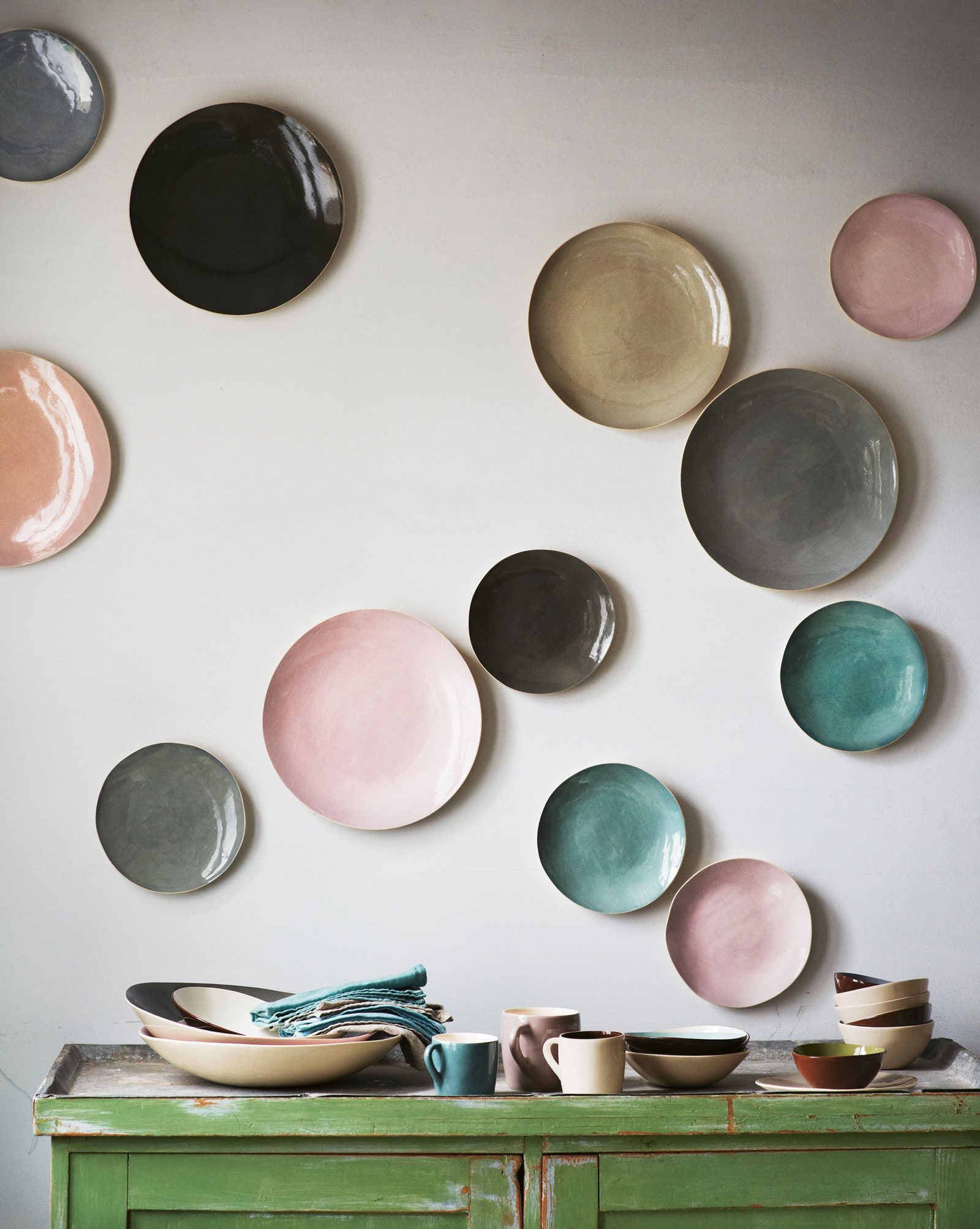 Image from Toast.
Labelling
Thanks to phenomena like The Home Edit and Marie Kondo, Insta-perfect organising has been keeping us busy during lockdown. And while it's aesthetically very pleasing to see matching jars, labelled to perfection, lined up like little soldiers on your kitchen shelf, it's not all for looks. Being able to see what you have, labelled and organised, reduces both food waste and stress in the kitchen. Make labels yourself using a label-maker, regular computer or your best handwriting. Alternatively, find some pre and custom made labels on Etsy.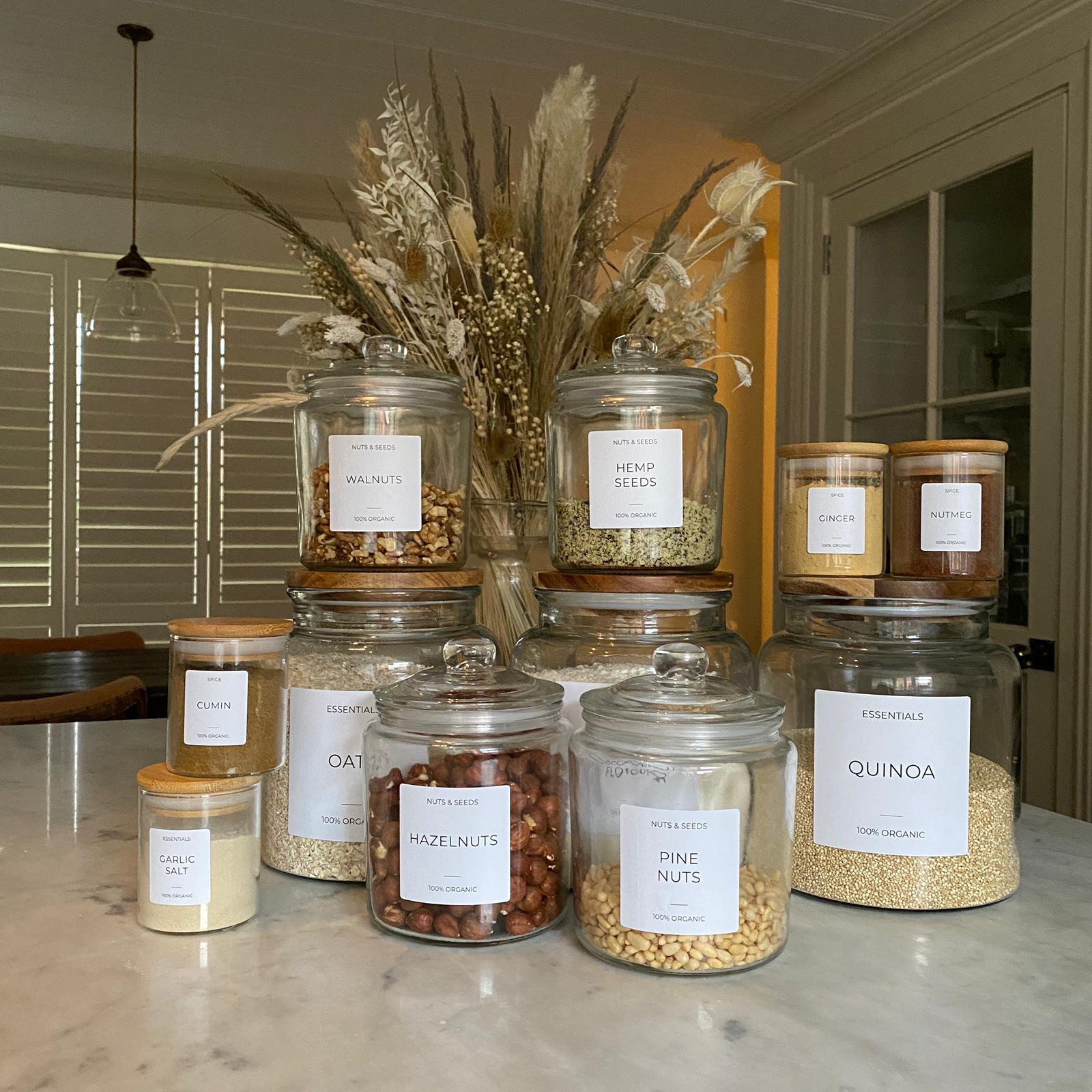 Image from SSTN.
Utensil rail
A quick and easy utensil rail is a versatile way of adding storage and décor to your kitchen. As the name suggests, you can of course use it to hold your utensils... but we recommend adding some personality to it. Simple additions like your favourite teacup, fancy scissors and bunch of dried herbs will add just a little bit of charm to your eyeline. Look out for lightweight serving board with a hanging loop or pretty tea-towels to hide any imperfections in the wall behind it. Clever!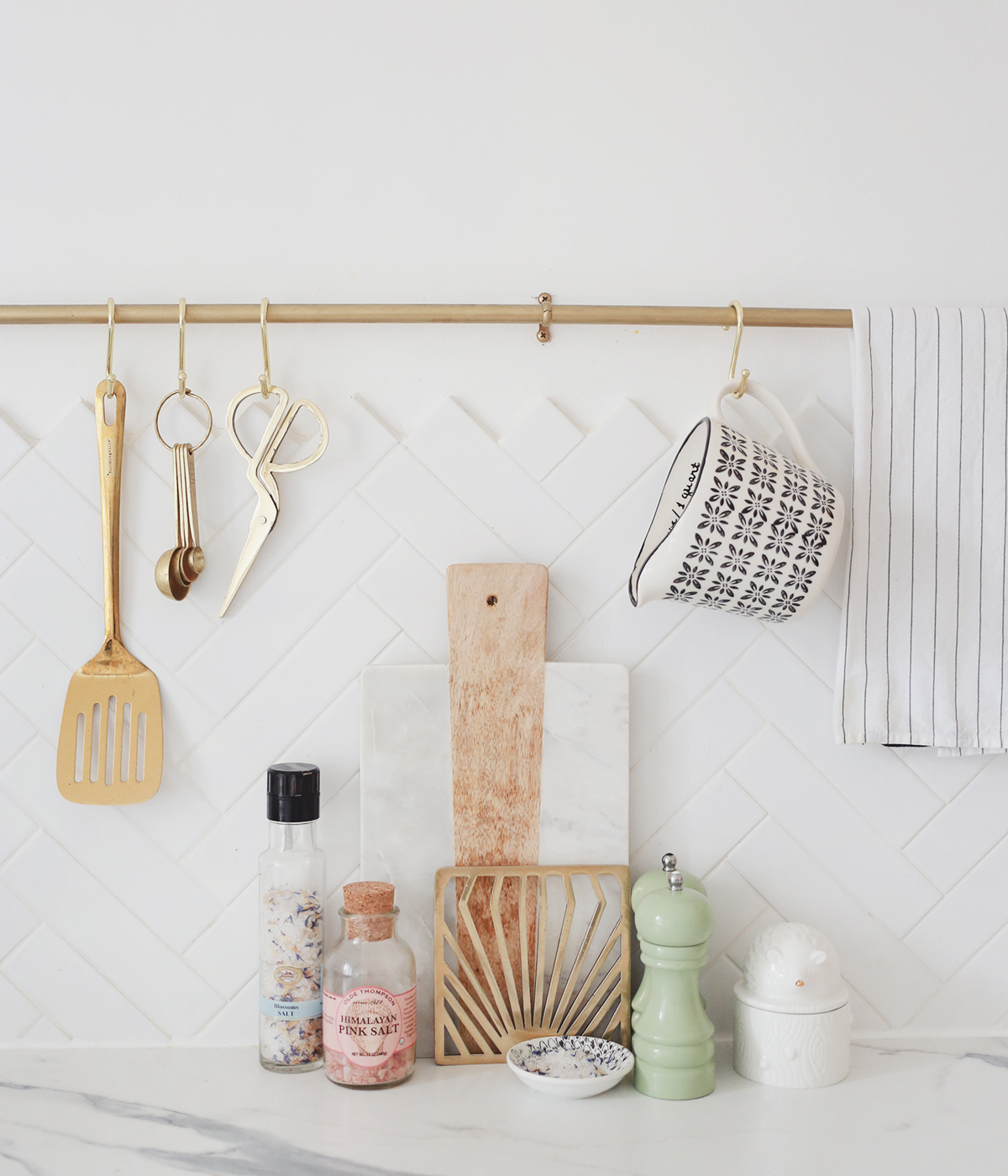 Change your doorknobs
Oldest trick in the book, but also one of the easiest. The simple act of changing your door handles can have a huge impact on your space. Better yet, this is something you can do all by yourself. Reuse your existing knobs to make a peg rail for additional hanging storage in any room of your house. If they're pretty, hang your necklaces on them. If they're boring, hang your mop on them in the utility. Nothing goes to waste.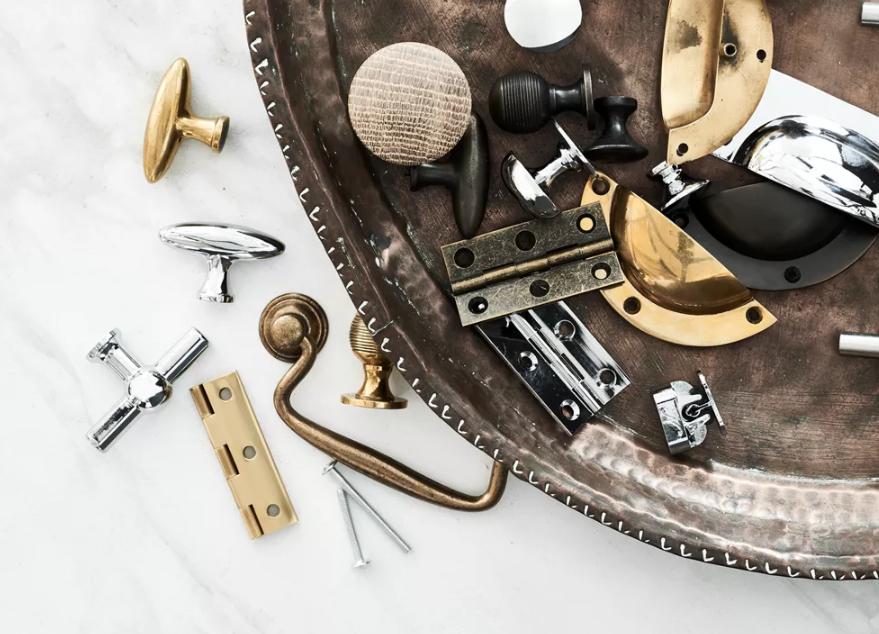 Add a pop of colour to your cabinets
Again, a very obvious way to update your space. But a simple lick of paint should never be overlooked. We're loving this cheerful yellow kitchen designed by new owner Roxy Bijan in what was once Taylor Swift's guesthouse (we took a deep dive into the main house, designed by Pierce and Ward here). If you're doing a little painting, make sure you check out our Moodboard collaboration with Crown Paints.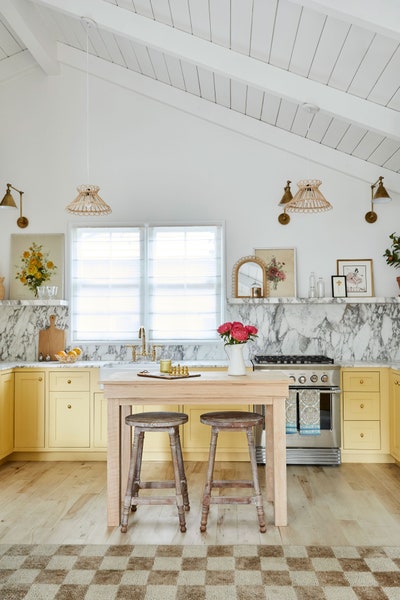 Keep an eye on the House and Home Instagram account as we're sharing lots of creative lockdown ideas everyday.
Share This Article