This year there is no need to hold back with your festive Christmas decorating - go as wild or as classic as you'd like.
Be inspired by these four Christmas decorating trends and create your ideal festive home this season.
Christmas decorating trend 1: Joyful and bright
Because who said Christmas was about restrained, good taste, eh?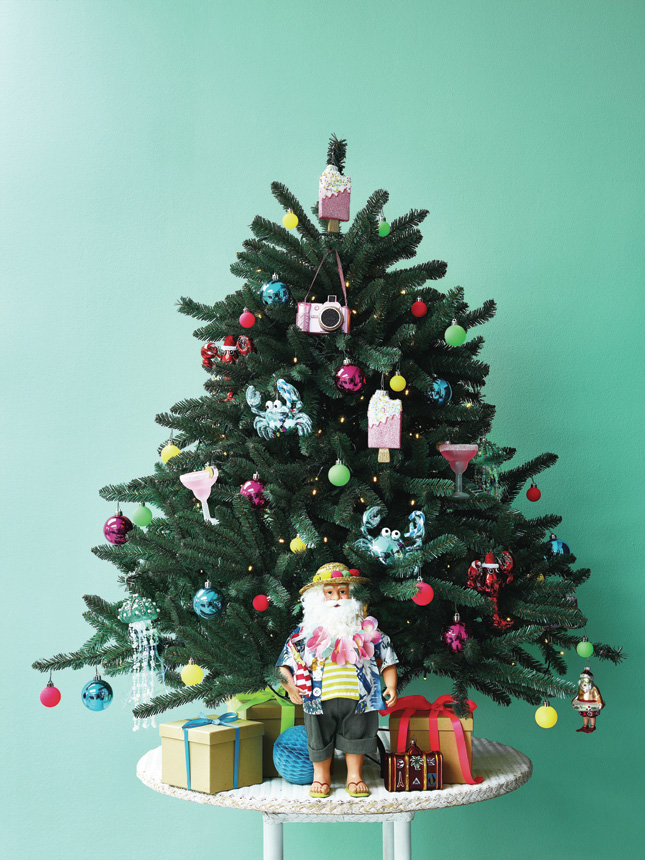 A tiny tree and a smaller space can still pack a visual punch as this impactful cutie showcases. Load up your fir – faux or real – with decorations and let it snow(ball). Summer Santa Decoration, €22, and tree decorations, from around €4, all George Home.
1. Pump Up the Volume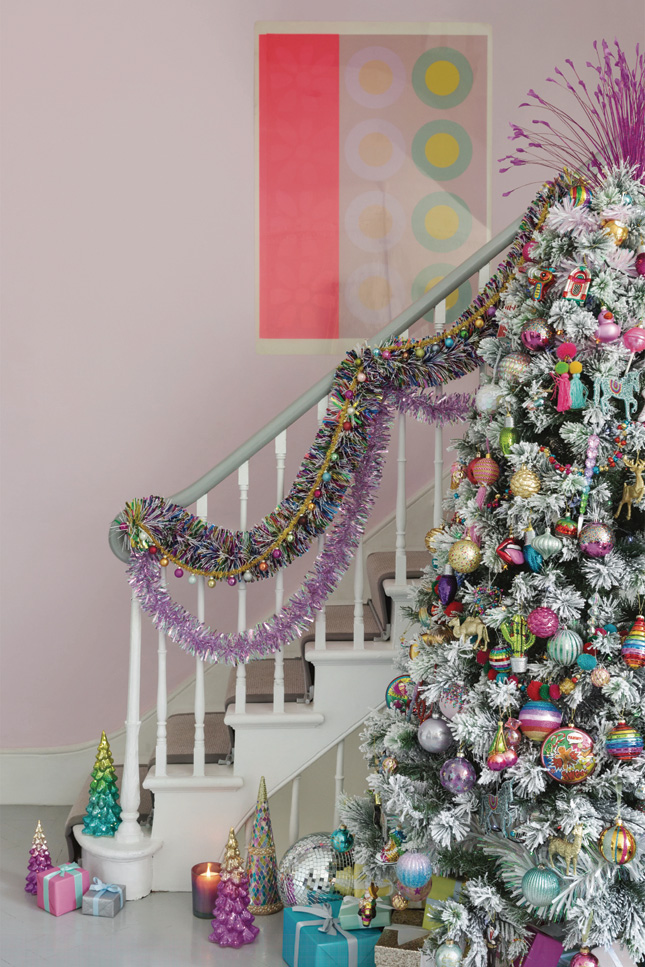 The key to getting this trend just right? It's definitely not about restraint. Ditch Coco Chanel's maxim and when you think you've maybe, possibly got enough decorations on the tree, add one more. Snowy Vancouver Mixed Pine 7' Christmas Tree, €250, decorations from, €6, Amara.com.
2. Rainbow Rules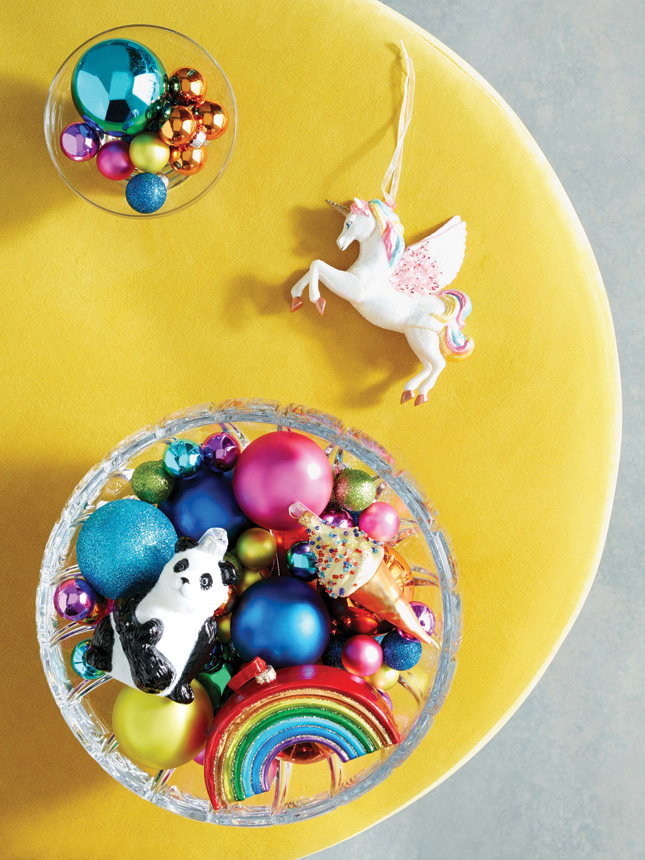 No one said you have to do the expected and just think how good these'll look on the 'gram. ABC Unicorn, €14, ABC Panda, €9, Glass Rainbow, €9, ABC Ice Cream, €8, all Johnlewis.com.
3. Hero Your Decorations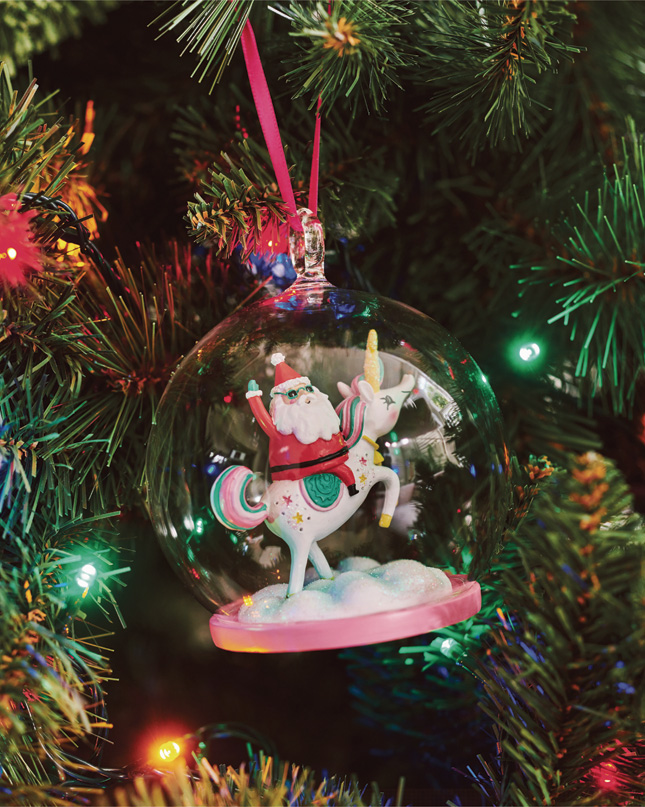 Add to Santa's mystical allure with some added unicorn. This Rudolph's Day Off woollen unicorn decoration, €5, at Sainsbury's Home, is a showstopper your tree can be proud of.
4. Stride of Pride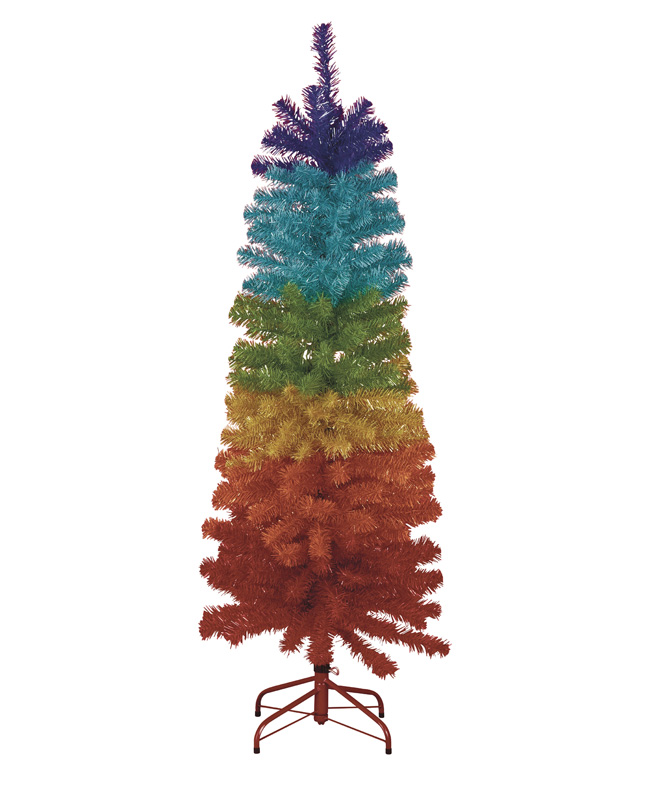 Wear your allegiances on your tree this year with this 5' rainbow tree, around €50, from Argos.ie.
Brilliant bright bits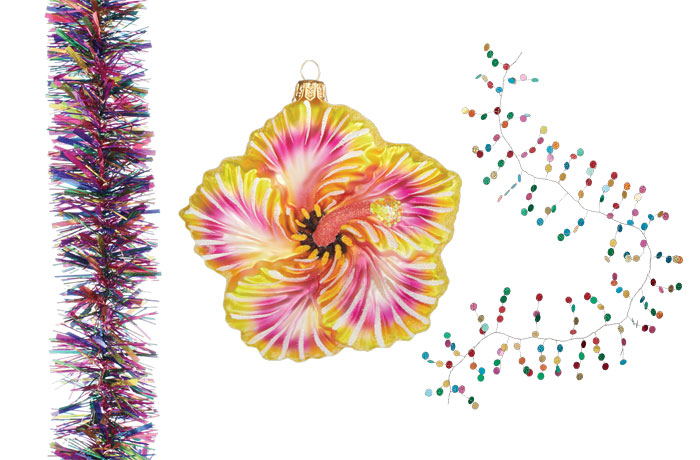 Multicoloured tinsel, €7, Debenhams.ie
Hibiscus decoration, €22, Libertylondon.com
Sequin Garland, €11, Habitat.eu
Christmas decorating trend 2: Dark Matter
Moody and jet-propelled, go back in black this Christmas for grown-up glamour
1. Jet Set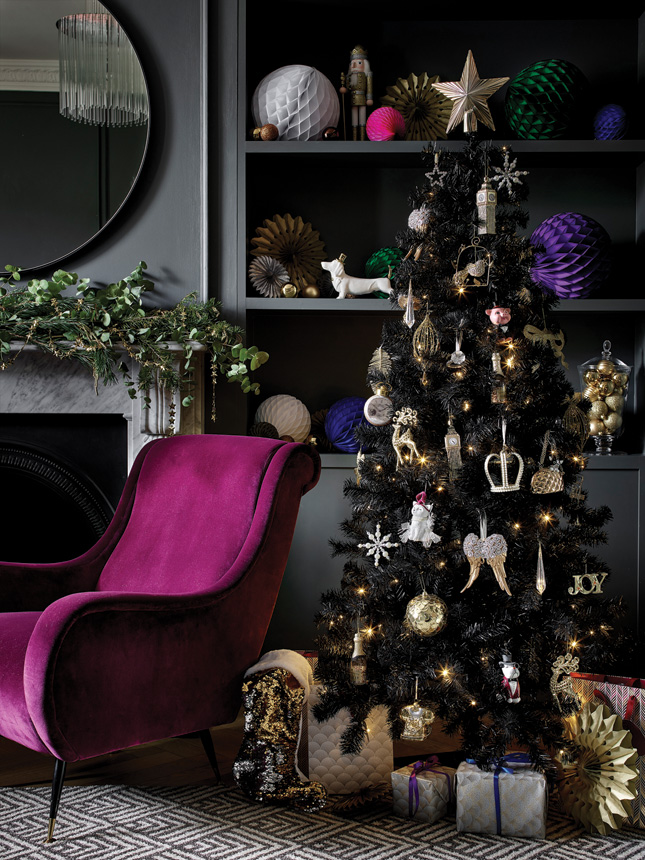 Ideal for lovers of dark, dramatic décor, this evocative Christmas living room scheme is all kinds of cosy and comfortable. Baubles and tree decorations, from around €3 each, George Home.
2. Stocking Killer
Grown up and glamorous, we're in love with this Moroccan Gold Metallic Print Christmas Stocking, €66, Penelopehope.com. It's the ultimate finishing touch for an adult living room.
3. Class in Brass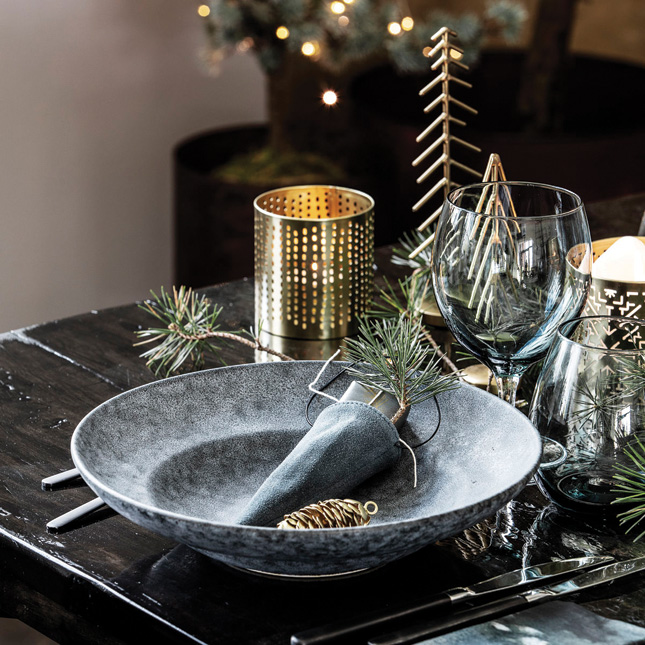 Irish brand April and the Bear's (Aprilandthebear.com) Christmas offer this year is super-strong - take this Brass Christmas Tree, €12, for example. Everyone needs a few new bits and bobs to bring their table to life for the big day, eh?
4. Ball Park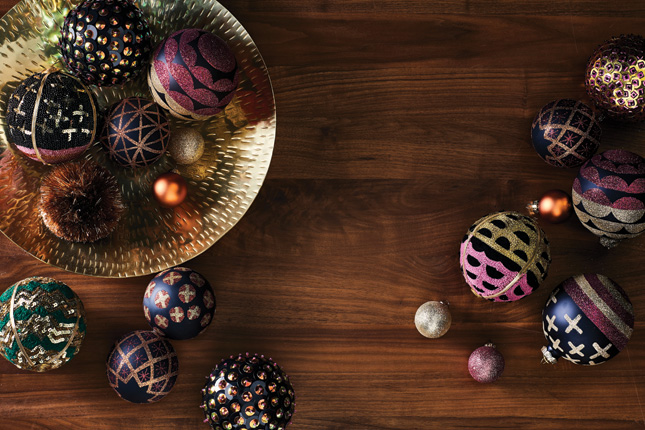 In jewel tones with gilded accents, these beautiful Christmas Handcrafted Luxe decorations cost from €7, Habitat.eu, and will pop on any tree.
Blingy counterpoints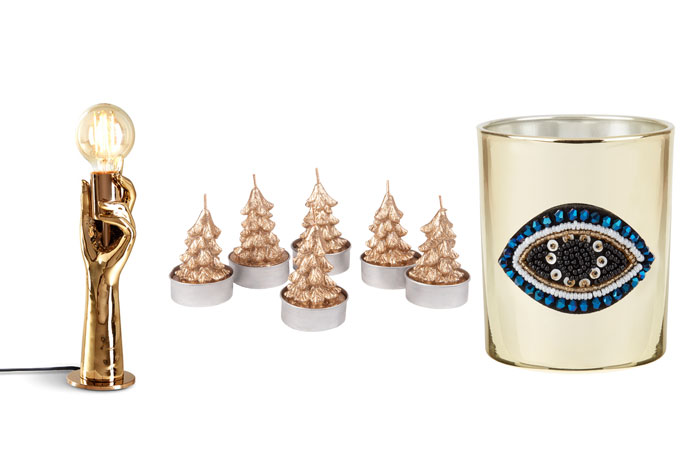 Tamara table lamp, €60, Next.ie
Gold Christmas Tree tealights, €8 for 6, Maisonsdumonde.com
Candle, €20, Riverisland.com
Christmas decorating trend 3: Soft Bulletin
Think pinks and pastel for a soft take on Christmas that's all kinds of candyland cute
1. Peachy Keen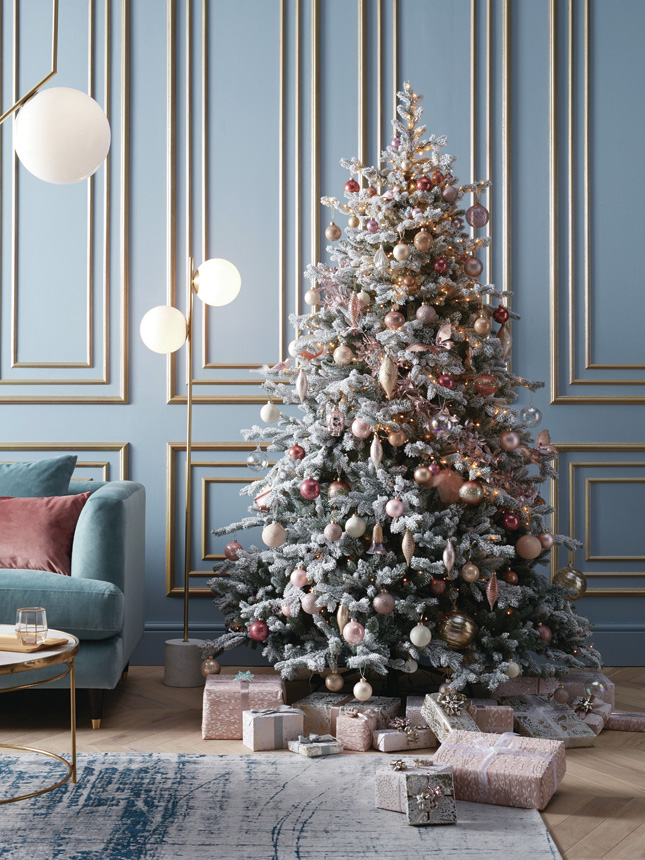 Pastel perfection wrapped up in a confier: take rose gold, pink, pink, peach, and glitter-shot glass decorations, add them liberally to a full, fluffy take and sit back and admire. Baubles, from €7, from a selection at Johnlewis.com.
2. Oh, Ombré
Think outside the box for pastel perfection: flowers, fauxliage and sequins should all get a look-in. These lovely pink and purple ombre baubles, €18.99, at Littlewoodsireland.ie, look particularly good on this frosted tree.
3. Birds of a feather
We're all about statement decorations at House and Home and this is a statement decoration: Princess Swan, €35, Arnotts.ie, is a total showshopper.
4. Crown jewel
A girly tree needs a proper finishing touch and what could be more perfect than a fairy crown, eh? Christmas Tree Topper Micro LED Crown, €25, Lights4fun.co.uk.
Frosted fancies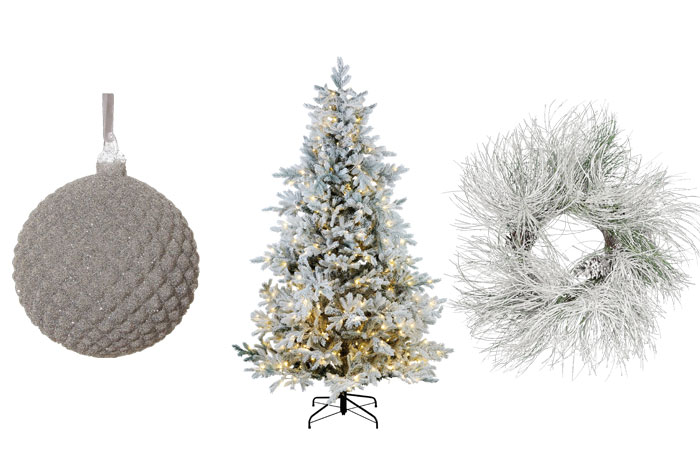 Shishi Glass Cone Bauble, €8, Brownthomas.com
Flocked Pre-lit Christmas tree, €294, Littlewoodsireland.ie
Celestial large shaggy white dusted wreath, €5, Homesense
Christmas decorating trend 4: Trad player
Red and green and everything in between
1. Classic Christmas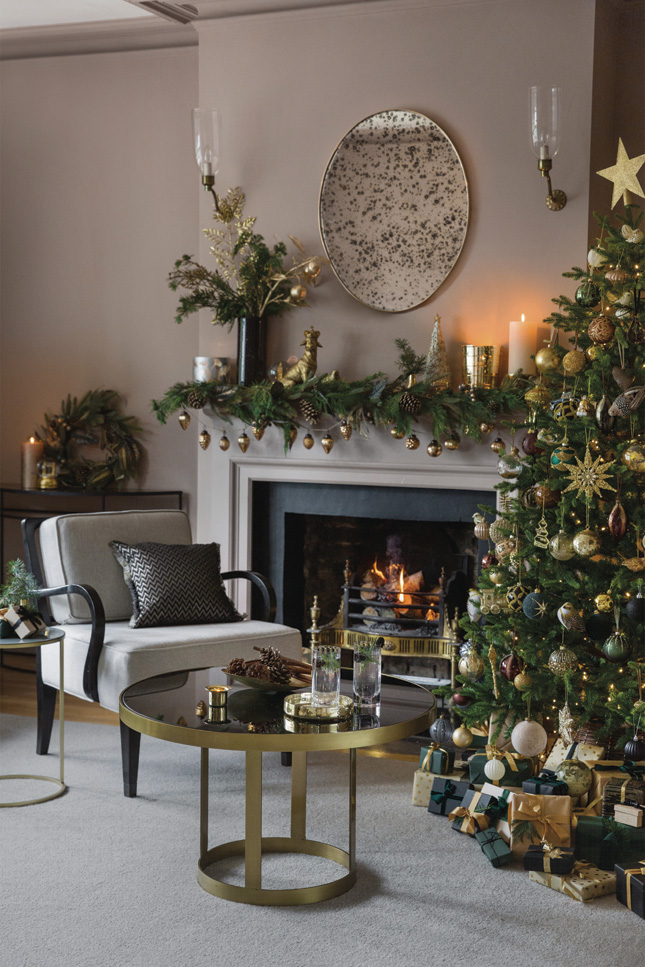 What do you get if you add inviting period-inspired furniture, muted décor, a roaring fire and lashings and lashings of gold and green festive decorations? A right old traditional Christmas, that's what. Decorations, from €7, at Amara.com.
2. Smell Well
What a clever idea: Max Benjamin (Maxbenjamin.ie) has launched scented Christmas decorations - so smart. Get four in love hearts, stars or trees for €12. Love it!
3. Budget Beauty
Creating an impact doesn't have to cost a fortune: these Vinterfest baubles are just €6 for 20, Ikea.ie, so you can really later them up. Push them back into the branches for added fullness and then add your pricier decorations front and centre.
4. Sock It To Me
Neptune's Isla Velvet Stockings, €39 each, will become family heirlooms – the sort of thing you reach for year after year.
5. Green goodies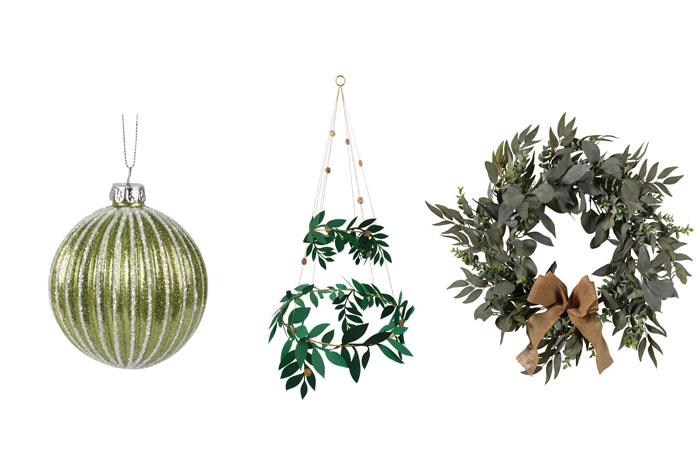 Glass bauble with green glitter and gold stripes, €22 for 6, Maisonsdumomde.com
Mistletoe chandelier, €38, Idyllhome.co.uk
Mixed Foliage Christmas Wreath with Hessian Bow, €28, Lights4fun.co.uk
If you liked this you might also like: The House and Home Interiors Gift Guide: 11 shops to know for your Christmas shopping