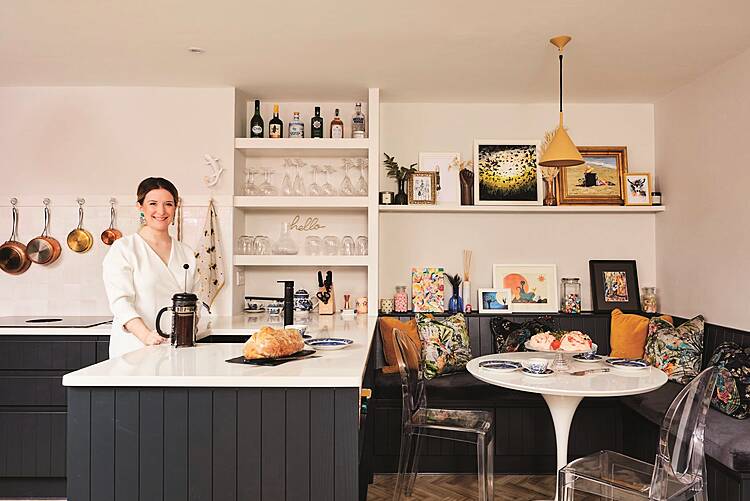 You may remember that earlier in the year, we did weekly recaps of RTÉ's Home of the Year. And like many of you, we had a few clear favourites. Among them was Jenn's Sheahan's winning Dublin cottage. The use of colour and clever space-saving solution wowed the judges, and so it was chosen as the overall winner. And within the following few weeks, we had a whole tour of the home in our summer issue. But for any of you who missed it, we decided to share it here. The following article appeared in our May/ June 2021 issue.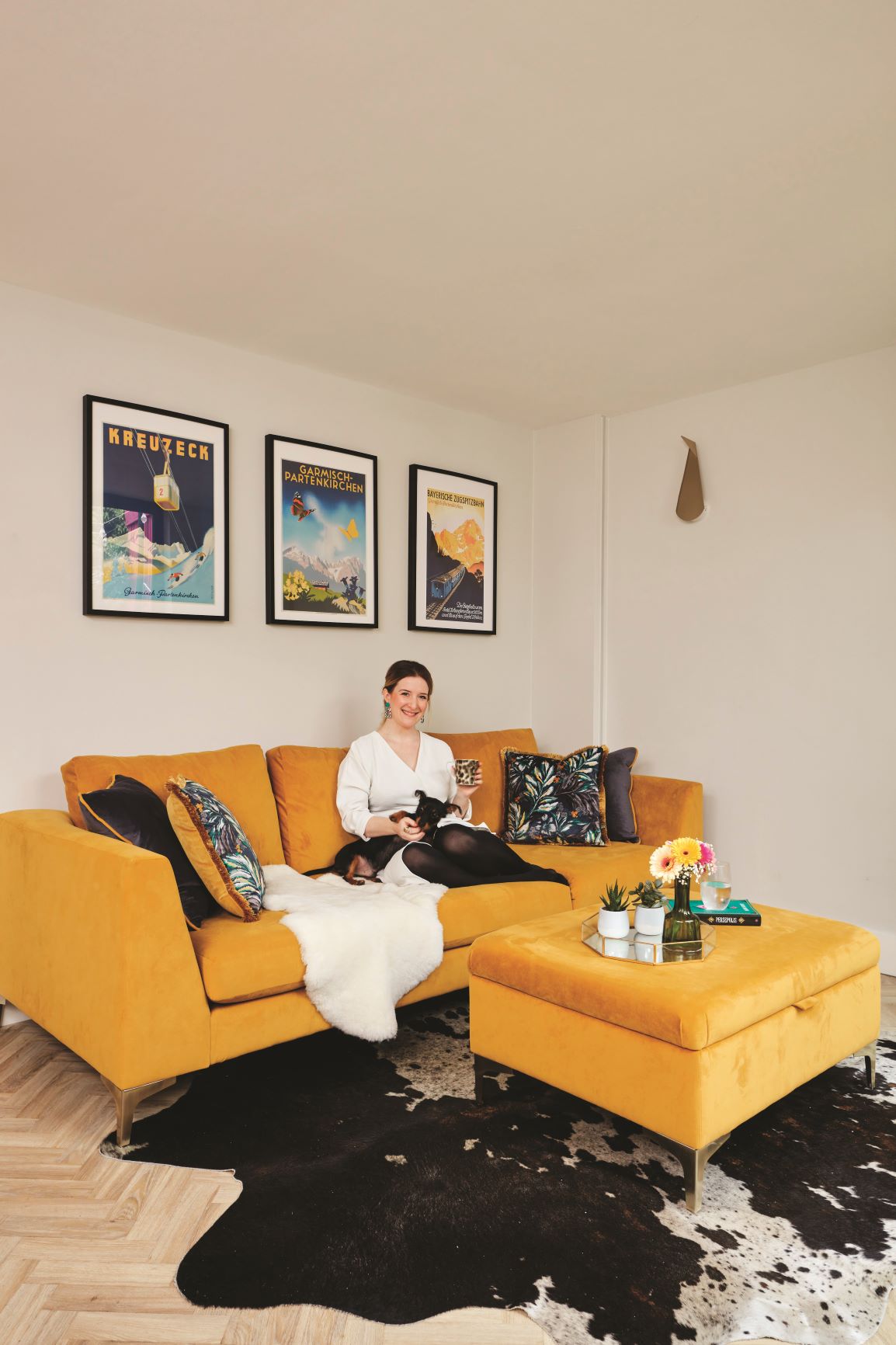 If this house looks familiar to you that is because it probably is. Jenn Sheahan's home was the winner this year on RTE's hugely popular Home of the Year show. "I loved seeing my house on screen and I really couldn't believe it when I heard I had won the competition," says Jenn. "It was fascinating to see what the judges noticed and zoned in on. I spend all day here and you can start to get blinded to everyday items, so it's been interesting to pull back and see it through someone else's eyes."
Originally built in the 1800s as a workers' cottage for firemen and their families - along the road each house had a bell that was linked to the local fire station in Rathmines, Dublin - this charming cottage had fallen into total disrepair and needed a complete renovation when it went on sale.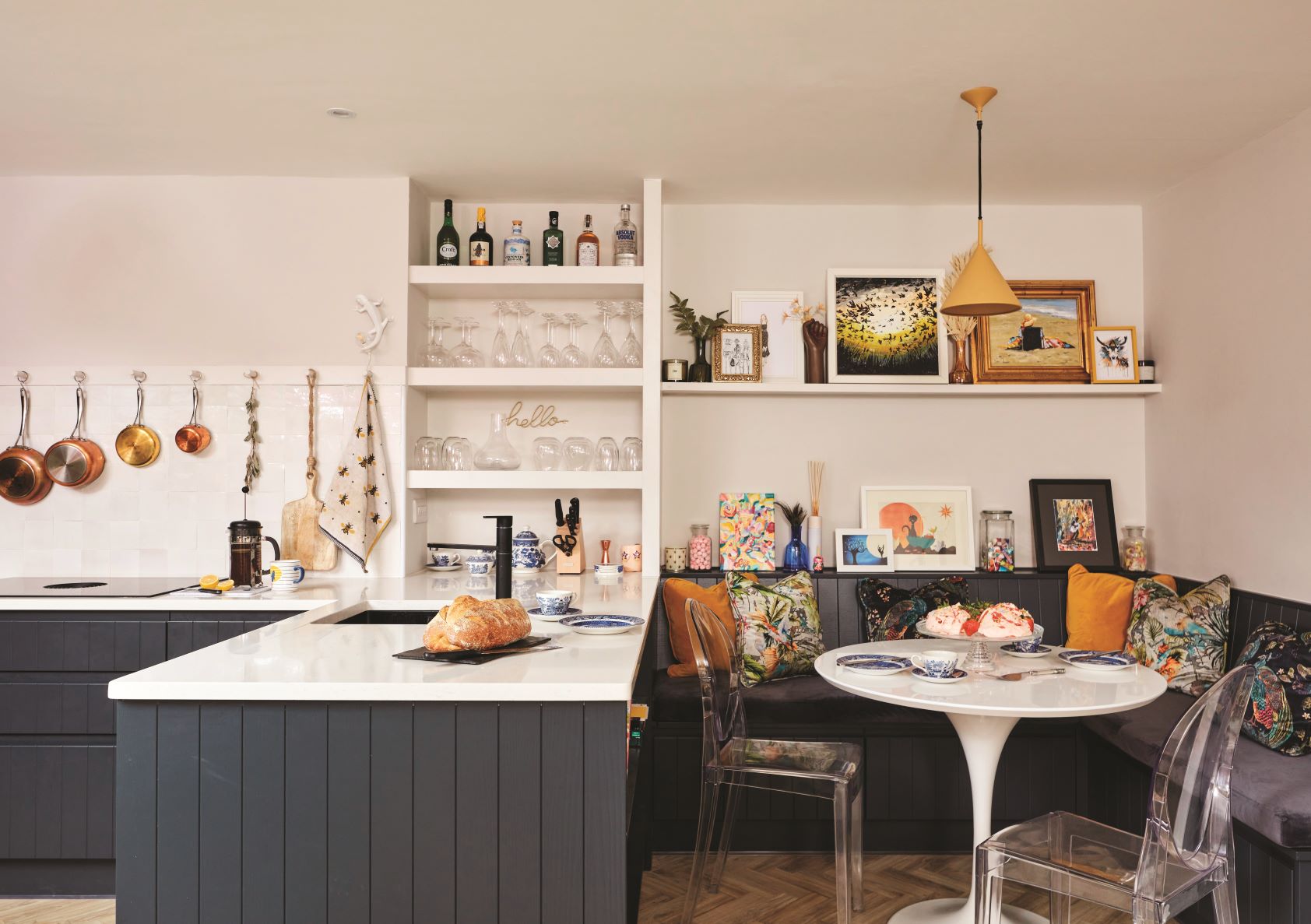 "I had my eye on this terrace for ages and had even set an alert up on my phone for anything that came up," says Jenn. "It took almost a year, but my patience finally paid off. I rang the agent within ten minutes of seeing the house go online and said if they wanted a quick sale I would pay the asking price. Luckily they agreed. I rang around to get a survey the following day.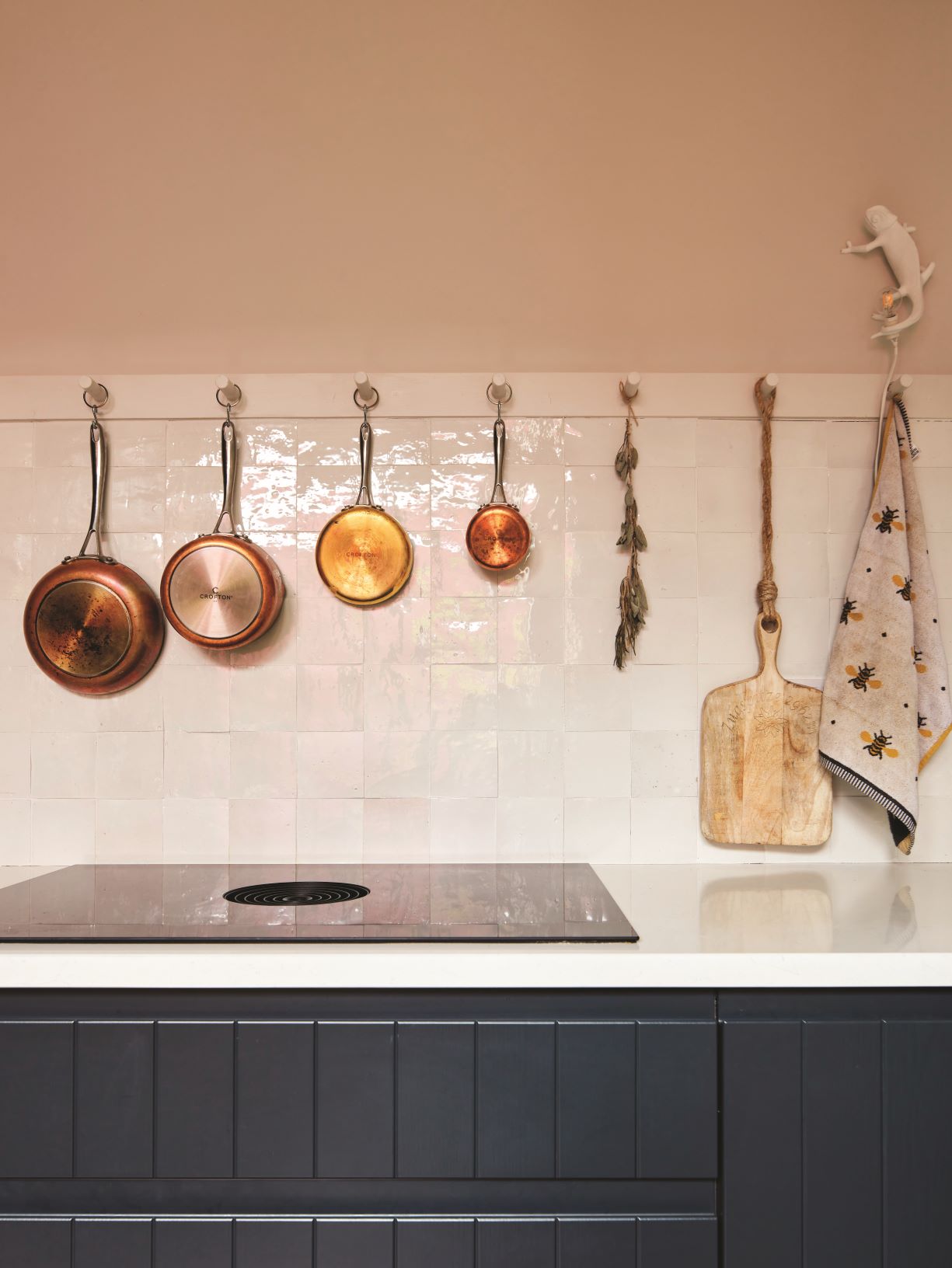 A quick Google search found me the local architect, Denis Gilbert, who had worked on similar projects and knew what could be done." Jenn got her keys in March 2019 and lived in the house for nearly nine months while saving, finalising the drawings, and waiting for planning permission for the next steps.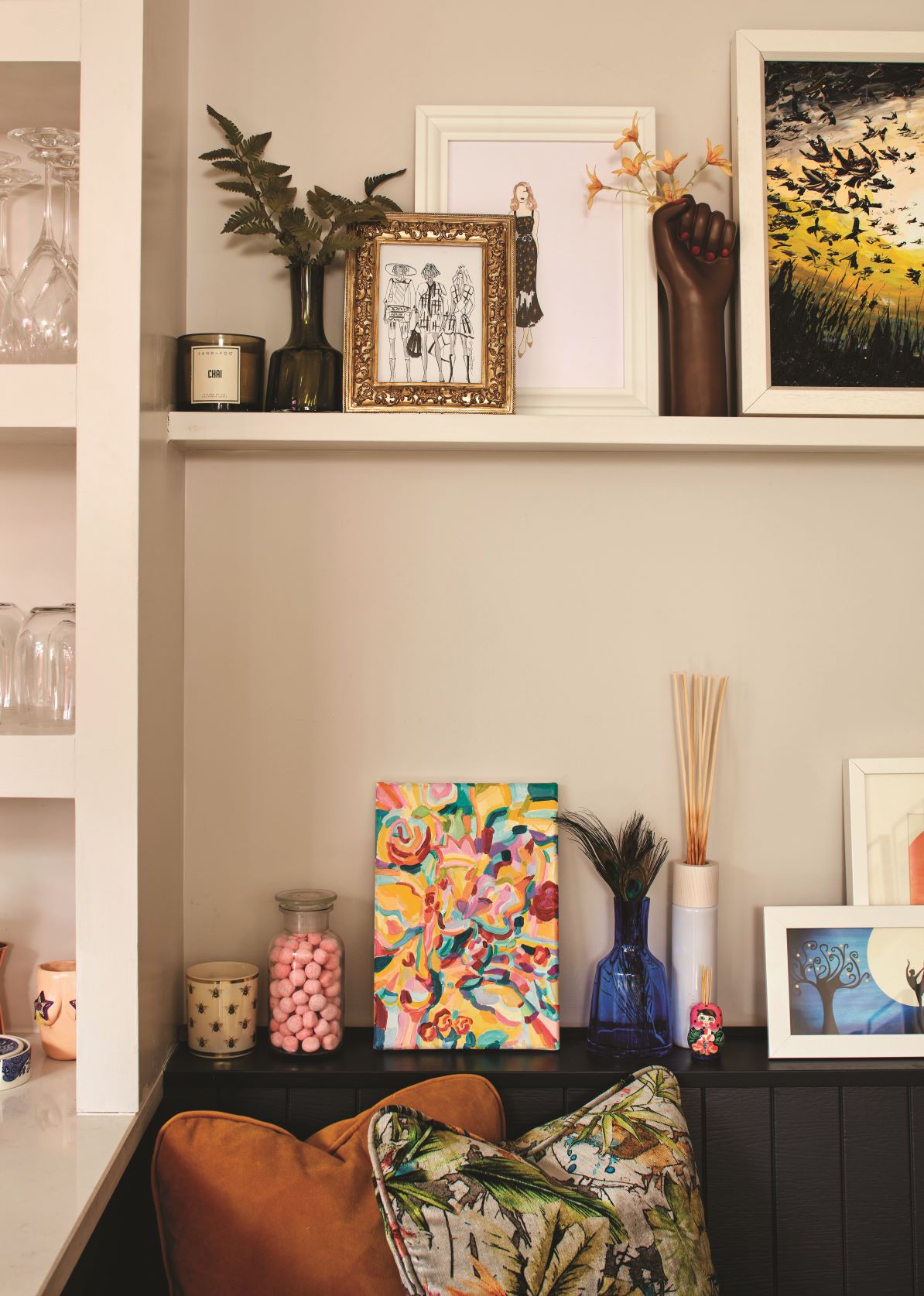 When bought, the house was damp and very small, with one outhouse bathroom and no central heating. It had one central fireplace with openings into each of the three rooms in the house. "Luckily the roofs on these houses are quite high, so extending up into the attic was possible by dropping the floor just a bit," says Jenn. "I had a few things I was adamant
about from the start. I really wanted two bedrooms and two bathrooms, and I insisted on a bath. Some compromises will always have to be made with a small space, but creativity goes a long way and I wouldn't change a thing."
Jenn did need planning permission to extend up but this came through easily and without issue. "During the first months, the house was freezing and there was no hot water - I went to the gym to shower every day, I was so fit!" she laughs. The work started the first week of January 2020 into March until the Covid 19 pandemic hit, and they had to wait until construction was allowed again. "The delay was frustrating of course, but it gave me and my interior designer, Caroline Maguire, time to consider every detail," says Jenn. "So as soon as construction opened up again we were ready to go. By that time we had every decision made."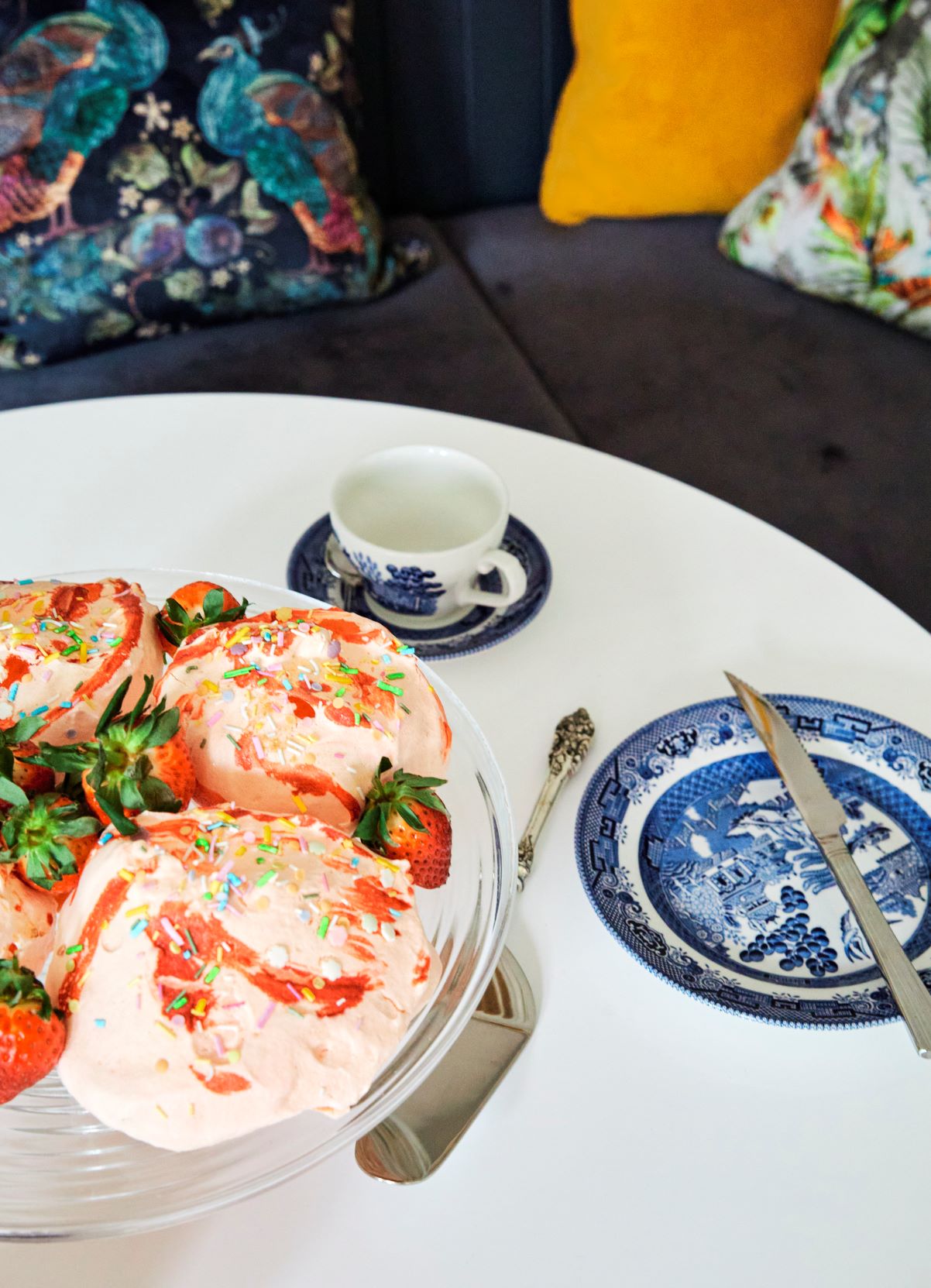 Jenn says the project was a collaboration from the start between her, the building team, the architect and interior designer. "Jason at JEMI Construction had so many super ideas about how to maximise the space, including adding in storage nooks in the walls of both bathrooms, and within the lower eaves of the upstairs bedroom," says Jenn. "He was brilliant with the garden too. I was really lucky with everyone involved." According to Jenn, the rest of the build went incredibly smoothly and wrapped up within the planned time in August 2020.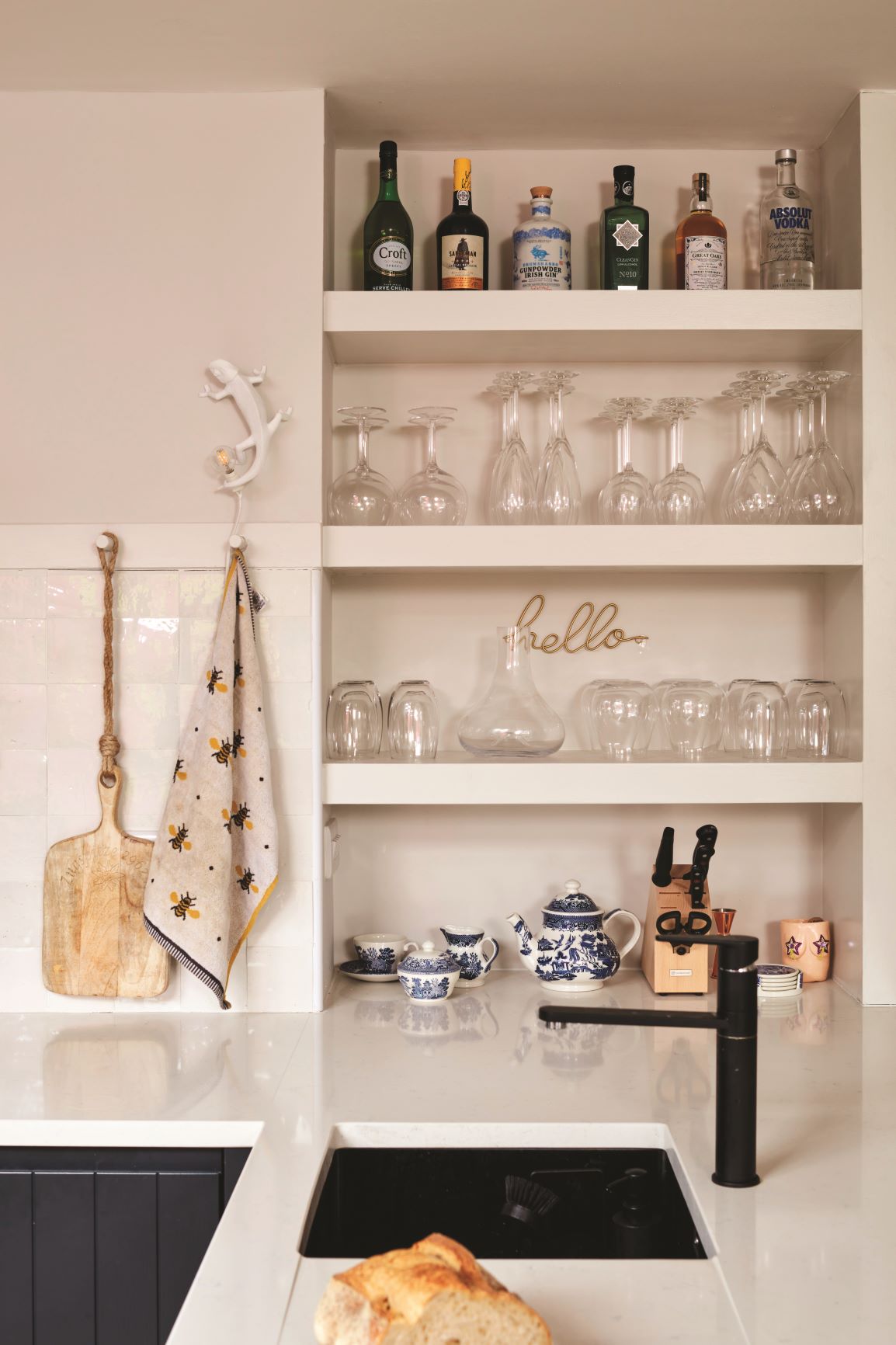 "Above all the garden is my little happy place!" says Jenn. "As with everything in this house it has to work hard to serve a few functions. I wanted a space to sit out in when warm, a space for outdoor dining when visitors were over, and a space to grow plants. This is tall order for an area no more than four square meters but the builders really got what I was talking about."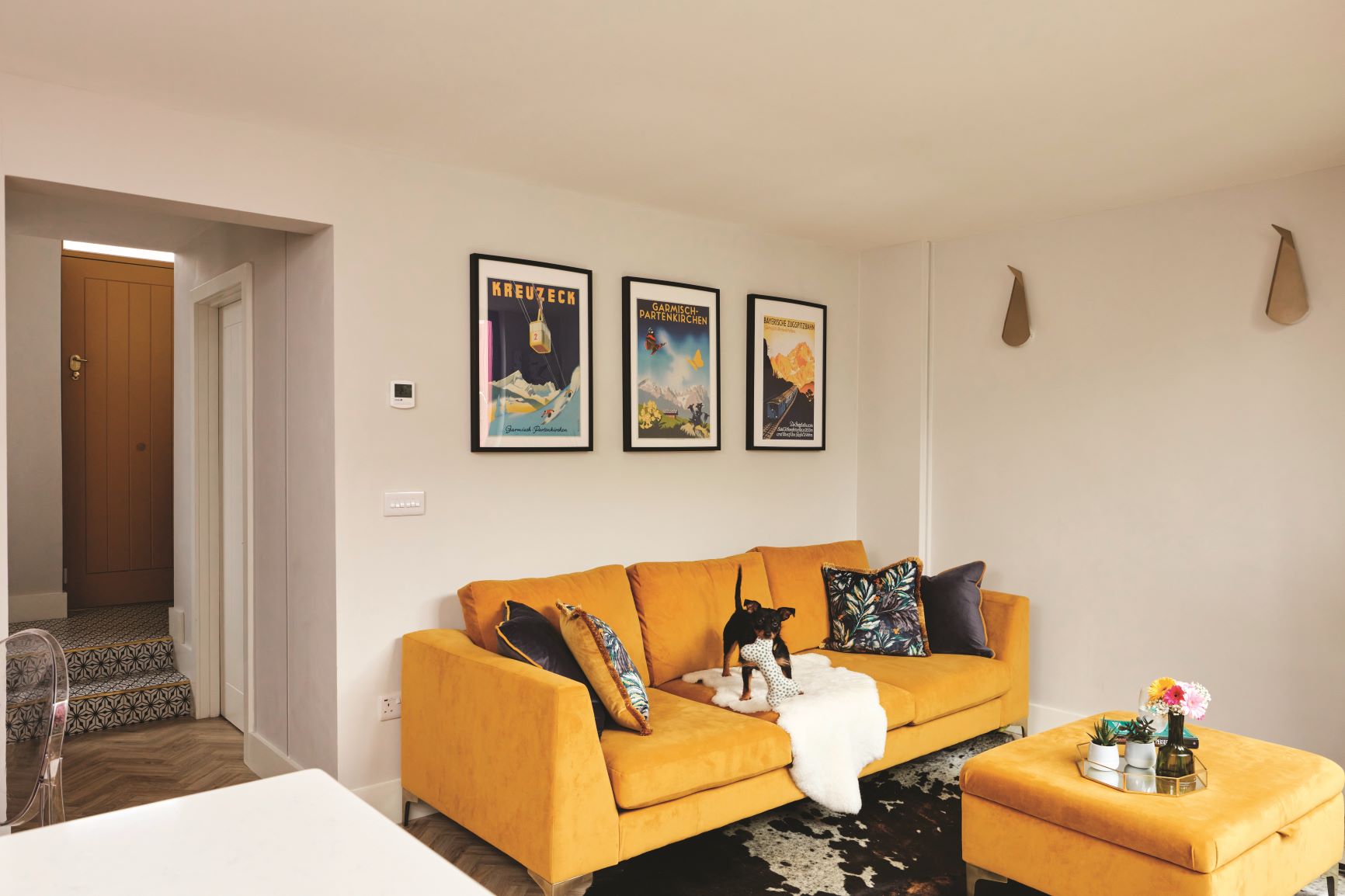 Using building materials from the extension, Jason and his team cleverly built a foldaway table and panelled wood feature wall, which Jenn later painted pink. They used the terrazzo tiles that were left over from the bathroom to create an all-weather bench and laid artificial grass for greenery. "It was perfect. I bought some folding chairs to hang on the wall, and spray painted them for an extra pop of colour, so the space can turn from a garden to a dining area in an instant," says Jenn. "The final addition was the vertical garden which was done by a friend as a generous favour."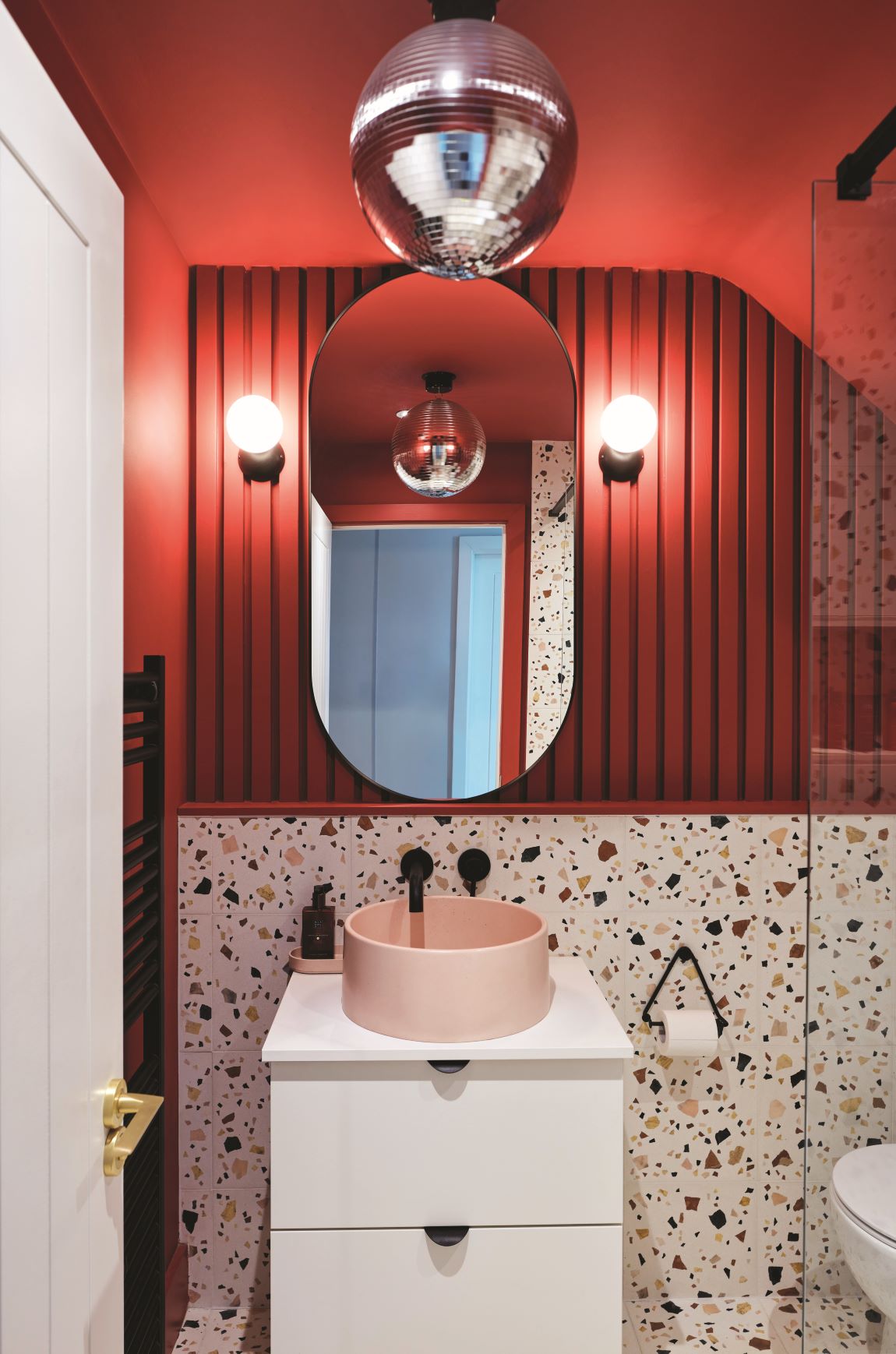 While the house downstairs is a colourful, fun-loving and vibrant affair, head up the stairs and you will find that a calm and serene space awaits. "I had the idea that this area needed to feel separate to the rest of the house," says Jenn. "I wanted to come down in the morning and feel awakened by the liveliness of the downstairs, but come up to bed at the end of a long day and feel like I'd taken a deep breath out - just instant relaxation."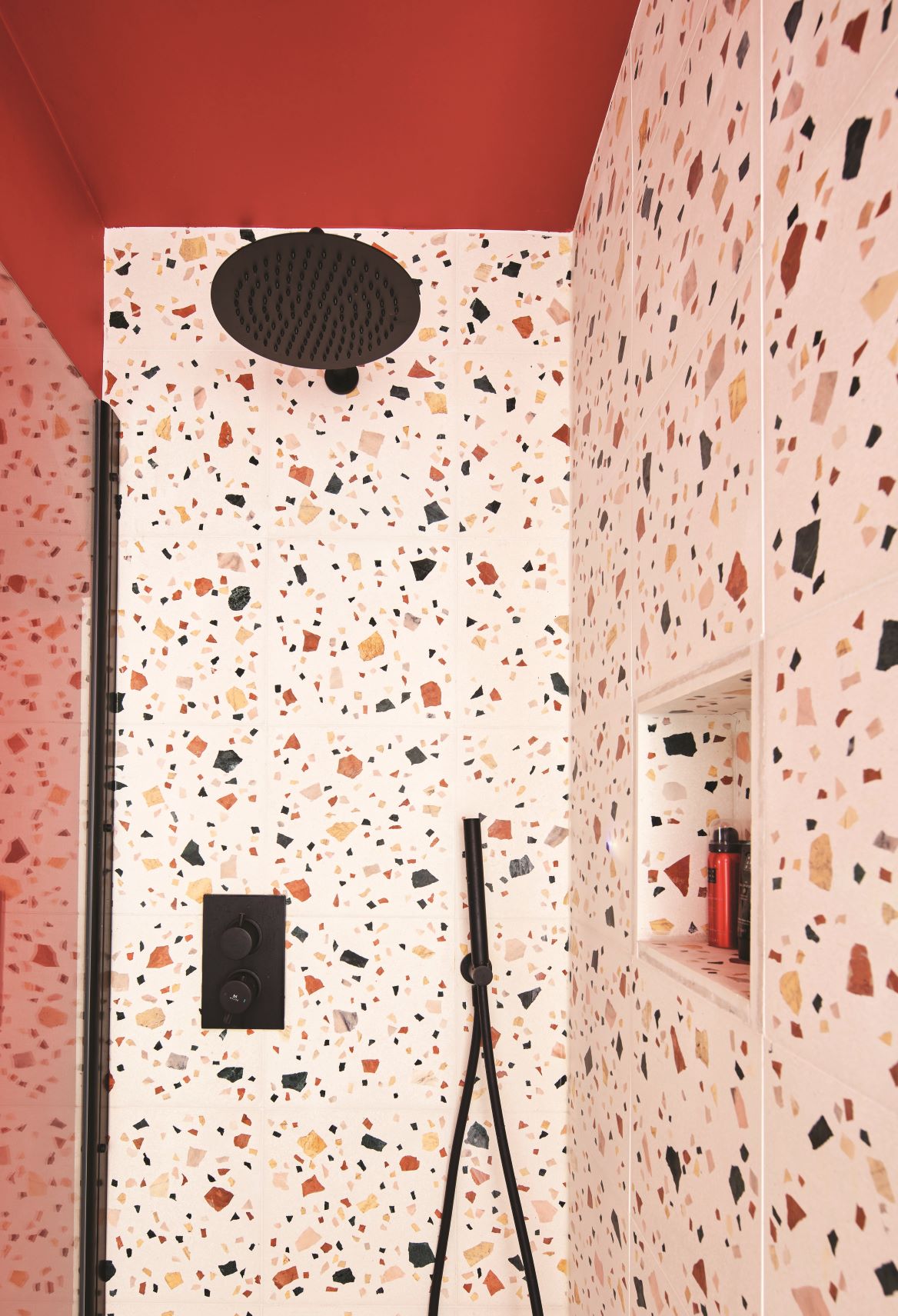 With this in mind, Jenn has used calming shades of grey and soft pinks upstairs, and has fitted a super soft carpet as well as a tactile velvet bed. Some of the colour did emanate up and is reflected in the seafoam blue of the headboard which is picked up in the doorway arch. "It's a bold colour which links the upstairs to the downstairs, but it's still a calming hue which relaxes the feeling of the upstairs," she says. "My house was a real team effort, and seeing Home of the Year pick up on the ideas that we came up with and compliment us all on our design decisions has been just so wonderful," says Jenn.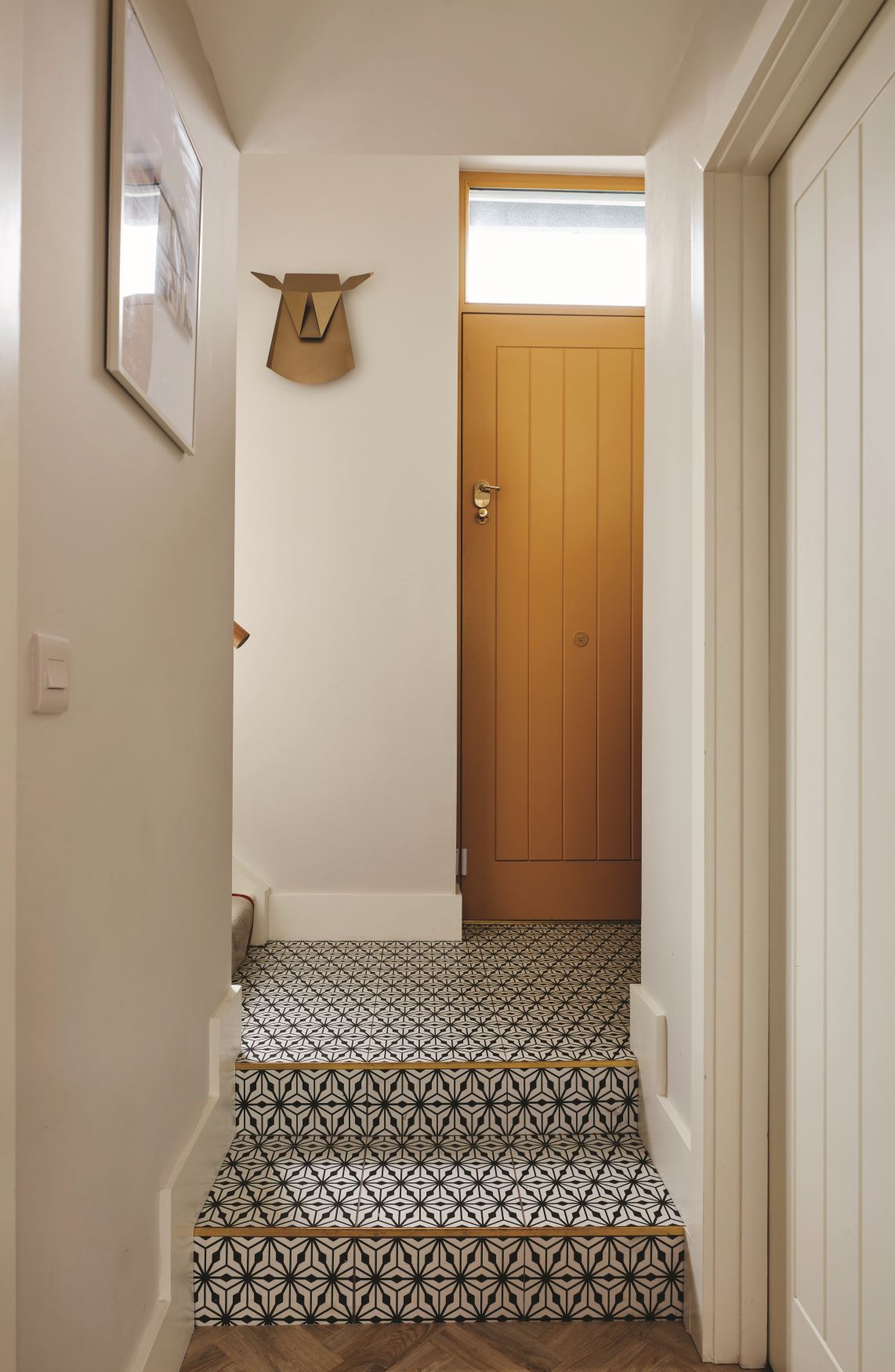 "When approaching the design think about items that can have a secondary usage. I call my office my 'transformer room' because it can be so many things. By day it has a sofa and a desk for working. The desk is custom-built for my laptop and other work items and, as well as this, the lid lifts up and underneath is my keyboard! At night the sofa can be turned into a bed if I have guests to stay", says Jenn of her multi-functional space.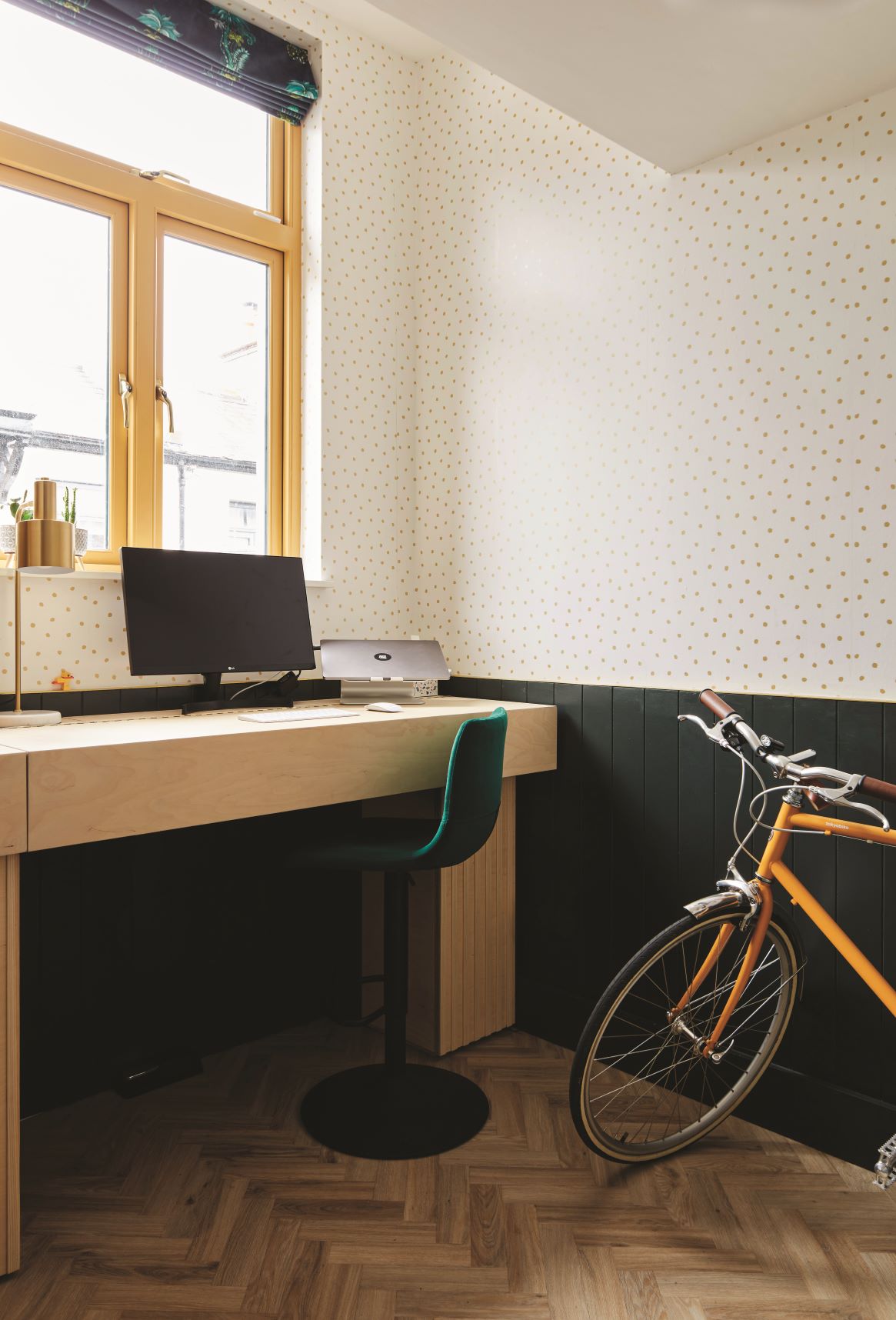 TWO-TONE ACCENT WALLS
An illusion of more space is created in Jenn's spare room by juxtaposing dark and light to full sophisticated effect.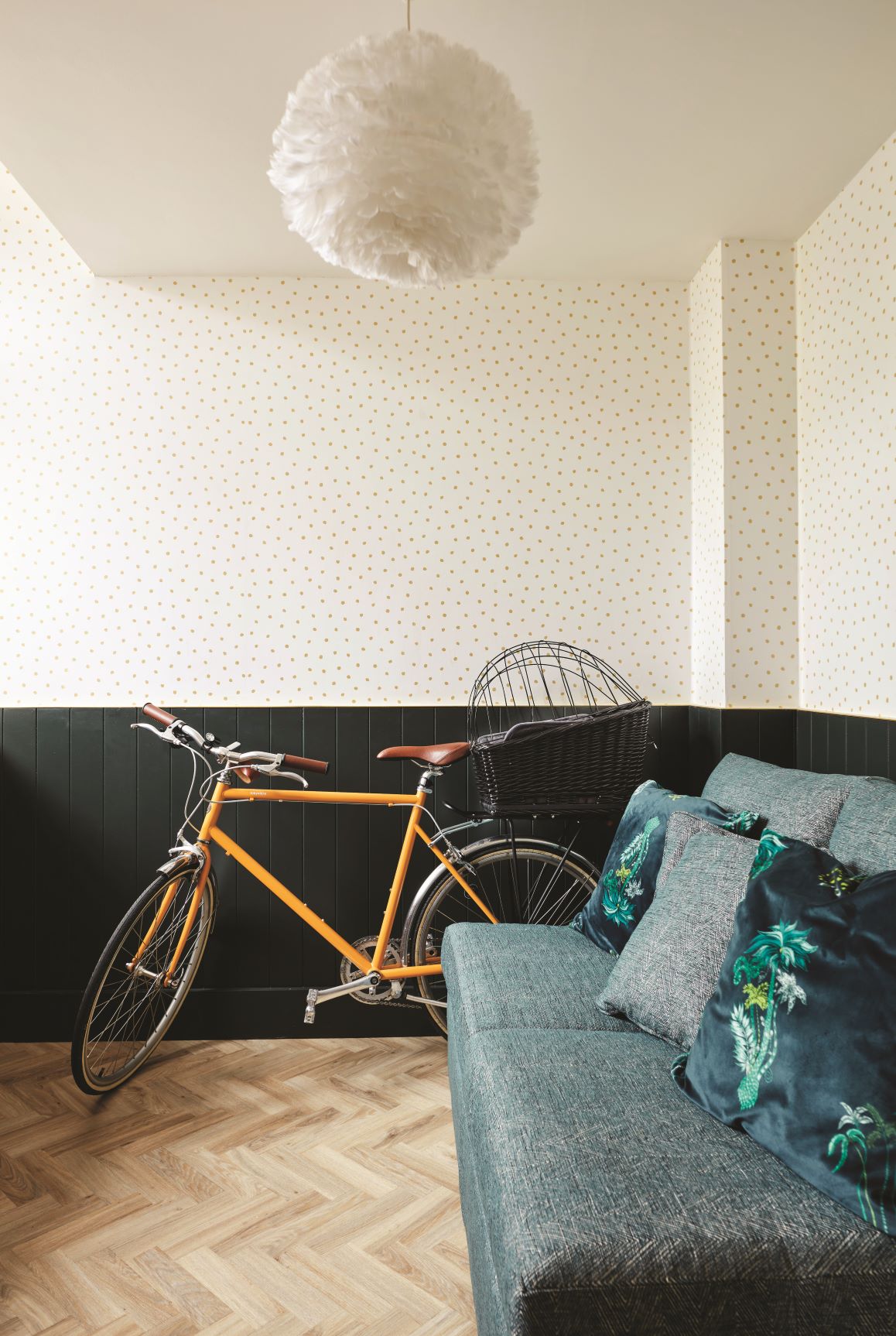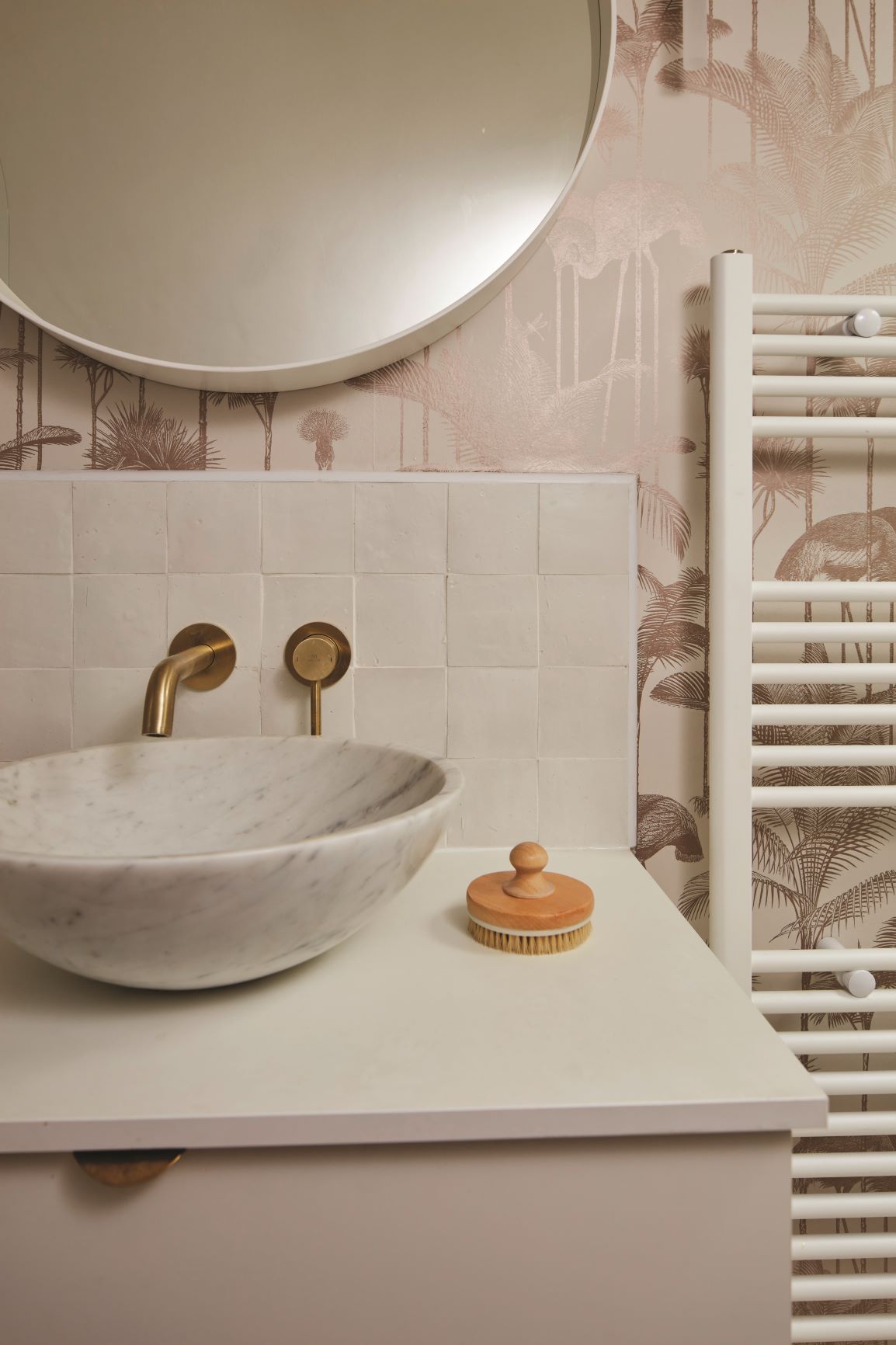 "Underfloor heating is a fabulous space-saver as often radiators can be awkward space-invaders. So if you have a small bathroom you could consider turning it into a wetroom, which I did in the downstairs bathroom. In a small space every bit counts so even shower trays and doors can take up too much space," says Jenn.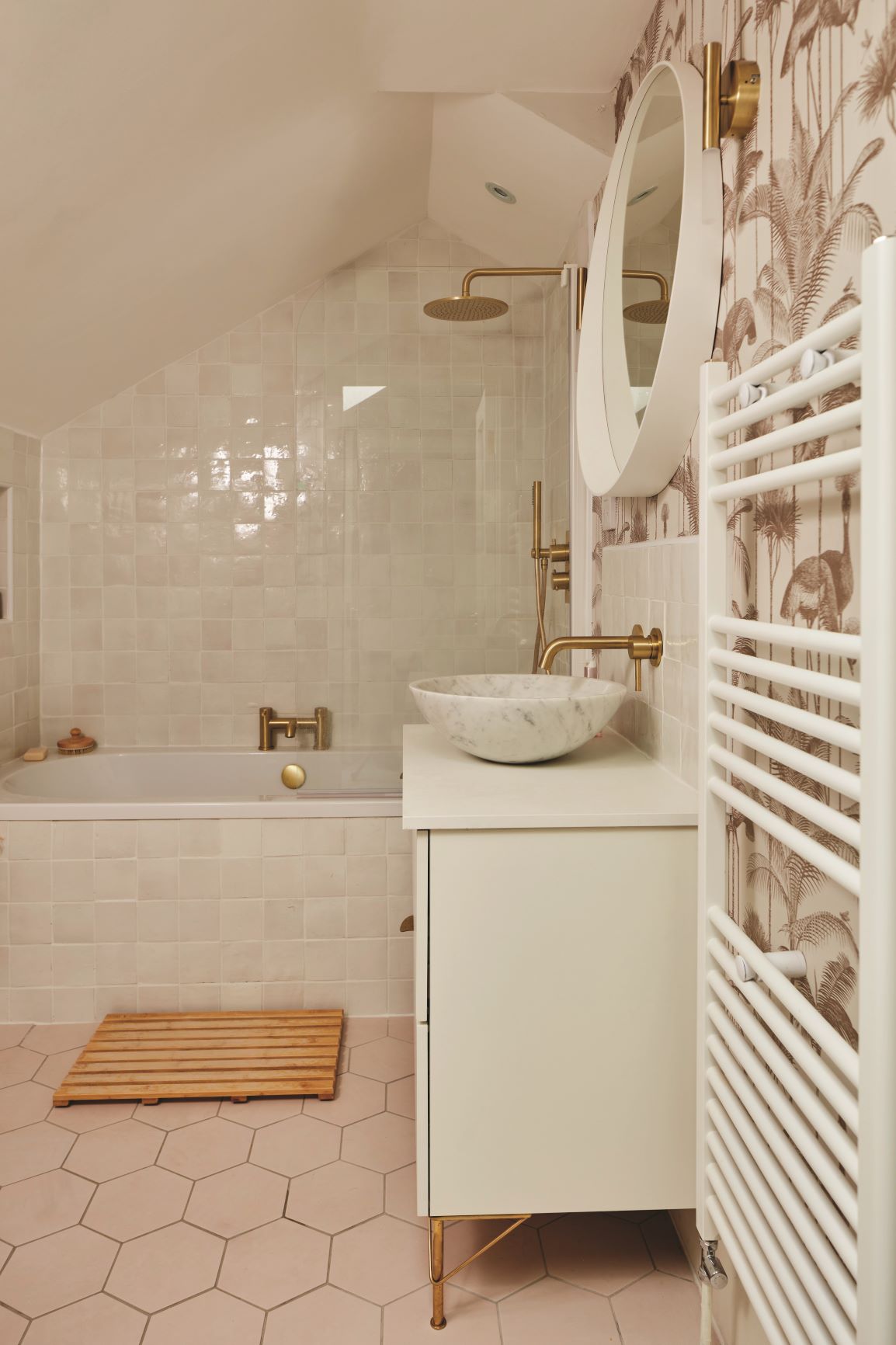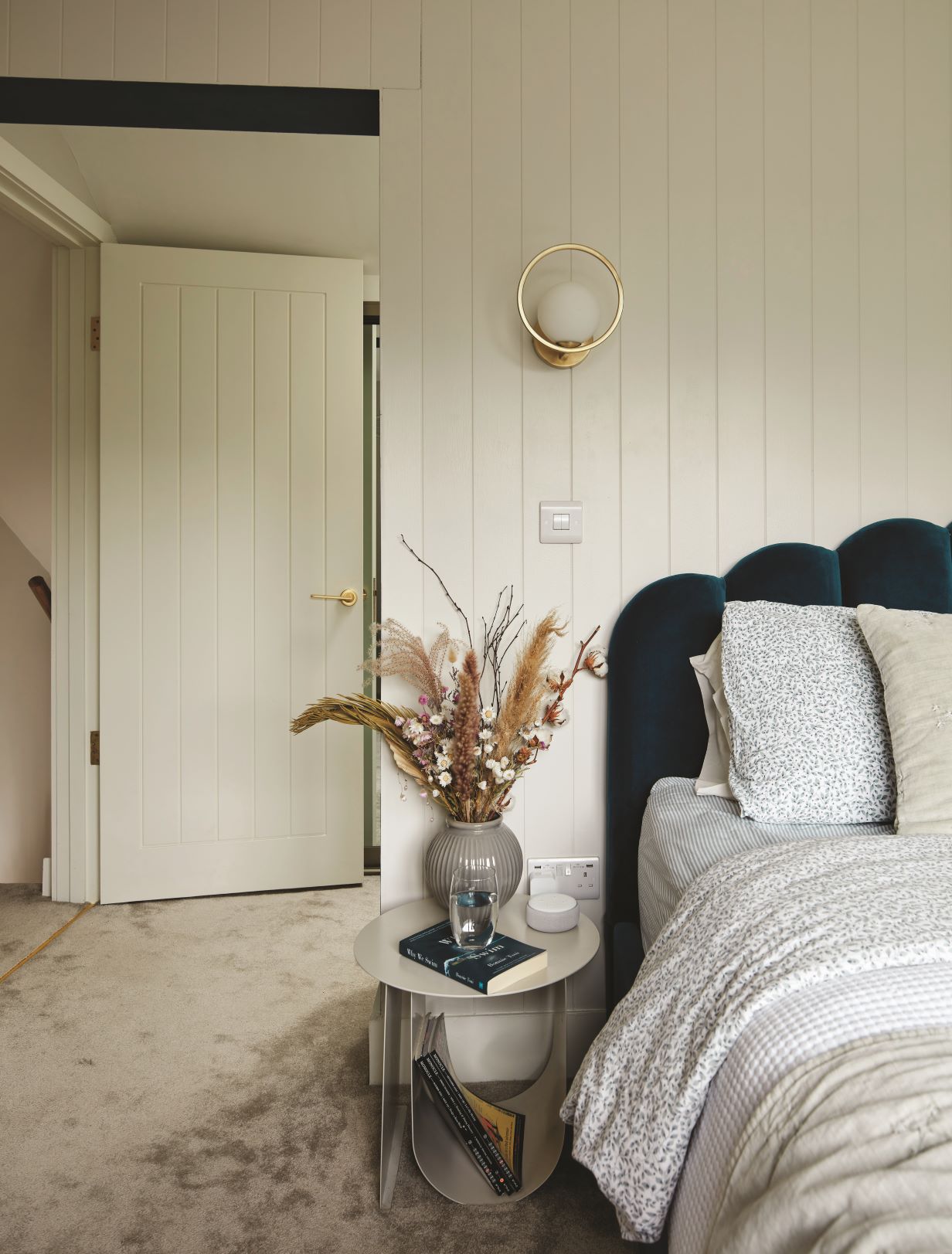 "Start with considering functionality and decide on how it will look after that. Be honest about what you need to use the space for and how you will use it most often. If you can get that right you can think about how to make it look good later", Jenn says of her advised approach to home design.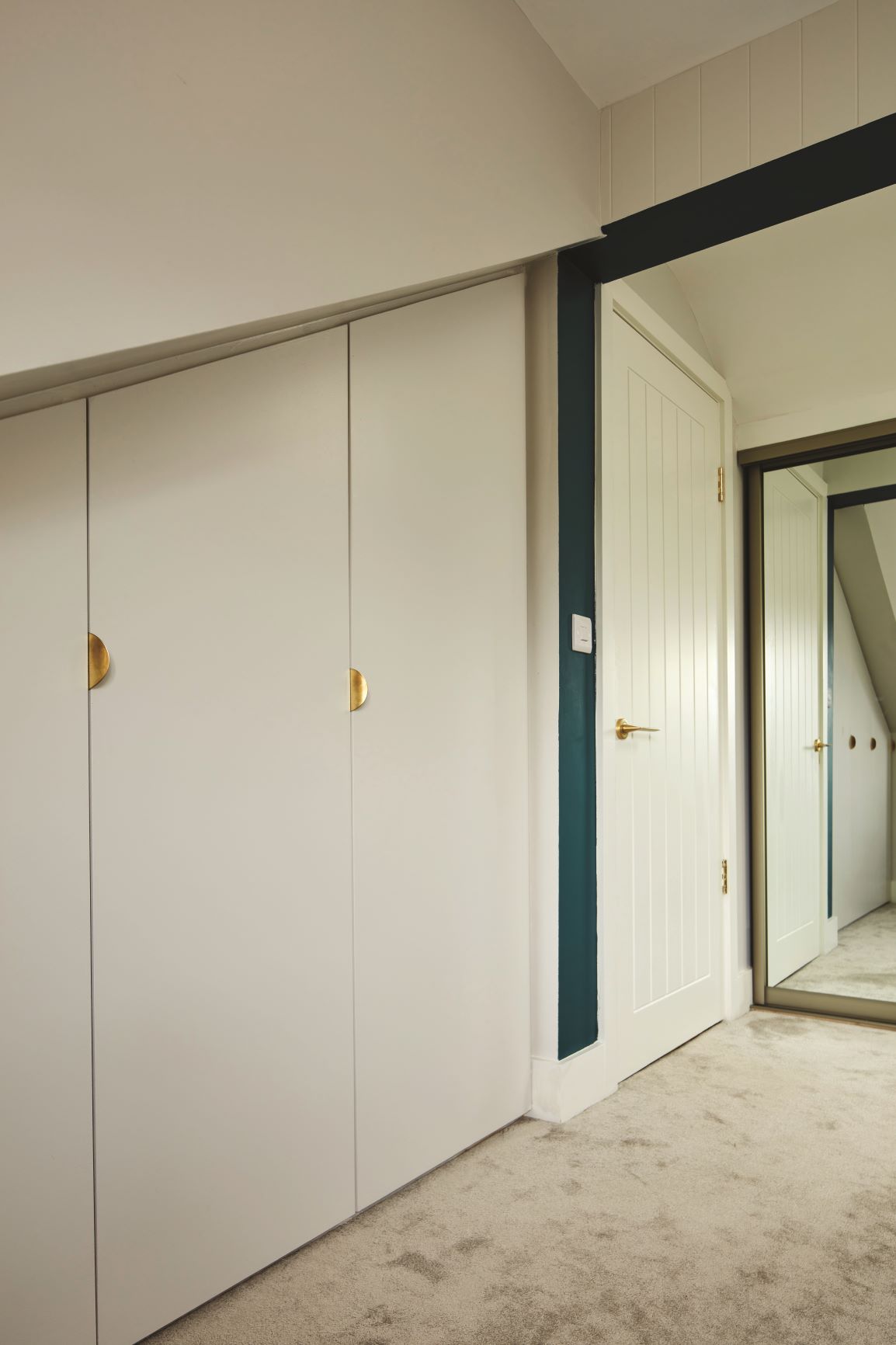 "Don't over clutter it - built-in furniture is your friend. Some clever transforming furniture can really turn any room into a dual-usage space," advises Jenn.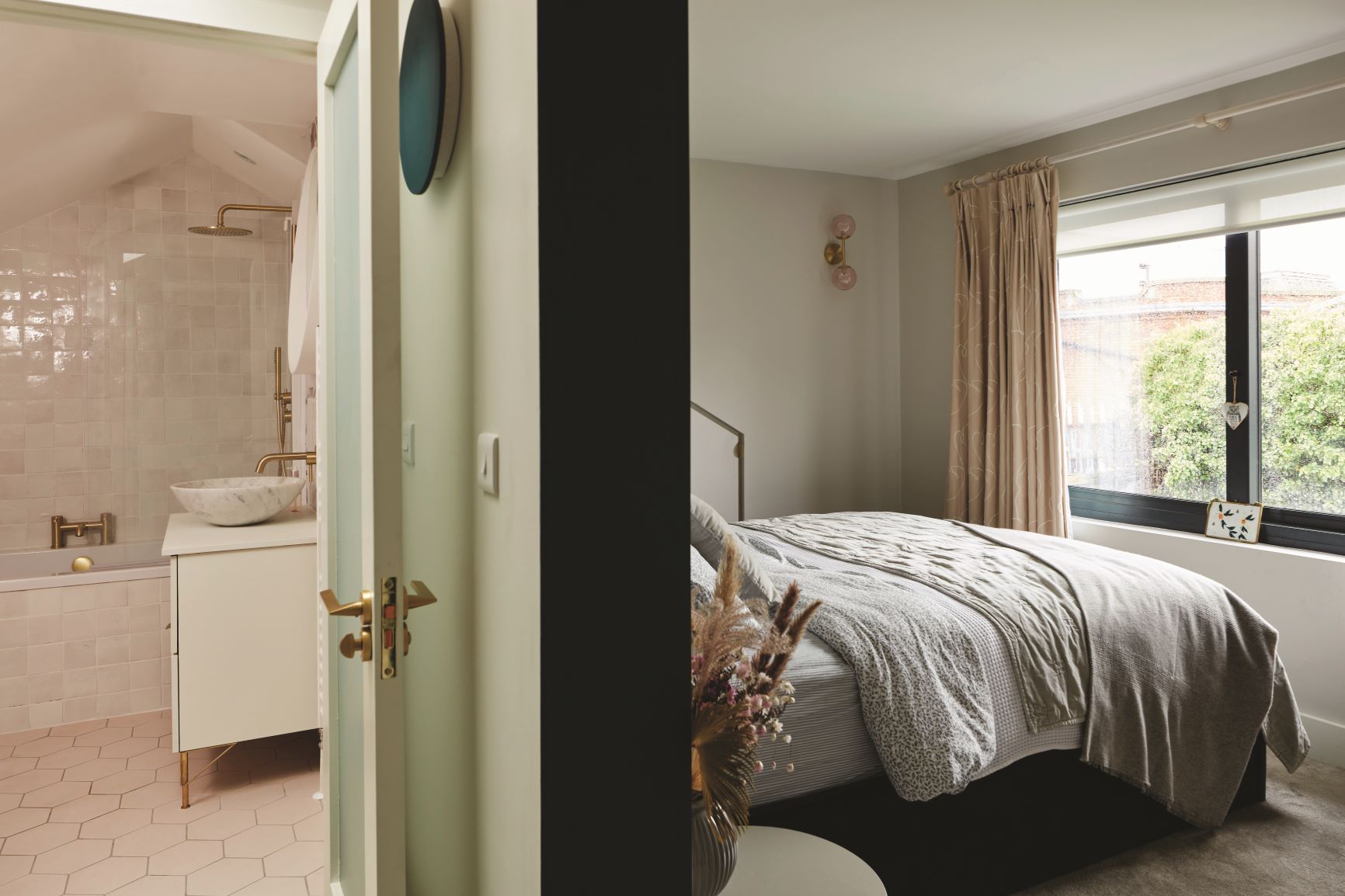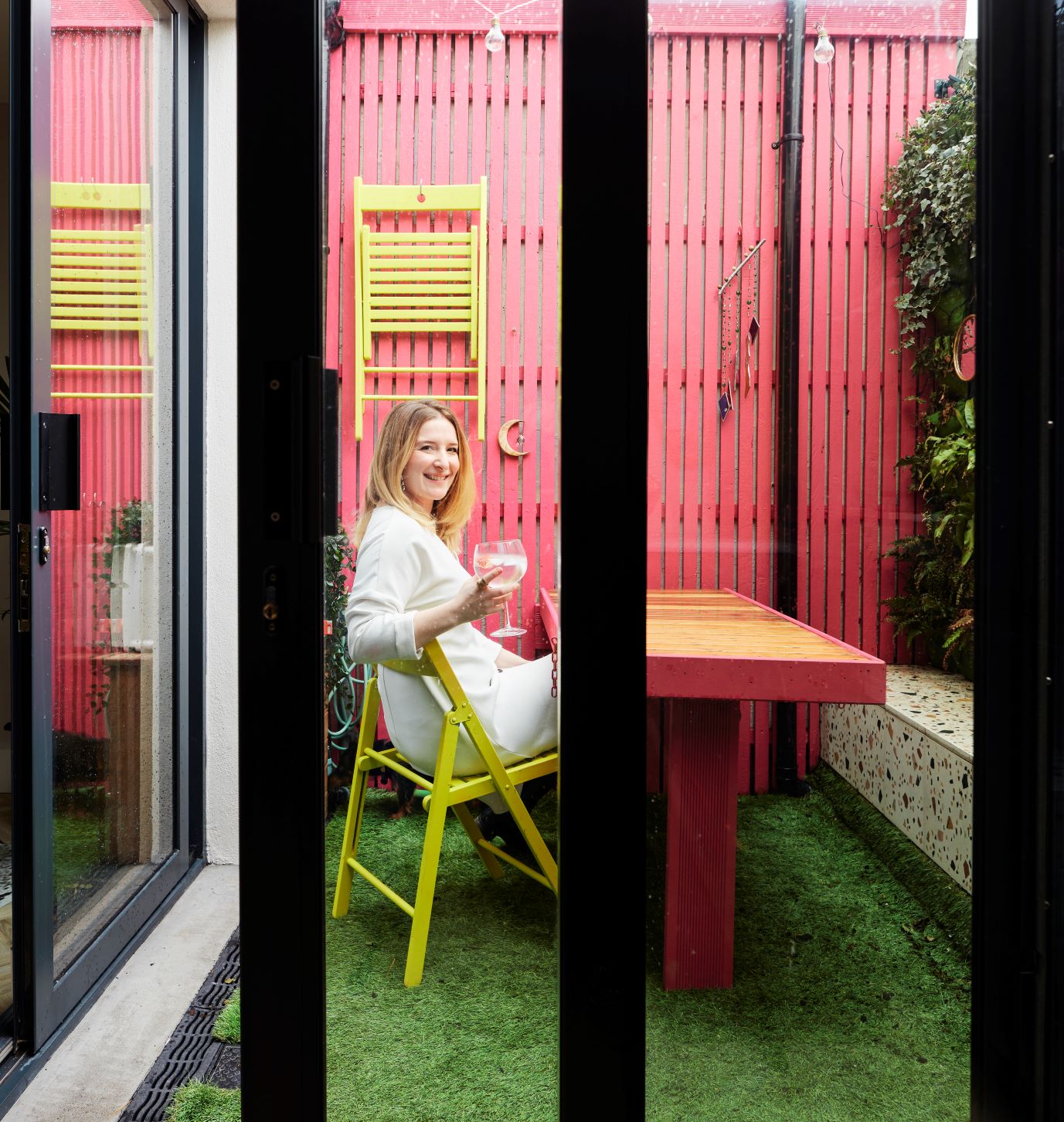 ACCESS ALL AREAS
The folding table in the garden means this outdoor terrace can be used to entertain extra guests when needed.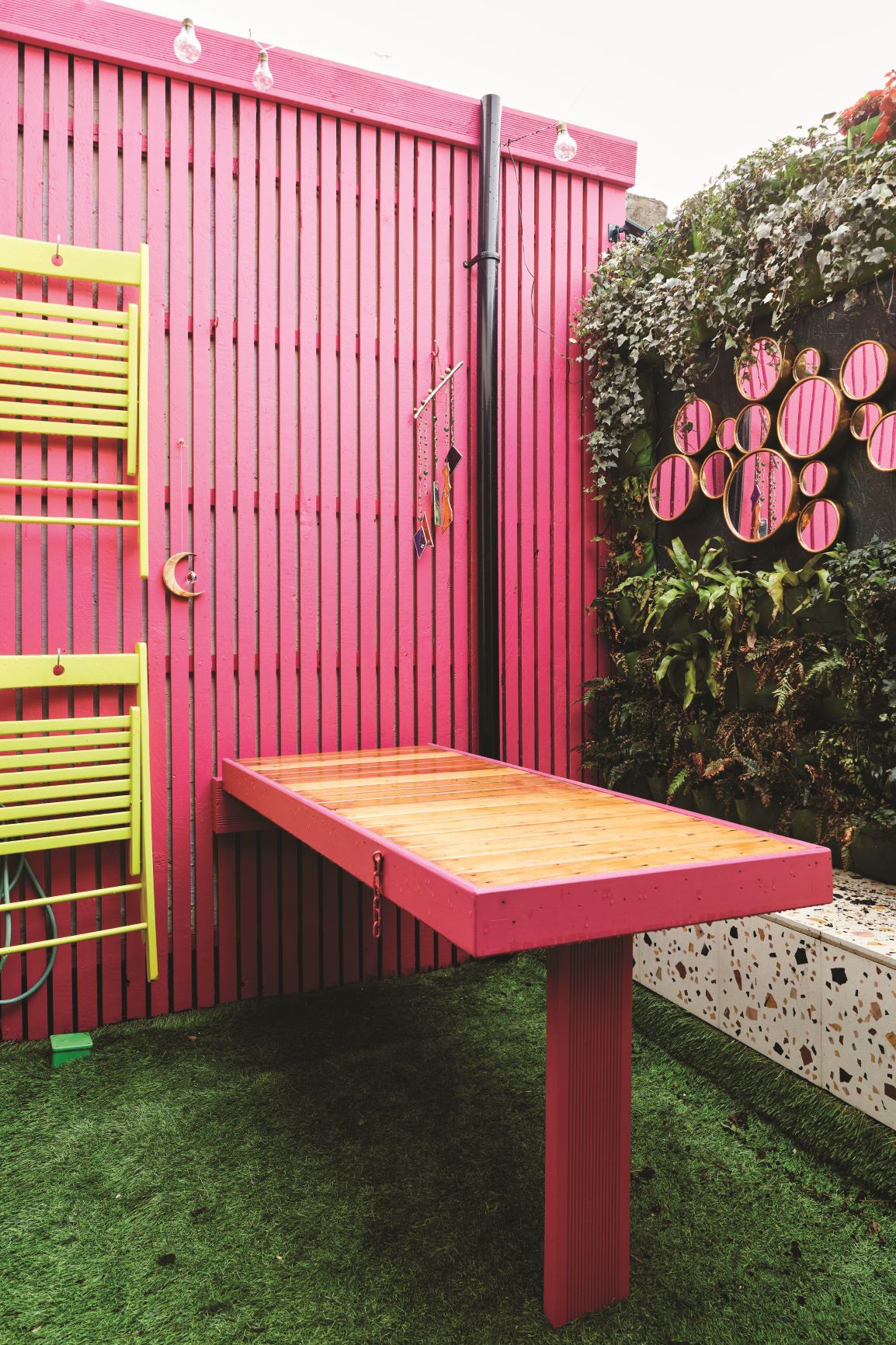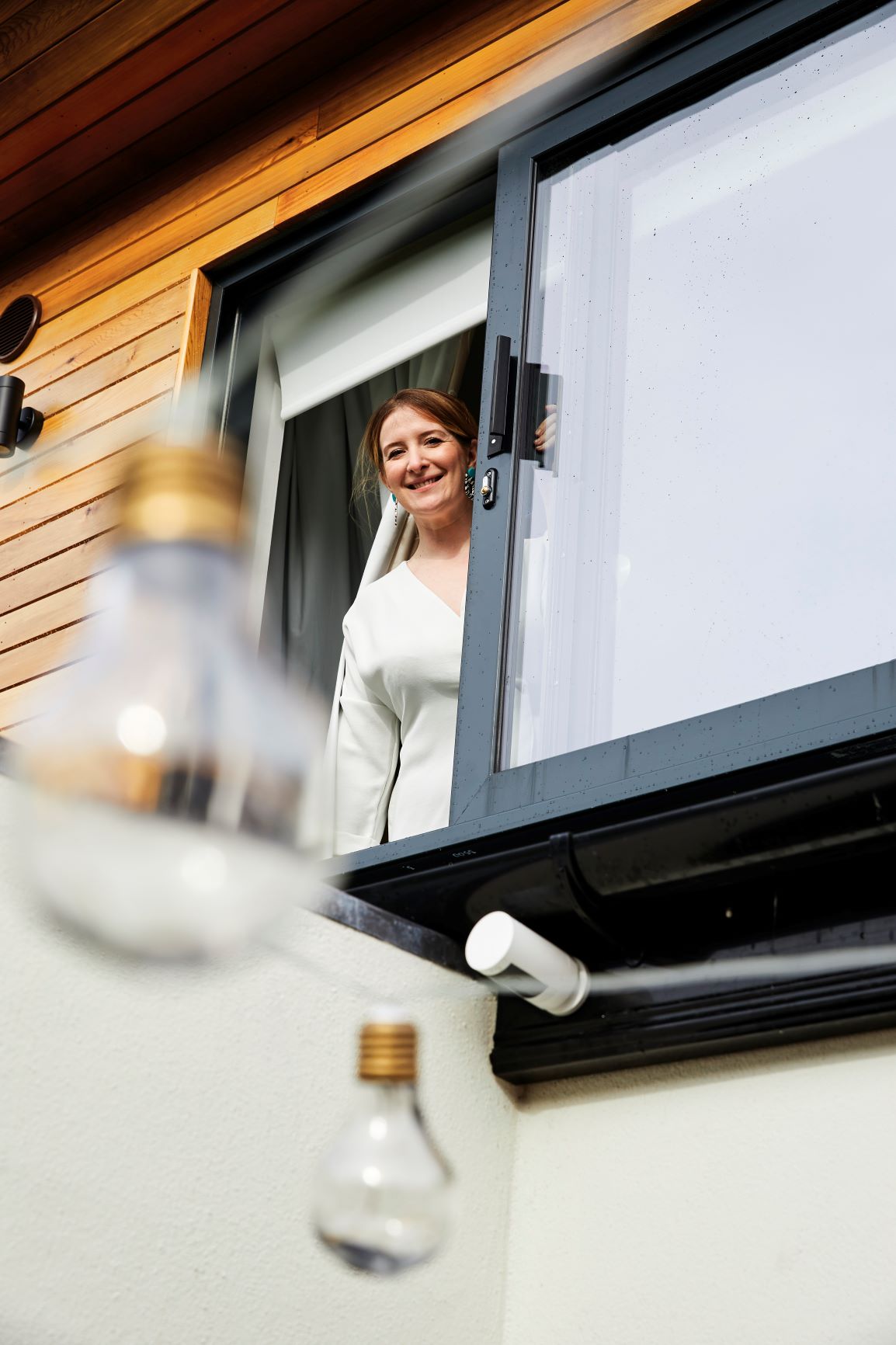 Sourcebook
 Architect: Denis Gilbert,
Gilbertarchitects.ie
 Interior Designer Caroline Maguire,
Carolinemaguireinteriors.com
 Builders: JEMI Construction,
Jemiconstruction.ie
 Landscape architect: Jonathan
Gannon, Gannonandassociates.ie
 Downstairs flooring: Vinyl tiles
by Moduleo, Moduleo.com
 Kitchen cabinetry and bathroom
sanitaryware: Savvy Kitchens,
Savvykitchens.ie. In the bathroom,
extra handles and legs were
sourced from Superfront.com
 Paint: A mix of Colourtrend.ie,
Farrow-ball.com and Dulux.ie
 Office cabinetry: The desk was
custom-made by Borien Studio,
Borienstudio.com
WORDS: CIARA ELLIOTT
PHOTOGRAPHY: PHILIP LAUTERBACH