We recently revealed the results of our Renovators Survey for 2020 and a lot of you have big plans for your homes this year.
They say hindsight is 20/20, and that's never more true than when it comes to tackling home makeover projects. If you're planning to become first time renovators yourselves this year, there's plenty you don't know you don't know, and probably can't know until your project is completed.
But there's lots of time and money to be saved if you have a little headstart on your first project. With that in mind, we spoke to three first time renovators to get their top tips.
From budgets to managing expectations, they've learned a truckload during the process of their renovations so far - here's what they had to share!
Fashion stylist Courtney Smith's 1970s home overhaul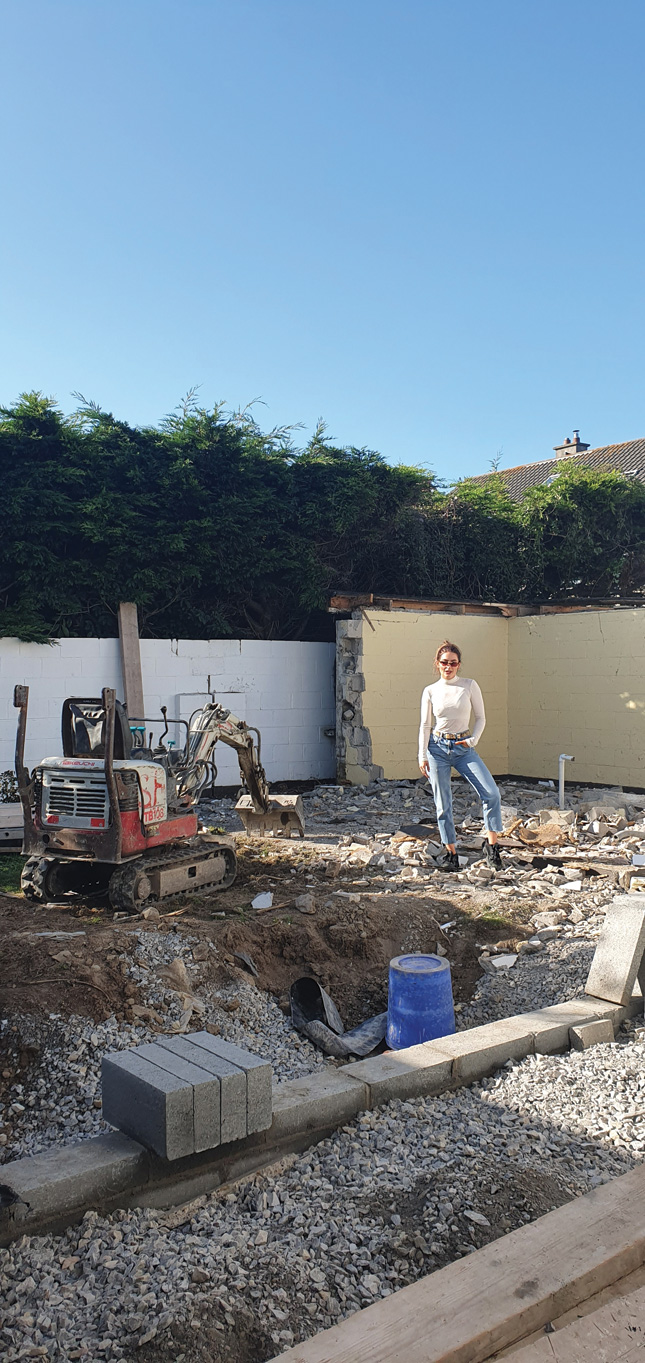 Fashion stylist Courtney Smith and her partner Mark Newman became renovators after buying their seaside home in Portmarnock in February 2019. Built in the 1970s, the house and had been rented out for almost 20 years – so it was in need of some TLC.
Who lives there: Courtney, Mark and their rottweiler, Lexi
Location: Portmarnock, Co Dublin
Renovation budget: Roughly €180,000
Follow her home renovation journey: @courtneysmithstyle

Home renovation details
"We basically gutted the entire house. We thought, 'do it once and do it right'. We pulled up the suspended timber floors and poured an insulated concrete floor with underfloor heating, and replumbed the entire house.
We did a complete rewire of the electrics and installed some smart home technology. We installed triple glazed passive uPVC windows, internally insulated the exterior walls and insulated the attic.
We extended out into the back garden, flipping the kitchen to the other side of the house, allowing for a studio for me where the kitchen had been. We also extended the front of the house which allowed for a bigger master bedroom, a walk-in wardrobe and an en suite.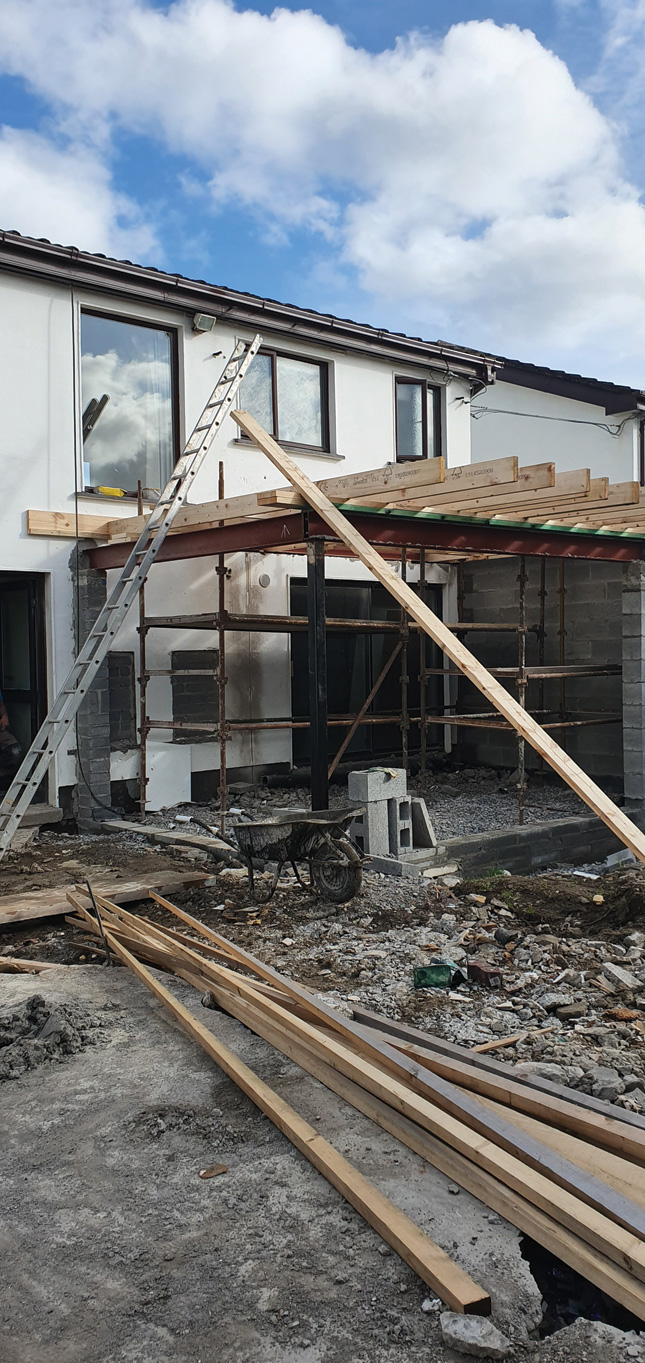 We had quite a specific look we wanted to achieve so we tried to source individual pieces that you couldn't easily find in other homes! As a stylist, a walk-in wardrobe was a dream of mine so I am designing one with Komandor in Galway to have something really unique that you can't just walk into Ikea and buy.
I loved the idea of a poured concrete countertop for the kitchen and sourced a company in Shoreditch that made them, however it was just so far out of our budget so we found a Neolith countertop in a concrete-style finish in Stone Merchants in Ballymount which looks almost the exact same. It's much better because it isn't porous and is virtually indestructible.
For each bathroom we wanted something a little quirky, and honestly I was unimpressed with anything I found in local showrooms but discovered a website called Drench where you can find much more unique bathroom items – we ordered our showers, bathtub, taps and sinks from there. People always say it's risky to buy online but, in this case, it paid off.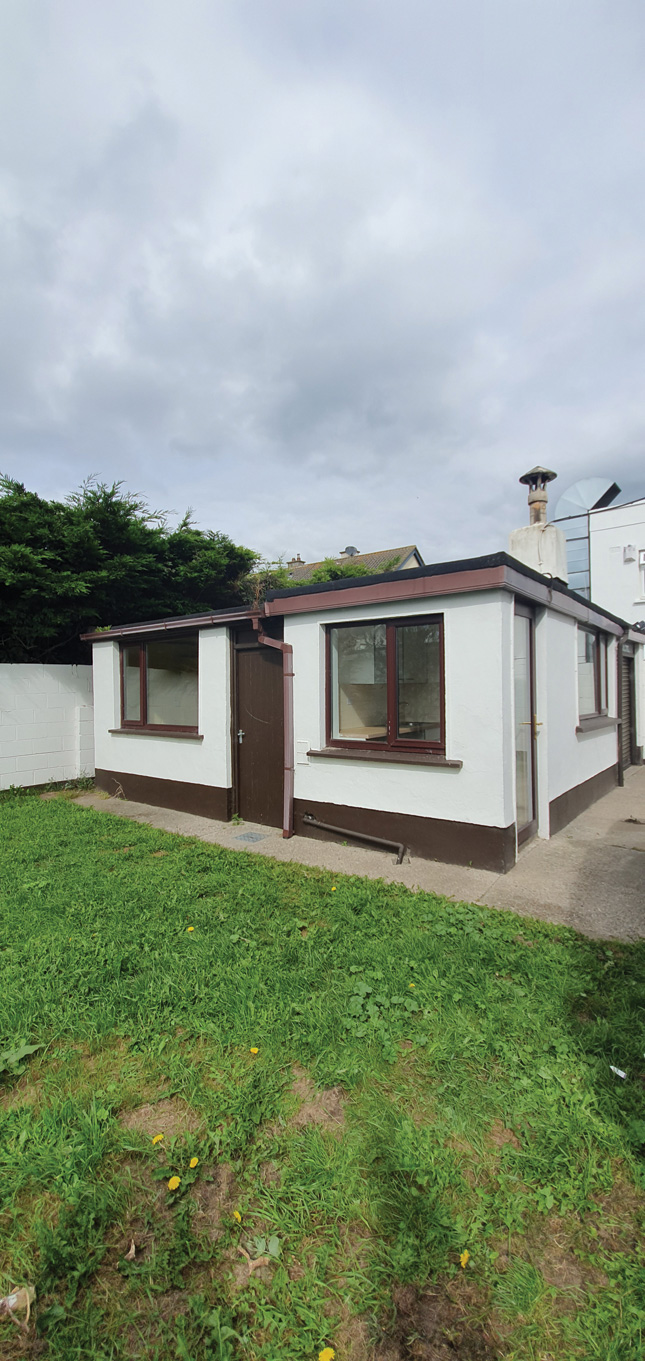 The renovating process is exhausting and filled with anxiety but then it's also really exciting and enjoyable seeing the process come together. When you invest so much money, time and love into your forever home you want it to be perfect.
I don't think I took into account all the tiny decisions we would need to make, like where a plug socket goes or how many light switches you want and what kind of skirting board to go for. I expected to make big decisions but those tiny ones are time consuming and you can overthink them.
I think what has surprised me the most is that we haven't fought once. People were telling us that we'd be killing each other by the end but I guess we are lucky we both have the same vision for it.
Photographer and stylist Sooby Lynch's multi-generational home renovation and extension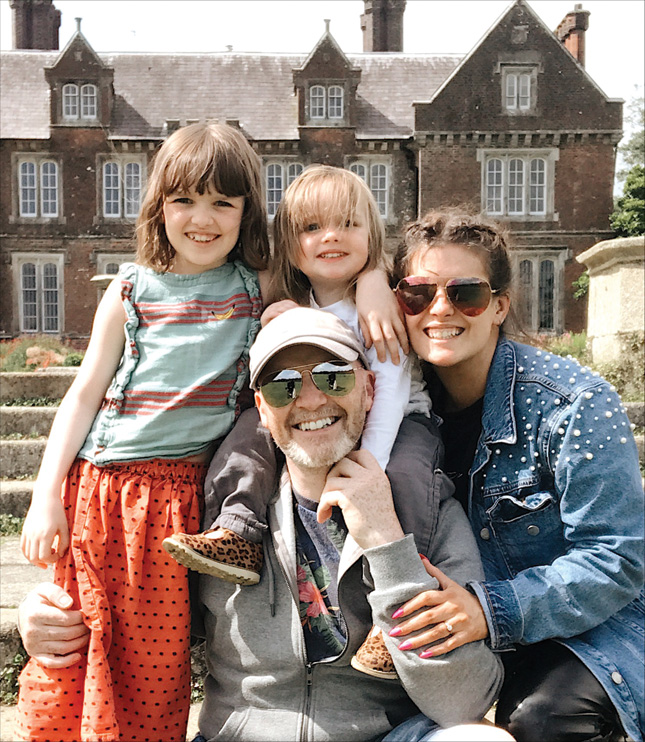 Photographer, stylist and co-founder of Mutiny Kids Magazine, Sooby Lynch and her partner Paul became renovators after buying her parents' Dublin home. They are now renovating it as well as building a two storey extension onto the house which will be her parents' apartment and daughters bedrooms.
Who lives here: Sooby and her partner Paul, their daughters Penny (7) and Marnie (2) and Sooby's parents, Sheila and Jim
Location: Dublin
Renovation budget: Roughly €250,000.
Follow her home renovation journey: @standingbythewall_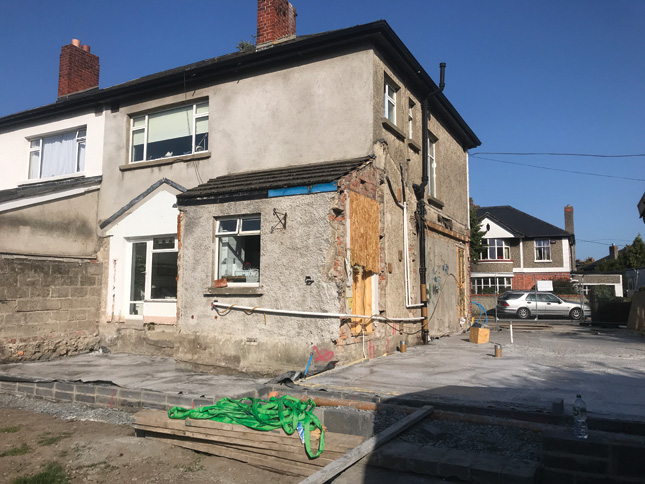 Home renovation and extension details
"We added on a two storey extension to the side of the house which will incorporate a 700 sq ft one-bedroom apartment for my parents and a master bedroom for me and Paul.
We're also extending the kitchen, putting a WC under the stairs, moving the bathroom to the current box room and turning the bathroom into an upstairs laundry room.
Finally, we're modernising the remainder of the rooms.
We needed to make this house work for three generations of family at varying stages of life. We wanted to be close to my parents as my Dad's health hasn't been great. Their apartment needs to be wheelchair friendly.
The original kitchen was a mish-mash of small extensions that had been added over the years and it wasn't suitable or enjoyable to spend time there as a family. We were also lacking storage and space.
I absolutely love the hustle and bustle of the builders coming and going each day, and my toddler adores the trucks and machinery. Seeing the changes outside at the end of each working day is amazing and totally helps you enjoy it.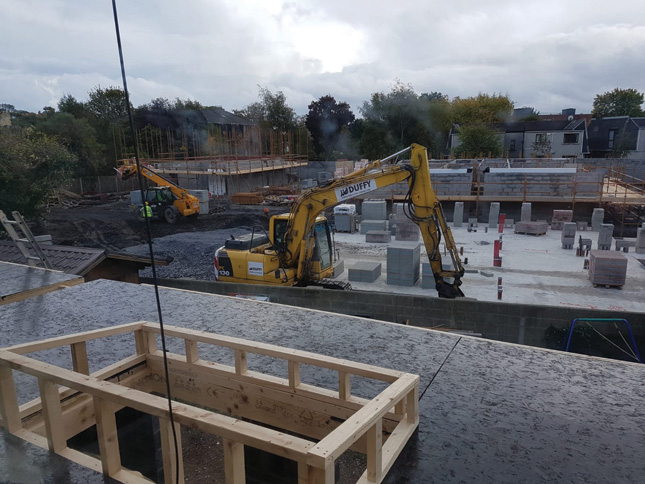 When renovating with children my main tip would be to try and use the process as a clear out opportunity with them. We have a storage unit and while we have sent a few items to it, going through toys and clothes together and deciding what we really want to bring to the 'new' house has been enjoyable.
Both kids only have their favourite things in the house at the moment and it's unlikely we will bring anything else back. Allowing them to be somewhat involved in the decision process has helped them get excited too. They are just excited for new duvet sets!
I expected it to be messier and louder and more stressful. Our builders are great craic and super neat workers which I really appreciate.
I also thought I would be fussier about things but actually because whatever we get will be new, fresh, functional and so much nicer than it was, I am happy to make on the spot decisions.
Founder of Waxperts Ellen Kavanagh Jones' holiday home renovation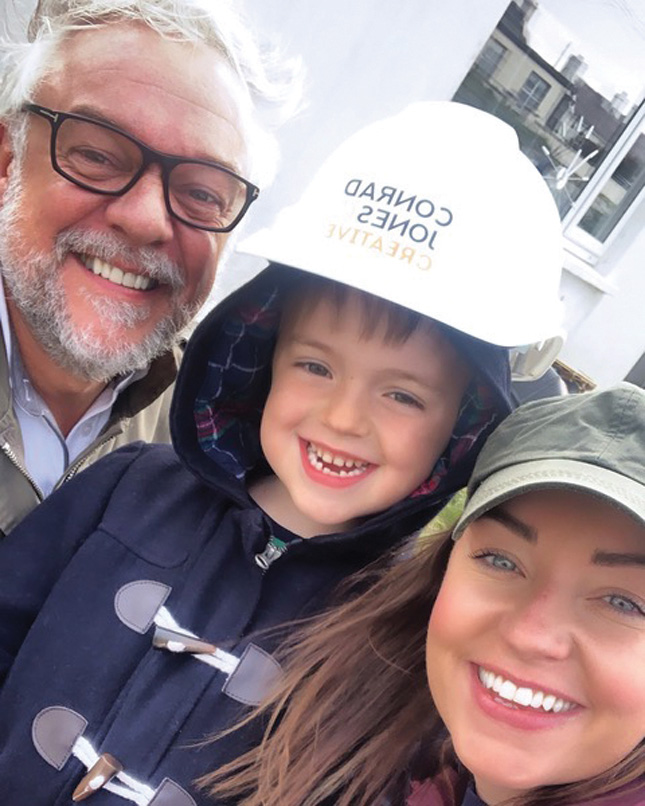 Co-founder of Waxperts, Ellen Kavanagh Jones and family became renovators after deciding their Achill Island retreat needed an overhaul. They want all their family and friends to be able to visit and enjoy the incredible Mayo scenery.
Who lives here: Ellen, husband Conrad, son Cooper, dogs Indiana Jones and Archie
Location: Achill, Co Mayo
Budget: Around €50,000
Follow her home renovation journey: @waxpertsellen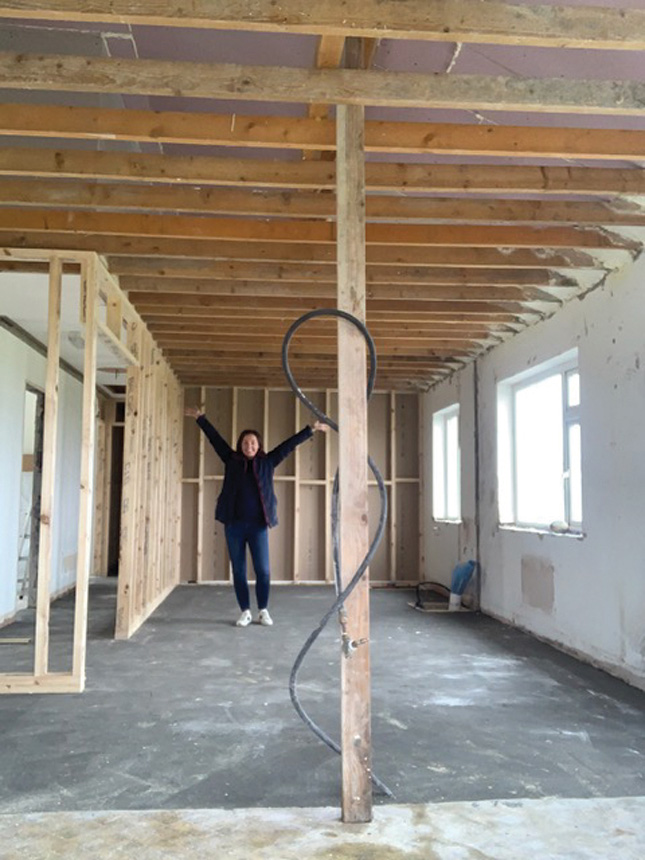 Home renovation details
"It's a full renovation. All interior walls were knocked. New screed poured. Full rewire and an entire new plumbing heating was installed.
There was a full insulation done throughout and all that was kept was the exterior walls and roof.
We renovated an apartment we had years ago but I was pregnant so I wasn't on site for any of it. This time I really wanted to do this as a project myself, almost a challenge so I've been fully involved in every aspect and project managing it.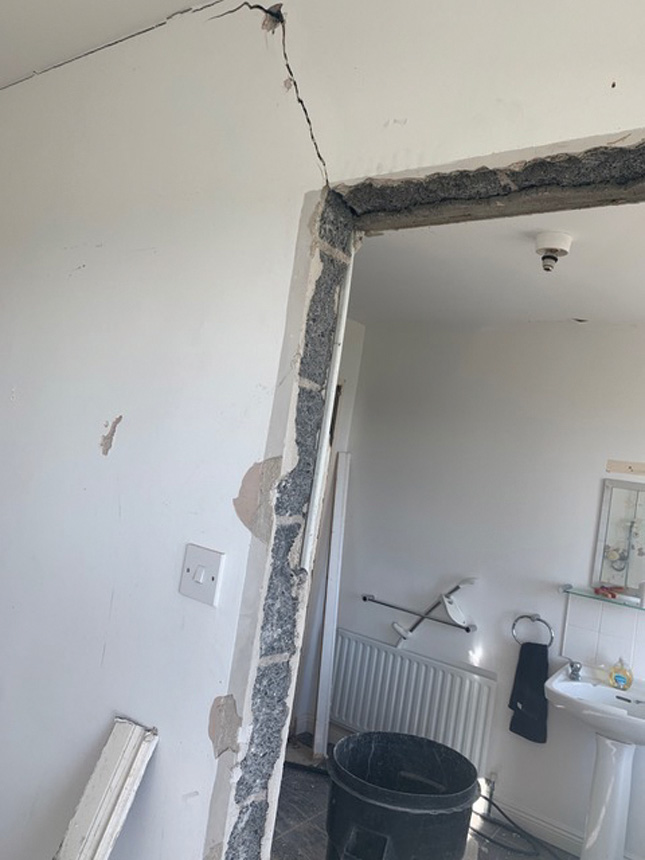 I was on site throughout, and even though at times it was extremely stressful, pressurised and I had tinges of homesickness, I'm so happy I was there.
I don't think I would do well with FOMO or not being able to make a decision right then and there to help make things happen. We really were a team, and that sense of camaraderie and teamwork kept the spirits and motivation up.
When we began to take down the interior walls, the issues revealed themselves. There was no lintels and poor building work, some quite dangerous issues, so we had to prioritise fixing them.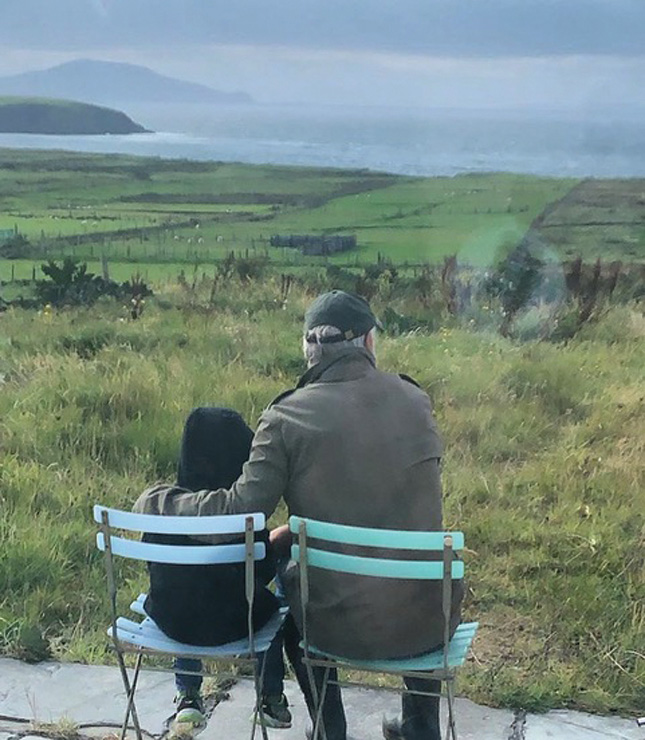 We discovered that there was no foundation so we had to dig and remove the cement that was there and prepare and get a screeder in to lay a new foundation. Even though our builders were amazing and kept working on other parts of the job, this really delayed things as we could not find a screeder available urgently in the whole of Mayo.
Luckily, one took pity on me and found a colleague to come and do it. That was probably the best morning on site, seeing that new foundation go down. We were seven days trying to get that to happen, and it felt like an eternity.
Having a very tight budget is going to be more stressful as you have a lot less wiggle room on things. So if you can ensure you have as much extra cash available as you can manage it will be easier. When a situation arises on a renovation there is very little that isn't fixed by throwing money at it.
I hadn't really thought about the nitty gritty parts too much beforehand. I had put more thought into the moodboards and my Pinterest pins!
Because we know our builder well, I was able to step back and trust him to do his job. That helps massively. What surprised me the most was how much fun and laughs we've had on site and the odd little family we became.
Want to know how normal you are as renovators? Check our survey results!
Already planning a renovation? Avoid these 7 hidden costs that catch people out