With the festive season just around the corner, it's time to start getting your home ready for Santa Claus' arrival. Make your home both merry and bright this festive season and why not even deck the halls differently with these fresh and new Christmas decorating ideas.
1. Bling a branch
Bring both style and fun into the smallest of spaces by adding embellishment to a humble branch. The simple form allows standout seasonal baubles to speak for themselves.
2. Soap Opera
At Christmas, most of us focus on decorating our living and dining rooms, but those areas shouldn't have all the fun: brighten up your bathroom or kitchen sink with a Christmas tree soap dispenser, €12.99, TK Maxx.
3. Style a holiday shelfie
No room for trees or decorations? Then a seasonal shelfie is the perfect way to add some sparkle to your space. Place your favourite festive accessories on a sideboard, mantlepiece or even a windowsill, and watch the room instantly transform into a winter wonderland.
4. Sparkle hard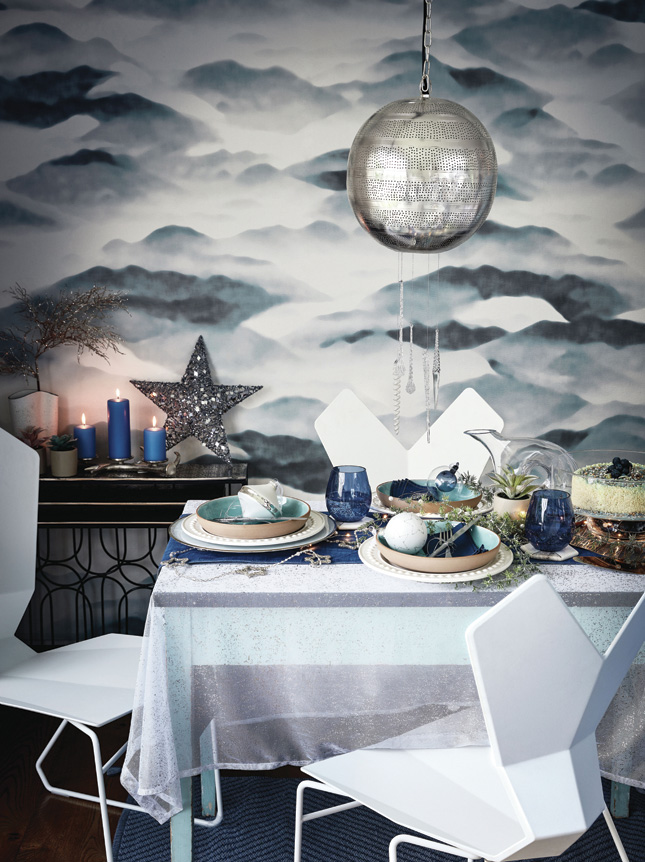 Add a touch of sparkle to your Christmas decor and think contemporary glitz. Silver and blue accents feel modern and work well in apartments or smaller spaces where the full-on traditional onslaught can overwhelm. Celestial silver metal hole punched globe drop light, €54.99; Celestial silver glitter twine star, €5.99; Blue glazed bowls, from €7.99; Blue glass tumblers, from €4.77; Decorations, from €4.99, all Homesense
5. Fake a cake
Forget using a cake stand for, y'know, mince pies. Instead, switch the treats out for candles or other festive ornaments. This oversized Five Tier Cake Stand, €459, Michaelmurphy.ie, is sure to make a statement, both on or off the table. Style with a variety of objet in assorted sizes, shapes and colours.
6. Go wild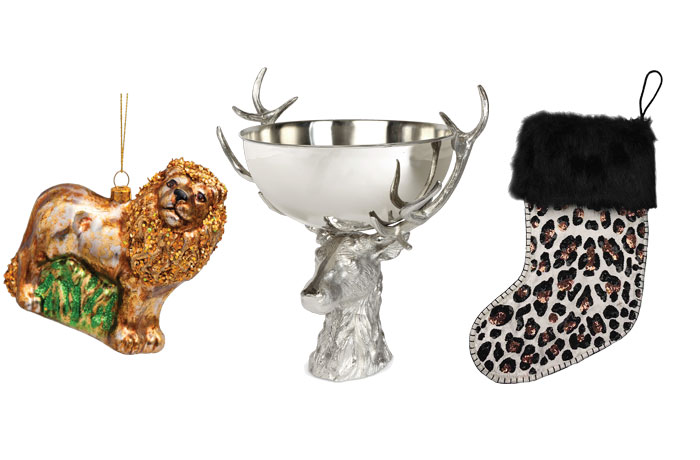 Host your own stag party at home this festive season with animal accessories
Glass Lion Hanging Christmas Decoration, €11, Adobeliving.co.uk
Stag Head Punch Bowl and Wine Cooler, from €200, Annabeljames.co.uk
Sequin Leopard Stocking, €90, Amara.com
7. Paper chains are back
With quick and easy assembly, paper chains are the old fashioned decorations that are making a comeback this Christmas. Making your own is part of the experience: The Paper Chain Garland Kit, €20, Theshopfloorproject.com, comes in five designs, printed with a star or stripe lining and makes a 10m length. When complete, hang across walls or drape over a mirror or fireplace to add a rustic and vintage twist to your festive décor.
8. Starstruck
Dazzle guests by creating a star-studded grand entrance. Line the stairs with warm pillar candles – opt for battery operated ones they give the same effect and are safer – drape the bannisters with a Christmas garland and place an Osby Oversized Star Light, €45, Lights4fun.co.uk, at the top or bottom of the stairs for impact.
1o. Bright idea
Who says fairy lights have to be small, white and inconspicuous? Rules are meant to be broken, and with these LED 10-bulb light strands, you can definitely do that. We're all for a mix 'n' match for maximum impact.
11. Reinvent the nativity 
Not religious? No problem: create a collection of festive-themed (or otherwise) bits and bobs and create a focal point for your Christmas intentions. This vignette, styled with a kitsch angel candlestick and tongue-in-cheek gnome candle, €8.90, both Ricebyrice.com, is a fun way to nod to a tradition.
While you're here ... 7 key kitchen gadgets and appliances you need for the Christmas season