No longer the domain of institutions and airports, terrazo is taking over bathrooms in homes across the world, and we're into it.
From the halls of ancient palaces to modern-day museums, terrazzo flooring has literally and figuratively stood the test of time since it was first used in 15th century Venice.
Originally composed of scraps of marble and granite chips left over from the construction of palazzos, the Venetians set the aggregate in concrete and polished it up to create that famous smooth, speckled canvas. As flooring went it was cheaper, stronger, less porous and more durable than stone or natural marbles.
And when used with polyester resin in lieu of cement, it made the material lighter, more luminous and allowed for a better diversity of materials to be added to the mix like glass and quartz. This gave way to more intricate designs and lots more colour variations and has ensured that this traditional Italian floor has been trending for 400 years.
Terrazzo last reached peak popularity in the 1960s with architects and builders using the material, perhaps a little overzealously, in public buildings – just try finding a school, convent or office from that era that wasn't clad in the stuff! Ultimately, that let it to be banished to the design archives, filed under 'old fashioned, probably never resurfacing' interior trend.
Like all things mid-century, it's making a strong comeback amongst design fans. According to Pinterest, saves of 'terrazzo' in 2017, were up 316%. While its composition is technically unchanged, its renaissance comes with fun new iterations from resin mixed with oversized chips, to neon glass particles, from metal accents to a myriad of colour finishes.
BATHROOM BLITZ
When it comes to bathrooms, designers are getting creative and using terrazzo not just on floors but are doubling up and using it to clad walls, creating sinks and baths from the material, and are adding metal trims and glamorous textures, which gives the finish a fresh feel.
If you're considering it, you will need to commission a terrazzo specialist as it may need be poured in layers and then ground, polished and sealed on site, or you can order pre-cast terrazzo slabs, depending on your requirements and budget
Alternatively, you can cheat a little and opt for the porcelain or encaustic tile versions, which give the same fragmented marble-like finish at approximately quarter of the cost of having it poured. This is because the terrazzo elements are pre-cast within the tile and just need to be laid as you would with normal tiles.
KNOW YOUR TERRAZO
The types to try in your bathroom project...
Epoxy terrazzo: The most popular material for modern interiors uses a highly durable resin to bind and set the stone elements. The epoxy matrix allows for a thin-set, with a typical rise of 3" to 8" above the underlying slab systems, making it ideal for bathrooms. Plus, this composite allows for limitless colours and design customisation, and gives a high-shine finish. The main drawback of epoxy is its not suitable for outdoor use.
Cement terrazzo: Using a cement based mix to bind the aggregates, this means the floors are typically heaver and thicker than epoxy, and this mix can be used for outdoor areas too. While you can choose a wide colour palette, there's less design options than using epoxy. It's also more cost effective than epoxy and should last over 60 years if laid right, and will often be the first choice of builder when flooring areas with high foot traffic like airports, education buildings and shopping centres.
Rustic terrazzo: Fairly similar to epoxy terrazzo but with a rougher surface, to prevent slipping. It's most commonly used in commercial or public properties or is often laid around water features such as swimming pools or fountains, so works well outdoors.
Sand cushion terrazzo: This uses a more complex matrix of layers including wire meshes and sand, giving more control over where the stones stay in the mix, it's more expensive than epoxy but allows for more control when incorporating specific detailed designs or logos.
Encaustic terrazzo tiles: These use a technique where the pattern and aggregates are inlaid into the body of a tile, so that the design and colour remain, even as the tile wears. Encaustic terrazzo tiles differ from ceramic tiles, where the surface pattern is the product of the finishing glaze printed on the surface.
Terrazzo Q&A: Your hard questions, answered.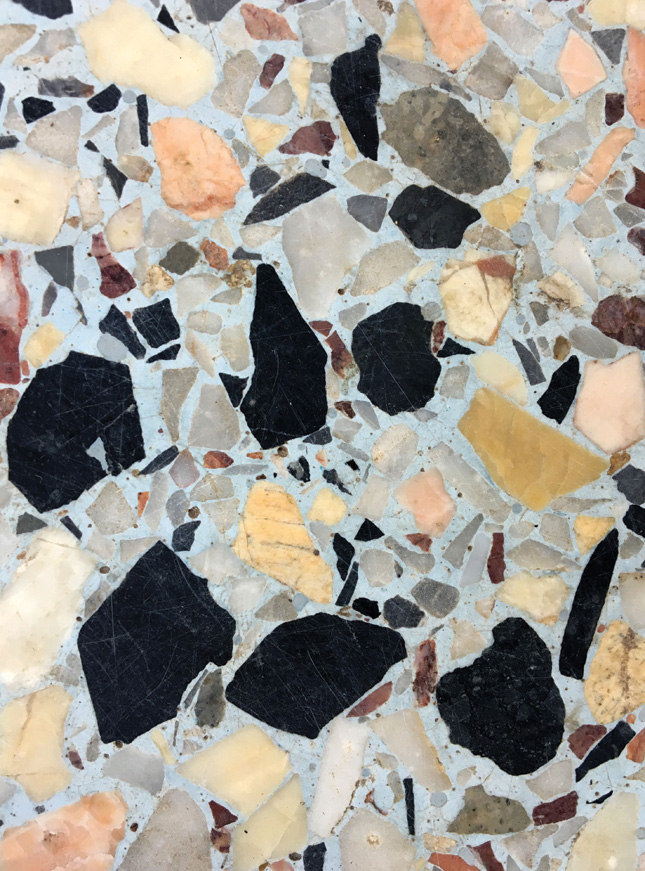 Which is the most suitable type of terrazzo for a bathroom?
Epoxy terrazzo is good for a bathroom as it is non-porous, meaning it's far more water-resistant and sanitary than other choices, plus it can be installed over your existing concrete or wooden sub-floor.
Can I lay it over underfloor heating?
Certainly – and in fact you'll find that it will conduct heat very well, especially over larger areas such as big open plan spaces.
Is weight an issue?
Yes – it can be a concern because terrazzo is composed of cement and stone. If your bathroom is upstairs, you'll need to have a survey done to determine if the existing flooring has the strength to hold the weight of the floor you intend to install. An option here if weight is a concern is to use terrazzo tiles instead. They're much lighter and water- and bacteria-resistant.
How can I clean terrazzo flooring?
Sweep it with a brush and clean it with a non-aggressive cleaner, making sure to always mop up any spills as soon as they happen so that stains don't have a chance to penetrate.
How long does it last?
Compared to other bathroom flooring choices, terrazzo can last a lifetime with care. Because it is solid state and the pattern goes the whole way through, it can be re-finished, repaired and brought back to its original condition too.
TOPS IN TERRAZO
The pieces to buy to finish your look...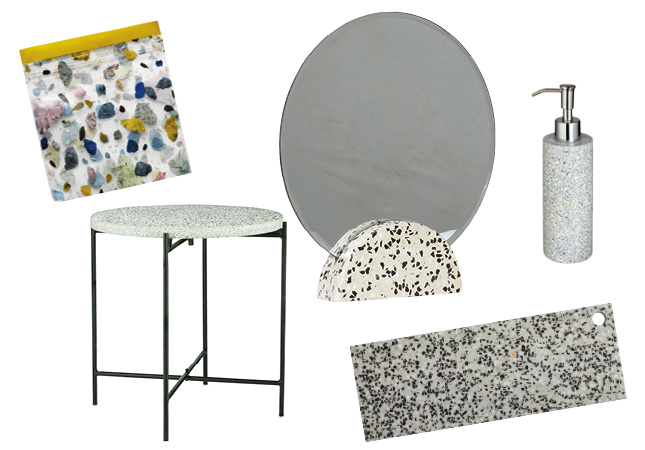 Zip bag, €7, Normann Copenhagen
Table, €225, Audenza.com
Mirror, €35, Hubsch-interior.com/en
Soap dispenser, €12, ie.johnlewis.com
Board, €10.48, Sostrene Grene